Caroline Mutoko Biography and Wiki
Caroline Mutoko is a Kenyan radio presenter, managing director, and a weekly columnist in the Star newspaper. She is the marketing director at Radio Africa.
A quintessential radio presenter, Caroline is respected for her ability to handle tough issues and penetrate the minds of her ever-increasing listeners, giving them a reason to be hopeful, not just in their future, but also in that of their country. With over 10 years of experience in the Kenya media industry, Caroline is no doubt the first female broadcaster to host a morning radio show and anchor the airwaves, especially on issues that concern her people with the ability to present hard facts, boldly and with the courage that listeners are looking for.
 Caroline Mutoko Age
Mutoko is 47 years of age as of 2020, she was born on January 4, 1973, in Nairobi, Kenya. She celebrates her birthday every January 4th and her birth sign is Capricorn.
 Caroline Mutoko Height
Mutoko stands at an average height and has moderate weight. She appears to be quite tall in stature if her photos, relative to her surroundings, are anything to go by. However, details regarding her actual height and other body measurements are currently not publicly available. We are keeping tabs and will update this information once it is out.
Caroline Mutoko Education
Mutoko attended Loreto Convent Valley Road High school where she attained her Secondary school Certificate. She is an undergraduate student at the University of Nairobi and an Undergraduate student at Strathmore University, a course in Women Emerging Leaders. She also graduated from Harvard Business School and UCLA Anderson School of Management.
Caroline Mutoko Family, Siblings
Mutoko was born and raised by her parents in Nairobi. Her parents are Rose Mutoko and Cris Mutoko. She has two sisters and a brother all of who are well off.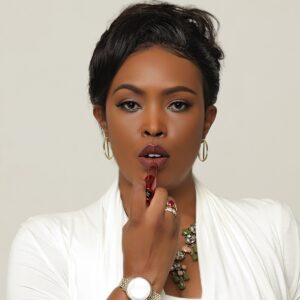 Caroline Mutoko Children, Daughter
Caroline is a mum, mother, mentor, guardian, and a single parent to her one only daughter Theodora Nduku, since the 26th of August 2011 when she adopted her at only 8 months old and took as her own with lots of LOVE and a kind heart.
Caroline Mutoko Husband
Mutoko has never been married but she's a proud mother of one daughter. She adopted her back in 2011 when the child was only 8 months old. According to her, she only wants the best for her, and that is part of the reason she is very hard-working.
Caroline Mutoko Salary
Caroline is multi-talented and has more than one job. She is a radio presenter, a marketing manager among other jobs. From all these, Caroline is believed to receive over Kes 1 million in remuneration. She, however, claims that a big part of her salary accrues from commissions due to her hard work. Whichever the source, the facts are she earns more than the majority of the Kenyans.
Caroline Mutoko Net Worth
Caroline has an estimated net worth of Kes 11 million. Her primary source of income is her career as a Radio Personality. Through her various sources of income, she has been able to accumulate a good fortune but prefers to lead a modest lifestyle.
Caroline Mutoko Career
She started off her career at Capital FM where she worked for 4 years and late on moved to kissFM where she has worked for the past 10 years. This amounts to 14 years.
Where is Caroline Mutoko?
Caroline runs the showcasing for Radio Africa. She initially began on radio as a young lady on 98.4 Capital FM in Nairobi. As she has consistently stated, the radio picked her and she is happy that it worked out. She is currently a senior official with 600 individuals from staff in Kenya. Caroline has associations and partners over the countries; from Nigeria to Ghana, Uganda, South Africa, and Kenya.
She has motivated and would like to keep on moving another age of media experts and storytellers. She says, "Kenya and Africa's story will be told strongly by our voices."
With regards to portraying the significance of a 'Supervisor', she has this to state; "The term has been utilized gently and furthermore freely as of late among an age who think 'Manager' signifies to 'be in control, to command, to possess'. For me, a BOSS is an individual who is brilliant and remarkable in what they do and how they do it."
For Caroline, she believes she will bring, as she generally has to her career, Clarity. She says the buzz regarding working for yourself is decent until you genuinely need to manage the way that it's intense.
 Caroline Mutoko Religion
Caroline is a devoted Christian at the Catholic church.
Caroline Mutoko House
Caroline is a real estate investor, and various sources have claimed that she owns properties in Kitengela, Nayuni Rongai, and other places.
Caroline Mutoko YouTube
Caroline Mutoko has a YouTube video channel where she frequently posts videos about various topics that are dear to her. Her YouTube channel is https://www.youtube.com/user/CarolineMutoko and here is one of the videos:
Caroline Mutoko 2018
Frequently Asked Questions About Mutoko
Who is Mutoko?
Mutoko is a Kenyan radio presenter, managing director, and a weekly columnist in the Star newspaper. She is the marketing director at Radio Africa.
How old is Mutoko?
Mutoko is 47 years of age as of 2020, she was born on January 4, 1973, in Nairobi, Kenya. She celebrates her birthday every January 4th and her birth sign is Capricorn.
How tall is Caroline Mutoko?
Caroline stands at an average height, she has not shared her height with the public. Her height will be listed once we have it from a credible source.
Is Caroline Mutoko Married?
Caroline has never been married.
How much is Caroline Mutoko Worth?
She has an approximate net worth of Kes 11 million. This amount has been accrued from her leading roles in the journalism industry.
How much does Caroline Mutoko make?
Caroline makes over Kes 1 million per month.
Where does Caroline Mutoko live?
She is a resident of Nairobi, Kenya, we shall upload pictures of her house as soon as we have them.
Is Caroline Mutoko dead or alive?
She is alive and in good health. There have been no reports of her being sick or having any health-related issues.
Where is Mutoko now?
She is the marketing manager of the Radio Africa Group. Caroline also hosts her show "Amazing Women", where she showcases women who are doing great things.
Related Biographies.
You may also like to read the Bio, Career, Family, Relationship,  Body measurements, Net worth, Achievements, and more about:
Mutoko
Social Media Contacts
---
More About Kenya
Kenya is a land of contrast – highlands and plains; wet and dry; rural and urban and people of all races. This offers many opportunities to citizens, foreigners, and visitors alike.
Here is more information about Kenya …
Welcome to Kenya. Welcome to Opportunity.
---