Eric Omondi Biography
Eric Omondi is a stand-up comedian, a brand ambassador for OLX Kenya and Dola Flour. As with any successful comedian who knows
the value of correct timing, last year, Eric decided to leave the Churchill Show. But it was a big decision that was going to further his journey in finding out what he wanted out of his career. With Daniel Ndambuki's blessings, Eric Omondi left the nest and went to "fend for himself". Even though making people laugh was always one of the things he wanted to do in life, Omondi reveals that he desperately wanted to be a reporter.
As with any successful comedian who knows the value of correct timing, last year, Eric decided to leave the Churchill Show. But it was a big decision that was going to further his journey in finding out what he wanted out of his career. With Daniel Ndambuki's blessings, Eric Omondi left the nest and went to "fend for himself". Even though making people laugh was always one of the things he wanted to do in life, Omondi reveals that he desperately wanted to be a reporter.
After all, his years studying communication at Daystar University in Nairobi had prepared him to work as a reporter and, if he succeeded, moved on to become a news anchor, or so he thought. However, with just one story in at NTV, his career as a reporter only lasted two weeks. "I worked at NTV as a reporter for two weeks, I did one story after which they kicked me out. It was very bad. I was told I wasn't good enough. Eric Omondi Just a year after landing the Churchill Live show, luck once again smiled upon Omondi when he got the news that he would star in his own comedy show, Hawayu, on KTN.
The show meant more money and higher status as one of Kenya's leading comedians. That too, like his journalism career, was a moment of fleeting excitement as the show was canceled after one season due to poor ratings. Although there was so much negative feedback,  it helped him understand his audience and craft more. He also got major flop of a show on NTV which did not last. From reciting poems, being an unofficial MC, the star attraction on Churchill Live, starting his own comedy show which failed to feature in Night of a Thousand Laughs, Omondi has had quite an exciting run. And he is not yet done.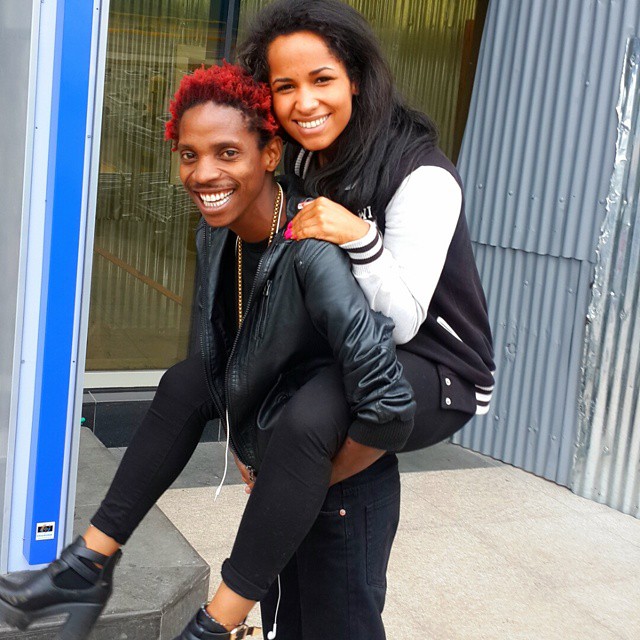 Eric Omondi is also the OLX ambassador in Kenya and also landed himself the role of Kenya Wildlife Service Rhino ambassador to help protect the endangered animals. His craft has, however, taken him beyond Kenya, and he has held shows in the US, South Africa, and Nigeria. In March, BBC ranked Eric Omondi as the 9th funniest man in Africa on a list topped by Trevor Noah and Basketmouth.
Eric Omondi Age
He was born on 17 September 1977 in Siaya, Kenya. He is 41 years old as of 2018.
Eric Omondi Height
Information concerning his height still under research and will soon be updated immediately we come across details about his height.
Eric Omondi Family
Talking about his family background, he is the second born in a family of four siblings. He is a brother to Fred Omondi(comedian).
Eric Omondi Relationship
Eric Omondi is deeply in love with an Italian girl going by the name Shantel. The comedian recently revealed that the two met during Kenya at 50 Show at Kasarani. The lady had come to specifically see Eric perform. Shantel Grazioli is passionate about community projects and is planning on starting a beauty pageant."I really love this lady, not because she is beautiful but because of her personality, it's rare to find a beautiful lady with an equally beautiful personality,"
Eric Omondi Education 
He started school at Kondele Primary School and later joined Kisumu Boys High School for his secondary education. He joined Daystar University for Bachelor's Degree in Mass Communication and Journalism. On joining Daystar, had joined Christian Fellowship and was nominated and elected as a vice-chairperson in absentia but was called and told what happened. The school resolved to recall him and had him apply for a scholarship which he eventually scooped and won the full scholarship in the university that helped him graduate from the University after seven years since he joined after undertaking and completing his pre-university and then doing his undergraduate degree in 2006 and graduating in 2010.
Eric Omondi Salary and Net worth
Multi-Millionaire and comedian Eric Omondi is a true definition of a hustler;- emceeing, events, endorsement deals, product adverts like OLX, Own company, Radio presenter, TV Personality, Local and International comedian the guy has worked hard to be where he is today, being raked as amongst top respected comedians in Africa and most expensive. Nevertheless its all play and laughter till the bank account starts smiling when on a good day he can make Shs 0.75 Million. Having joined the entertainment industry he has managed to pile a hefty chunk of an estimated net worth of sh.30Million ($350,000).
Eric Omondi as a comedian
It's in Kisumu Boys where his comedy skills thanks to his naturally talkative and never missed in the 'noisemakers' list. Whether he was absent or present, he would be on the list that got him into a sort of big trouble since anything he said came out as a joke. It was while in form three that he narrated some Indian movie he had watched to some classmates and it seemed enticing and more and more students converged around him as he narrated and imitated Indian accents and all the weird stuff. Unfortunately, the principal sneaked in and disguised himself among the students at the back but no one noticed.
What followed was his parents were called to the school and he was caned in turns:- by his parents, the principal, and some teachers all got a piece of him. His career in comedy began when he joined Churchill show. He later left Churchill to do his own show dubbed Hawayuni that aired in KTN but it was short-lived. He also did 'Somewhere in Africa' and 'Untamed'. He currently does parodies that he uploads on Youtube. He was voted as amongst the top 10 Africa funniest Men, he is largely popular from his appearance on Churchill show.
Erick Omondi on Jimmy Fallon Late Night Show
On 28th February Erick Omondi flew to the US on a business mission, he is expected to perform in Las Vegas on March 3rd and 4th. He featured on The Tonight Show that is hosted by Jimmy Fallon making it be the first Kenyan on the show. He took it to social media to share the blessings as he wrote.
'Imagine one of your wildest dreams coming true…mine just did… Jimmy Fallon just said 'All the way from Kenya, it's Eric' still waiting to wake up from this dream' 'Wake me up when its all over. When you have been given that golden opportunity on that golden stage so you do your favorite joke'
Eric Omondi Hobby
Eric unwinds by playing football and he is a die-hard fan supporter of Manchester United with a subconscious of pissing off Arsenal fans.
Eric Omondi Gifts his girlfriend with a car on Valentine
On Valentine (2018) Erick Omondi gifted his girlfriend with a brand new BMW X6. This is after he erected a billboard to welcome her home after she had gone to her parents in Italy.
Valentine Gift
Eric Omondi Role Model
Eric Omondi's big, favorite and an inspirational role model is Will Smith thanks to his traits and principles for being very humorous comedies and in movies, with Eric dream is to follow the same footsteps of doing Comedy and later start an acting career.
Eric Omondi Untamed
On the 15th of August, Omondi is slated to yet again take the stage in a one-man show dubbed Eric Omondi Untamed 5. The show is scheduled to take place at the Carnivore grounds. Before then, he will be the host of Comedy Night Live at the same venue with fellow comedians Dr. Ofweneke and Malawian funny man Daliso Chaponda.
Source Daily Nation
Eric Omondi Challenge
In January 2018 Erick Omondi's photo of his 'balls' went viral after he posted a photo on his Instagram with his girlfriend while on vacation. The photo prompted people to do Erick Omondi Challenge. "No, it was not intentional. I had innocently posted the picture and four minutes after it went online, I noticed that I was receiving a lot of comments on it. I logged in to check Instagram users' feedback. It is then that I realized that a part of my manhood was showing through my pair of shorts," said Omondi.
"For a moment, I was confused about what to do. I contemplated deleting the picture, but on second thought, I decided it remains on the platform. I cannot correct God's work. The most private part of my body are my bones, and the whole world knows about my skinniness. I choose to overlook what online users are saying on Instagram about the controversial picture. I am a comedian; my work is to make people laugh. So long as my actions make them laugh, I am happy."
Eric Omondi Youtube channel
---
More About Kenya
Kenya is a land of contrast – highlands and plains; wet and dry; rural and urban and people of all races. This offers many opportunities to citizens, foreigners, and visitors alike.
Here is more information about Kenya …
Welcome to Kenya. Welcome to Opportunity.
---