James Orengo Biography
James Orengo was born in 1951 in Ugenya constituency, Siaya county. He is a Kenyan politician and currently the senator for Siaya county. He became well known for his fight against unjust ruling and spent several years in detention for that.
James Orengo Education
1971 – 1974: Undergraduate Student of University of Nairobi (LLB)
1965 – 1970: Secondary School Student of Alliance High School
1958 – 1964: Primary School Student of Ambira Primary School
James Orengo Political Positions
Started 11th March 2013: Senator for Siaya of Senate
Started 13th February 2013: Coalition Member of Coalition for Reforms & Democracy
Started 2008: Cabinet Minister of Lands
2007 – 4th March 2013: Member of Parliament for Ugenya
Started 2005: Member of Orange Democratic Movement
2002: Aspirant President
1997 – 2002: Member of Parliament for Ugenya
1992 – 1997: Member of Parliament for Ugenya
James Orengo Political Career
Reforms and multi-party democracy
Orengo became well known for his fight against the unjust rule and spent several years in detention as a result. Orengo along with Michael Kijana Wamalwa, Kiraitu Murungi, Raila Odinga, Paul Muite were among the Young Turks who along with Jaramogi Oginga Odinga, Masinde Muliro and Martin Shikuku brought about the what was termed as Kenya's second liberation, they formed the formidable Forum for the Restoration of Democracy(FORD), a vehicle that nearly pushed KANU the ruling party out of power in the 1992 general election. He is a founding member of Muungano wa Mageuzi (Movement for Change), a cross-party lobby group.
James Orengo Parliamentary Career
Orengo was elected as an MP for Ugenya Constituency as a KANU candidate in a bye election in 1980. He became the youngest MP at age 29. Orengo was subsequently elected as an MP in December 1992 on a FORD-Kenya ticket. He was re-elected in December 1997 on a Ford-Kenya ticket but lost his seat in the 2002 general elections when he also contested for the Presidency on a Social Democratic Party ticket.
James Orengo 2002 Presidential run
Orengo ran for the presidency in 2002 for the Social Democratic Party(SDP), but finished fourth with just 0.4% of the votes. His party lost all of its parliamentary places, as many SDP's leading figures had joined the NARC coalition.
James Orengo Return to Parliament
As of 2007, he was still the SDP chairman. The party supported Raila Odinga of Orange Democratic Movement at the 2007 general elections. In the 2007 elections, Orengo won the Ugenya Parliamentary seat on an ODM ticket. He had been out of parliament since the 2002 elections after losing the seat to Archbishop Stephen Ondiek.
During the post-election crisis, Orengo served as one of four spokesmen for the Orange Democratic Movement in its attempts to settle its dispute with the Party of National Unity following the disputed presidential elections in Kenya in 2007.
James Orengo Ministerial Career
Orengo was sworn in as a Minister for Lands in the new Coalition Government formed by the National Accord Act of 2008. This is his first stint as a cabinet Minister.
Orengo revealed the sale of the Grand Regency hotel at 2.7 billion Kenyan Shillings (approximately $30 million US). He announced the transfer of ownership from the Central Bank of Kenya to the new Libyan owners had taken place under the direction of Amos Kimunya, finance minister. This has set off the Grand Regency Scandal.
James Orengo Age
James Orengo age was born in 1951.
James Orengo Family
James Orengo Children
Details about James Orengo children will be updated soon.
James Orengo Wife – Betty Murungi
James Orengo is married to Betty Murungi.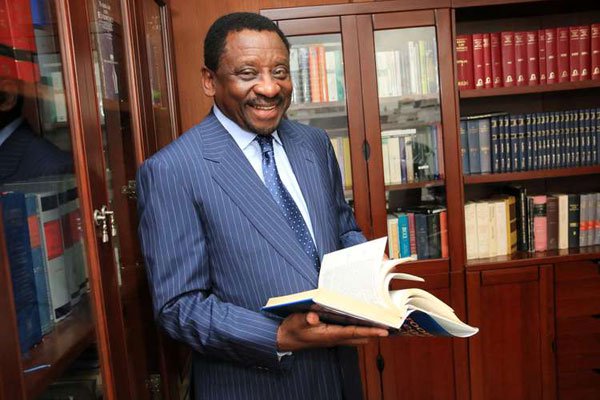 Ruto Impeachment
https://www.facebook.com/CitizenTVKe/videos/2354562328161477/?t=12
James Orengo News
Five ways James Orengo has proved to be a brilliant lawyer during the Supreme Court Petition
The petition at the Supreme Court had many things to admire and admonish; from the bar to the bench and from the courtroom to the national audience. In all, I must give it to the president of the court for creating a free yet mature atmosphere that allowed debate and submissions. I think many of those who followed the petitions admired his calm, smiling and assuring face. In many cases, he did not appear to impose it on the bar nor the audience and he seamlessly allowed the court's authority to sprout and grow by itself – as it really should.
There was equally pomp and fun-fare, the robes by both the bar and the bench were well fitting, the altercation at the entry to the court premises particularly by the leading petitioners generated some highs and lows. The insistence of the court to have all counsel robed in my view, removed attraction from the physical appearance of the parties to real issues at hand. And in the words of the Facebook founder Mark Zuckerberg – the putting on of same clothes every day removes the burden of changing the wardrobe and the attention that comes with it while putting more emphasis on crucial aspects of life.
James Orengo is and will continue to be a core member of the NASA campaign team in their pursuit to attain political power. If the team won, Orengo would be one of the key pillars to be celebrated, if the team got bruised Orengo would bare a good chunk of the wound. In my analysis, Orengo was so emotionally involved to sustain an objective onslaught against their opponents in an impartial court of law.
During the entire court sessions Orengo, became friendly to both the courts and his adversaries, never to annoy or utter a word that could attract their denial. In all the sessions – sometimes running till late in the night, he never, not once attracted the negative wrath of the judges. In many cases, he tried to make things easy and even simple like when he offered without much resistance to take back his teams report meant to accompany the court's sanctioned report on the forms 34As, 34Bs and 34Cs as well as the IEBC servers.
His responses were calculated, respectful and sometimes remorseful. He was the exact opposite of the James Orengo in the campaign trail – where statements were made without caution. He sort to calmly yet concisely prove his points – he did not at any point raise his voice nor frown at the interjections of the court or opponents. He appeared to have divorced his political interests in the matter and just so easily without showing any trace of it. He behaved like a man under unique spiritual guidance. His tone and body language became acceptable – he won the acceptance of the court and even that of his objective opponents. In simple words, he was a godsend to represent the NASA coalition in this petition.
And folks, James Orengo brought with him a special gift – he was not one to be compromised. We have heard many things go wrong in courts, where counsel develops cold feet for one reason or the other. The NASA coalition had no doubt in their minds that Orengo could be not be compromised – in fact even daredevils would never have tried to compromise his beliefs and convictions.
Lastly, readers, I learnt one big lesson from it all; that there are things you cannot do or achieve for the allure of money. The way Orengo James carried himself, the way he has led the counsel against the Jubilee, the force and stamina with which he has pushed their agenda, the fidelity to the beliefs of his coalition are unmeasurable, and it cannot be paid by any monetary terms. That service must have been given free – any gifts/rewards attached notwithstanding.
Adopted From The Standard Newspaper
James Orengo Video
Orengo lifts the lid on his 43 years of hard-tackle politics
Updated: 22.05.2016
When he joins Cord supporters Monday to pile pressure on the Independent Electoral and Boundaries Commission (IEBC) commissioners to leave office, Mr James Aggrey Orengo will be marking his 43rd year in the trenches.
Largely regarded as a "chief mobiliser" of opposition demonstrations, Jim or Bob — as friends and admirers call him — has for the last four decades been locked up in almost all police stations in Nairobi, and few public figures can match the number of times his name appears in occurrence books throughout the country.
"I have lost count of the number of times I have been a guest of the State," says the Siaya Senator, who was first elected MP for Ugenya in 1980.
For the 64-year-old son of a policeman, defiance has been his second nature whenever he feels an injustice has been committed. And it is always for a good cause, he tells Lifestyle.
Ian Campbell, his principal at the Alliance High School, may have spotted this in the 1960s when he observed that the young man could make a great leader but added a rider "… only if he could be disciplined".
Mr Orengo admits that school prefects never had it easy.
"I was suspended from school for all sorts of reasons. On many occasions, it was about the resistance to have my life over-regulated. I really gave prefects a hard time. Sometimes I would not wake up, saying I was sick, but would not go to the hospital insisting a rest would do because I was suffering from mental exhaustion," he recalls.
James Orengo Serving Humanity
In a halting, slow, deliberate speech away from the floor of Parliament and the street demonstrations, one of the leading lights of Kenya's Second Liberation lifted the lid on his enduring role in political activism.
Like his home in Nairobi's plush Runda estate, the office hosting his law firm in Lonrho House at the heart of the city has a well-stocked library. It has some of the latest titles revealing another side of the prominent lawyer and consummate debater.
From student politics and being labelled one of the "Seven Bearded Sisters" — Attorney-General Charles Njonjo's reference to a handful of young radical MPs in the early 1980s — to his latest engagements as Senator, Orengo says he has hardly found time to rest.
"You find yourself not living any other life. When I should sit in the comfort of my house and say 'I have done my bit', I remember the declaration on the rights of man and the citizens after the French Revolution of 1789 which says forgetfulness is the source of misery to the masses," he says.
The mahogany table in his office is decorated with two framed black-and-white portraits of his late parents, "a constant reminder of his covenant with them to serve humanity".
He says he derives satisfaction in championing alternative thought, which he believes does not necessarily imply rebellion.
"There was a time it was reasonable to say that the earth is round. But there are those who kept hammering that gospel until it sunk. Knowledge and progress are borne out of struggle. We must defend the achievements of our time".
Mr Orengo explains that reading classical writers and works — including Plato, the histories of Cicero, Julius Caesar, Homer's The Odyssey and The Iliad and Voltaire — in his formative ages influenced him a great deal.
"I also followed great people like Nelson Mandela, Martin Luther King Jnr and Mahatma Gandhi. Others with the gift of the gab like John F. Kennedy, Tom Mboya and Winston Churchill introduced me to the politics of reform and change," he says.
As a way of remembering his days in student politics, he occasionally joins university students in demonstrations but says unlike now, student protests, in the 1970s and 1980s, were pegged on national and international issues such as the death of JM Kariuki in 1975 and liberation of Palestine.
He first publicly ruffled feathers on the national stage in 1973 when, as president of the University of Nairobi students union, he led protests to wrest the prestigious architectural department from what he called the firm grip of Asians and Europeans.
Mass failure of African students at the end of year examinations at the university triggered the unrest. He managed to get the vice-chancellor, Prof Josephat Karanja – who would later become Kenya's vice-president – to order a review of the marking process.
"We formed an action group to ensure nobody back-pedalled on the terms of engagement. No exams were administered until our grievances were addressed to our satisfaction," he recalls, adding that many of those who had been failed later got good grades. Convincing students to forego some meals to raise funds to advance the liberation movements in Africa thrust him on the world stage.
"Dar es Salaam was our ideological home. It was a great privilege when I presented Sh200,000 to Mwalimu Nyerere in 1974 towards the struggle for independence in the occupied nations in southern Africa," he says.
James Orengo is a Brilliant Counselor
From then on, he says, he has taken part in almost all the major demonstrations that called for change — save for the period between 2008 and 2013 when he was a minister in the Grand Coalition Government. But even as a minister, he confesses, there were occasions he felt like mobilising the masses to point out the excesses and ills of government. Orengo says his first encounter with politics was in Madagascar where he had gone to study. Students initiated a strike that took a national dimension and led to the overthrow of President Philibert Tsiranana.
"When I joined the University of Nairobi, I immediately plunged into student politics," he says.
He was in the frontline agitating for constitutional changes in the 1990s, engaging the police in running battles, until President Moi handed over power in 2002.
Currently, he is taking part in the "Occupy IEBC" protests which pit Cord on one side against the government on the other. While the Jubilee Government insists that any changes to the electoral law must be done through Parliament, the Opposition, where Orengo belongs, says the law is not cast in stone and extra-parliamentary means are the best route out of the impasse.
Regardless of one's political standpoint, his legal counsel has often sought after. Even President Mwai Kibaki, who belonged to an opposing camp at the height of grandstanding over a new Constitution in his first term in office following the 2005 humiliating referendum defeat, acknowledged in Parliament that there was no shortage of legal minds to draw a perfect document. He went ahead to name Orengo.
Cord relies on his legal advice when undertaking major decisions as well as representation in court.
Orengo says the hard-fought battle that forced President Moi to repeal section 2A of the Constitution that paved way for multiparty politics in 1991, moving an unsuccessful vote of no-confidence against the Kanu strongman in 1998, and the enactment of the Constitution in 2010 have been some of his proudest moments.
His struggles have seen him feature in iconic pictures that define the country's political history, including flashing the two-finger salute in the struggle for multi-party politics.
"At a personal level, being picked as the spokesperson for the International Students Union based in Prague in my final year (1974) on campus was no mean feat. While there, I got the opportunity to interact with then Cuban President Fidel Castro and other world leaders from Germany and Russia."
But the death of the country's first vice-president, Jaramogi Oginga Odinga in 1994, without achieving his dream of ruling Kenya, was his lowest moment.
Orengo, then among the so-called "Young Turks" in the Opposition, was described as the right-hand man of the larger-than-life Opposition leader and ally in Ford Kenya.
Ironically, Orengo would later, in the mid-1990s, fall out with Raila Odinga, his mentor's most prominent son, over the leadership of Ford Kenya. Thus, in 2002 Orengo vied for the presidency on a Social Democratic Party (SDP) ticket while Odinga threw his weight behind Kibaki of the National Rainbow Coalition. He came a distant fourth in elections won by President Kibaki.
Today, he is the grey cardinal in Odinga's inner circle and says that their differences in the past were more about strategy than opinion.
In Cord, he is among those appointed to help settle on who between Odinga, Kalonzo Musyoka (Wiper) and Moses Wetang'ula (Ford Kenya) will be the coalition's presidential candidate next year.
Orengo says that being an activist has not always been easy and sometimes he had to flee the country for his own good.
He was exiled in Tanzania, Uganda and Zimbabwe in the early 1980s to escape the repressive Kanu regime.
An attempted coup against Tanzania's President Julius Nyerere in 1964 would later come back to haunt Mr Orengo in the early 1980s. He was repatriated alongside Kenya Air Force soldiers who had tried to oust President Moi in 1982 in a swap with Tanzanian soldiers who had escaped to Kenya.
He describes the journey from Namanga to Naivasha prison in a police lorry as the most harrowing experience. He was interchangeably kept in Kamiti and Naivasha maximum prisons. At some point, he shared the cell with the 1982 attempted coup leader Hezekiah Ochuka.
"It was a journey to hell. We were beaten and subjected to all manner of abuse. You were expected to keep your head between your legs throughout the entire harrowing journey," he recalls.
For his constant agitation, the government decreed he would not be allowed to undertake his pupilage in Nairobi after completing his law degree. He ended up in Kericho. But even when he was away from the capital, his activism was felt at State House. He was instrumental in organising countrywide demos in the wake of politician J.M. Kariuki's brutal murder in 1975.
At the burial ceremony of Jaramogi in 1994, Orengo gave President Moi a tongue-lashing, accusing him of shedding crocodile tears when he had mistreated the old man. No man dared challenge Moi to his face then.
James Orengo – Man of Passion
But he has had to pay the price for standing up to the establishment. His children were traumatised to see their father being arrested and beaten by police.
"One incident that got me worried most was when I was arrested and beaten by the police and my daughter, who was then in Standard Three, asked her teacher for a gun to kill the President. I had to rush to school and have her counselled," he says.
The index finger of his left hand did not fully recover from police torture. And although he says he is not bitter, he regrets that politics and activism have denied him precious family time.
"I try to be as close to my children as I can. They have supported me in all I have gone through. My spouse Betty (Murungi), a lawyer who is undertaking so much work in conflict resolution locally and beyond, has to be so kind but I wish I could be there for them longer than I do," he says.
He has seven children – four boys and three girls and has so far managed to keep them away from the public.
Away from the hard-tackle politics, the Senator is an ardent Real Madrid fan in the Spanish La Liga. He also plays the game occasionally to keep fit.
"Last year, I travelled to Spain to watch El Clasico (match between Real Madrid and Barcelona)," he says.
In the English Premier League, he supports Arsenal. He also enjoys jazz music and Lingala.
His colleague in the Senate, Kiraitu Murungi, a man with whom they pushed for reforms in the 1990s – even though they have often found themselves in opposing political sides – says a good general knows when to be in the trenches and when to come out.
"We achieved all the things we went to the streets for. I, therefore, do not approve of protests in this day and age," the Meru Senator says.
******
James Orengo is indeed a man of courage
At the centre of every "mass action" rally in the mid-90s was always one vehicle, a white Toyota Landcruiser with the bold inscription A2 on its side. The vehicle, associated with then fiery Ugenya MP James Orengo was the face of these rallies during the final years of President Moi's rule. This is the vehicle which was used to do reconnaissance ahead of the rallies. Inside it, one would find the essentials required in potentially violent situations such as banners, water bottles to diminish the effects of teargas, first aid kits but most importantly, a makeshift dais.
"Jim" as he was known to his "comrades in the trenches" was a master planner and would play a key role in organising these rallies.
Together with his foot soldiers – Mark Ogada, Dod Kenyatta, Tom Nduko, the late John Ondula and others – Jim would meticulously plan the routes to be used to access rally venues and escape routes to be used should trouble arise.
In one particular Nane Nane rally, Orengo duped both journalists and the police that he was approaching the historic Kamukunji grounds from the direction of Burma market, only to emerge with hundreds of his supporters from Majengo slums, using a makeshift bridge to access the grounds. By the time police realised he was at the grounds, the rally was over, the makeshift dais and bridge had been loaded into A2 and he had fled the scene.
On another occasion, Orengo used the same route to access Kamukunji but this time around, police were aware and attempted to corner him at the grounds. As slippery as fish in water, Orengo weaved his way past the horde of baton-wielding officers and disappeared into a house at Shauri Moyo estate with the cops in hot pursuit. For two hours, the cops ransacked the one-roomed house but he was nowhere to be seen. He had slipped out. The next thing we heard was that he was at the University of Nairobi addressing students.
Orengo, I must say, was dangerously daring and would throw caution to the wind and confront life-threatening situations. Where the more cautious politicians would appreciate the dangers involved and give a really a wide berth, you could count on Orengo to show up.
One particular instance comes to mind. One bright Friday morning of April 23, 1999, I and fellow journalist Tom Osanjo set off for a road drive to Ugunja, a small market on the Kisumu-Busia road to cover what threatened to be a potentially violent confrontation between Orengo's supporters and those of the Energy minister Raila Odinga. Mr Odinga was holding a Harambee in Mr Orengo's Ugenya turf against Mr Orengo's consent.
Upon reaching Ugunja, we learnt from locals that Mr Orengo had passed by earlier that afternoon in the company of the late Prof Wangari Maathai and then Rangwe MP Dr Shem Ochuodho but they had been promptly dispersed violently by anti-riot police officers, forcing them to flee towards Busia.
Come Friday morning and Mr Odinga's convoy arrived for the Harambee. He was joined shortly by his Co-Energy minister Chris Okemo. Mr Orengo was nowhere to be seen but the mood was very tense, with security officers thoroughly searching every vehicle. Soon, there were violent confrontations between locals allied to Mr Orengo and Mr Odinga's security guards, resulting in injuries. Majority of the locals appeared reluctant to go to the venue of the fundraiser, preferring to idle around the marketplace. They were sure Mr Orengo was on his way.
They were right. Apparently, Mr Orengo and his small entourage had managed to literally sneak back to Maseno via the Busia-Kakamega road, avoiding the many roadblocks set up along the route. He had spent the night at Maseno. To avoid arrest, he would hike lifts on boda-bodas and use village routes. He eventually made it to Ugunja and addressed his supporters but Mr Odinga and his entourage had already left.
But soon after the rally ended, GSU officers descended on locals and journalists alike, beating us senseless. It was the price one paid for covering Orengo.
Source: Daily Nation
James Orengo's Daughter Lavender Orengo Marriage
Siaya Senator James Orengo's homestead in Ramunde, Ugenya Constituency on Saturday (July 18 2015) afternoon was the site of a traditional wedding between his daughter Lavender Orengo and her fiancé Hanington Muisyo Mutua.
Mr Mutua had travelled to Nyanza to present a dowry to the Orengo family for their daughter Lavender, which also marked their traditional wedding ceremony.
The intermarriage ceremony between the two, who hail from different ethnic communities, was applauded by many; including Machakos Senator Johnstone Muthama who urged Kenyans to embrace intermarriage in order to help subdue tribalism.
The guests lit up the well-attended event with their colourful outfits as they feasted on the food and drinks provided.
Gem legislator Jakoyo Midiwo, who has been on the limelight for publicly expressing his differences with Siaya Governor Cornel Rasanga, called for integration among community members citing the union between Orengo's daughter and Hanington as an indicator of unity to emulate.
James Orengo echoed Jakoyo's sentiments, calling on leaders of all levels of government to embrace unity.
He also encouraged his daughter Lavender, and fiancé Mutua to ensure they remain close friends throughout their union.
Related Biographies.
You may also like to read the Bio, Career, Family, Relationship, Body measurements, Net worth, Achievements, and more about:
---
More About Kenya
Kenya is a land of contrast – highlands and plains; wet and dry; rural and urban and people of all races. This offers many opportunities to citizens, foreigners, and visitors alike.
Here is more information about Kenya …
Welcome to Kenya. Welcome to Opportunity.
---