Michelle Yeoh Biography
Michelle Yeoh (Michelle Yeoh Choo-Kheng) is a Malysian actress born on 6th August 1962 in Malysia to an ethnic Chinese family of mixed Cantonese and Hokkien descent. Her parents are Janet Yeoh and Yeoh Kian Teik, a lawyer and MCA politician. She achieved her fame in the early 1990s, after starring in a series of popular Hong Kong action films. She is popularly known for her role in the 1997 James Bond film 'Tomorrow Never Dies'.
Michelle Yeoh Networth
Michelle Yeoh has an estimated networth of $245 million.
Michelle Yeoh Husband
In 1988 Michelle Yeoh married Dickson Poon, a Hong Kong entreprenuer and owner of businesses such as Harvey Nichols and Charles Jourdan but they divorced in 1992.
In 1998, Yeoh was engaged to Dr. Alan Heldman, an American cardiologist, they later split up.
In 2004 Michelle Yeoh began dating Jean Todt,a French motor sport executive and former rally co driver, in July 2008 she confirmed her engagement to him during an interview with Craig Ferguson on CBS's The Late Late Show.
Michelle Yeoh Height
She is 1.63 m tall.
Michelle Yeoh Career
At the age of four Michelle Yeoh began ballet classes. At the age of 15 he moved with her parents to the United Kingdom, where she was enrolled in a boarding school. She later joined Royal Academy of Dance in London where she majored in ballet. She injured her spine which prevented her from becoming a professional ballet dancer, and she transferred her attention to choreography and other arts. She later received a BA degree in Creative Arts with a minor in Drama.
In 1983 at the age of 20 she won the Miss Malaysia beauty pageant. She represented Malaysia at the Queen of the Pacific 1983 beauty pageant which was held in Australia and won the crown.
At the Miss World 1983 pageant in London she represented Malaysia. She later appeared in a television commercial with Jackie Chan which caught the attention of a fledgling Hong Kong film production company, D&B Films.
Michelle Yeoh began her acting career in action and martial arts films. In 1985 she starred in 'Yes, Madam, after which she did most of her own stunts. She was credited as Michelle Khan in these earlier films. This alias was chosen by D&B studio who thought it might be more marketable to international and western audiences. Yeoh later preferred using her real name.
In 1987 after she married Dickson Poon she retired from acting. In 1992 they divorced and Yeaon returned to acting. She made her comeback in Police Story 3: Super Cop (1992). She acted in The Heroic Trio in 1993, and the Yuen Woo-ping films Tai Chi Master and Wing Chun in 1994.
Michelle Yeoh played Wai Lin in the James Bond film Tomorrow Never Dies (1997). Brosnan was so impressed he reffered her as a "female James Bond" in reference to her combat abilities. She wanted to perform her own stunts but was prevented because director Roger Spottiswoode considered it too dangerous. Nevertheless, she performed all of her own fighting scenes.
Ang Lee recruited Michelle Yeoh to star as Yu Shu Lien in the Chinese language martial arts film Crouching Tiger, Hidden Dragon. She spoke little Mandarin, and learned the Mandarin lines for Crouching Tiger, Hidden Dragon phonetically. The film was an international success, and earn Yeoh a BAFTA 2000 nomination for Best Actress in a Leading Role.
She was offered the role of Seraph in the two sequels to The Matrix, but she could not accept due to a scheduling conflict (the Matrix writers then changed Seraph into a male character and cast Collin Chou in the role). In 2002, she produced her first English film, The Touch, through her own production company, Mythical Films.
On 25 November 2002, Michelle Yeoh was honoured as The Outstanding Young Persons of the World (TOYP) (Cultural Achievement) by JCI (Junior Chamber International).
In 2005, Michelle Yeoh starred as the graceful Mameha in the film adaptation of Memoirs of a Geisha, and she continued her English-language work in 2007 with Sunshine. In 2008, Michelle Yeoh also starred in fantasy action film The Mummy: Tomb of the Dragon Emperor with Brendan Fraser and Jet Li.
On 23 April 2007, French President Jacques Chirac awarded Yeoh as Knight of the Legion of Honour (Chevalier de la Légion d'honneur). The decoration was presented to her in a ceremony in Kuala Lumpur on 3 October 2007.[32] She was promoted to Officer of the same French Order (Officier de la Légion d'honneur) by French President Nicolas Sarkozy on 14 March 2012. The decoration was presented to her at a ceremony held at the president's official residence, the Elysee Palace on that day.
In 2011, she portrayed Aung San Suu Kyi in Luc Besson's The Lady. Yeoh was blacklisted by the Burmese government allegedly because of her participation in The Lady; she was refused entry to Myanmar on 22 June 2011 and was deported on the same day.
On 22 May 2012, Michelle Yeoh was awarded the Darjah Seri Paduka Mahkota Perak (SPMP) which carries the title Datuk Seri' during the investiture ceremony in conjunction with the Sultan of Perak Sultan Azlan Shah's birthday.
On 1 June 2013, she was awarded the Panglima Setia Mahkota (PSM) which carries the title Tan Sri during the investiture ceremony in conjunction with the birthday of Yang di-Pertuan Agong Tuanku Abdul Halim Mu'adzam Shah.
In 2016, Michelle Yeoh was cast as Federation Captain Philippa Georgiou of the starship USS Shenzhou in the series Star Trek: Discovery. In March 2017, she was also cast as family matriarch Eleanor Young in Jon M. Chu's film adaptation of Kevin Kwan's book Crazy Rich Asians alongside Constance Wu.
Michelle Yeoh Movies List
1984: The Owl vs Bombo as Miss Yeung
1985: Twinkle, Twinkle Lucky Stars as Judo instructor
1985: Yes, Madam as Inspector Ng
1986: Royal Warriors as Michelle Yip
1987: Magnificent Warriors as Fok Ming-Ming
1987: Easy Money as Michelle Yeung
1992: Police Story 3: Super Cop as Inspector Jessica Yang
1993: The Heroic Trio as Ching / Invisible Woman / Number 3
1993: Butterfly and Sword as Lady Ko
1993: Executioners as Ching/San/Carol
1993: Holy Weapon as Ching Sze / To Col Ching
1993: Once a Cop as Jessica Yang
1993: Tai Chi Master as Siu Lin
1994: Shaolin Popey 2 – Messy Temple as Ah King
1994: Wonder Seven as Ying
1994: Wing Chun as Yim Wing Chun
1996: The Stunt Woman as Ah Kam
1997: The Soong Sisters as Soong Ai-ling/Madam Kung
1997: Tomorrow Never Dies as Wai Lin
1999: Moonlight Express as Sis
2000: Crouching Tiger, Hidden Dragon as Yu Shu Lien
2002: The Touch as Pak Yin Fay
2004: Silver Hawk as Lulu Wong/The Silver Hawk
2005: Memoirs of a Geisha as Mameha
2006: Fearless as Ms. Yang
2007: Sunshine as Corazon
2007: Far North as Saiva
2008: The Children of Huang Shi Mrs. Wang
2008: Purple Mountain
2008: Babylon A.D. as Sister Rebeka
2008: The Mummy: Tomb of the Dragon Emperor as Zi Yuan
2010: True Legend as Sister Yu
2010: Reign of Assassins as Zeng Jing
2011: Kung Fu Panda 2 as Soothsayer (Voice)
2011: The Lady as Aung San Suu Kyi
2012: Pad Yatra: A Green Odyssey
2013: Final Recipe as Julia
2014: Air Force as Sarah
2016: Crouching Tiger, Hidden Dragon: Sword of Destiny as Yu Shu Lien
2016: Mechanic: Resurrection as Mei
2016: Morgan as Dr. Lui Cheng
2017: Nezha as Yin Rong
2017: Guardians of the Galaxy Vol. 2 as Aleta Ogord
2018: Crazy Rich Asians as Eleanor Young
2018: Mawas as Chen Wen
2018: Blazing Samurai as Yuki
2018: Cheung Tin-Chi as Sis Ha
Michelle Yeoh TV Shows
2015: Strike Back as Mei Foster/Li-Na
2016: Marco Polo as Lotus
2017–present: Star Trek: Discovery as Captain Philippa Georgiou/Emperor Philippa Georgiou (mirror)
Michelle Yeoh Star Trek Discovery
When "Star Trek: Discovery" star Michelle Yeoh was told that the character of Captain Philippa Georgiou would die in the opening episodes of the CBS All Access series, it was nearly a dealbreaker for her. "I said [to the producers], 'If you're gonna kill me off, I don't want to be in it. I don't want to just die and disappear.'"
Fortunately, showrunners Aaron Harberts and Gretchen Berg assured her that she'd be coming back — which made Yeoh happy, but led to months of secrecy. "The fans, they've been so sweet. They stop me on the street to say, 'Why did you get killed off? Why did they let them kill you off? Come back.' So, I am glad I am back," she said. "But it's been very difficult trying to keep the secret from everyone. It's been the hardest thing to do, I think, in recent years, to not spill the beans."
Of course, when Yeoh returned to "Discovery," it wasn't as the Captain Georgiou who had become a mentor to Michael Burnham (Sonequa Martin-Green) — instead, we were introduced to Georgiou's Mirror Universe equivalent, the ruthless Emperor of the Terrans.
"She's scary. I love the music, the costumes, the makeup, and hair. And you're not quite sure when she's going to attack and what she's going to do next, so you're always on your guard," she said. "Can you imagine having a role like that to play? It was like the most delicious meal. You're savoring it from savory to spicy. Oh, yeah, I was having a great time."
Added Yeoh, "It was more sensual, it was dark, and eerie, and creepy at the same time, so it was interesting. I mean, it really made you sort of like succumb to another side of you, which is nice."
Getting to play in the Mirror Universe this season meant a lot of action sequences, including a climactic confrontation between Georgiou and Lorca (Jason Isaacs) in Episode 13, "What's Past Is Prologue." And, just for the record, Yeoh thinks Jason Isaacs was being "way too modest" when he told IndieWire a few weeks ago that doing fight scenes with her made him feel like "a clumsy, drunken hippo."
"Jason has done many action stunts, and he does everything himself," she said. "It's like, 'Are you sure you want to do that roll, Jason? You don't really have to.' He was like, 'No, no, no, no. I can do it.' And so he's falling on his… It's Jason all the way."
Added Yeoh, "He's pretending, okay? He's doing the Jason thing. He's a gentleman."
Yeoh said that the fight sequences in Episode 13 were the longest of the season, which she felt was necessary because "Jason's character was so pivotal and important since Episode 3, and this was his send-off."
The day they filmed the ultimate confrontation, Yeoh said, was a great deal of fun — and they had an audience. "Anthony Rapp was there, and a couple of our other actors. We all go, 'What are you guys doing? It's your day off.' They're like, 'Oh, no. We came to watch you guys fight.'"
Having survived that epic battle, Georgiou has now crossed over to the Prime Universe, and heading into this Sunday's season finale it's impossible to predict what her fate may be — or if there's any chance of redemption for the character, who wears her darkness on her sleeve.
"This was something that we all talked about right at the beginning," she said. "It's like, yes, you see her being very tough and all that, but… there is hope, there is humanity, and it reflects in all the little things that Emperor Georgiou has done, even when she was in the Terran world. That scene between her and Michael Burnham when they talk about their betrayal, their love — if someone can feel that much pain by losing someone you love, there is redemption, there must be redemption, but it doesn't happen overnight."
For Yeoh, the dynamic between Burnham and Georgiou at the end of Season 1 is an interesting twist on their relationship at the beginning of the series. "I think I see it almost like a role reversal right now, with Captain Phillipa Georgiou to Michael Burnham at the beginning where she was trying to instill humanity with Michael Burnham, and help her to think and believe that it is okay to feel emotions and be human," she said. "Captain Phillipa was the one who was teaching Michael Burnham. But now, it seems that Michael Burnham is the one who needs to help Emperor Georgiou find her humanity."
And the groundwork for that, Yeoh believes, has already been laid for in previous episodes. "You see her softening when she was fighting next to Michael Burnham — she feels like her daughter was there," she said. "So, I think this bond is never gonna go away from the two of them, and it will be interesting if in the future journeys, they can help each other find that again."
What's interesting to Yeoh is the way in which people have been reacting to this new version of Georgiou. "People are actually loving this new character. They don't go, 'Oh, she's evil. Why would you want to play an evil character?' You know, your hero is only as good as your antagonist, and sometimes you need someone to, you know, rough up things a little. What I love about this character is she will help you, as long as she helps herself as well," she said.
"That's what 'Star Trek' is — it's always very reflective of what's happening around today," she said. "Let me put it this way — these are interesting times, and I think our series has been very reflective of that. And I think people have been very excited, especially when they see so many woman roles, and this is something that we are fighting for right now is gender equality, so it seems right. It is right, that in the future, which is what 'Star Trek' always represents. You know? This is our future, and it's so inspiring, especially for young girls to turn around and go, 'Hey, I can be an admiral, I can be a captain.'"
Noted IndieWire: "She could be an emperor."
"Yes, as well as an emperor," she agreed.
"I really, really am so grateful for this chance to be part of the 'Star Trek' family because there's so much love and passion that goes into it, the details, everything," Yeoh said. "From the stories, the costumes, the special effects. Isn't it just amazing when the mycelium is reborn again? I mean, it's like poetry in motion. So, I'm really very grateful for this opportunity."
Michelle Yeoh Martial Arts
Michelle Yeoh Hot
Michelle Yeoh Bond
Tomorrow Never Dies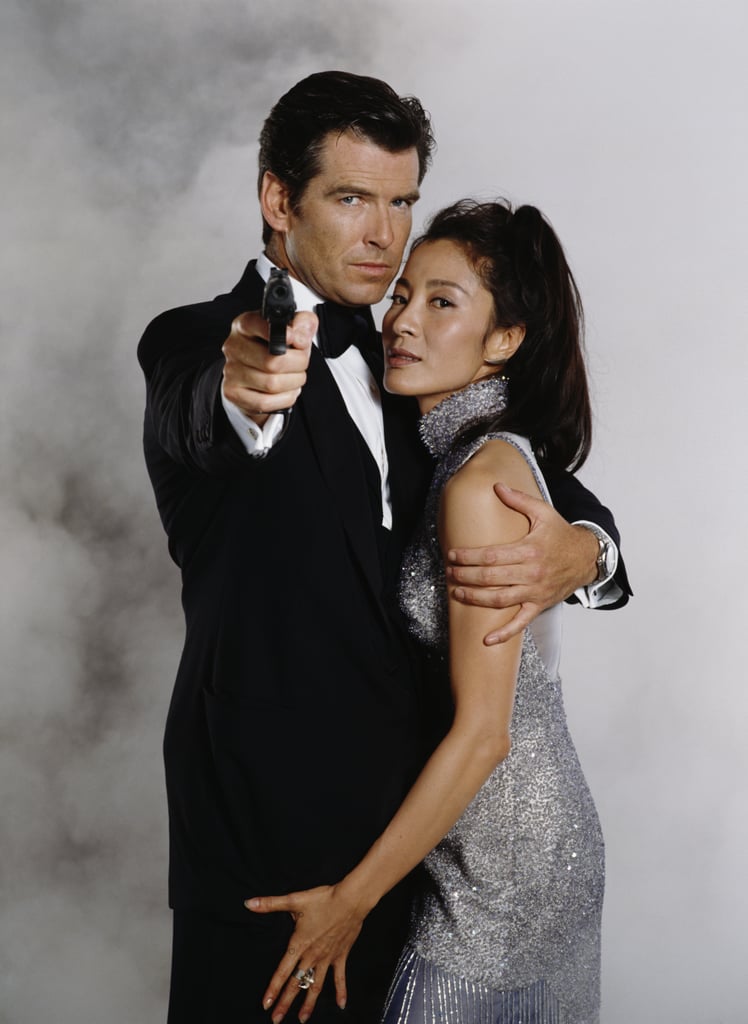 Media mogul Elliot Carver (Jonathan Pryce) wants his news empire to reach every country on the globe, but the Chinese government will not allow him to broadcast there. Carver doesn't take no for an answer and plans to use his media empire to fuel flames of war between the Western world and China. Thankfully, James Bond (Pierce Brosnan) is on to the insane news tycoon and travels to China to stop him with the help of Chinese secret agent Wai Lin (Michelle Yeoh).
Initial release: 9 December 1997 (United Kingdom)
Director: Roger Spottiswoode
Featured song: Tomorrow Never Dies
Box office: 333 million USD
Budget: 110 million USD
Michelle Yeoh Feet
Michelle Yeoh Jackie Chan
Michelle Yeoh Facebook
Michelle Yeoh Instagram