Dr. Bitange Ndemo Biography
Bitange Ndemo (Elijah Bitange Ndemo) was born 4th December 1959 in Kisii county. He is an ICT champion,academician and a newspaper columnist with Daily Nation and Business Daily.
Bitange Ndemo is regarded as one of the key people who oversaw the transformation in the Kenyan ICT Sector while the Permanent Secretary through various ICT policies and projects such as launching of undersea submarine cables, the mushrooming of business process outsourcing industry, the dramatic reduction in mobile termination rates (MTRs) , initiating of the Kenya Open Data and the growth of tech hubs such as iHub and mLab in Kenya through effective regulation.
A passionate man in matters ICT, his priority was to connect East Africa to the rest of the world through the under- sea fibre optic cable. He was at the forefront in developing the demand for ICTs by actively promoting Business Process Outsourcing (BPO) in both urban and rural areas. Another pet project that defined Dr Ndemo is the Konza Technology City, touted as a technological wonder that will take after the USA's Silicon Valley.
Bitange Ndemo Education Background
In 1988 he graduated from the  University of Minnesota, USA,  Carlson School of Management with a bachelor's degree in Finance. In 1991 he got a Master of Business Administration, Strategic Management from  the University of St. Thomas (Minnesota), Minnesota, USA. He has a PhD in Industrial Economics from the University of Sheffield.
Bitange Ndemo Job Positions
2005 – 2013: Permanent Secretary in the Ministry of Information and Communication.
Since 1995: Lecturer (Management, Information Systems and
Statistics)
1993 – 1995: Tutorial Fellow (Management, Fiance and Information
Systems)
1991 – 1993: Senior Financial Systems Analyst, Medtronic Inc.
USA.
1989 – 1990: Cost Accountant, Medtronic Inc. USA.
1979 – 1983: Assistant Accountant, Kenya Power and Lighting.
Bitange Ndemo Job History
At the university, Dr Bitange Ndemo taught entrepreneurship, management and research methods. Most of his research work centres on small and medium enterprises in Kenya, with an emphasis on social enterprise. After his appointment in the Ministry of Information and Communication, he promptly started new development programmes, including marketing Kenya as a destination for BPO.
In 2006, a year after he joined the Ministry, Dr Ndemo, tired of the endless delays as 23 African countries bickered over plans for a joint fibre-optic cable for high-speed Internet, he linked up with The East Africa Marine System (TEAMS) from the United Arab Emirates to make such a cable a reality for Kenyans. The high speed Internet and the associated innovations can therefore be attributed to him.
When the cable was switched on in 2009, Dr Bitange Ndemo was at the forefront to ensure universities got access to broadband Internet. He also successfully pressed the government to put money into IT research and start-up incubators. He is also credited with successfully persuading Kenya's third President Mwai Kibaki to make all unclassified Kenyan government data open source available to anyone online a revolutionary move in the African continent.
During his tenure, Dr Ndemo saw internet users in the country grow from fewer than 2 million in 2007 to more than 12 million, and nearly 90 per cent of the population has access to cellphones.
Bitange Ndemo Family; Wife and Children
Dr. Ndemo is married and has three children.
Bitange Ndemo Publication
Ndemo, E B (2015) Political Entrepreneurialism: Reflections of a Civil Servant on the Role of Political Institutions in Technology Innovation and Diffusion in Kenya. Stability: International Journal of Security and Development 4(1):15
Ndemo B and Smallbone D. (2015) Linkage Dynamics between MSEs and Multinational Corporations in Kenya. A longitudinal review of a 2005 conference paper –DBA Africa Management Review 1 2015.
Dennis M. A. and Ndemo B. (2014) What drives women out of Entrepreneurship? The joint role of culture and access to finance. DBA Africa Management Review 2 (2014).
Ndemo B. Rushda Majeed (2012) Case Study: Disseminating the Power of Information: Kenya Open Data Initiative. Innovation for Successful Societies. Princeton University Press (2012)
Ndemo E. B. (2007) Women entrepreneurs and strategic decision making. Management Decision 45(1), 118-130 (2007).
Ndemo B. (2006) Assessing sustainability of faith-based enterprises in Kenya. International Journal of Social Economics 33 (5/6), 446-462 (2006)
Ndemo B. (2005) Maasai Entrepreneurship and Change. Journal of Small Business & Entrepreneurship Vol. 18 No. 2. Spring 2005 pp 207–219. (2005)
Bitange Ndemo News
Blockchain Chairman
On 28th February 2018, Information and Technology Cabinet Secretary Joe Mucheru unveiled Blockchain task force which will be chaired by Dr Bitange Ndemo.
Blockchain is a technology that allows digital information to be distributed but not copied. It is a digital ledger of records arranged in portions of data called blocks.
By storing blocks of information that are identical across its network, the blockchain cannot be controlled by any single entity or have a single point of failure.
Bitange Ndemo Photo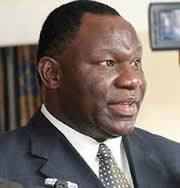 Bitange Ndemo Video
---
More About Kenya
Kenya is a land of contrast – highlands and plains; wet and dry; rural and urban and people of all races. This offers many opportunities to citizens, foreigners, and visitors alike.
Here is more information about Kenya …
Welcome to Kenya. Welcome to Opportunity.
---
Other Famous People in Kenya