Bobby Cannavale Biography
Bobby Cannavale, born Robert Michael Cannavale is an actor from the United States. He is known for his various film, TV, and stage roles. He is famous for his regular or recurring roles in Third Watch, Boardwalk Empire, Vinyl, Will & Grace, and Mr. Robot.
He had a recurring role on the NBC comedy series Will & Grace. He played the role of Will Truman's long-term boyfriend Officer Vincent "Vince" D'Angelo. His performances won him the 2005 Primetime Emmy Award for Outstanding Guest Actor in a Comedy Series. Additionally, he portrayed Gyp Rosetti in the third season of the HBO drama series Boardwalk Empire. His performances won him the 2013 Primetime Emmy Award for Outstanding Supporting Actor in a Drama Series. He was the star of the 2016 HBO drama series Vinyl, produced by Martin Scorsese and Mick Jagger. He joined the cast of the USA Network drama series Mr. Robot during its third season in 2017.
For his performances in the play Mauritius and The Motherfucker with the Hat, he was nominated for the Tony Award for Best Featured Actor in a Play and the Tony Award for Best Actor in a Play, respectively.
Bobby Cannavale Age
He was born on the 3rd of May in 1970. He was 48 years old as of 2018.
Bobby Cannavale Family
He was born and raised in Union City, New Jersey. He was born to Sal and Isabel Cannavale. His father is Italian while his mother is Cuban.
He was married to actress/screenwriter Jenny Lumet from 1994-2003. The couple has a son named Jake Cannavale.
He has been dating Australian actress Rose Bryne from 2012. The couple welcomed their first child, Rocco Robin Cannavale on the 1st of February in 2016. They welcomed their second son named Rafa in November of 2017.
Bobby Cannavale Career
He started his acting career in the theater. He had zero acting training. He got early film roles in Night Falls on Manhattan (1997) and The Bone Collector (1999). He became well known for his role of Bobby Caffey on Third Watch. A series that went on for two seasons. He starred alongside Alan Arkin in the 2001 legal drama, 100 Centre Street – which was written and directed by Sidney Lumet, his then-father-in-law.
He joined the cast of Ally McBeal for the last five episodes in 2002. However, the show was then canceled. He starred with Yancey Arias and Sheryl Lee in the 2003 crime drama miniseries, Kingpin. In 2003, he appeared in the last two episodes of Oz. In addition, he appeared in the film The Station Agent as a man who befriends a little person removed from society. He had a recurring guest role on Will & Grace as Vince D'Angelo, the boyfriend (and eventual husband) of Will Truman (Eric McCormack) from 2004 to 2006. However, in the reboot, they are revealed as not married. For this role, he was awarded the 2005 Primetime Emmy Award for Outstanding Guest Actor in a Comedy Series. He appeared in the films Snakes on a Plane, The Guru (2002), Shall We Dance? (2004) and Romance & Cigarettes (2005). Additionally, he guest starred in Sex and the City, Six Feet Under, Oz, Law & Order – and its spin-off series Law & Order: Criminal Intent and Law & Order: Special Victims Unit. He played the role of Agent Steve Perelli in the 2007 crime drama film, The Take.
He is the voice of Corado R. Ciarlo, known as "Babe", in the Ken Burns PBS film series The War (the story of World War II). The movie is seen from the perspective of the combatants in the war and their loved ones at home. He read the audiobook versions of Richard Price's 2008 novel Lush Life and Ed Falco's 2012 novel The Family Corleone. On the 25th of August in 2008, ABC ordered his pilot Cupid, a remake of the 1998 program, to series. In the new version of the series, he starred alongside Sarah Paulson. The script development was overseen by original series creator Rob Thomas. ABC debuted Cupid on the 31st of March in 2009. However, the show was canceled on the 19th of May in 2009.
He got a Tony Award nomination for his role as Dennis in the Broadway play, Mauritius in 2008. CBS announced in 2009, that he would reprise his role of Det. Eddie Saccardo on the television show, Cold Case, for three episodes. This would start with the third episode of Season 7. In addition, he was also in the 2011 film, Win Win, playing the role of Terry Delfino. Later, he starred in the Broadway play The Motherfucker with the Hat alongside Chris Rock and Annabella Sciorra. On the 3rd of May in 2011, on his 41st birthday, he was nominated for a Tony Award for his leading role in the play.
In 2012 and 2013, he guest starred in the fourth and fifth season of Showtime's Nurse Jackie, respectively. For his efforts, he was nominated twice again for the Primetime Emmy Award for Outstanding Guest Actor in a Comedy Series in 2012 and 2013. Additionally, he joined the cast of HBO's Boardwalk Empire, portraying the psychopathic Sicilian gangster Gyp Rosetti in season three. His performance on Boardwalk Empire was critically acclaimed. This earned him the 2013 Primetime Emmy Award for Outstanding Supporting Actor in a Drama Series. That same year he also played the role of Lewis, a vengeful clown on Modern Family in season three. For his performances, he was nominated for Best Guest Performer in a Comedy Series at the 2nd Critics' Choice Television Awards in 2012. TV Guide, praised him for this "trifecta of great performances", in its "Cheers & Jeers 2012" issue. He played the lead role in the 2015 comedy-drama film, Danny Collins. His performance was lauded as "heroically moving" by Matt Zoller Seitz of RogerEbert.com.
Since 2015, he has been a participant in voice-over work for Playing On Air, a non-profit organization that records short plays for public radio and podcast. The short plays are written by top playwrights and performed by outstanding actors. He has been the star of three short plays, including Crazy Eights by David Lindsay-Abaire, Mere Mortals by David Ives; and 2 Dads by David Auburn.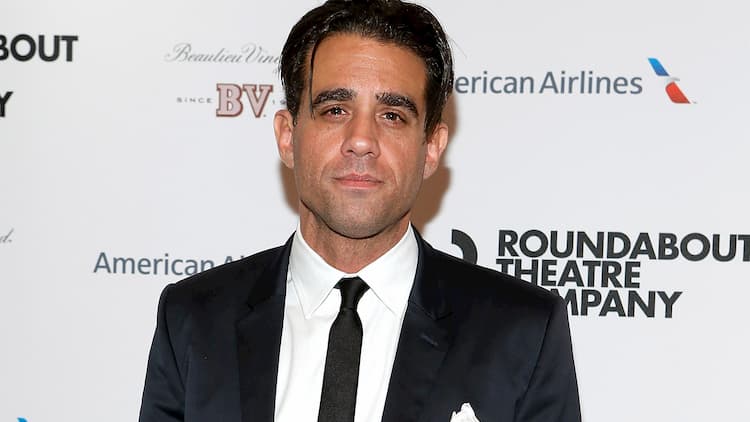 Bobby Cannavale Going Places
Going Places is an upcoming American crime comedy movie. The film was written by, directed by, and stars John Turturro. The film acts as a remake of the 1974 French film of the same name by Bertrand Blier. Additionally, it acts as a spin-off to the 1998 cult film The Big Lebowski by the Coen brothers.
The movie follows a trio of sexually depraved misfits, played by Turturro, Bobby Cannavale, and Audrey Tautou.
Bobby Cannavale Filmography
A list of films he has appeared in:
Year

Title

Role

2019

Going Places

Petey

The Irishman

Felix "Skinny Razor" DiTullio

Super Intelligence

George

Motherless Brooklyn

Tony Vermonte

2018

Boundaries

Leonard

Ant-Man and the Wasp

Jim Paxton

2017

Hair

Bobby Cannavale

The Nut Job 2: Nutty by Nature

Frankie (voice)

I, Tonya

Martin Maddox

Jumanji: Welcome to the Jungle

Russell Van Pelt

Ferdinand

Valiente/Valiente's father (voices)

The Photographrer

Photographer

2016

The Fundamentals of Caring

Cash

2015

Danny Collins

Tom Donnelly

Spy

Sergio De Luca

Ant-Man

Jim Paxton

Daddy's Home

Dr. Emilio Francisco

2014

Chef

Tony

Adult Beginners

Danny

Annie

Guy Danlily

2013

Movie 43

Superman

Parker

Jake Fernandez

Lovelace

Butchie Peraino

Blue Jasmine

Chili

2011

Win Win

Terry Delfino

Roadie

Randy Stevens

2010

F—K

Bobby

The Other Guys

Jimmy

Apples

Nino

Weakness

Joshua Polansky

2009

Paul Blart: Mall Cop

Commander James Kent

The Merry Gentleman

Michael Elkhart

Brief Interviews with Hideous Men

Subject #40

Louis C.K.'s Last Chance

Porn Producer

2008

The Take

Agent Steve Perelli

Diminished Capacity

Lee Vivyan

The Promotion

Dr. Mark Timms

100 Feet

Lou Shanks

2007

The Ten

Marty McBride

Dedication

Don Meyers

2006

The Night Listener

Jess

Fast Food Nation

Mike

Snakes on a Plane

Special Agent Hank Harris

10 Items or Less

Bobby

2005

Happy Endings

Javier Duran

Romance & Cigarettes

Chetty Jr. / "Fryburg"

2004

Fresh Cut Grass

Billy Pecchio

Haven

Lieutenant

Shall We Dance?

Chic

The Breakup Artist

Neighbor

2003

Shortcut to Happiness

Cop

The Station Agent

Joe Oramas

2002

Washington Heights

Angel

The Guru

Randy

2000

3 A.M.

Jose

1999

Gloria

Jack Jesus Nunez

The Bone Collector

Detective Steve

1996

I'm Not Rappaport

Parking Lot Customer

Night Falls on Manhattan

Vigoda Assistant #1

TBA

Once Upon a Time in Staten Island
A list of TV series he has appeared in:
Year

Title

Role

2018

BoJack Horseman

Vance Waggoner (voice)

Big Mouth

Gavin the Hormone Monster (voice)

Homecoming

Colin Belfast

Angie Tribeca

Angela "A.J." Giles Jr.

2017

Master of None

Chef Jeff

Comrade Detective

Petre Bubescu (voice)

Mr. Robot

Irving

2016

Vinyl

Richie Finestra

2014

Robot Chicken

Rick Sanders, Yellow Robot, Bone Age Warrior (voice)

2012–2013

Nurse Jackie

Dr. Mike Cruz

2012

Modern Family

Lewis

Boardwalk Empire

Gyp Rosetti

2010–2011

Blue Bloods

Charles Rosselini

2010

American Dad!

Detective Chaz Miglachio (voice)

Louie

Chris

Marry Me

Adam

2009

Cupid

Trevor Pierce

2008–2009

Cold Case

Eddie Saccardo

2008

Lipstick Jungle

Chris "Parks" Parker

2007

The War

Corado R. "Babe" Ciarlo (voice)

The Knights of Prosperity

Enrico Cortez

Law & Order

J.P. Lange

M.O.N.Y.

Joe Capanelli

2006-2007

The Days of Pets

Burke Zuko

2005

N.Y.-70

Det. Niko Corso

The Exonerated

Jesse Tafero

Recipe for a Perfect Christmas

Alex Stermadapolous

2004–2018

Will & Grace

Vince D'Angelo

2004

Six Feet Under

Javier

2003

Kingpin

Chato Cadena

Mickeypalooza

Himself

Law & Order: Criminal Intent

Julian Bello

Oz

Alonzo Torquemada

2002

Law & Order: Special Victims Unit

Kyle Novacek

Ally McBeal

Wilson Jade

Law & Order

Randy Porter

2001–2002

100 Centre Street

Jeremiah Jellinek

2000

Sex and the City

Adam Ball

1999–2001

Third Watch

Roberto Caffey

1998

When Trumpets Fade

Capt. Thomas Zenek
A list of plays he has appeared in:
| | | | |
| --- | --- | --- | --- |
| Year | Title | Role | Theatre |
| 2018 | The Lifespan of a Fact | John | Studio 54 |
| 2017 | The Hairy Ape | Robert "Yank" Smith | Park Avenue Armory |
| 2016 | White Rabbit Red Rabbit | (solo) | Westside Theatre[27] |
| 2013 | The Big Knife | Charlie Castle | Roundabout Theatre |
| 2012 | Glengarry Glen Ross | Richard Roma | Gerald Schoenfeld Theatre |
| 2011 | The Motherfucker with the Hat | Jackie | Gerald Schoenfeld Theatre |
| 2010 | Trust | Morton | Second Stage Theater |
| 2007 | Mauritius | Dennis | Biltmore Theatre |
| 2005 | Hurlyburly | Phil | Acorn Theater |
| 2003 | Fucking A | The Mayor | The Public Theater |
| 1998 | The Most Fabulous Story Ever Told | Steve | Williamstown Theatre Festival |
 Bobby Cannavale Instagram
---

We endeavor to keep our content True, Accurate, Correct, Original and Up to Date.
If you believe that any information in this article is Incorrect, Incomplete, Plagiarised, violates your Copyright right or you want to propose an update, please send us an email to informationcradle@gmail.com indicating the proposed changes and the content URL. Provide as much information as you can and we promise to take corrective measures to the best of our abilities.
---