Brian Dzingai Biography, Career, Events, Achievements, interview
ARTICLE UPDATED ON FEBRUARY 13, 2020 BY RACHEL GACHIE (EDIT)
Brian Dzingai Biography
Brian Dzingai is a Zimbabwean Olympic who is specialized in the 200 metres, The best current Zimbabwean record is when he ran his personal best time of 20.12 seconds in june 2004 in Austin.Other best time is 10.19 seconds when he ran 100 metres.
Brian Dzingai Education
He attended St George's College in Harare, Zimbabwe. He attended college at both Truman State University in Kirksville, MO and Florida State University in the United States, where he was a member of the African Students Association at Truman. Shortly after completing his undergraduate degree at FSU, Brian earned a master's degree in Business Administration (MBA) from Florida State University.
Brian Dzingai Career
Dzingai represented Zimbabwe at the 2008 Summer Olympics in Beijing where he was selected as the flag-bearer for the Zimbabwean contingent. He competed in the 200 metres and placed first in his first round heat, just in front of Christian Malcolm with a time of 20.25 seconds. He improved his time in the second round to 20.23 seconds and won his race again, this time in front of American sprinter, Walter Dix. He ran his semi final race in 20.17 seconds and placed second after Churandy Martina, but again before Dix.
With his appearance in the Olympic 200 meter final, Dzingai became the most accomplished sprinter in Zimbabwean history. In that race, Usain Bolt shattered the world record and Dzingai ran a time of 20.22, which placed him unofficially in sixth place. However, due to the disqualifications of Martina (second) and Wallace Spearmon (third) he moved up to the fourth place overall, behind Dix and missing out on the bronze medal by 0.24 seconds.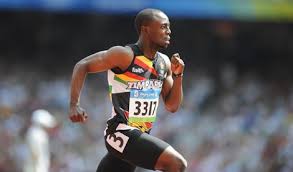 Brian Dzingai Age
Dzingai was born on April 29, 1981, in Harare, Zimbabwe. He celebrates his birthday on April 29th every year.
Brian Dzingai Family
After doing our research, details about his parents are not available and it is also not known if he has any siblings.
Brian Dzingai Wife
Brian Dzingai is married to his lovely wife Carol . and together they are blessed two daughters, Marley and Zoe and are expecting a son in the spring of 2020.
Brian Dzingai Body Measurements
Height:5 ft 6 in (168 cm)
Weight: 75 kg)
Shoe Size: Not Available
Body Shape: Not Available
Hair Colour: Not Available
Eye Colour: Not Available
Brian Dzingai Net Worth
The award-winning Olympic Brian has an estimated net worth of $3162278 which he has earned through his successful career as a Olympic
Brian Dzingai Events
200 metres
4 × 400 metres relay
60 metres
Achievements
4th in 200m Final at the Beijing Olympics.
5th Round 2, Heat 2 in the 200m at the 2004 Olympic Games.
6th in 200m at the 2006 African Championships.
6th in 200m at IAAF Final 2008.
5th IAAF World Athletics Final 2007.
11th in 2007 IAAF World Championships in Athletics.
9 (semi-final) 2003 World Championships in Athletics.
3rd in 4×100 relay at the 2007 All-Africa Games.
Frequently Asked Questions About Brian Dzingai
Who is Brian ?
Brian is one of Zimbabwean best-known and loved Olympic
How old is He?
He is 39 as of 2020. He was born in 1981
How tall is Dzingai ?
Dzingai stands at a height of 5 ft 6 in (168 cm)
Is He married?
Heis married to her lovely wife Carol
How much is Dzingai worth?
He has an accomplished Olympic with an estimated net worth of $3162278.
Where does Brian live?
He lives in Harare, Zimbabwe
Is Dzingai dead or alive?
Yes Dzingai is still alive and in good health.
Where is he now?
Not Known
State Dzingai's current occupation.
Supposedly, 2020 has been a busy year for Brian Dzingai. However, we do not have any detailed information on what Brian is doing these days
Brian Dzingai Facebook
https://web.facebook.com/search/top/?q=Brian+Dzingai
Brian Dzingai Twitter
Brian Dzingai Interview
JS:
You've won 20 races in the European Athletics circuit. For those who perhaps don't follow athletics much outside of the Olympics, tell us a little bit about what it takes to win one of these races at the very top level of the professional circuit?
Dzingai: A lot of hard work and dedication and buying into the fact that athletics is not something that I just do, but is ultimately a lifestyle. That means that every decision or move I make has either a positive or adverse effect on my career.
JS: How applicable are those attributes to every day pursuits such as business, study or even work life?
Dzingai: Effort directly correlates to success. Just as in a business, you are essentially the master of your own destiny.
JS: Tell us a little about how you got started in athletics and what keeps you motivated to continue with what must be a grueling training schedule?
Dzingai: I've always been a keen sportsman from a young age all the way through high school. When I applied to university in the US, I was granted a partial academic scholarship, and upon speaking to the athletics coach, was granted an athletic scholarship too which vastly reduced my tuition expenses.
That's how I pretty much got my real start in athletics. What keeps me motivated? The challenge or quest to be amongst the best in the world. Once you get a taste of success, you don't ever want to lose it.
JS: I'm sure you've been asked this a million times, but what did it feel like running in the lane next to the fastest man in history Usain Bolt? Did you feel intimidated at all?
Dzingai: I had raced Usain 3 times that year before Beijing and each time I was in the outside lane, just like in the Olympic Final. So I was by no means intimidated. If anything I was wishing if that whole experience could last a lifetime.
JS: Lets talk about London 2012,What are some of the things you'll be doing to prepare yourself for London 2012?
Dzingai: Well the build up starts now, 2 years before the games. My training will start November 1 and will see me compete in the European Circuit next summer, World Champs in Daegu in 2011 and the All Africa Games in 2011. The aim is to be a World Championship finalist next year and use that momentum to propel me into the Olympic year.
JS: You are one of the very few athletes from Southern Africa that features at the top level of world sprinting, in fact you were the only one in that 200m final. Why do you think this was the case?
Dzingai: I can't speak for other athletes, but I can speak about my own situation. I am blessed to have a great coach, Ken Harnden, great training group (Michael Bingham and Charles Clark), great training facilities and a great medical support team. All these people have, are and will be key to my success.
JS: So What do you think is the future of top level athletics in Zimbabwe?
Dzingai: There is hope as the talent is there, but the nurturing has to begin at the grassroots level. I hope I have created a glimmer of hope that sport can be viewed as an actual "profession".
JS: How can those who are interested in following your progress to 2012 keep in touch, show their support or keep up to date with your progress?
Dzingai: We just launched our website www.briandzingai.com and this will be updated regularly with what's going on with me and my schedule. You can also watch my races typically on BBC or Supersport depending on what part of the world you are in.
The Olympian will be in Zimbabwe from the 14th of September to 14th October to inspire athletes, coaches and the public. His programme will involve several events some of which are coordinated by the Zimbabwe Olympic Committee.
These include coaching clinics for 13 – 15 year old's at Prince Edward on the 22nd and the 29th of September between 2 and 4pm. Dzingai will also be attending the United Nations and Zimbabwe Olympic committee organised International Day of Peace Sports tournament on the 21st of September and later that day conducting an address to budding athletes and their parents at the United States Embassy Public Affairs Section in Harare.
Dzingai has also indicated that he would be willing to assist in the establishment of National Sports Structures in Zimbabwe, a project the National Athletics Association of Zimbabwe is working on with the world governing body the International Association of Athletics Federation the IAAF).
---

We endeavor to keep our content True, Accurate, Correct, Original and Up to Date.
If you believe that any information in this article is Incorrect, Incomplete, Plagiarised, violates your Copyright right or you want to propose an update, please send us an email to informationcradle@gmail.com indicating the proposed changes and the content URL. Provide as much information as you can and we promise to take corrective measures to the best of our abilities.
---