Who is Brittany Garzillo? Brittany Garzillo Biography and Wiki
Brittany is an American journalist who was born and brought up Allentown–Bethlehem–Easton (USA). Currently, she works at  Fox 32 as a reporter. Previously, Before joining Fox 32, Garzillo worked at WGAL News 8 as the evening  Traffic Anchor and  Weekday Reporter for two years.
Brittany Garzillo Age and Birthday
Garzillo was born and bred in Lehigh Valley. However, the exact date of birth of WGAL 's traffic anchor/reporter is not yet known to the public. As such, it is difficult to establish her actual age or when she celebrates her birthday. Nevertheless, we are keeping tabs and will update you once this information is available.
Brittany Garzillo Height and Weight
Garzillo appears to be quite tall in stature if her photos, relative to her surroundings, are anything to go by. However, details regarding her actual height and other body measurements are currently not publicly available. We are keeping tabs and will update this information once it is out.
Brittany Garzillo Education
Talking about beauty and brains, Garzillo definitely tops the list. She is a smart and beautiful woman. Brittany is a graduate. She holds a self-designed Bachelor of Arts degree in Communications and Media Studies from the Moravian College in Bethlehem, PA.
She is acknowledged for producing a documentary while still in college, along with other  Moravian students. The documentary earned a College Production Award at the 2012 NATAS Mid-Atlantic Emmy Awards. Later on, Garzillo worked as an intern at PBS39, NBC10, and WFMZ. In 2016, Lehigh Valley Style Magazine named her Woman of Style.
Brittany Garzillo Family
Our efforts to find out more about Garzillo's family came to no avail as no such information is publicly available. Thus, the identity of her parents is still unclear. It is also not known if she has any siblings.
Brittany Garzillo Engagement and Fiance
The beautiful WGAL anchor got engaged to her fiance Stephen in 2018, She shared this information on her social media platforms.
Brittany Garzillo Husband and Wedding
About a year ago, in August 2019, Brittany took it to her Facebook page to announce that she will be getting married to her fiance whom she got engaged to in 2018. however, details about her wedding are not revealed, they haven't disclosed the venue they tied their knot.
Howbeit, she shared a post 0n August 2019 on her Facebook page, hinting that she was set to wed that very same month to her longtime boyfriend Stephen. Nothing much is known about her husband. The post read: "It's FINALLY August! I get married this month! ✨💍". 
Brittany Garzillo Salary
WGAL news anchor salaries range from an average of $79700 per year, ranging from $59082 to $94985.However, these figures may vary substantially according to the level of seniority of the employee in question. At the moment, we do not have the exact salary of Katelyn but we'll keep tabs and update once it is available.
Brittany Garzillo Net Worth
Garzillo has not revealed her net worth. She is a simple person and never likes to attract public attention by publicly displaying her wealth. However, this section is under review, we will update you when details about her net worth are revealed.
Brittany Garzillo Measurements and Facts
Here are some interesting facts and body measurements you should know about Brittany Garzillo
Brittany Garzillo Bio and Wiki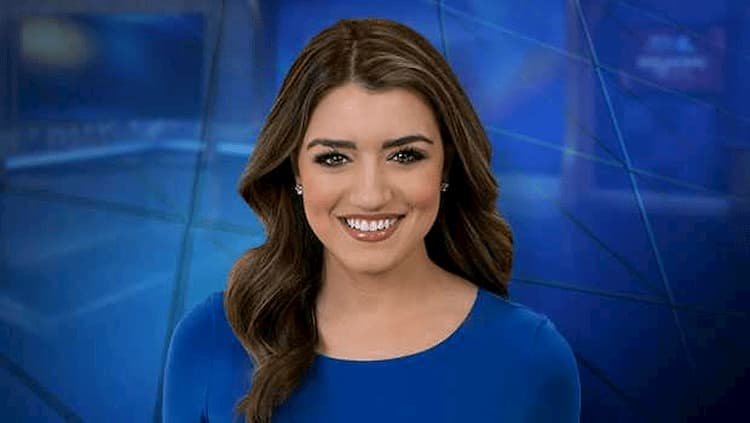 Full Names: Brittany Garzillo
Popular As: Garzillo
Gender: Female
Occupation / Profession: Journalist
Nationality: American
Race / Ethnicity: White
Religion:  Not Known
Sexual Orientation: Straight
Brittany Garzillo Birthday
Age / How Old?: To Be Added
Zodiac Sign: To Be Added

Date of Birth: To Be Added
Place of Birth: To Be Added
Birthday: To Be Added
Brittany Garzillo Body Measurements
Body Measurements: To Be Added
Height / How Tall?:  To Be Added
Weight: To Be Added
Eye Color: Brown
Hair Color: Brown
Shoe Size: To Be Added
Dress Size: To Be Added

Breast Size: To Be Added
Waist Size: To Be Added
Hip Size: To Be Added
Brittany Garzillo Family and Relationship
Father (Dad): Not Known
Mother:  Not Known
Siblings (Brothers and Sisters): Not Known
Marital Status: Married
Wife/Spouse or Husband/Spouse: Married to Stephen
Children: Sons ( TBA) Daughter(s) (TBA)
Brittany Garzillo Networth and Salary
Net Worth: $ 1 to $ 5 Million

Salary: Under Review
Source of Income: Under Review
Brittany Garzillo House and Cars
Place of living: To be Updated
Cars:  Car Brand to be Updated
Brittany Garzillo WGAL
Garzillo joined WGAL 8 in the year 2018 as a traffic anchor and weekdays reporter and has been working at the station ever since. However, her career in journalism started way back after her graduation. She interned at WFMZ-TV for a duration of 4 months and then in 2012, she moved to NBCUniversal, Inc. Her employment here only lasted for 3 months. Around the same year, she went on to intern at PBS 39-WLVT-TV, one of her longest internship duration. She worked for the company for a period of 1 year 4 years.
In 2013, she joined PBS39 Tv officially as a paid staff member. Some of her duties while in the station include Producer for The Salvation Army Legacy documentary also  Reported and produced for weekly stories for FOCUS. Additionally, she represented PBS39 at various community engagement events. While at PBS39 in Bethlehem, she was awarded 13 NATAS Mid-Atlantic Emmy Award nominations for her work.
In 2015, Garzillo received the PICPA Truth in Finances Award by the Pennsylvania Institute of Certified Public Accountants for her reporting on Bethlehem's City Revitalization and Improvement Zone. In 2017, she left the media company to join Wgal 8.
Brittany Garzillo Leaving WGAL
On Jan 28th, 2020 Brittany announced that she was leaving the Lancaster County station. Brittany Garzillo posted on Twitter and Facebook today that tomorrow will be her last day.
"We started this journey together two years ago and I have accomplished more than I ever could have imagined," Garzillo wrote.
"My adventure in television does not end here. I hope you will follow along with me on my personal social media accounts as I write my next chapter as a journalist. I cannot wait to share where I am off to next."
Brittany Garzillo New Job | Fox 32
Garzillo left WGAL heading to WLFD/Fox 32 in Chicago. She joined the station officially on March 28, 2020, as a reporter. Garzillo shared a post on her Facebook page on her first day at work. the post read,
" What a week to start my new job at Fox32 in Chicago. Today, I got to witness as cargo planes from around the world flew into O'Hare with hundreds of thousands of pounds of medical supplies, like masks, gloves, and hospital gowns. About 80% will stay in Chicago, the other 20% will go to other Midwest cities. Don't worry, I kept my distance and am doing what I can to help flatten the curve. Please stay safe and well.|"
Fox 32 News
WFLD of Fox 32 a Fox owned-and-operated television station sanctioned to Chicago, Illinois, United States. The station is owned by the Fox Television Stations subsidiary of Fox Corporation.
Fox 32 Anchors and Reporters
Her fellow news team at Fox 32 include:
 Michelle Alegria
Bill Bellis
Natalie Bomke
 Lou Canellis
Mike Caplan
Kaitlin Cody

Tia Ewing
Mike Flannery
Jake Hamilton
Dawn Hasbrouck
Joanie Lum
Elizabeth Matthews
Corey McPherrin
Anita Padilla
Brittney Payton
Sylvia Perez

Dane Placko
Anthony Ponce
Scott Schneider
Mark Strehl
Roseanne Tellez
Bill Zwecker
Brittany Garzillo Awards and Achievement
She is undoubtedly a fine journalist as outlined in the following awards and achievements
Won a College Production Award at the Mid-Atlantic Emmys for Arts and Entertainment
 Emmy Award-winning reporter/producer for PBS39
Frequently Asked Questions About Brittany Garzillo
Who is Brittany Garzillo?
She is a well-known news reporter for WGAL-Tv Prior to joining WGAL-Tv, she worked for  PBS39 Tv as a news producer and reporter.
How old is Brittany Garzillo?
she likes to keep her personal matters away from the public eye hence making it difficult to know her age. This section will be updated as soon as it's available.
How tall is Brittany Garzillo?
She has not shared her height with the public. her height will be listed once we have it from a credible source.
Is Brittany Garzillo married?
She is married to Stephens, however, there isn't much information about her husband.
How much is Brittany Garzillo worth?
She has not yet revealed her net worth. We will update this section when we get and verify information about the wealth and properties under her name.
How much does Brittany Garzillo make?
Per our average wage estimates for a journalist in the United States, she receives annual salary ranging between $ 24,292 and $ 72,507 that translates to an hourly average wage of between $ 10.15 and $ 31.32.
Where does Garzillo live?
Because of security reasons, she has not shared his precise location of residence. We will immediately update this information if we get the location and images of her house.
Is Garzillo dead or alive?
She is alive and in good health. There have been no reports of her being sick or having any health-related issues.
Where is Garzillo now?
She is pursuing her career in journalism. she is working as a news reporter at Fox32  since 2020.
Which school did Garzillo attend?
Brittany graduated with a self-designed Communications and Media Studies Bachelors of Arts degree at Moravian College in Bethlehem.
Brittany Garzillo Social Media Contacts
(Link the word itself instead of putting the URL next to the word.)
Related Biographies.
You may also like to read the Bio, Career, Family, Relationship,  Body measurements, Net worth, Achievements, and more about:
Reference:
We acknowledge the following websites that we have referenced as we were writing this article.:
Wikipedia

IMDB
FaceBook
Twitter
Instagram and
Youtube
Other Famous Media Personalities