Cassie Randolph Biography
Cassie Randolph is a contestant on the 23rd season of 'The Bachelor' born on 27th April 1995 in California, U.S. She is a Biola University graduate undertaking a Masters Degree in Speech Pathology at the University of Wisconsin-Eau Claire. She is an ESL substitute teacher at the Huntington Beach Adult School.
Cassie is a former speech-language pathology assistant at Mediscan staffing services where she served for three months (April 2017 – June 2017). She has also served as a Behavioral Therapist at Creative Solutions for Hope for eight months (August 2016 – March 2017). While studying at Biola University she served as an Undergrad speech therapist at the university for four months (February 2016 – May 2016). She also served as an intern at Beach Kids Therapy Center for two months (January 2016 – February 2016 )
Cassie Randolph Age
Cassie is 23 years old as of January 2019; she was born on 27th April 1995.
Cassie Randolph Family
Cassandra Randolph (Cassandra Ann Randolph) was born and raised in Huntington Beach, California to parents Matt Randolph, a marketing agency CEO, and Amy McCleary. Speaking of her siblings, she's the eldest of three siblings; her younger siblings include Michelle and Landon; Michelle is an actress and model signed to Wilhelmina Models.
Cassie Randolph Education
Cassie graduated in 2016 with a B.S. in Communication Sciences from Biola University. As of 2019, she is a student at the University of Wisconsin-Eau Claire studying a Masters Degree in Speech Pathology.
Cassie Randolph Ex-Boyfriend
In December 2013 Cassie began dating Caelan Tiongson but they broke up in 2016. The two starred in an online reality series 'Young Once' that followed their college romance while trying to redefine the next phase of their relationship.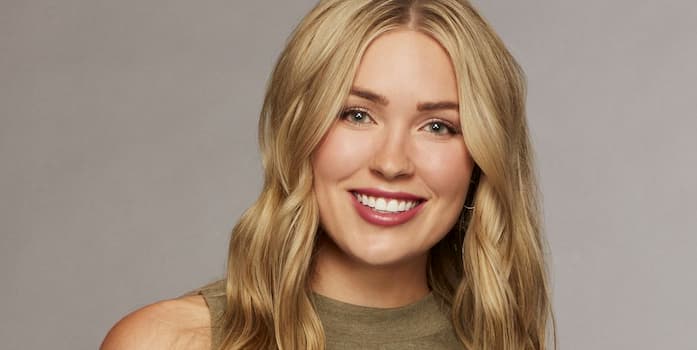 Cassie Randolph Biola
Cassie graduated from Biola University in 2016. The school is one of America's most conservative private schools. Alcohol, drugs, and sex are all off-limits at the evangelical Christian university, which was founded as Bible Institute of Los Angeles in 1908.
Cassie Randolph Bachelor
Cassie is a contestant on the 23rd season of 'The Bachelor'. During the premiere of the show, The Bachelor host Chris Harrison teased that she's got brains and is a very outdoorsy girl. Chris also suggested that since she is sweet and low key, there's a possibility she could get "lost in the fray" in the season.
Cassie Randolph  Colton Underwood
Since day one Colton Underwood seemed to have admired Cassie and he has admitted several times that he has strong feelings towards her. The pair even had a one-on-one date where they traveled to an exotic deserted island in Thailand. They spent the entire day together in the middle of the ocean. Colton Underwood even told Cassie she was a forerunner in The Bachelor competition.
Does Cassie Randolph Win The Bachelor
According to Reality Steve, a reality TV spoiler, Colton picked her after their very first overnight date. "I will be stunned if Cassie Randolph doesn't win. The one thing I heard a few weeks into filming more often than not was, 'Cassie is gonna win, and Caelynn will be Bachelorette'… I've been hearing Cassie is going to win since mid-October." Reality Steve wrote earlier in January 2019.
Many spoilers claim that Colton will choose Cassie but the question will be if Cassie is ready. According to some sources they claim that Cassie won't be ready and will turn the engagement down.
She was chosen by Colton but she dumped him because he was still seeing Tayshia Adams which prompted Colton to act hysterical and even jump over a fence.
During The Bachelor finale, it seems like the two have gotten back together after Colton sent Hannah G. and Tayshia both home. Colton went back to her explaining to her that they didn't have to get engaged if she was not ready. He also told her that the other bachelorettes go early because he couldn't see his life without her in some capacity. She also agreed that she needed Colton even if it was just as boyfriend and girlfriend and they decided to take things "day by day".
Cassie Randolph Speech Pathologist
ABC presented Cassie as a speech pathologist although she is not. She is undertaking a masters degree in speech pathology at the University of Wisconsin-Eau Claire set to graduate in 2021.
After the premiere of 'The Bachelor' when she was introduced as a speech pathologist she took to Instagram where she wrote: "It was encouraged I leave off the word assistant for lack of confusion, but I do realize how much one word can mean. Sometimes at the moment, it's easy to underestimate the impact of seemingly small details. The LAST thing I want to do is minimize the work it takes to earn the title of a full-fledged SLP or misrepresent myself."
Cassie Randolph High School
Cassie is an ESL (English as a Second Language) substitute teacher at Huntington Beach Adult School. She is also a substitute teacher at Huntington Beach Union High School District.
Cassie Randolph Young Once
Cassie was cast on Young Once, an online reality series which followed an eclectic group of college students at Biola University.
The first season included her college romance with her then-boyfriend, Caelan Tiongson, and the challenges they encountered while looking to define the next phase of their relationship.
Cassie Randolph Net Worth
Her net worth is estimated at around $100,000.
Casie Randolph Height
Cassie is 5 Feet 7 Inches tall.
Video
Twitter
Instagram