Cathy Mitchell Biography
Cathy Mitchell is an American author and television infomercial host for various advertisements best known as the author of Dump Cakes, Dump Dinners and Crock Pot Dump Meals. She is also known for appearing on the Adultswism parody in 2008 and Racheal Ray show in 2014.
Cathy Mitchell Age
Cathy is 72 years old as of now, she was born in 1947 In the United States of America.
Cathy Mitchell Husband
For all these years, Cathy likes to keep her personal life private hence information about her dating life is not available. It is therefore not known whether he is married or has any children. However, this information will be updated as soon as it is available.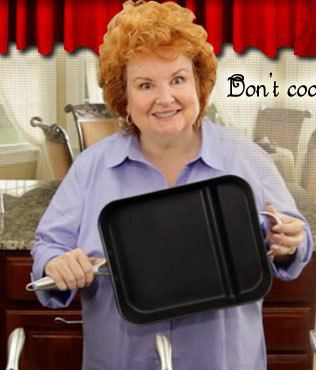 Cathy Mitchell Net Worth
Cathy has an estimated net worth of $600, 000 dollars which she has earned from her career as an author.
Cathy Mitchell Dump Dinners
Dump Dinner is a book written by Cathy to help readers with more than 200 easy steps to prepare dinner meals. There are no difficult formulas or processes, just dump your ingredients in a pan and bake. Now you can make "from scratch" dinners for your family in minutes! Create delicious meals and make incredible dishes that will have friends and family talking for days (and asking YOU for the recipe.
Cathy Mitchell Dump Soups
Making soup doesn't get any easier than this just chop, dump, and heat to create sensational soups in no time!
From hearty bean soups to home-style chicken soups, there's a soup here to please every palate. Choose from more than 60 delicious recipes, including spicy Asian noodle soups, thick seafood chowders, zesty taco and tortilla soups, and classic vegetable soups. And best of all, all of these satisfying, family-pleasing soups can be made in minutes!
Cathy Mitchell Cookbooks
♦Dumps for Diabetics
♦Quick and Easy Dump Cakes and More
♦Cathy Mitchell Presents Quick and EasyDump Cakes
♦Dump Cakes
♦Dump Dinners
♦Dump Soups
♦Dump for Diabetics
♦Dump Diet
♦Crock Pot Dump Meals
♦Ramen Joy
♦Ramen Nibbles
♦Pumpkin Paradise
♦Everyday Stonewave Meals
♦Red Copper Skillet Cooking
♦Eat This Book
Cathy Mitchell Sketch
Cathy appeared on Sketch parody the hostess of an infomercial for a cooking product called the Griddleman Griddle. The Griddleman is similar to the GT Xpress 101 product that Mitchell endorses in real life.
Cathy Mitchell Products
♦Snakmaster
♦Microcrisp
♦Turbo Cooker
♦Turbo Cooker Plus
♦Fry Pro 2
♦GeMagic
♦Le Presse
♦Chef-O-Matic Pro
♦Sideshow Skillet
♦Flat Fold Colander
♦FlipWhich skillet
♦Press Quick
♦10 Second Smoothie Maker
♦Pasta Boat
♦Pasta N More
♦GT Express 101
♦Xpress Redi-Set-Go
♦Xpress Platinum
♦Flavorstone
♦Minden Anytime Grill
♦HogWash Scrubber
♦Stonewave
♦Quick Taco
♦Chef HQ 2 in 1 Mixer
♦Red Titan Pan
♦Red Copper Pan
♦Red Copper Square Dance Pan
♦Red Copper Square Pan
♦Red Copper Big Time Pan
♦Red Copper Brownie Bonanza
♦Red Copper 5 Minute Chef
♦Red Copper Better Pasta Pot
Cathy Mitchell Facts and Body Measurements
Here are some interesting facts you don't want to miss about Cathy Mitchel
Full Name: Cathy Mitchel
Age/ How Old?: 72 years
Date of Birth: 1947
Place of Birth: USA
Nationality: American
Married?: N|A
Children/ Kids: N|A
Height/ How tall?: N|A
Weight: N|A
Profession: Author and Tv Personality
Net worth: $600,000
Frequently Asked Questions About Cathy Mitchell
Who is Cathy Mitchell?
Cathy is a well -known author television infomercial host for numerous As seen on TV products. She is also best known as the author of Dump Cakes, Dump Dinners, and CrockPot Dump Meals.
How old is Cathy Mitchell?
Cathy is 72 years old as of now, she was born in 1947 In the United States of America.
How tall is Cathy Mitchell?
Cathy has not shared her height with the public. Her height will be listed once we have it from a credible source.
Is Cathy Mitchell married?
Details about her love life are still under review. We will let you know when she gets in a relationship or when we discover helpful information about her love life.
How much is Cathy Mitchell's worth?
Cathy has an approximate net worth of $f $600, 000 dollars which she has earned from her career as an author.
Where does Cathy live?
Because of security reasons, Cathy has not shared her precise location of residence. We will immediately update this information if we get the location and images of her house.
Is Cathy Mitchell dead or alive?
Cathy is alive and in good health. There have been no reports of her being sick or having any health-related issues.
Cathy Mitchell Dump Cakes
About InformationCradle Editorial Staff
This Article is produced by InformationCradle Editorial Staff which is a team of expert writers and editors led by Josphat Gachie and trusted by millions of readers worldwide.
We endeavor to keep our content True, Accurate, Correct, Original and Up to Date. For complain, correction or an update, please send us an email to informationcradle@gmail.com. We promise to take corrective measures to the best of our abilities.