Celia Babini Bio
Celia Babini is a 17 years old thriving American singer and a songwriter who has impressed all four coaches of NBC's "The Voice". Currently Celia is a Senior at Fiorello LaGuardia High School and hopes to continue her musical training at NYU Clive Davis Institute in the Fall of 2019. In 2017, she dropped her first EP, Lola, which featured 5 songs, including "Gunfire," "Crystal Cove," and "Anti Skyline."
Celia Babini Age
Celia was born in 2002, to Luca Babini, a professional Photographer and Bonnie Young, afamous New York-based fashion designer and businesswoman. Her mother, Bonnie owns a clothing store by the name "By Bonnie Young." She is 17 years old as of 2019.
Celia Babini Parents and Family
Her parents Luca Babini , a professional photographer and Bonnie Young a famous New York-based fashion designer and businesswoman who owns a clothing store named "By Bonnie Young" that includes extraordinary fashion wears for women, are very supportive of her decision to pursue music as her professional career.
Celia Babini Ethnicity
Celia who is a native of New York City, is of Italian-American ethnicity as her father belongs to an Italian immigrant family while her mother is native American.
Celia Babini Sister
Celia was born in a family of two. She has a younger sister by the name Gabriella Babini. She has however not disclosed any details about her younger sister, other than her name.
Celia Babini Boyfriend
Celia is still quite young and still trying to find herself . Thus she has little or no time to get into relationship as she is still working on her music career. She does not have a boyfriend yet.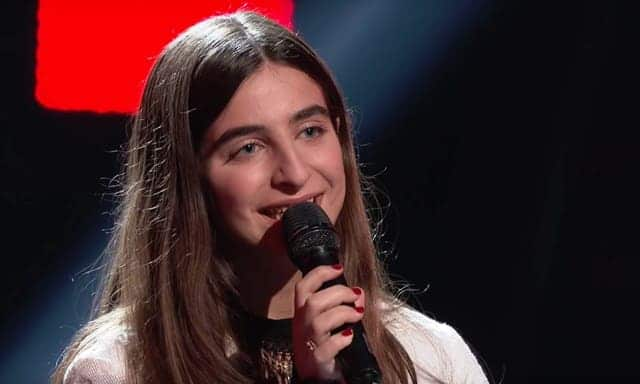 Celia Babini the Voice
She auditioned for The Voice  2019 with a Billie Eilish song . While she was performing her audition son on the voice her entire family was cheering her from backstage and they were thrilled when the four chairs turned towards her.
In the 18th episode of the voice season 16, Celia picked up Adam Levine as her coach.
To watch her full audition please click here.
Celia Eliminated from The Voice
In the last week of April 2019, Babini was saved from elimination last week, but there are no more coaches' rescues moving forward.
Celia was among the bottom three artist who never ranked anywhere on the iTunes top 200. She was immediately eliminated along with Oliv Blu and Jej Vinson on Tuesday the 7th of May.
The Voice Contestants 2019
Team Adam Levine
Trey Rose
Domenic Haynes
LB Crew
Patrick McAloon
Andrew Jannakos
Anthony Ortiz
Kalvin Jarvis
Ciera Dumas
Mari
Kendra Checketts
Betsy Ade
Team John Legend
Lisa Ramey
Beth Griffith-Manley
Julian King
Talon Cardon
Kayslin Victoria
Denton Arnlell
Shawn Sounds
Celia Babini
Team Kelly Clarkson
Karen Galera
Rizzi Myers
The Bundys: Megan, Katey, and Ryan
Rebecca Howell
Alena D'Amico
Jej VInson
Abby Kasch
Mikaela Astel
David Owens
Jackson Marlow
Presley Tennant
Matthew Johnson
Rod Stokes
Team Blake Shelton
Gyth Rigdon
Kim Cherry
LiLi Joy
Hannah Kay
Dalton Dover
Carter Lloyd Horne
Dexter Roberts
Andrew Sevener
Cecily Hennigan
Karly Moreno
Selkii
Oliv Blu
'The Comeback Stage' Contestants 2019
Nathan and Chesi
Klea Olson
J.T. Rodriguez
Kanard Thomas
Crystal Rose
Kayla Seeber
Savannah Brister
The Voice Coaches
Celia Instagram
Babini Twitter
Celia Babini News
You think Celia Babini will be eliminated Tuesday on 'The Voice' after Top 13 'Shallow' performance
Source: goldderby.com
All week long "The Voice" fans have been making their Gold Derby predictions for who they think will win Season 16 and who'll be eliminated next, and things are not looking good for Celia Babini of Team John Legend. Following her fan-chosen performance of Lady Gaga & Bradley Cooper's "Shallow" during Monday's Top 13 episode, this 18-year-old from New York, New York has 11/20 odds of being one of this week's five eliminated artists. Do you agree or disagree with our readers' racetrack odds? There's still time to make or update your picks before Tuesday's results show.
"I miss you. You're the best," Adam Levine said to his former artist after her dramatic pit fall into the crowd. "But I'm happy that you're with this guy [John] over here, because he's pretty awesome too. I'm just happy you're on this show, because you deserve to be here. I love watching every time you perform, I can't wait to see what you're gonna do. I'm a huge fan of yours. It just sucks that we didn't get to keep working together. We're gonna kinda keep working together through John. We're gonna talk about you all the time."
John told his quirky singer-songwriter, "Celia, when I first talked to you about doing this song you were like a little concerned because it's a lot of pressure. This song just won an Oscar and Lady Gaga is one of the best singers in the world. What I talked to you about was making it your own and you really did that. From the visual performance to the vocal performance, you really did make it your own. I didn't see her rehearse the little stage dive thing, so it was a surprise for me, too. She's really diving into the deep end!"
Last week Team Legend was lucky enough to get two artists voted into the Top 13 by America's vote: Maelyn Jarmon and Shawn Sounds. For his save John went with Celia after previously raving about her performance in the Top 24 round. John's three eliminated artists last week were Jacob Maxwell, Jimmy Mowery and Lisa Ramey.
In his "The Voice" live blog, our recapper John Benutty had this to say about the performance: "Because the song is a true duet it was a little weird when she opened with the Bradley part, but the gear-switch to the Gaga parts were an improvement. Still I think the song was too big for her voice which doesn't really hold notes as well as she needed it to."
Be sure to make your predictions to influence our reality TV racetrack odds. You can keep changing your predictions until just before the next episode airs on NBC. You'll compete to win a spot on our leaderboard and a $100 Amazon gift card. See our contest rules and sound off with other fans in our reality TV forum. Read more Gold Derby entertainment news.
---
We endeavor to keep our content True, Accurate, Correct, Original and Up to Date.
If you believe that any information in this article is Incorrect, Incomplete, Plagiarised, violates your Copyright right or you want to propose an update, please send us an email to informationcradle@gmail.com indicating the proposed changes and the content URL. Provide as much information as you can and we promise to take corrective measures to the best of our abilities.
---