Cori Gauff Biography
Cori Gauff known by her moniker "Coco" is an American tennis player hailing from Florida. Due to her prowess in the sport of tennis, she has been acknowledged as the youngest ever finalist in the girls' singles event at the US Open.  In the year 2018, she won the Junior Roland Garros (French Open) being the second-youngest athlete to do so. She made history in 2019 as the youngest female ever to qualify for a Grand Slam main draw and the youngest player to ever qualify for the main draw at Wimbledon.
In the first round of the 2019 Wimbledon Championship Women's Singles on July 1st, 2019, she played Venus Williams, winning the match in straight sets. Cori's incredible win over Venus Williams cemented her advancement to Second Round of The Championships 2019.
Cori Gauff Age| Birthday| How Old is Cori Gauff?
The budding tennis player was born on March 13, 2004, in Atlanta, Georgia, United States and is 15 years old in 2019. Her birth sign is Pisces.
Cori Gauff Height | Weight
In regards to her physical appearance and body measurement, Gauff has a height of 5 feet 9.5 inches (1.76 m). Additionally, she weighs around 55 kg (122 pounds). Furthermore, her hair color is black and eye color is dark brown.
Cori Gauff Young
Gauff was interested in tennis at a young age. She started playing tennis at the tender age of seven. She grew up in Atlanta, however due to her interest in tennis, she would relocate to Delray Beach, Florida, to have better opportunities to train in tennis.
Cori Gauff Family | Parents
The tennis player was born to Mr. Corey and Mrs. Candi Gauff. Her father Corey played basketball at Georgia State University and doubles as her coach. Her mother Mrs. Candi was a track and field athlete at Florida State University. In regards to her siblings, she has two younger brothers.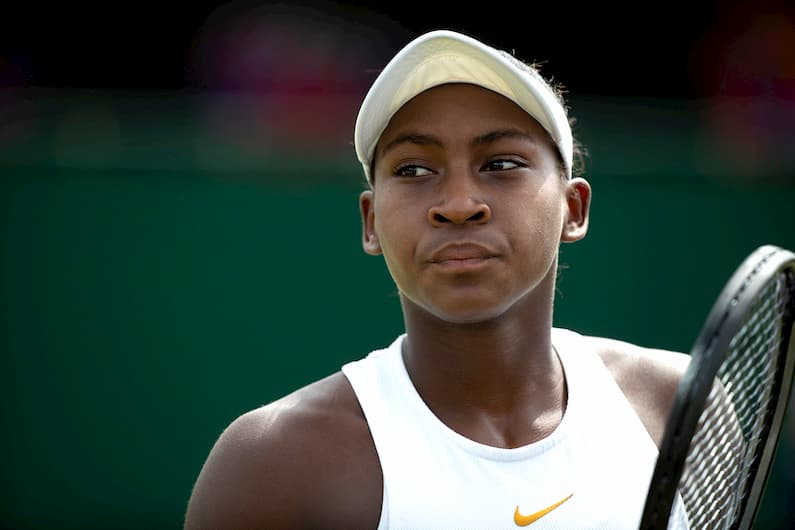 Cori Gauff Education
Cori does not attend school institutions but is instead home-schooled by her mother; Mrs. Candi who is a former teacher. Her father is her head coach and trains her on her tennis career. Gauff has trained with Gerard Loglo at the New Generation Tennis Academy in Delray Beach, Florida. When she was eleven years old, she was chosen by Serena Williams' coach Patrick Mouratoglou to be part of his Champ'Seedfoundation and trained with him in Nice, France.
Cori Gauff Networth
The young tennis player is already estimated to have an estimated net worth of more than $500,000 dollars with his income streaming from her budding career as a tennis player as well as from endorsements that she is getting. She is on the track to making $1 Million in 2019
Cori Gauff Endorsements
In October 2018, Gauff signed her first multi-year sponsorship contract with New Balance. In March 2019, she announced a multi-year sponsorship agreement with Italian food company Barilla, which is also a sponsor of Roger Federer. She will earn at least $1 million from endorsement deals with New Balance, Barilla pasta and tennis racket maker Head, Forbes reported
Cori Gauff Play
Gauff has already developed an effective kick serve, which she used to similarly damaging effect on the higher-bouncing surface. She plays right-handed.
Cori Gauff Boyfriend | Relationship | Dating
The budding tennis player is currently not in a relationship, preferring to focus on her career for now. We will update this section once she does get into a relationship.
Cori Gauff

 career
On May 2018, Gauff made her ITF debut as a qualifier into the $25K event at Osprey. She went on to win her first professional match. She won her first Junior Grand Slam title at the French Open in June 2018 at only 14 years old. In September 2018, she won the Girls' Doubles at the US Open with her partner Caty McNally.
French Open Girl's Championship
Gauff finished 2018 strong by winning the Girls, 18 and under, division of the Orange Bowl International Tennis Championships.
Cori Gauff

2019
On 27 June 2019, she won her third qualifying round at Wimbledon to reach the main draw, becoming the youngest person to qualify for Wimbledon in the Open Era, setting a historical record.
Cori Gauff Grand slam Debut
On 1 July 2019, at her grand slam debut, she defeated five-time champion Venus Williams 6–4, 6–4. It was only the second time since Williams' Wimbledon debut in 1997 that she was beaten in the first round of the tournament. The Delray Beach, Florida, resident, who's been touted as the next Serena Williams, told an interviewer for Wimbledon, "I'm still in shock," adding, "Playing against the top players in the field is going to be a different feel."
Cori Gauff Twitter
Cori Gauff Instagram
Cori Gauff Youtube