Danny Strong Bio
Danny Strong is an American actor, film and television writer, director, and producer. Strong became more famous in acting for his roles as Jonathan Levinson in Buffy the Vampire Slayer and Doyle McMaster in Gilmore Girls.
Danny has also written the screenplays for Recount, the HBO adaptation Game Change, Lee Daniels' The Butler, and the two-part finale of The Hunger Games film trilogy, Mockingjay – Part 1 and Mockingjay – Part 2. Strong also is a co-creator, executive producer, and writer for the Fox series Empire.
Strong is known for playing Jonathan Levinson on the television series Buffy the Vampire Slayer and Paris Geller's boyfriend Doyle McMaster on Gilmore Girls, but he has also appeared in films such as Pleasantville, Dangerous Minds, Seabiscuit, the spoof Shriek If You Know What I Did Last Friday the Thirteenth, and was in the film Sydney White as the Grumpy dork, Gurkin.
Danny Strong has also had guest parts in sitcoms such as Seinfeld, Clueless, 3rd Rock from the Sun, Over the Top, Grey's Anatomy, "Boy Meets World" and How I Met Your Mother and has also guest-lectured in acting classes on finding a job as an actor.
Most recently, the actor appeared in the popular AMC series Mad Men as Danny Siegel, a young man with no talent, trying to break into the advertising industry, later making a career in Hollywood.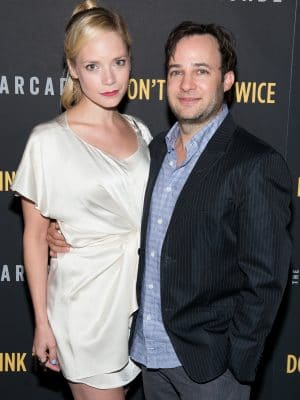 Danny Strong also appeared on the HBO series Girls in the third and fourth seasons; and appeared on the fifth and sixth seasons of Justified as Albert Fekus, a rapist prison guard.
He is currently starring in Billions as Todd Krakow, Secretary of the Treasury. The actor was set to appear in Once Upon a Time in Hollywood as Dean Martin. However, his scenes were cut from the film.
Danny Strong Age
He was born on June 6, 1974. Danny is currently 45 years old.
Danny Strong Married
Strong got engaged to actress Caitlin Mehner on December 29, 2016, in Hawaii after meeting her three years earlier. She is known for films like The Blacklist (2013), Rebel in the Rye (2017) and Public Morals (2015).
Danny Strong Height
He stands at a height of 1.57 m high.
Danny Strong Net Worth
The Writing Actor has a net worth of $5 million.
Danny Strong Movies and TV Shows
» Buffy the Vampire Slayer
» Gilmore Girls
» Pleasantville
» Dangerous Minds
» Seabiscuit
» Shriek If You Know What I Did Last Friday the Thirteenth
» Sydney White
» Seinfeld
» Clueless
» 3rd Rock from the Sun
» Over the Top
» Grey's Anatomy
» Boy Meets World
» How I Met Your Mother
» Mad Men
» Girls
» Justified
» Billions
Danny Strong Billions
Danny joined the cast of Billions in a recurring role as Todd Krakow, described as "a stylish and smooth hedge fund whale" who becomes the latest conflicting head to butt up against billionaire bad boy Bobby Axelrod (Damian Lewis).
Danny Strong Grey's Anatomy
Strong played a man named Paul in one 2012 episode of Grey's Anatomy. Strong visits the hospital after getting attacked by a lion belonging to his girlfriend.
Danny Strong How I Met Your Mother
Strong played the role of  Trey in the 2005-2014 series How I Met Your Mother.
Danny Strong Twitter
Danny Strong Empire
Strong is the co-creator of one of the most popular shows on network television as of late. He co-created the TV series Empire with Daniels in 2014, for which he has written and directed multiple episodes. Empire is a joint production by Imagine Television and 20th Century Fox Television and syndicated by 20th Television.
Although it is filmed in Chicago, the show is set in New York. The series centers on the fictional hip hop music and entertainment company Empire Entertainment, and the drama among the members of the founders' family as they fight for control of it.
Danny Strong Buffy
As an actor, Danny Strong is best known for his roles as Jonathan Levinson in "Buffy the Vampire Slayer". It is an American supernatural drama television series based on the 1992 film of the same name.  Jonathan Levinson, a recurring character for much of the series run.
Season one exemplifies the "high school is hell" concept. Buffy Summers has just moved to Sunnydale after burning down her old school's gym and hopes to escape her Slayer duties. Her plans are complicated by Rupert Giles, her new Watcher, who reminds her of the inescapable presence of evil.
Sunnydale High is built atop a Hellmouth, a portal to demon dimensions that attracts supernatural phenomena to the area. In season 2, the emotional stakes are raised. Vampires Spike and Drusilla come to town along with a new slayer, Kendra Young, who was activated as a result of Buffy's brief death in the season one finale.
After attempting to start a new life in Los Angeles, Buffy returns to town in season three. Angel has mysteriously been released from the demon dimension, but is close to insanity due to the torment he suffered there, and is nearly driven to suicide by the First Evil.
He and Buffy realize that a relationship between them can never happen; he eventually leaves Sunnydale at the end of the season.
Season four shows Buffy and Willow enrolled at UC Sunnydale, while Xander joins the workforce and begins dating Anya, a former vengeance demon. Spike returns as a series regular and is abducted by The Initiative, a top-secret military installation based beneath the UC Sunnydale campus.
During season five, a younger sister, Dawn, suddenly appears in Buffy's life; although she is new to the series, to the characters it is as if she has always been there.
Buffy is confronted by Glory, an exiled Hell God who is searching for a "Key" that will allow her to return to her Hell dimension and in the process blur the lines between dimensions and unleash Hell on Earth.
At the beginning of season six, Buffy has been dead for 147 days, but Buffy's friends resurrect her through a powerful spell, believing they have rescued her from a Hell dimension. Buffy returns in a deep depression, explaining that she had been in Heaven and is devastated to be pulled back to Earth.
In season seven, it is revealed that Buffy's second resurrection caused instability that is allowing the First Evil to begin tipping the balance between good and evil.
It begins by hunting down and killing inactive Potential Slayers, and soon raises an army of ancient, powerful Turok-Han vampires. After the Watchers' Council is destroyed, a number of Potential Slayers take refuge in the house of Buffy.
Danny Strong Instagram
Danny Strong Gay
'Empire' EP Danny Strong Condemns "Hate-Filled" Attack On Jussie, the actor who plays the openly gay Jamal Lyon in Empire.
---

We endeavor to keep our content True, Accurate, Correct, Original and Up to Date.
If you believe that any information in this article is Incorrect, Incomplete, Plagiarised, violates your Copyright right or you want to propose an update, please send us an email to informationcradle@gmail.com indicating the proposed changes and the content URL. Provide as much information as you can and we promise to take corrective measures to the best of our abilities.
---