David Hyde Pierce Biography
David Hyde Pierce (Real name – David Pierce) is an American actor and director born on April 3, 1959, in Saratoga Springs, New York, U.S. He is best known for his role in NBC sitcom Frasier as a psychiatrist, Dr. Niles Crane. For this role, he won four Primetime Emmy Awards for Outstanding Supporting Actor in a Comedy Series during the show's run.
Pierce has played supporting roles in several films, including Little Man Tate, The Fisher King, Sleepless in Seattle, and Oliver Stone's Nixon, in which he portrayed White House Counsel, John Dean. He also starred in the 2010 psychological thriller The Perfect Host.
David Hyde Pierce Broadway
On June 10, 2007, following his work on Broadway, Pierce won the Tony Award for Best Performance by a Leading Actor in a Musical at the 61st Tony Awards for his performance. During his acceptance speech, he said that the first words he spoke on a Broadway stage were, "I'm sorry, I'm going to have to ask you to leave."
He directed the Broadway production of the musical It Shoulda Been You. David directed the Manhattan Theater Club production of the 2015 David Lindsay-Abaire's play Ripcord Off-Broadway at City Center.
Pierce appeared in A Life by Adam Bock, the Off-Broadway limited engagement. The play premiered at the Peter Jay Sharp Theater on October 24, 2016, directed by Anne Kaufman, and closed on November 27.
Pierce co-starred with Bette Midler in the Broadway revival of Hello, Dolly! The musical opened on April 20, 2017, at the Shubert Theatre and became a critical and box office hit. Pierce himself received a Tony Award nomination for Best Actor in a Musical for his performance. Further, in 2007, he was nominated for a Drama League Award for Hello, Dolly! and A Life.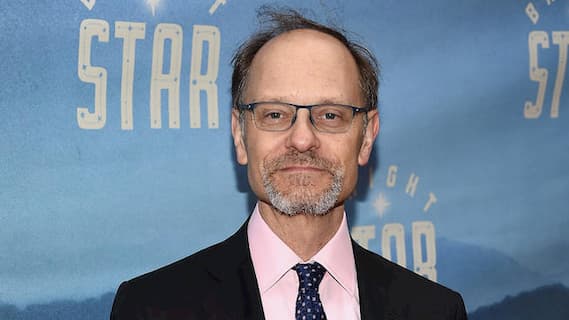 David Hyde Pierce Piano
Pierce is an accomplished classical pianist, and studied piano many years at Yale, after which he turned toward acting. He still plays the piano albeit occasionally.
David Hyde Pierce Hellboy
Pierce believed that it was Doug Jones' physical performance that actually created the character of Abe Sapiens and consequently refused a vocal credit for Hellboy. It was Jones who had spoken the character's dialogue during filming and tried to match Hyde Pierce's voice to ease dubbing. Jones voiced the role of two animated films because he was encouraged by the cast and by the time Hellboy II went into production, he felt ready to deliver a complete performance as Abe Sapiens.
David Hyde Pierce Family Guy
In The Family Guy 100th Episode Special, one of the people interviewed by Seth MacFarlane thought Pierce does the voice of Stewie Griffin. MacFarlane, Stewie's true voice actor, confirmed to her that Pierce does his voice so that Pierce would be thought down upon by the woman, instead of himself.
David Hyde Pierce Family
Pierce was born David Pierce to parents; George Hyde Pierce, an aspiring actor, and Laura Marie, an insurance agent. He modified his name by adding the middle name "Hyde" to avoid confusion with another actor named David Pierce.
David Hyde Pierce And Brian Hargrove | Gay
After years of media speculation about his sexuality, Pierce came out in 2007 and later confirmed through his publicist that he and television writer, director and producer Brian Hargrove were a couple. Pierce and his husband Brian are among the openly gay celebrities in the US.
Brian Hargrove and David Hyde Pierce were married in 2008 while gay marriage was still legal in California. Their marriage continues to be valid even with the change in law, as are those of the thousands of gays and lesbians who were married before the ban. But, he's still angry to hear that equal rights aren't being extended to all. In 2015, Pierce directed the romantic comedy musical It Shoulda Been You which starred his husband, Brian.
David Hyde Pierce Children
Pierce and his husband/partner have no children.
David Hyde Pierce Age
Pierce was born on April 3, 1959, Saratoga Springs, New York, USA. He frequently played the organ at the local Bethesda Episcopal Church as a child. Pierce is 60 years old as of 2019.
David Hyde Pierce Net Worth
Pierce made his Broadway debut in 1982 in Christopher Durang's Beyond Therapy. His illustrious acting career has spanned well over three decades. Pierce's main source of income is acting and directing as well as other business ventures. David Hyde Pierce is estimated to have a net worth of $40 million.
David Hyde Pierce Alzheimer's
Pierce has spent years working, on behalf of Americans with Alzheimer's disease, with the Alzheimer's Association. He has publicly campaigned for the National Alzheimer's Project Act and has appeared in Washington, D.C., to testify in support of expanding funding for treatment.
In 2011, Pierce told MSNBC that, "it is up to us, to all of us, to the American people and to their representatives about whether we face the challenges and make all the effort necessary or if we ignore it and just let this sort of tidal wave crash over us."
For David, Alzheimer's disease is a very personal matter as his father and grandfather died after battling the illness. … And the statistics of illness and even mortality for care-givers are huge with this disease.
David Hyde Pierce Awards Won
Tony Award for Best Lead Actor in a Musical 2007· Curtains
Primetime Emmy Award for Outstanding Supporting Actor in a Comedy Series 2004, 1999, 1998. Frasier
Isabelle Stevenson Award, 2010.
Screen Actors Guild Award for Outstanding Performance by an Ensemble in a Comedy Series, 2000· Frasier
Screen Actors Guild Award for Outstanding Performance by a Male Actor in a Comedy Series 1996· Frasier
TCA Award for Individual Achievement in Comedy 1998, 1997. Frasier
David Hyde Pierce Movies And Tv Shows
David Hyde Pierce 1980s-90s
1988, The Appointments of Dennis Jennings, as a Businessman.
1988, Bright Lights, Big City, as a Bartender at Fashion Show.
1988, Crossing Delancey, as Mark.
1988, Rocket Gibraltar, as Monsieur Henri.
1989, Vampire's Kiss, as Theater Guy.
1990, Across Five Aprils, as Union Soldier.
1991, Little Man Tate, as Garth Emmerick.
1991, The Fisher King, as Lou Rosen.
1993, Sleepless in Seattle, as Dennis Reed.
1993, Addams Family Values, as Delivery Room Doctor.
1994, Wolf, as Roy.
1995, Ripple, as Peter.
1995, Nixon, as John Dean.
1998, A Bug's Life, as Slim.
1999, The Mating Habits of the Earthbound Human, as the Narrator.
David Hyde Pierce 2000s
2000, Isn't She Great, as Michael Hastings.
2000, Chain of Fools, as Mr. Kerner.
2000, The Tangerine Bear, as Bird.
200, Wet Hot American Summer, as Henry Newman.
200, Happy Birthday, as Barney.
2001, Osmosis Jones, as Drix.
2001, Laud Weiner, as Laud Weiner.
2002, Full Frontal, as Carl.
2002, Treasure Planet, as Doctor Doppler.
2003, Down with Love, as Peter MacMannus.
2004, Hellboy, as Abe Sapien.
2008, Forever Plaid: The Movie, as Narrator.
2009, Stingray Sam, as Narrator.
2010, The Perfect Host, as Warwick Wilson.
Frequently Asked Questions about David Hyde Pierce.
Does David Hyde Pierce have Alzheimer's?
No, but he considers Alzheimer's a very personal matter as his father and grandfather died after battling the illness
How old is David Hyde Pierce?
60 Years old as of 2019.
How much is David Hyde Pierce worth?
David is estimated to have a net worth of $40 million.
What is David Hyde Pierce doing?
He is still active as an actor and director.
David Hyde Pierce Spamalot
About InformationCradle Editorial Staff
This Article is produced by InformationCradle Editorial Staff which is a team of expert writers and editors led by Josphat Gachie and trusted by millions of readers worldwide.
We endeavor to keep our content True, Accurate, Correct, Original and Up to Date. For complain, correction or an update, please send us an email to informationcradle@gmail.com. We promise to take corrective measures to the best of our abilities.