David M Solomon Biography | Goldman Sachs CEO
David M Solomon (Full name – David Michael Solomon) is an American investment banker who was born in 1962, Hartsdale, New York, U.S. Since October 2018, he has been the chief executive officer (CEO) and chairman since January 2019 of Goldman Sachs.
From January 2017 to September 2018, he was president and chief operating officer, and joint head of the investment banking division from July 2006 to December 2016 prior to becoming CEO. Solomon was named CEO In July 2018, succeeding Lloyd Blankfein as of October 1, 2018, and was named chairman after Blankfein's retirement.
David M Solomon Family
David Michael Solomon was born to Jewish parents in Hartsdale, New York circa 1962. His father, Alan Solomon, was an executive vice president of a small publishing company, and his mother, Sandra, worked as an audiology supervisor. Solomon grew up in Scarsdale, New York.
David M Solomon Daughters | Wife | Mary Solomon
In 1989, Solomon married Mary Elizabeth Solomon (née Coffey) when they were both 27 years old in Bernardsville, New Jersey. Their marriage lasted 28 years before they divorced in early 2018. Solomon has two grown-up children, both daughters, with his now ex-wife. He has resided in The San Remo on the Upper West Side of Manhattan in New York City from 2002 onward.
David M Solomon Age
Solomon was born circa 1962, Hartsdale, New York, USA, to Jewish parents, Alan and Sandra Solomon. He is the current president and CEO of Goldman Sachs. Solomon is 57 years old as of 2019.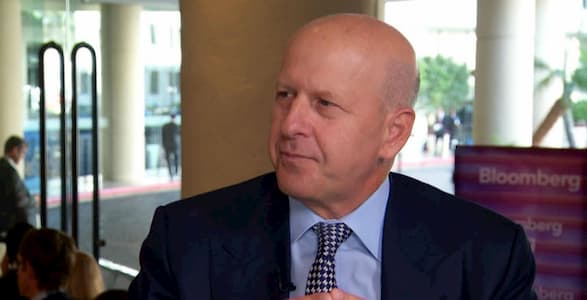 David M Solomon Net Worth | Salary
The estimated net worth of David M Solomon is at least $66 Million dollars as of 1 August 2018. Mr. Solomon owns over 27,125 units of The Goldman Sachs stock worth over $44,729,598 and over the last 2 years he sold GS stock worth over $572,376. In addition, he earns a salary of $20,662,800 as Chairman of the Board and Chief Executive Officer at The Goldman Sachs.
David M Solomon Education
David M Solomon attended Edgemont Junior-Senior High School and worked at a local Baskin Robbins before working as a camp counselor in New Hampshire. He graduated from Hamilton College in Clinton, New York, where he earned a bachelor of arts degree in political science and government.
While in college, Solomon played on the rugby team and chaired his social fraternity, Alpha Delta Phi. He applied to Goldman Sachs for a two-year analyst position after graduating but was rejected, leading him to apply to Irving Trust, a "graduate school at a bank" for Solomon.
David M. Solomon Goldman Sachs
During the late 1990s, David M Solomon worked with a variety of Goldman Sachs managers which inspired his move to the firm in 1999 to work with their leveraged finance team as a partner, aged 37.
In December 2016, Solomon was elevated to president and co-chief operating officer along with Harvey Schwartz. His promotion came after Gary Cohn resigned from Goldman to become the Chief Economic Advisor to Donald Trump, the 45th President of the United States.
Goldman Sachs on March 12, 2018, announced that Schwartz, the company's co-chief operating officer, and president would be resigning, leaving Solomon as the second-in-command. Lloyd Blankfein, then CEO was also stepping down. Hours after the announcement, media outlets–both domestic and international–informally designated Solomon as Lloyd Blankfein's sole heir apparent.
Blankfein expressed an interest and preference for Solomon to succeed him at a board meeting on February 21, 2018. Solomon had repeatedly advocated for a reformation of Goldman's company culture during March 2018. David M Solomon expressed an interest in lowering the maximum hours worked during normal business days from somewhere near 90 hours a week to somewhere near 70 to 75 hours a week, when not actively engaged in closing a deal.
Before assuming the company's presidency, Solomon tracked the hours worked by his subordinates and frequently stepped in to send employees home. On October 1, 2018, Solomon took office as the chief executive officer (CEO) of the firm.
David M Solomon Dj
David M Solomon recreationally performs monthly gigs as a disc jockey under the stage name DJ D-Sol (/diː saʊl/). He produces a variety of electronic dance music (EDM) and has performed at nightclubs and music festivals around New York, Miami, and the Bahamas. To catalog his exploits as a music producer, Solomon maintains the Instagram account @djdsolmusic.
He released a remix of Fleetwood Mac's song, Don't Stop on January 9, 2018. The song was played on Sirius XM's BPM: Electronic Dance Music Hits at 9:14 pm EST hours after its release. David M Solomon performed a remix of The Pink Panther Theme at a charity event for the opioid epidemic hosted by Hamilton College on April 8, 2018.
Solomon released his debut single "Don't Stop" under Crowd Records with an extended version on Spotify in June 2018. The song debuted at No. 39 on Billboard's electronic dance music charts. "Don't Stop" was listed in Spotify's 263,361-follower playlist "Happy Summer Beats". Solomon's Spotify profile has 550,000 monthly listeners with his debut single garnering 1.2 million listens. Solomon opened a Soundcloud account shortly after his debut release, where he posts extended musical sets and concert performances.
David M Solomon Wine
David M Solomon discovered in January 2018, that a personal assistant had stolen around 500 bottles from his rare wine collection, among them, seven from the French estate Domaine de la Romanee-Conti. Nicolas DeMeyer, the personal assistant, was arrested in late January and indicted for the theft of $1.2 million worth of wine.
Nicolas DeMeyer committed suicide on October 9, 2018, by leaping to his death from the 33rd-floor window of the Carlyle Hotel. The suicide occurred just minutes after he was scheduled to appear before a Manhattan judge in relation to the alleged wine theft.
David M Solomon Feel Alive
David M Solomon Instagram
David M. Solomon Twitter
About InformationCradle Editorial Staff
This Article is produced by InformationCradle Editorial Staff which is a team of expert writers and editors led by Josphat Gachie and trusted by millions of readers worldwide.
We endeavor to keep our content True, Accurate, Correct, Original and Up to Date. For complain, correction or an update, please send us an email to informationcradle@gmail.com. We promise to take corrective measures to the best of our abilities.