Delonte West Biography
Delonte West born Delonte Maurice West, is a former American professional basketball player who played in the National Basketball Association (NBA) for the Boston Celtics, Seattle SuperSonics, Cleveland Cavaliers, and Dallas Mavericks. He was born on July 26, 1983.
Delonte West Education
West attended Eleanor Roosevelt High School in Greenbelt, Maryland. Immediately after completing high school, Delonte joined Saint Joseph's University where he continued playing basketball.
Delonte West Early School Career
While at Eleanor Roosevelt High School in Greenbelt, Maryland West excelled at basketball, teaming with fellow NBA player Eddie Basden. He led the Raiders to their first tournament appearance. They made it to the Maryland 4A championship, where the Raiders lost 70–58 and Delonte managed 22 points and 8 rebounds. He was named Washington Post All-Met Basketball Player of the Year due to his averages of 20.2 points, 6.5 rebounds, 3.9 assists, and 3.1 steals per game.
Additionally, while at Saint Joseph's University, he alongside Wooden and Naismith and Jameer Nelson formed the famous best backcourt in the country. West averaged 18.9 points and 6.7 assists per game, shooting 41% from three-point range, as a junior. His efforts helped the Hawks to go 27–0 in the regular season, and earn an Elite Eight appearance in the NCAA Tournament. Saint Joseph's finished the season at 30–2.
Delonte West NBA Career
Immediately after leaving St. Joseph's University, Delonte was selected by the Boston Celtics as the 24th pick in the 2004 NBA draft. At Boston Celtics, he played 179 games and averaged 9.4 points per game. From the three seasons at Celtics, West had managed to start 125 games.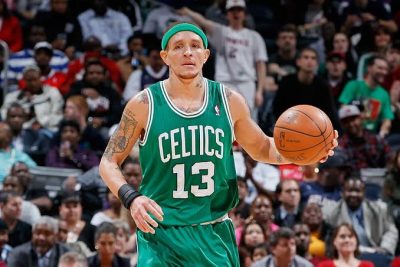 On June 28, 2007, during the 2007 NBA Draft, the Celtics traded Delonte West to the Seattle SuperSonics, along with Jeff Green (their 5th overall pick) and Wally Szczerbiak in exchange for Ray Allen and Sonics' 35th overall pick Glen Davis. At Seattle, West played 35 games and started only 5 games. As a result, he decided to look for a move-out.
On February 21, 2008, West was part of a three-team trade that sent him, Ben Wallace, Joe Smith and Wally Szczerbiak to the Cleveland Cavaliers where he reunited with his Saint Joseph's teammate Dwayne Jones. He was a Cavalier for 3 season and played a total of 150 games starting on 93 of them.
After LeBron James left the Cavaliers to sign with the Miami Heat, the Cavaliers traded West, along with Sebastian Telfair, to the Minnesota Timberwolves for Ramon Sessions, Ryan Hollins, and a future draft pick. Minnesota waived West shortly after acquiring him. On September 1, 2010, the Boston Celtics signed West to a one-year contract to back up Rajon Rondo as a point guard. He was suspended for the first ten games of the 2010–11 season following a guilty plea to weapons charges in Maryland. For his 2010–11 season, West finished with 5.6 points per game, 0.8 steals per game, and 2.7 assists per game. He also shot .867 from the free-throw line.
West signed with the Dallas Mavericks on December 13, 2011. During the 2011–12 season, he averaged 9.6 points per game and played 44 games making the start on 33. He re-signed with the Mavericks on July 26, 2012. On October 29, 2012, West was waived by the Mavericks.
Delonte West Late Career
On January 25, 2013, West was acquired by the Texas Legends of the NBA D-League. In October 2013, West signed a one-year deal with Fujian Xunxing of China. Moreover, in July 2014, West joined the Los Angeles Clippers for the 2014 NBA Summer League. Furthermore, in September 2014, West signed a one-year deal with the Shanghai Sharks, returning to China for a second stint. he was released by the team on November 18 after just four games despite an impressive 29-point debut game in the season opener on November 1.
Additionally, on January 12, 2015, West signed with Guaros de Lara of the Venezuelan Liga Profesional de Baloncesto but left the team before playing in a game for them. On March 12, 2015, West was reacquired by the Texas Legends.
Delonte West Home Depot
From 2004 – 2013, West amassed a whopping $ 16 Milion in salary although he still got into financial constriction which left him broke and jobless. His financial situation led him to send a job application letter to Home Depot which he posted on his Twitter account.
Delonte West Age
West was born on 26 July 1983, in Washington DC, United States of America. He turns 37 years old in 2020. West celebrates his birthday on July 26th every year.
Delonte West Family
Delonte Parents
West was born to both parents, his mother Delphina Addison was African American while his father, Dmitri West Sr was a Piscataway American and European. While growing up West had to live with different relatives. Nevertheless, West previously purchased for each of his parents a house and has provided financial support for his relatives.
Delonte West Wife|Delonte West Son
West married the Caressa Suzzette Madden in 2013 and is blessed with a son named Cash West. The beautiful couple met through a mutual friend's party. Madden is 32 years old as of 2020.
Delonte West First Wife
Previously West married his University sweetheart Ashley Kimberly Awad in 2009. However, the couple did not live a long happy marriage as they started having disputes and separation that finally resulted in a divorce in 2010. Currently, Awad is a director of business development at Condé Nast in New York.
Delonte West Body Measurements
Height: 6ft 4in'(1.93Meters)
Weight: 180 Pounds(lbs)
Shoe Size: Not Available.
Body Shape: Not Available.
Hair Colour: Brown.

Delonte West Salary
According to NBA records, Delonte received the following salaries during his time as basketballer from 2004 – 2013:
Boston Celtics (2004-05) – $ 939,480
Cleveland Cavaliers (2007-08) – $ 1,889,760
Boston Celtics (2005-06) – $ 1,010,040
Dallas Mavericks (2012-2013) – $ 1,200,000
Boston Celtics NBA (2006-07) – $ 1,080,480
Cleveland Cavaliers (2008-09) – $ 3,850,000
Dallas Mavericks (2011-2012) – $ 922,000
Cleveland Cavaliers (2009-10) – $ 4,254,250
Boston Celtics (2010-11) – $ 1,069,509
Delonte West Net Worth
He has an estimated net worth of $ 2 thousand. Spiraling debts have left West more than $150,000 in the red and facing foreclosure on one of his two Maryland homes.
FAQs About Delonte West
Who is Delonte West?
Delonte is a well-known American professional basketball player.
How old is West?
West is an American national born on 26th July 1983, in Washington DC.
How tall is Delonte?
Delonte stands at a height of 1.75m.
Is West married?
Yes, West married Caressa Suzzette in 2013 and together they have one child.
How much is Delonte worth?
Delonte has an approximate net worth of $ 2,000 accrued from his NBA career as a basketballer.
How much does West make?
Per our average wage estimates for a basketballer in the United States, West received an average annual salary of $ 1,801,724 that translates to an hourly average wage of between $ 866.21
Where does Delonte live?
After West was spotted with bare feet in the parking lot of a Jack In The Box, rumors went out that he is homeless.
Is West dead or alive?
West is alive and in good health. However, there have been reports that he is bipolar, allegations that he previously agreed on but later refuted.
Where is Delonte now?
In Jan 2020, a video went viral of the former NBA star being beaten up in the streets which brought on a number of former NBA stars to say that they will help with Delonte's financial and mental issues. Another video also shows Delonte in cuffs which led the P.G. County officer to be suspended.
---
We endeavor to keep our content True, Accurate, Correct, Original and Up to Date.
If you believe that any information in this article is Incorrect, Incomplete, Plagiarised, violates your Copyright right or you want to propose an update, please send us an email to informationcradle@gmail.com indicating the proposed changes and the content URL. Provide as much information as you can and we promise to take corrective measures to the best of our abilities.
---