ARTICLE UPDATED ON FEBRUARY 25, 2020 BY RACHEL GACHIE (EDIT)
Dominic Benhura Biography, Early Life, Statue, Exhibitions,
Dominic Benhura Biography
Dominic Benhura is a Zimbabwean sculptor,has become one of Africa's greatest contributors to the world of contemporary art.Over the past decade, Dominic has developed one of the most recognizable and contemporary sculpting styles in the world. His technical ability and emphasis on form and movement, rather than facial features, make his work timeless and universal.
He derives endless inspiration from his four young children – Munashe, Hazel, Hither and Tapuwa. Once his artistic energy takes control of the stone, Dominic is known to work through the night for days on end to create his pieces.
Dominic Benhura Early Life
His father died before his birth, and he was raised by his mother. As he was an excellent student, it was suggested that he be sent to Salisbury for further studies. His uncle had a home in the suburb of Tafara, and Benhura went to live there at the age of ten; he lived with his cousin Tapfuma Gutsa, already a well-known sculptor. Benhura began polishing his cousin's sculptures, but soon began carving himself, making small offcuts before moving onto large stone. He sold his first piece at twelve.
Dominic Benhura Career
He began his career in sculpture at the age of ten when he studied under his cousin, Tapfuma Gusta, a Master Sculptor. Dominic sold his first piece professionally to architects at the age of twelve. His work is bold and daring and he captures balance and movement both physically and emotionally. His prime motivation is to explore new ideas, concepts, techniques and methods and to express and communicate powerfully simple ideas. Nature, family and the relationships with his children are his main inspiration for his sculptures.
Dominic often combines materials such as steel, wire and stone to create a beautiful mixed medium, which works together in harmony. The stone itself is selected for its luminosity and color, and is carved and ground down and reconstructed to create a striking plant or human form, for which he has become world renowned.
Mugabe Statue
In January 2016, Benhura created a statue of the President Robert Mugabe which was erected at the Zimbabwe State House. Benhura said he had made the piece as a tribute to Mugabe who he said inspired him.
In September, a picture of the statue, which showed Robert Mugabe, Grace Mugabe and Behura himself was ridiculed by Zimbabweans on Social media for being ugly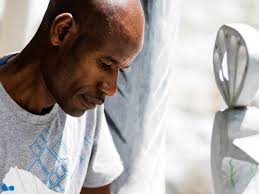 Benhura Age
Dominic Benhura was born in 1968, in a small town of Murewa in Zimbabwe .
Dominic Benhura Spouse
Dominic Benhura likes to keep his personal life private hence information about his dating life is not available. It is therefore not known whether he is married or has any children. However, this information will be updated as soon as it is available.
Body Measurements
Height: Not Available
Weight: Not Available
Shoe Size: Not Available
Body Shape: Not Available
Hair Colour: Not Available
Eye Colour: Not Available
Dominic Benhura Net Worth
Working as a Zimbabwean sculptor, there is no doubt Dominic Benhura earns a good salary and has been able to accumulate good net worth. However, his exact net worth has not yet been revealed but the information will be updated as soon as it is available.
Dominic Exhibitions:
Dominic's work has been included in many major exhibitions both in Zimbabwe and internationally. He now works out of his home and is passing down his knowledge and skill to many international artists and local apprentices.
Millesgarten Museum,Sweden
Yorkshire Sculpture Park, United Kingdom
EXPO 92, Seville, Spain
Loveland Colorado, USA
Helsinki, Finland 92
Westfalen Park, Dortmund
Shona Sol Gallery, Santa Fe NM, USA
Barbara Ackerman Gallery, Los Angeles, CA,
Kastel Henkenshage, St. Oedenrode, Holland
Kastel Alden Biezen, Bilzen, Belgium
Workshop, Ft. Canning, Singapore
Modern African Art, Berlin, Germany
Chapungu Sculpture Park, Harare, Zimbabwe
Artenium Gallery- Hamburg, Germany
Edinburgh Arts Festival, Scotland '00
Group Exhibit at Kew Gardens, England with Chapungu Gallery
Group Exhibit at Artspace 2000, England
One-man Exhibition at Kubatana Gallery, Atlanta, Georgia
One-Man Exhibition at Expo 2000, German
Frequently Asked Questions About Benhura
Who is Dominic ?
Dominic is one of Zimbabwean best known and best-loved sculptor.
How old is Dominic ?
Benhura is 52 as of 2020. He was born in 1968
How tall is He?
Dominic height is Not Available
Is Benhura married?
No, He is neither married nor dating.
Where does Benhura live?
He lives in Athlone, Harare Zimbabwe
Is Dominic dead or alive?
He is still alive and in good health.
Dominic Benhura 's current occupation.
Dominic occupation is not known
Dominic Benhura Facebook
https://web.facebook.com/pages/category/Artist/Love-Dominic-Benhura-615301131933970/?_rdc=1&_rdr
Dominic Benhura News
Benhura tells Alexandra Chaves why his sculptures are like music to him
As a child, Dominic Benhura already knew he wanted to be a sculptor. In fact, he was creating his first pieces at the age of 10, after his cousin, Tapfuma Gutsa, also a sculptor, took him under his wing and brought him to his studio in Harare. Four decades later, Benhura is one of Zimbabwe's most renowned artists. His unique style brings new elements to traditional African sculpture, adding colour and materials such as glass and metal. He recently visited the Middle East for the first time to open his latest exhibition, Between Me and the Stone, at Showcase Gallery in Dubai.
The main subjects of his sculptures are families. When the artist develops a piece, he typically sketches his ideas then decides on the best stone to use. After a visit to the quarry, he returns to his studio with the material and gets to work, discarding the sketch and relying on imagination and intuition to complete his piece. "It is now between me and the stone," he often says.
Benhura's home country of Zimbabwe has a long history of sculpture. The ruined city of Great Zimbabwe, which dates back to the 11th century, is made of carved stone. Archaeologists have also found soapstone sculptures of birds and other figurines in the now-recognised Unesco World Heritage Site.
It wasn't until the 1900s that the artistic movement toward sculpture flourished, primarily led by the Shona people, a main ethnic group in the country. Modern Shona sculpture is widespread in Zimbabwe, so it was natural for the young Benhura to witness artisans around his village creating pieces. He started moulding objects out of clay at age 6, and soon wanted to try his hand at stone, which is less malleable and more challenging to shape. "That was the interesting part for me, to try and create something without making any mistakes," he tells The National.
Assisting his cousin Gutsa paid off. When he was 12, he sold his first piece to British architect Peter Jackson, who designed the Sharjah Islamic Botanic Garden. Jackson and other architects began collecting his work and eventually encouraged Benhura to study architecture. He remembers training with them during spring holidays and weekends, which sharpened his drawing skills.
His mother, on the other hand, wanted him to become a doctor. Having lost her husband when Benhura was still young, she raised her children on her own, sometimes with the help of relatives. As a vegetable seller, she struggled financially, and hoped her children would enter what she saw as secure professions.
While architecture and medicine seemed like stable career paths, Benhura knew they weren't for him. At 20, he left college, much to the dismay of his family, and rented a room of his own. "I wanted to see if I could make it as an artist … I was adamant that I could do it," he says. Within six months, he bought his first house from his earnings as a sculptor.
His technical skill and ever-evolving style caught the attention of gallerists and collectors. Over the years, he has participated in solo exhibitions across Africa, Europe and the US. Benhura thinks part of his work's international appeal is the way he depicts his subjects – free of any facial features that root them to a specific country. "Wherever I go, in Asia, Australia or America, my pieces relate very well with everybody because they don't have faces. It's just people," he says. This sets his work apart from traditional African sculptures, which typically feature carved countenances.
But it's not just this artistic decision that makes his sculptures stand out. It is Benhura's technique, how he carves stone to produce expressive forms, that breaks the rigidity of the material. A sense of sheer joy emanates from his subjects, usually mothers and children, depicted in various states of play – leapfrogging, jumping and cheering. In Again, Mum, a mother swings her child in the air. The feeling of movement adds a lightness the piece, belying the weight of the serpentine stone from which it's made.
Benhura also experiments with colour and texture, combining different stones in a single sculpture. For the striking piece Proud Girl, a young child shows off her multicoloured polka dot dress, which Benhura made with crushed dolomite and embellished with glass inlays. The exaggerated curves of the outfit and shimmering crystals in the dolomite animate the work.
Even without these additions, he understands how to bring out certain colours from the stone. He explains how shades of brown and grey emerge from the material as the sculptor polishes it or carves deeper into it. But there can also be spontaneity to the process, as Benhura reveals. "Each stone has its own density and sound. For me, it's like music. Sometimes I get surprises in the stones, colours or something from within it that I was not expecting," he says, adding that he then chooses to leave them as is or adapt to them.
The mother figure in his work is a clear homage to his own, who died shortly after he left school and never witnessed his achievements. Recently, he was given an honorary doctoral degree from the Women's University in Africa, which made him see his relationship with his mother in a new light. "I didn't realise that I subconsciously felt guilt inside, but the day they gave me the doctorate I felt like, 'Oh, it's done,' and now I'm smiling," he says.
He may not have been able to share his success with his mother, but Benhura has helped his family and community in many ways. In 1994, when he was 22, he bought a sprawling plot of land to build his studio, which he opened to other sculptors in his neighbourhood. "When I was young, I discovered that a lot of artists were talented, but didn't have the opportunity to have a space to work or couldn't afford to bring materials from the quarries … I opened up my space to other aspiring artists, and a lot of people ask, what do I benefit from it? I have managed at least 10 guys who are now travelling the world. I can't put a monetary value on that," he says. His brothers also became sculptors, and have been able to make livelihoods from their practice.
Though it is his first time in the region, Benhura's work has been exhibited at Showcase Gallery previously. At his exhibition in Dubai, the artist met someone from his past – ­Jackson, the architect who bought his first works. As an adviser to the Sharjah government, Jackson has helped bring two of Benhura's sculptures of a zebra and rhinoceros to the soon-to-open Sharjah Safari Park. The artist's work is also part of DIFC's Sculpture Walk.
Benhura has always tried to forge his own style, shying away from outside references that could influence his ideas. Instead, he looks towards his environment and personal life – the animal sculptures he carves are his way of bringing attention to poaching in his country and his sculptures of children are inspired by his own daughters.
Sharon Harvey, founder of Showcase Gallery, who has known the artist for 10 years, is a strong supporter of his work and wants to see more African art highlighted in the Middle East. "I want to promote art from my country," she says. "African art has picked up massively in the last year, and sculpture has really come to the forefront." She adds that sculptors in Zimbabwe often work in "extremely tough conditions". "There are multiple electricity outages in Zimbabwe. There's also limited access to the internet, so their references are entirely their own. All their inspiration comes from their imagination and what they see around them.
Between Me and the Stone is on view at Showcase Gallery, Dubai, until Saturday,
January 18
Updated: December 31, 2019 06:33 PM
---
We endeavor to keep our content True, Accurate, Correct, Original and Up to Date.
If you believe that any information in this article is Incorrect, Incomplete, Plagiarised, violates your Copyright right or you want to propose an update, please send us an email to informationcradle@gmail.com indicating the proposed changes and the content URL. Provide as much information as you can and we promise to take corrective measures to the best of our abilities.
---