Doug Collins Biography
Doug Collins is an American politician and a United States Representative from Georgia's 9th congressional district since 2013. Previously he was a state representative in the Georgia House of Representatives, representing the 27th district, which includes portions of Hall, Lumpkin, and White counties. Collins also serves as a chaplain in the U.S. Air Force Reserve with the rank of Lieutenant Colonel. He is a member of the Republican Party.
Doug Collins Age
Douglas Allen Collins was born in  Gainesville, Georgia, on August 16, 1966.
Doug Collins Wife
Doug Collins married his wife, Lisa, in 1988. She is a fifth-grade teacher at Mount Vernon Elementary School in Gainesville, Georgia; where the couple resides with their three children, Jordan, Copelan, and Cameron, one of whom have spina bifida. Collins is a practicing Southern Baptist and attends Lakewood Baptist Church.
Doug Collins Net Worth
Collins had an estimated net worth of $434005 in 2015 and $341502 in 2014. It is clear that his net worth increased since he began working at the government. His net worth as of 2019 is not known yet.
Doug Collins Early Life – Education
Doug Collins is a graduate of North Hall High School. He attended North Georgia College & State University, where he received a Bachelor Of Arts in Political Science and Criminal law, in 1988. He attended the New Orleans Baptist Theological Seminary, receiving his Master of Divinity in 1996. Collins also earned his Juris Doctor from Atlanta's John Marshall Law School, in 2007.
Collins worked as an intern for Georgia Congressman Ed Jenkins before working as a salesman, selling hazardous material safety products to Georgia's state and local governments. From 1994 to 2005, Collins was a senior pastor at Chicopee Baptist Church, while co-owning a scrapbooking retail store with his wife, Lisa. Collins worked as a lawyer and has been a managing partner at the Collins and Consider law firm since 2010.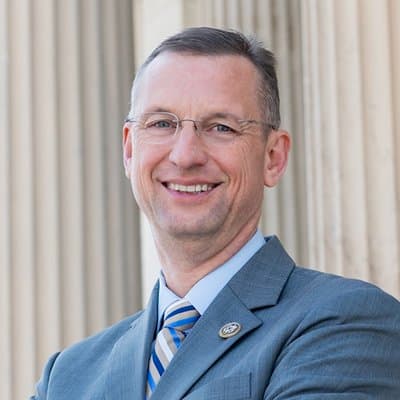 Doug Collins Elections
Doug Collins served three terms in the Georgia House of Representatives, representing Georgia's 27th district from 2007 to 2013. After Republican incumbent state representative Stacey Reece decided he would run for the Georgia State Senate, Collins announced he would run for the vacated seat. He won both the primary and general elections unopposed. He was unopposed for reelection in 2008 and 2010.
In 2012, Collins ran for Congress in the redrawn 9th congressional district. Collins faced local media personality Martha Zoller and retired principal Roger Fitzpatrick in the Republican primary. The 9th is the most Republican district in the Eastern Time Zone, with a Cook Partisan Voting Index of R+27. It was understood that whoever won the Republican primary would be the district's next representative in Congress.
Doug Collins finished first in the primary with 42 percent of the total, but just 700 votes ahead of Zoller. Because neither had a majority, a runoff was held on August 21, 2012, and Collins defeated Zoller in that contest 55 percent to 45 percent. In the general election, he defeated Democrat Jody Cooley 76 percent to 24 percent.
After running unopposed in the 2016 election, Collins faced Democratic challenger Josh McCall in the 2018 election. Doug Collins overwhelmingly defeated McCall with 79.6% of the vote, compared to McCall's 20.4%.
Doug Collins
Military Service
In the late 1980s, Collins served two years in the United States Navy, as a navy chaplain. After the 9/11 terrorist attacks, Doug Collins joined the United States Air Force Reserve Command, where he presently serves as a chaplain (lieutenant colonel). As a member of the 94th Airlift Wing at Dobbins Air Reserve Base in Marietta, Georgia, Collins was deployed to Balad Air Base for five months in 2008, during the Iraq War.
Doug Collins
Political positions
Health care
Collins supports repealing the Affordable Care Act ("Obamacare"). He called it an "experiment [that] has continued to fail America" and "costly for my neighbors.'" Collins said the passage of the Tax Cuts and Jobs Act of 2017 would not result in anyone losing health coverage.
Donald Trump
Collins did not publicly comment on sexual misconduct accusations against Donald Trump in the wake of the Access Hollywood tape being released.
Tax reform
Collins supports tax reform and voted in favor of the Tax Cuts and Jobs Act of 2017. He said the bill would encourage businesses to create more jobs and that the economy and communities would strengthen. He said, "We're making the IRS less ravenous and putting more money back in the hands of American families so that they can pursue more of their ambitions on their own terms."
Interest group ratings
Collins has an "F" rating from marijuana legalization advocacy organization National Organization for the Reform of Marijuana Laws (NORML) for his voting history regarding cannabis-related causes.
Civil rights
Collins co-sponsored a bill to award the Freedom Riders the Congressional Gold Medal. Collins opposes same-sex marriage. He co-sponsored the Marriage and Religious Freedom Act and the State Marriage Defense Act. Collins also opposes the Equality Act, a bill that would expand the federal Civil Rights Act of 1964 to ban discrimination based on sexual orientation and gender identity. He voted against the bill in 2019.
Religious rights
Collins has written letters in defense of military chaplains including Joseph Lawhorn and Wes Modder, both of whom have faced opposition for expressing their Christian beliefs.
Women's rights
Collins voted against the 2013 Violence Against Women Act because it sought to expand the original law to cover same-sex couples as well as allow battered foreigners residing in the country illegally to claim temporary visas, also known as U visas.
Doug Collins Committees Assignments
House Appropriations (Secretary)
Judiciary Non-Civil
Public Safety & Homeland Security
Health & Human Services
Defense and Veterans Affairs
United States House Committee on Rules
United States House Committee on the Judiciary

Subcommittee on Courts, Intellectual Property and the Internet
Subcommittee on Regulatory Reform, Commercial and Antitrust Law
Committee on Oversight and Government Reform

Subcommittee on Federal Workforce, U.S. Postal Service and the Census
Subcommittee on Economic Growth, Job Creation and Regulatory Affairs
Caucus memberships
Email
Doug Collins Email has not been disclosed.
Twitter