Ed Ruth Biography
Edward Ruth also is known as Ed Ruth was born on October 21, 1990. he is an American mixed martial artist and former freestyle and folkstyle wrestler. As a folkstyle wrestler, Ruth was a three-time NCAA Division I national champion. He is a 2009 graduate of Blair Academy in Blairstown, New Jersey.
He transferred there from Susquehanna Township High School in Harrisburg, Pennsylvania in his freshman, sophomore and junior year.
Ed Ruth Age
Ed was born on October 21, 1990. he is currently 28 years old as of September 2019.
Ed Ruth Wife
There is no past or current information about the ruth's relationship status. He is possibly single and unmarried. Apart from his relationship status, he has not been involved in any sort of controversy, affairs or scandals as he seems to be a professional who is constantly focused on developing his career rather be tangled in relationship and nuisances.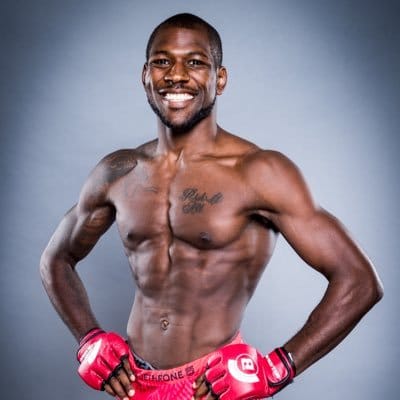 Ed Ruth Wrestling Career
Ed Ruth's wrestling career almost ended before it ever really got started. The Pennsylvania native tried out a local youth program and immediately hated it. "I thought it was going to be like WWE," Ruth told MMAFighting.com. "I thought I'd be able to go in there and drop the People's Elbow or do the Stone Cold Stunner. Then I got in there and got my ass kicked every day and I didn't like it."  But due to his mother's support and encouragement ruth pursued the wrestling career
In folkstyle wrestling, Ruth competed for Pennsylvania State University from 2010 to 2014. While there, Ruth was a three-time NCAA Division I national champion. In freestyle wrestling, Ruth represented the United States at the 2014 World Wrestling Championships and the 2015 Wrestling World Cup.
Ruth trained with mixed martial arts (MMA) fighter Jon Jones. While living in State College, PA, Ruth trained at Central PA Mixed Martial Arts with head instructor Ryan Gruhn on December 2014
Ed Ruth Bellator MMA
He signed with Bellator MMA in May 2015. Due to his focus on competing in the 2016 Summer Olympics, Ruth declared that it would "be a little while" before his MMA debut.
He made his professional MMA debut in November 2016 on the undercard of Bellator 163 against Dustin Collins-Miles, fighting in the middleweight division. He won the fight via TKO in the first round. In his second professional MMA bout, Ruth faced Emanuele Palombi at Bellator 168 on December 10, 2016. He again won via TKO in the first round.
Ruth was expected to face Aaron Goodwine at Bellator 178 on April 21, 2017, but the bout did not materialize. Ruth instead fought and defeated David Mundell. Ruth faced UFC veteran Chris Dempsey on November 3, 2017, at Bellator 186. He won the fight via knockout in the second round.
Ruth was originally scheduled to make his welterweight debut and face Lazslo Furko of Hungary, but Furko pulled out due to injury. Ruth then faced Ion Pascu of Romania, who took the fight on two weeks' notice at Bellator 196 held in Budapest, Hungary. This fight was agreed at a catchweight of 175 lbs. He won the fight by unanimous decision after taking Pascu down numerous times and landing heavy ground and pound.
Ruth made his welterweight debut against Andy Murad at Bellator 201 in Temecula, California. He won the fight by TKO in round two. Ruth next entered the Bellator Welterweight Grand Prix. He faced Neiman Gracie in the quarterfinals at Bellator 213 on December 15, 2018. He lost the fight via rear-naked choke submission in the fourth round.
Ed Ruth MMA Records
Ed Ruth has a total MMA record of 7 wins, 1loss and 0 draws. 6 wins by knockout 1 by the decision and 1 loss by submission. number of matches 8.
Ed Ruth Training
What does your standup training look like?
I spend a lot of time shadow boxing; moving around with guys in front of me, including some light sparring. I am working a lot of angles, spend a lot of time doing conditioning and run on the treadmill. After practice, I'll shadow box or shadow wrestle-off by myself. As far as standup goes, I do a lot of moving around.
I have never been a fan of heavy sparring – you are just really putting yourself in a situation to get hurt. It's hard. You shorten up your career and I can do light sparring any day of the week. I do that twice as much during a fight camp than a regular week.
Ed Ruth Vs Khabib
Is anyone familiar with AKA knows if these two have rolled? It must be epic if so. Ed is probably one of the best folkstyle wrestlers over the past decade. I feel he has the ability to develop a nice standup. Seeing what Askren has done alone with his wrestling in MMA has me believing Ed could be a potential star. With him, in the same gym with Khabib I'm just curious how his wrestling holds up between the two. It would be great to watch.
Ed Ruth vs Neiman  Gracie
Bellator 213 results: Neiman Gracie earns a title shot with grand Prix submission of Ed Ruth
Neiman Gracie and Ed Ruth combined for a scintillating grappling contest, but ultimately it was the Brazilian who earned the submission finish and will fight for a world title in the semifinals of Bellator's ongoing welterweight Grand Prix. The welterweight Grand Prix quarterfinal bout was part of the DAZN-streamed main card of tonight's Bellator 213 event, which took place at Neal S. Blaisdell Center in Honolulu.
Ruth took the center of the cage to start the contest, and Gracie peppered him with low kicks as he moved forward. They traded hands a bit in the pocket, but the two grapplers quickly switched to their preferred areas of expertise. As they clinched, Ruth pressed forward, and Gracie fell to his back. He immediately locked in a triangle choke that appeared to be quite threatening.
Ruth was stuck, yet he used his trapped right arm to press down just enough to allow him to survive. After some gut-wrenching time in the hold, Ruth finally pulled free, spinning away from the armbar attempt that followed and then moving back to the feet.
Ruth was the quicker man on the feet, and he looked comfortable in the pocket. Still, Gracie was having some success. Ruth seemed unimpressed though, simply walking through the punches to deliver his own, some of which began to snap his opponent's head back. Gracie was able to clinch and slow things down, reaching up for the head and trying to snap in a guillotine, but it wasn't there, and they finished the round on the feet.
The two traded jabs to open the second before Gracie complained of an eye poke, leading to a brief timeout. On the restart, Gracie returned to the leg kick, scoring at will. However, Ruth was also returning fire with punches up top and constantly moving forward. Gracie eventually shot in, perfectly timing a beautiful double, but Ruth rolled through the hold and took top position with a fantastic sweep. Gracie countered by attacking the leg, but Ruth twice spun free, returning to top position each time.
Gracie kept looking for options below, and he methodically worked himself into position for an armbar. It was a beautiful move, but one that was countered by strength, and Gracie simply couldn't break the grip. As Gracie tried to bail on the hold and move to the back, Ruth again countered at the exact right time, spinning and putting Gracie on the canvas before the bell.
The two men smiled at the start of the third and immediately came out and started trading crisp punches. Gracie became the aggressor in spots, and a few of his overhand punches briefly staggered Ruth. As they continued to trade, Ruth caught a kick and then cautiously moved into his opponent's guard.
Gracie countered with a slick figure-four over both of Ruth's legs, clamping down on the action. When Ruth worked free, Gracie again turned to the armbar, this time full extending the limb but somehow still not earning a tap before Ruth stepped over the body and extracted his arm.
Gracie was quick on the takedown to start the fourth, and he advanced to mount with relative ease. Ruth tried to spin free and ended up exposing his back, which Gracie happily accepted. With a figure-four around the body, Gracie punched away and looked for the opening to sink the choke. Gracie spun his body and did get the left arm under the neck. Ruth did his best to peel it away, but Gracie was locked in and continued to squeeze, earning the tap at the 2:17 mark of the fourth.
Ed Ruth 2019
On August 15, 2019, it was announced that Ruth had signed an exclusive multi-fight, multi-year contract extension with Bellator. As the first fight of his new contract, Ruth is expected to face Jason Jackson at Bellator 231 on October 25, 2019.
Ed Ruth Highlights
Ed Ruth Net Worth
He has earned a decent amount of money through his professional career as a successful MMA athlete. Even though his official earning has not been disclosed. he is estimated to get good money from his wins.
Ed Ruth Instagram
---
We endeavor to keep our content True, Accurate, Correct, Original and Up to Date.
If you believe that any information in this article is Incorrect, Incomplete, Plagiarised, violates your Copyright right or you want to propose an update, please send us an email to informationcradle@gmail.com indicating the proposed changes and the content URL. Provide as much information as you can and we promise to take corrective measures to the best of our abilities.
---