Eddie Hall Biography
Eddie Hall (born Edward Stephen Hall) is an English former professional strongman and weightlifter, who was the winner of the World's Strongest Man in the 2017 championships. Hall is also known for being the world record dead-lift holder, lifting 500 kg -1,100 lb- under strongman rules(2016). He has proven to be a heavyweight, winning various championships on multiple occasions both the UK's Strongest Man and England's Strongest Man titles.
Eddie Hall Age
Edward Hall is 32 years old as in 2020, he was born on 15 January 1988 in Stoke-on-Trent, England. Hall celebrates his birthday on January 15th every year and his birth sign is Capricorn.
Eddie Hall Height
Hall stands at a height of 6 feet 3 inches (1.90 meters) and weighs 161 Kg (355 lbs).
Eddie Hall Weight Loss
Hall underwent a massive weight loss program which has inspired many people to stay fit and healthy. Within a year, he slimmed down by five stones, from around 30 stones.
In 2017 during the championship, he weighed 195kg. However, after the massive weight loss, he weighs only 164kg in 2018. He still maintained 164kg as his body weight in 2019.
On 10 January 2021, it was announced that Eddie Hall managed to shed five and a half stone since winning the World's strongest Man competition, in 2017.
He shared a post on Instagram showing off his impressive weight loss, with a photo on the left showing what he looked like in 2017, while a second snap showed what he looks like now.
He wrote:
Left ⬅️2017 @ 196kg / 432lbs 💪 Right➡️2021 @ 161kg / 355lbs 🤽‍♂️
3 years difference and 36kg lost!
Myprotein have given me a special discount this weekend just for you guys. 40% off when you use code BEAST. Link is in my bio!↖️ I recommend the impact whey or 'the whey+' #Beast #Boxing #Strongman #wsm #protein #Transformation #ad #RefuelYourAmbition
Big Love
Team Beast
Eddie Hall Diet
In September 2020, Hall revealed that he had been watching his fitness and nutrition to ensure he's in the best shape, chowing down on 7000 calories daily — almost three times the recommended intake for an adult male.
He said his six daily meals included food like chicken, rice, vegetables, chocolate, granola, baked potatoes, and coleslaw, along with a few snacks to keep him going.
7.30 am: One apple before morning power walk
Breakfast: Steak and scrambled eggs (five eggs), one glass of orange juice
Mid-morning: Whey protein shake
Lunch: Two large pieces of chicken, rice, mixed vegetables, and half a glass of orange juice
Mid-afternoon: Chocolate granola or punnet of strawberries with Manuka honey
6 pm meal: Homemade chicken curry, rice, and vegetables (carrots, peas, and sweetcorn)
Dinner (8.30 pm): Large portion of air-fried chicken, two baked potatoes, asparagus, coleslaw, peppers cooked in butter, and half a bottle of mayonnaise
Evening snacks: Yoghurt, nuts, honey, fruit
"Because of my size and the intensity of my training program, I have to eat a lot," he explained.
"I currently consume about 7, 000 calories a day, containing a variety of protein, carbs, and vegetables. It's not only time consuming to eat so much, but it also takes a lot of forward planning, consistency, and effort."
Eddie Hall Workout
As for working out, Lifting weights will have helped to preserve Hall's muscle mass. He said he'd been pushing himself with grueling daily cardio, in form of High-Intensity Interval Training (HIIT) sessions: using boxing, cycling, swimming, and general circuit training. Also, he does weight training four times a week.
"It's important I keep up my energy levels and focus and that my muscles recover quickly, which supplements can really help with.
"Due to my size and the level at which I'm training, I also need to take more vitamins and supplements than the average person – so it was crucial I found a more effective and convenient solution than popping loads of pills each day."
Eddie Hall Education
Hall is a proud graduate of Clayton High School but was expelled at the age of 15. Soon afterward, he received in-home tutoring. He then started working as a mechanic in 2008, in the garage at the Robert Wiseman Dairies site in Market Drayton, Shropshire.
From there, Hall trained and competed as a bodybuilder and entered the strongman circuit, having done a strongman competition at the Iceman gym in Stroke-on-Trent, Staffordshire.
In 2010, Dave Meer of Tamworth, Staffordshire had dropped out of the England championships organized by Elite Strongman because of injury. He arranged for Hall to take his place and led to Hall making it into the 2010 finals, which he won his first attempt by half a point.
Eddie Hall Parents
Hall was born and raised by her parents in England. Our efforts to find out more about his family came to no avail as no such information is publicly available.
Hall does not give his father's name but he shares photos of his dad on his account. Recently, on March 18th, 2020, they were having a trip to Melbourne with his father.
However, due to the Corona lockdown, Eddie and his father were forced to go back home. Additionally, this resulted in them mortgaging their houses.
Eddie Hall Siblings
Hall has a brother called James Hall, a strength and conditioning PT from Bristol.
Is Eddie Hall Married? Eddie Hall Wife
Hall is currently married to his long-time girlfriend, Alexandra Hall, and together, they have a son Max Hall. Their wedding was legalized in 2012. His wife Alexandra is the owner and manager at Bobos Barbers.
Eddie Hall Salary
Details about Hall's salary are not yet disclosed. However, information about how much he makes will be updated as soon as it is available.
It is known that Hall earns an extra income, through selling merchandise through his website. He is also sponsored by major brands like BooHoo Man MyoBand, Muhdo, Blakeman's Sausages, and Pulse Fitness.
Eddie Hall Networth
Hall is estimated to be $5 Million with his income streaming from endorsements and partnerships. He is the current ambassador for sports nutrition brand Protein Dynamix now.
Eddie Hall Measurements and Facts
Here are some interesting facts and body measurements you should know about Eddie Hall.
Eddie Hall Wiki
Full Names: Edward Stephen Hall
Popular As: Eddie Hall — The Beast
Gender: Male
Occupation / Profession: Strongman, actor
Nationality: English
Race / Ethnicity: Caucasian
Religion: Not Known
Sexual Orientation: Straight
Eddie Hall Birthday
Age / How Old?: 32 (2020)
Zodiac Sign: Capricorn

Date of Birth: 15 January 1988
Place of Birth: Newcastle-under-Lyme, Staffordshire, England
Birthday: 15 January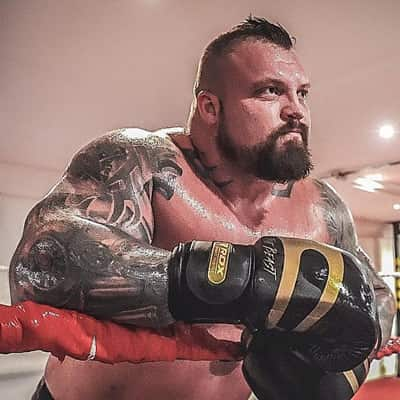 Eddie Hall Body Measurements
Height / How Tall?: 190 cm (6 ft 3 in)
Weight: 161 Kg (355 lbs)
Eye Color: Blue
Hair Color: Dark Brown
Shoe Size: 12
Quads: 33 inches
Neck: 25 inches
Biceps Size: 22 inches
Chest Size: 62 inches
Waist Size: 36 inches
Hip Size: 40 inches
Eddie Hall Family and Relationship
Father (Dad): Not Known
Mother: Not Known
Siblings (Brothers and Sisters): James Hall
Marital Status: Married
Wife/Spouse: Married to Alexandra Hall
Children: Max Hall
Eddie Hall Net Worth and Salary
Net Worth: $5 million
Salary: Under Review
Source of Income: Strongman, actor
Eddie Hall House and Cars
Place of living: Stoke-on-Trent
Cars: Car Brand to be Updated
Eddie Hall Young
As a young teenager, Hall was a successful competitive swimmer and rugby union player attending Clayton High School. However, he was expelled from school in his older teenage years.
The strongman would train and compete in bodybuilding competitions. Eventually, he enrolled for the strongman circuit, having done a strongman competition at the Iceman gym in Stoke-on-Trent, Staffordshire.
In 2010, Dave Meer, a strongman from Tamworth, Staffordshire got an injury forcing him to drop out of the England championships organized by Elite Strongman.
Dave Meer arranged for Hall to replace him for the competition title. Due to his weight lifting capabilities, Hall won on his first attempt by half a point making it to the 2010 finals. 
Eddie Hall Viking Hold
The strongman competed at the 2011 UK's Strongest Man. He finished at the number one position in the competition held in Belfast. Ken Nowicki being the runners up and Rich Smith in the 3rd position.
Hall's win included setting a new national record in the "Viking Hold", hanging on to 20 kg (44lbs) axes in each hand at full stretch for one minute and 18 seconds.
Eddie Hall Deadlift Record 2015
In March 2015, The strongman was the award winner of the world record for lifting the weight of 462 kg (1,019 lb; 72.8 st). This was in the 2015 deadlift competition at the Arnold Classic in Australia. The actor Arnold Schwarzenegger was present to cheer him on as he competed. Hall broke his own record at the World Deadlift Championships 2015, with a 463 kg (1,021 lb; 72.9 st) deadlift.
Eddie Hall Documentary – Strongman
A documentary film featuring Hall was released in December 2015; directed by Matt Bell and produced by Tom Swanston. It was titled Eddie: Strongman. The feature film follows Hall for two years of his life as he strives to become the strongest man in the world.
Eddie Hall Deadlift Record 2016
Hall set a new world record in July 2016, in the deadlift category where he lifted  500 kg (1,100 lb). He had previously set at 465 kg (1,025 lb) earlier that same day.
Hall was the first man in history to lift 500kgs which made him pass out immediately after. According to him, he suffered bleeding in the brain, symptoms of a concussion (he forgot his wife's name for weeks) and he temporarily lost his sight.
Eddie Hall Retirement
After winning the 2017 World's Strongest Man competition, Hall announced his intention to retire from the World's Strongest Man. His idea was to return to lower-weight competitions after expressing health-related concerns.
Eddie Hall Strongman Records
In competition:
Deadlift with straps and suit 500 kg (1,100 lb) – the world record
Rogue Elephant Bar Deadlift with straps – 465 kg (1,025 lb)
Deadlift with straps 463 kg (1,021 lb)
Axle press – 216 kg (476 lb) strict press – the world record
Log lift – 213 kg (470 lb) strict press – British record, done at Europe's Strongest Man 2018
Gym lifts (all raw):
Squat – 405 kg (892.9 lb)
Bench press – 300 kg (661.4 lb)
Leg press – 1,000 kg (2,204.6 lb) for 10 reps
Deadlift with 18-inch bar – 536 kg (1,181.7 lb) – world record
Eddie Hall Movies and Tv Shows
Film
2015 Eddie: Strongman
2017 Transformers: The Last Knight
2017 Born Strong
Television
2012–2019 World's Strongest Man
2016 A League of Their Own
2018 The Chase
2018 Celebs In Solitary
2019 Eddie Eats America
2019 The Strongest Man in History
2020 Eddie Eats Christmas
Eddie Hall Books
Hall has authored four books. The books are mainly on the gym, exercises, and how he became a strongman. The books are:
Strongman: My Story in 2017
The Beast Eddie Hall Gym Diary- 2017
Eddie Hall's Goals and Gains Gym Diary- 2017
The Best of Eddie Hall's Strength and Mass Formula Gym Diary in 2017.
Eddie Hall Vs Hafþór Júlíus Björnsson | Eddie Hall Boxing
Hafþór Júlíus Björnsson Prepares for the Heaviest Boxing Match in History
Björnsson will become a boxer in September 2021, when he fights his long time rival Eddie Hall, who is known for his ridiculous feats of strength and ability to lift incredible weights, which led to him winning the World's Strongest Man competition in 2017, as well as five Britain's Strongest Man competition wins.
Both men have been very public with their preparations for the fight and the latest video comes from Hall's camp, where he's been injuring his trainers.
Eddie Hall Punched His Trainer So Hard He Coughed Up Blood
Former World's Strongest Man Eddie Hall, shown his punching power by making his trainer cough up blood, as he was getting ready to face rival Hafþór Júlíus Björnsson.
At around nine minutes into the video, Hall lands a shot on 'Paddy', wearing a bodysuit, which leads to the trainer coughing up blood.
The crazy thing is that it's not the first time that the 32-year-old has injured one of his trainers, whilst they were wearing a 'body bag.'
According to his other trainer Lyndon, at the beginning of the video, Hall injured him in another session and broke his ribs by landing a shot, despite the fact the body bag is supposed to stop the wearer from being in any pain at all.
The injury happened after five rounds of boxing but it's a wonder that Paddy didn't also injure his arm during the session.
Hall lands shots on the pads and every time he does the trainer has to shake off the pain that rumbles through the pads and down his arms, there's quite the power behind each shot.
Bjornsson has also laid down a marker whilst training for their fight in 2021, by knocking out his sparring partner.
The bitter rivalry comes down to the two men accusing each other of cheating. Bjornsson claimed he was 'robbed' when Hall won the world title in 2017 whilst Hall claimed his Icelandic rival cheated when breaking the deadlift world record.
Speaking about the accusations against him, the Brit said, "For the last three years, instead of answering questions about how I defeated some of the greatest strongmen to ever live, Hafthor included, instead I had people questioning whether I really won it or not.
"Hafthor Bjornsson and his entourage have been smearing my title and the referee Colin Bryce's reputation for the last three years.
"Because he was the Mountain from Game of Thrones, a huge TV star, people listened and people believed him."
Frequent Asked Questions About Eddie Hall
Who is Eddie Hall?
Eddie Hall is an accomplished former professional strongman and weightlifter who has gained vast recognition for deadlifting challenges and weight lifting.
How old is Eddie Hall?
Edward Hall is an English born on January 15th, 1988, in Stoke-on-Tent, England.
How tall is Eddie Hall?
Hall stands at a height of 6ft 3inches.
Is Eddie Hall married?
Yes, he is married to Alexandra Hall and they have a son, Mark Hall.
How much is Eddie Hall worth?
Eddie has an approximate net worth of $5 million. This amount has been accrued from his leading roles in the weightlifting industry.
Where does Hall live?
Hall is a resident of Stoke-on-Trent, we shall upload pictures of his house as soon as we have them.
Is Hall dead or alive?
Eddie Hall is alive and in good health. Eddie suffered bleeding in the brain, symptoms of a concussion (he forgot his wife's name for weeks) and he temporarily lost his sight.
Where is Eddie now?
Eddie Hall is still a former professional strongman and weightlifter. Hall is working as the current ambassador for sports nutrition brand Protein Dynamix now.
Social Media Contacts