President Uhuru Fetes Eliud Kipchoge With Top State Award

President Uhuru Kenyatta has feted Eliud Kipchoge with Elder of the Order of the Golden Heart of Kenya (E.G.H.) award during national Mashujaa Day celebrations in Mombasa on Sunday.

Order of the Golden Heart of Kenya is the highest category of presidential awards which is further divided into three classes: Chief of the Order of the Golden Heart of Kenya (C.G.H.), Elder of the Order of the Golden Heart of Kenya (E.G.H.) and Moran of the Order of the Golden Heart of Kenya (M.G.H.)

The Elder of the Order of the Golden Heart of Kenya (E.G.H.) is often given to among others the Deputy President, Speakers of Parliament, Cabinet Secretaries, the First Lady, the wife of the Deputy President, Head of Public Service and the Kenya Defence Forces' (KDF) Chief of Staff.

Kipchoge, who became the first man to run a full marathon under two hours on October 12 during the "INEOS 1:59 Challenge", is the first Kenyan sports personality to receive the award. In his address to the country, Uhuru urged Kenyans to emulate the world marathon record holder.

Eliud Kipchoge makes history as first human to run a marathon in under 2 hours

World record holder Eliud Kipchoge has made history by being the first human to run a marathon in under two hours.

Kipchoge crossed the finish line in 1:59:40.

Asked how he felt about running under two hours, he said, "I'm the happiest man and happy to inspire other people to know that no human is unlimited."

When he started the race, he was greeted with a misty autumnal morning and a smattering of fans for his bid to run an unofficial sub-two hour marathon.

Eliud Kipchoge Photo

The marathon world record holder's highly controlled attempt to break the two-hour barrier started at 8:15am local time (6.15 GMT) and organisers and there was a crowd of up to 8,000 in Vienna's Prater Park.

Kipchoge ran 4.4 laps of a 9.6 kilometre course, consisting of a long straight with a loop at each end.

The sport's governing body, the IAAF, will not recognise the run as an official record because it is not in open competition and it uses in and out pacemakers.

Kipchoge, 34, the reigning Olympic champion who set an official world record of 2:01.39 at the Berlin marathon in September last year, missed out by 26 seconds when he previously attempted to break the two-hour barrier in Monza in May 2017, a race run without spectators.

The 34-year-old was supported by 41 pacemakers who ran in rotating groups and formed a V shape around Kipchoge – as opposed to a diamond formation in Monza – to try and protect him from the wind.

They followed an electric pace car that was programmed to complete the course in 1:59.50 to ensure that Kipchoge ran a steady pace.

https://youtu.be/k-XgKRJUEgQ
Eliud Kipchoge Biography
Eliud Kipchoge is a Kenyan long-distance runner who competes in the marathon Kipchoge is considered as one of the greatest marathon runners of all time. Eliud is the first and only man to break the 2-hour barrier in the marathon with a time of 1:59:40.  He is the current marathon world record holder with a time of 2 hours 1 minute 39 seconds. Kipchoge's world record run at the 2018 Berlin Marathon, often regarded as the fastest marathon course of the major marathons, broke the previous world record by 1 minute and 18 seconds.
How Old Is Eliud Kipchoge | Eliud Kipchoge Age
Kipchoge was born on 5 November 1984, in Kapsisiywa, Nandi District, Nandy County, Kenya.
Eliud Kipchoge Family | Parent
Kipchoge is the son of Janet Rotich. Kipchoge was raised by a single mother (a teacher), and only knew his father from pictures. He is the youngest of four children. He met his trainer/coach Patrick Sang (a former Olympic medalist in the steeplechase) in 2001 at the age of 16. Kipchoge graduated from Kaptel Secondary School in 1999. While In the school he ran 2 miles to school daily.
Eliud Kipchoge Coach – Patrick Sang
Inspired to run by his neighbor, the former World and Olympic steeplechase silver medallist Patrick Sang, the then-teenage Eliud approached Patrick – who had started life as a coach – for a training program.
The gregarious and generous coach agreed and so began a hugely successful 18-year coach-athlete relationship in which Patrick has handed down his principles of hard work, patience and discipline to his protégé.
Eliud Kipchoge Wife
Eliud Kipchoge is married to Grace Sugut. The couple is a proud parent of three children. Sagut is Very Supportive of her Husband and Constantly goes to marathons to support him. The family resides in Eldoret, Kenya.
Eliud Kipchoge Children
Eliud Kipchoge and his wife Grace Sugut are blessed with three children, Lynne, Griffin, and Jordon.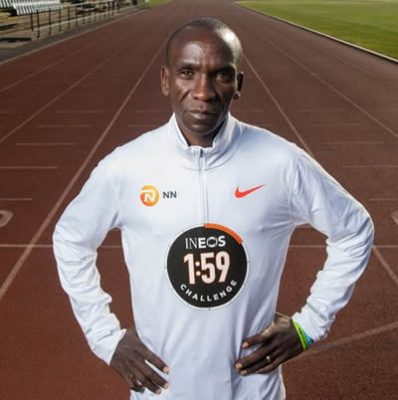 Eliud Kipchoge Shoes | Vaporfly | Clothing | Gear
In 2016, Nike unveiled the first version of the Vaporfly, appending "4%" to the name in reference to the energy savings they were purported to provide. The shoes represented the technological component of a three-year, multipronged effort to engineer a perfect marathon and break the 26.2-mile race's elusive 2-hour barrier at a track in Monza, Italy. Eliud Kipchoge, widely regarded as the greatest marathoner of all time, headlined the attempt. He came just 25 seconds short—closer than most people thought he would.
Granted, the conditions of the race were optimized for speed. Kipchoge had a phalanx of pacers blocking the wind for the majority of the race, and he ran on a loop with zero time-sapping, 90-degree turns so it didn't count as an official record. What's more, it was far from clear that the shoes were the key to Kipchoge's brush with the 2-hour barrier. Yet he and many other runners, professional and otherwise, have worn some version of the shoes in each of their races since.
As well as improved traction requested by Kipchoge, the Vaporfly Next% has more foam in the midsole to add stability and energy return; offset laces for more comfort; a foam pod inside the heel to take the strain off the Achilles tendon; and a new Vaporweave fabric, which is lighter than Nike's Flyknit and absorbs less water from sweat or rain.
Eliud Kipchoge Diet
Ugali: made from maize meal, it is cooked in water to form a sort of corn cake. This staple is very high in starch and is very bland, lacking much in the way of flavor. Many meals in the farm-stay were served with an almost insurmountable pile of ugali on the side. Managu: a dark leafy green, somewhat like spinach. This is normally eaten after being sautéed in water and some oil, however, some athletes we spoke to even cooked the leaves in milk.
Eliud Kipchoge Height
The world winner Olympic Marathon, Kipchoge has an estimated height of 1.67 m (5 ft 6 in)
Eliud Kipchoge Weight
Kipchoge's weight is estimated at 57 kg (126 lb).
Eliud Kipchoge Marathon
2019 London Marathon, 1st – 2:02:37
2018 London Marathon, 1st, – 2:04:17
2018 Berlin Marathon, 1st – 2:01:39
2017 Breaking2, – 2:00:25
2017 Berlin Marathon, 1st – 2:03:32
2016 Summer Olympics, 1st – 2:08:44
2016 London Marathon, 1st – 2:03:05
2015 London Marathon, 1st – 2:04:42
2015 Berlin Marathon, 1st – 2:04:00
2014 Rotterdam Marathon, 1st – 2:05:00
2014 Chicago Marathon, 1st – 2:04:11
2013 Hamburg Marathon, 1st – 2:05:30
2013 Berlin Marathon, 2nd – 2:04:05
Eliud Kipchoge World Record
Tokyo Marathon
Boston Marathon
London Marathon, 1st – 2:04:42 (2015) 1st – 2:03:05 (2016), 1st – 2:04:17(2018), 1st – 2:02:37 (2019)
Berlin Marathon, 2nd – 2:04:05 (2013), 1st – 2:04:11 (2015), 1st – 2:03:32 (2017), 1st – 2:01:39 (2018)
Chicago Marathon, 1st – 2:04:11 (2014)
New York City Marathon
Eliud Kipchoge Breaking 2 | Eliud Kipchoge Nike
Breaking2 was a Project by Nike to break the two-hour boundary for the long-distance race. Nike declared the venture in November 2016 and composed a group of three world-class sprinters who prepared for a private race. The occasion was hung on the Formula One Autodromo Nazionale Monza race track in Italy on May 6, 2017. At last, the venture missed the mark, with Eliud Kipchoge winning the race at 2:00:25.
Eliud Kipchoge Berlin Marathon 2018
On 16 September 2018, Kipchoge set out to obtain the official world record for the marathon and ensure he would be the best marathon runner and he did so by breaking the previous, held by his compatriot Dennis Kemetto, record by 1 minute 18 seconds in a time of 20:01:39 at the Berlin Marathon.
Eliud Kipchoge Pace
Kipchoge's average pace per mile: 4:38.4
Kipchoge's average pace per 5K: 14:24.9
Kipchoge's average pace for one lap of a standard outdoor track: 69.19 seconds
Eliud Kipchoge Awards
During an unmatched marathon career, Eliud has claimed victory in ten out of 11 marathons, racking up an unprecedented nine successive victories over the 42.2km distance. Besides taking the Olympic marathon title in 2016, the Kenyan's ground-breaking performance as part of the Nike Breaking 2 project – when running 2:00:25 – suggests he is on the verge of the history-defining achievement.
Following Breaking2 and after also memorably destroying the world marathon record in Berlin last year by 78 seconds – courtesy of his stunning 2:01:39 mark – and running the second-fastest marathon time in London this year, Eliud believes the time is right for him to prove no human is limited but also inspire future generations.
In INEOS Eliud believes he has found the perfect partner to match his vision, and who can inspire him and his team, to show the world that no human is limited.
Eliud Kipchoge Olympics
In 2004, Kipchoge won a bronze medal at the 5000 m final at the 2004 Athens Olympics, behind El Guerrouj and Kenenisa Bekele. Kipchoge won the bronze in the 3000 meters indoor at the 2006 World Championships in Moscow. At the end of the year, he ran at the San Silvestre Vallecana New Year's Eve 10 km road race and he just held off Zersenay Tadese to win in a time of 26:54 minutes. During the 2008 Olympics held in Beijing, China, Kipchoge won a silver medal in the 5000m event with a time of 13:02.80; although better than the previous Olympic record of 13:05.59, it was not enough to match Kenenisa Bekele's pace, who won the gold medal for this race.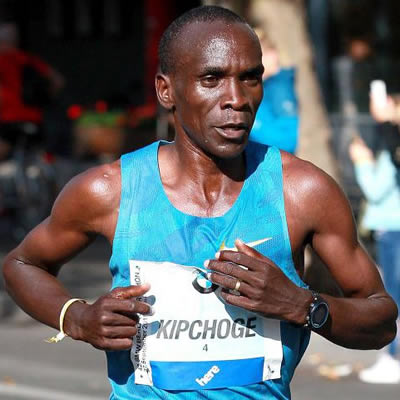 He also finished ninth in the 3000 m at the 2009 IAAF World Athletics Final. On the circuit, he won the Great Yorkshire Run 10K and Campaccio Cross Country that year. As the prerace favorite, during the 2016 Summer Olympics, Kipchoge gained a gold medal in the marathon event. Kipchoge became the second Kenyan male after Sammy Wanjiru in Beijing 2008 to win an Olympic marathon gold medal. At the same Olympics, the women's marathon was won by another Kenyan, Jemima Sumgong.
Eliud Kipchoge London Marathon
Kipchoge won the 2018 London Marathon against a field that included Mo Farah (multiple times Olympic gold medalist), who completed third with a period of 2:06:32 in his subsequent long-distance race, Kenenisa Bekele (multiple times Olympic gold medalist and World Record holder 5000 m and 10000 m), and safeguarding champion Daniel Wanjiru.
Eliud Kipchoge (left) and his three pacemakers (right) around 30 minutes into the run, during the Marathon world record in the 2018 Berlin Marathon. He is demonstrated a couple of moments before intersection the waterway Spree.
On 16 September 2018, Kipchoge won the Berlin Marathon in a period of 2:01:39, breaking the past world record by 1 moment and 18 seconds (2:02:57 set by individual comrade Dennis Kimetto at the Berlin Marathon in 2014). He completed 4:43 min in front of second-set individual Kenyan Amos Kipruto. The World Record holder from 2013, Wilson Kipsang of Kenya, came in third in 2:06:48. From 2003 onwards, all past 6 world records in the men's long-distance race were set at the Berlin long-distance race. Kipchoge started the race with three pacemakers committed to him. After 5 km on the run, the hole among him and the Kipsang gathering was 9 seconds. After 15 km in the race, two of the pacemakers were not able to keep pacing him. The rest of the pacemaker dropped out after 25 kilometers, leaving Kipchoge to cover the last 17 km alone. Kipchoge had intended to keep running with a pacemaker through 30 km (as opposed to 25 km); this difficulty "was disastrous," he reflected post-race, "however I needed to accept". Kipchoge quickened, covering the subsequent half (1:00:33) of the race quicker than the main half (1:01:06). In radiant climate conditions, the temperature was 14 °C (57 °F) during the beginning and 18 °C (64 °F) when Kipchoge crossed the end goal.
Prior to the run, Kipchoge expressed, he intended to run another individual best. The prize cash he made for his Berlin run was €120,000, comprising of €30,000 for completing in under 2:04 hours, €40,000 for the success and a further €50,000 for setting another world record. The world record set during this run was the eighth world record in 20 years in the men's long-distance race at the Berlin long-distance race. The pace during the run arrived at the midpoint of to 2:53/km (4:38/mile). The second 50% of the race at 1:00:33 is quicker than everything except three American half-long distance race times, and the last 10 km was canvassed at 28:33.
Eliud Kipchoge Gel
Kipchoge's race nutrition plan for Berlin centered around Maurten. The company created a hydrogel that contains high levels of easily digestible carbohydrates. Kipchoge used the GEL 100 as part of his nutrition plan during his record-breaking run.
The company describes the product as, "built by harnessing natural hydrogel technology and built with six natural ingredients. It doesn't contain any colorants or preservatives and comes in 40g servings that contain 60 percent carbohydrates–a high weight-to-energy ratio."
Eliud Kipchoge Quotes
Naturally curious in nature and possessing a clear, analytical mind – Eliud Kipchoge has a thirst for knowledge and is a voracious reader of self-help books.
Known as "The Philosopher" for his carefully considered quotes he is always willing to share his wisdom with all those at his training base in Kaptagat where he is termed the "boss man" for his inspirational role as the de-facto camp leader.
"Only the disciplined ones are free in life. If you are undisciplined, you are a slave to your moods. You are a slave to your passions." – Eliud Kipchoge
"To win is not important. To be successful is not even important. How to plan and prepare is crucial. When you plan very well and prepare very well, then success can come on the way. Then winning can come on your way."
"Pleasure in what you are doing is what puts perfection in your work—that's a quote by Aristotle." – Eliud Kipchoge
"Mental fitness plays a big role during competition. If you don't rule your mind, your mind will rule you. That's the way I think about this sport." – Eliud Kipchoge
"I'm confident to say that if you want to grow in a profession, consistency is the key…I'm strict about my work goals and training. When I miss one [workout session], it's like missing a discussion with your classmates, where six people are discussing a subject. If I miss one training, then I will not sleep well."
"In the marathon, the first half is just a normal run. At 15 kilometers, 20 kilometers, everybody is still going to be there. Where the marathon starts is after 30 kilometers. That's where you feel pain everywhere in your body. The muscles are really aching, and only the most prepared and well-organized athlete is going to do well after that. I'll go with the pace, but after 30 kilometers, I'll change to my own pace. And if you're ready to follow me, then we can go together."
 "Become comfortable with being uncomfortable. Accept change."
"When I have a lot of pain, I try to confuse my mind to forget about the pain and think about the distance. I don't want pain to be in my mind, because I'd really lose focus on running. After winning, you won't have that pain, but it comes later. The marathon is hard; the second day, you don't go up or down stairs." – Eliud Kipchoge
"I believe in what I am doing. To run a big marathon and win takes five months. When I'm on the starting line, my mind starts reviewing what I have been doing the last five months. I believe in my training, and I treat myself as the best one standing on that line."
"I always tell people that this is a really simple deal: Work hard," he said. "If you work hard, follow what's required and set your priorities right, then you can really perform without taking shortcuts. If you're taking shortcuts, you can't be free."
Eliud Kipchoge Nomination
Kipchoge has been awarded Laureus World Sports Award for Sportsman of the Year an annual award honoring the achievements of individual men from the world of sports. It was first awarded in 2000 as one of the seven constituent awards presented during the Laureus World Sports Awards.
Eliud Kipchoge Salary | Networth
Kipchoge Eliud's net worth is still under review. He Picked up £38,000 for his stunning display in Berlin last year. Kipchoge also pocketed £534,000 for setting a new world record. The star took home £39,000 by winning the 2018 London Marathon and banks £42,500 with his victory in 2019. His Networth is estimated to be $2.5 million dollars since he also supplements his earnings with a Lucrative deal with Nike.
Talking with World's Greatest Marathoner Eliud Kipchoge [Part 1]
Talking with World's Greatest Marathoner Eliud Kipchoge [Part 2]
Eliud Kipchoge Wife Opens Up On Athlete's Lifestyle
Updated 17.09.2018
Eliud Kipchoge wife Grace Sugut, wife of heroic Berlin Marathon champion Eliud Kipchoge has for the first time opened up on the lifestyle of the star athlete, giving hints as to why the 33-year- old marathoner has remained at the peak of his career.
Sugut who was among the thousands of athletics enthusiasts who followed the weekend race from giant screens mounted outside the county governor's office in Eldoret, said that hard work, discipline and a healthy diet are some of the driving pillars in Kipchoge's stellar career.
Eliud Kipchoge Diet
"I cook for him ugali and mursik and he loves roasted maize so much,"a brimming Grace said revealing the other unknown side of the athlete.
Eliud Kipchoge Diet Humility
"One thing that has made Kipchoge who he is today is his humility.
"He greets everybody in the village; he doesn't look like a person who thinks he made it in life. He looks like an ordinary person ," concluded Sugut.
And in Berlin, miles away from Eldoret, Kipchoge said that he was elated with his feat. His stellar performance on the road saw him break the record by one minute and 39 seconds which was set by Dennis Kimetto four years ago.
"I am glad I have won this race again and more so to have broken the record. I was more than prepared. I knew I was going to win. I want to thank my family for praying and supporting me and all my fans who sat for two hours to watch me. You are all great," the new record holder Kipchoge said.
Athletes who came together to watch Eliud on the giant screen outside the office of the governor organized by Uasin Gishu County Government together with Chamgei FM including Geoffrey Kamworor, Moses Tanui, coach Richard Metto, Brimin Kipruto and Abel Kirui hailed the all-conquering Kipchoge for his performance.
Eliud Kipchoge Sponsors
Representatives of Isuzu EA Ltd said they were proud to be associated with Kipchoge, who is their brand ambassador, adding that they'll reward him an Isuzu Dmax (double cabin car) as a gift for breaking the world record.
"I am happy for Kipchoge. He made history by breaking the record. We have been expecting him to break this record for a long time and we were not hesitant about it for we knew one day he'll do it," Isuzu East Africa's Communication officer Duncan Muhindi said.
Courtesy of his huge victory that has now made him one of the most revered sportsmen in the world, Kipchoge is now Ksh 12 million rich; after claiming Ksh. 5 million for winning the race and Kshs. 7 million for breaking the world record.
Adopted from Citizen.co.ke
---
We endeavor to keep our content True, Accurate, Correct, Original and Up to Date.
If you believe that any information in this article is Incorrect, Incomplete, Plagiarised, violates your Copyright right or you want to propose an update, please send us an email to informationcradle@gmail.com indicating the proposed changes and the content URL. Provide as much information as you can and we promise to take corrective measures to the best of our abilities.
---