Eric Avery Biography
 

| Eric Avery

Eric Adam Avery is an American musician. He is best known as the former bass guitarist and co-founding member of alternative rock band Jane's Addiction. Avery played in Jane's Addiction initially from the beginning in 1985 to its first end 1991 and rejoined the group in 2008 before departing again in 2010.

He began playing with Garbage in 2005, a role that he still keeps. He has recorded two studio albums with Garbage and a live DVD. Briefly, he was also a member of Nine Inch Nails and The Smashing Pumpkins.

Eric Avery was born in Los Angeles, California. His father is the actor Brian Avery, perhaps best known for playing Carl Smith (who Dustin Hoffman famously keeps from marrying Katharine Ross) in The Graduate.

Avery and Dave Navarro met as classmates at St. Paul the Apostle Grammar School in West Los Angeles, a Catholic parochial school founded by the Paulist Father. Eric went on to St. Monica High School of Santa Monica, California, and Dave Notre Dame High School in Sherman Oaks, California.

Dave was classmates at Notre Dame with Stephen Perkins. Stephen met Eric's sister, Rebecca Avery, and they dated. Rebecca suggested that Eric and Perry Farrell audition Stephen as the drummer for Jane's Addiction after Perry and Eric co-founded the band.

Avery kept a fairly low profile after the first demise of Jane's Addiction, participating in the Deconstruction project with Navarro immediately after Jane's Addiction's breakup, but initially declining invitations for Jane's reunions. "I've asked him," said Farrell before 2001's Jubilee Tour, "but he says he wants no part of it. What else can you say but, Good luck to ya?"

Avery has recorded tracks for, toured with and briefly dated Alanis Morissette, as well as creating another side project, Polar Bear, in 1994. He was once suggested as the replacement bassist for Tool by former Jane's Addiction and then-current Tool manager Ted Gardner. Eric declined the invitation, saying he wanted to concentrate on Polar Bear.

As seen in the film Some Kind of Monster, Avery auditioned for Metallica, after the departure of bassist Jason Newsted. The role didn't quite fit Avery and the band went with Ozzy Osbourne and Suicidal Tendencies bassist Robert Trujillo. Avery toured with the band Garbage to promote 2005's Bleed Like Me. Avery has also performed with Peter Murphy, on tour and on 2004's Unshattered.

Avery worked briefly with the revived Smashing Pumpkins but ultimately did not join the band. He was not paid for his work, but said the sessions were a lot of fun: "I went into (the Pumpkins) with the same mentality I took with me when I auditioned for Metallica – I expected to have a good story to tell my wife.

I had no expectations. I had heard nothing but bad things about working with Billy, but I went, and I found it to be a really inspiring time." Billy Corgan ended up playing bass on what would become 2007's Zeitgeist and hired Ginger Reyes for live performances.

In 2007, he contributed original music to the feature film documentary The 11th Hour. He also released his debut solo album Help Wanted in April 2008 through Dangerbird Records.

He finally performed with Jane's Addiction – for the first time since 1991 – at the NME Awards in 2008. Jane's played secret club shows in October and November 2008. On March 19, 2009, at South by Southwest Music festival in Austin, the quartet performed a 45-minute set at an abandoned Safeway grocery store.

Jane's Addiction's official website was updated on February 2009 stating that there was to be another club show soon. Photos of Avery, Perkins, and Navarro, taken by Trent Reznor, appeared on Nine Inch Nails' official site, which led to speculation that Reznor was helping Jane's record new material.

The relationship led to the booking of the "NIN/JA" (Nine Inch Nails/Jane's Addiction) tour, on which Avery played, and which evoked the first Lollapalooza tour of 1991, starring Jane's and Nine Inch Nails.

On March 1, 2010, after a 10-date rescheduled tour in Australia, Avery stated on his Twitter page: "the janes addiction experiment is at an end." Rumors were already spreading around a few weeks before, as Duff McKagan was said to be the new bassist for Jane's, but Avery had kept his position for the remaining few dates of the 2009/2010 tour.

In February 2012, Justin Meldal-Johnsen commented on the talkbass.com forum that Avery would be joining Garbage on their upcoming tour. In early May 2012 Garbage uploaded a video from their rehearsal, performing the song "Battle in Me", with Avery playing bass.

Avery has since performed in the two Garbage tours that followed, the band's 20th-anniversary tour and the one for the album Strange Little Birds, in which Avery plays bass in six tracks.

Avery released his second solo album, entitled LIFE.TIME., on February 15, 2013.

On February 25, 2013, Trent Reznor named Avery as the new touring bassist of Nine Inch Nails. Avery was slated to perform in the Twenty Thirteen Tour from Summer 2013 into 2014, but announced his withdrawal on May 15, 2013, stating that after a year traveling with Garbage he did not feel like going on another extended tour. Read also about Adam Jones (musician)
Eric Avery Age
Eric Avery. Eric Adam Avery (born April 25, 1965) is an American musician. He is best known as the former bass guitarist and co-founding member of alternative rock band Jane's Addiction. He was born on April 25, 1965, in Los Angeles, CA, he is 54 years old as of 2019
Eric Avery Style
A self-taught bassist, Avery has singled Peter Hook of Joy Division and New Order as his major influence on bass playing, considering that British bassists were deeper with the instrument as "American rock bass is kick drum, it just kicks drum and then the root note of what the guitar player is doing."
In Jane's Addiction, Avery stated that in the early phases the basslines would end up as a replacement rhythm guitar, "sort of built on that so Dave can riff on it and Stephen also can riff on it". Read also about Alexis DeJoria
On his solo career, Avery only played the bass at the final stages of Help Wanted, instead "focused on gadgets and keyboards and guitars and vocals and lyrics and other things like that". While playing with Garbage, Avery was for the first time "playing a more traditional bass role in a rock band" as his bass would only try to match Butch Vig's drumming.
"Nothing's Shocking influenced me a lot, especially with what Eric Avery proposed from the bass," says Nick Oliveri, of Queens of the Stone Age, Kyuss and Mondo Generator. "Eric had written the music on his own, the guitars and the drums came later. So he inspired me on that side"
John Frusciante of the Red Hot Chili Peppers stated on the Stadium Arcadium commentary that his guitar playing style is influenced by Avery's spacious and heavily melodic playing.
Eric Avery Wife, Married
Eric Adam Avery is an American musician. He is best known as the former bass guitarist and co-founding member of alternative rock band Jane's Addiction.
Avery has also been a touring bassist for both Garbage and Nine Inch Nails. In 2008, Avery released a solo album, entitled Help Wanted, and a second in 2013 called LIFE.TIME.
Avery played in Jane's Addiction initially from the beginning in 1985 to its first end 1991 and rejoined the group in 2008 before departing again in 2010. His pieces of information about marriages, Wife, Wedding are not yet revealed but stay ready for the update soon
Eric Avery Net Worth
He has recorded for Alanis Morissette, he has also gone from tour with her, in addition to having a short relationship. Tool singer Maynard James Keenan invited him to replace former band bassist Paul D'Amour.
But he declined the offer to focus on his new band, Polar Bear. He was seen in the movie Some Kind of Monster, auditioning to be the new bassist for Metallica, after Jason Newsted decided to leave, of which Robert Trujillo is currently the bassist. Avery toured with the band Garbage in 2005 to promote their album Bleed Like Me.
Avery also worked with the revived Smashing Pumpkins, but leave this one. Eric launches his solo debut in 2008, with an experimental work called "Help Wanted".
Eric also wrote the music for the documentary The 11th Hour, 2007. He has a net worth of $250,000
Eric Avery Image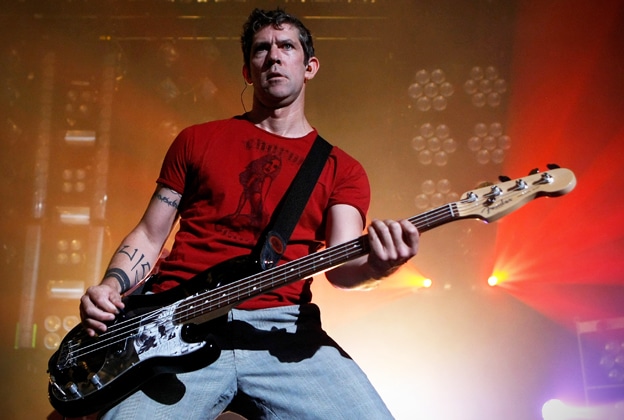 Dave Navarro Rips Former Jane's Addiction Bassist Eric Avery After …
Bassist Eric Avery recently exited Nine Inch Nails after being named one of the band's new members earlier this year and the news caught the eye of Avery's onetime bandmate in Jane's Addiction — guitarist Dave Navarro. During his online radio show 'Dark Matter,' the axeman used the platform to rail against Avery's recent move and past actions.
In the radio segment (via Grunge Report), Navarro ranted, "I'm looking forward to the 12-hour YouTube session of him dishing the dirt on why. 'Once again I am mesmerized by my inability to follow through with anything.'"
Opening up further, he explained, "This guy has constantly talked s— about me, Stephen (Perkins) and Perry (Farrell), and quit our band twice to quote-unquote, pursue all of these really intense solo creative artistic output.
All these different mediums that he's going to, get into or whatever, where is it? Where are all the s— that he's doing? I don't know. I wouldn't be so vocal about it if he didn't do a feature-length film talking— about all three of us."
Adding to his rant, Navarro stated, "He quits Jane's. He got thrown out of Garbage, he got rehired by Garbage, he's in Nails, now he's out of Nails. I mean, what the f— is the problem here? Do you know what I mean? Me, Perk and Perry have managed to put everything aside for 30 years."
He concluded, "The guy's entitled to do whatever the f— he wants to do, and it's fine, but keep your f—ing mouth shut. I don't really care. You can quite every band in the world … Here's the thing. I'm talking mads—. The reason why is he opened the door.
He opened the door with the feature-length film, he goes to people that I know and work within the music business to talk s— about me and Stephen. He talks to people who work at musical equipment manufacturers, like that s—'s not going to get back to us? Come on. It's just p—ys—, whatever."
Cooling off a bit, Navarro concluded, "I don't wish him any harm. I have a lot of fond memories with him. But if you're going to f—ing opens your mouth about the inner workings and dynamics of something that has been very, very good to you for a lot of years, and then not follow through on anything else, you've got it coming."
Eric Avery Instagram
Eric Avery Bass Gear
ERIC AVERY IS NO STRANGER TO BEING APPROACHED FOR BIG OPPORTUNITIES from landmark bands. After co-founding Jane's Addiction in 1985 and using the next six years to assemble several albums' worth of memorable bass lines, Avery departed and headed out in search of new projects.
He worked on solo material, movie scoring, and even producing before he began getting calls for tryouts from Metallica, Tool, and Smashing Pumpkins.
Avery kept course with his own material until he received a call from Shirley Manson of Garbage in 2005. The bassist clicked with the famed electro-alternative rockers, and he immediately joined them for their Bleed Like Me tour.
This year, Avery is back on the road with Garbage in support of Not Your Kind of People, reconstructing the tracks of Justin Meldal-Johnsen and reinterpreting the tracks he himself contributed to the record.
Avery is also busy working on his second solo album and partnering with Brent Hinds (Mastodon), Ben Weinman (Dillinger Escape Plan) and Jon Theodore (the Mars Volta) to form GTO, which is fusing mathcore roots with Avery's own "simple is better" sensibility.
How are you making these Garbage bass lines your own in a live setting?
I've never been one to focus on what the kick drum is doing, but because there's so much going on in Garbage's music, Butch [Vig, drums] and I have made a fetish of what the kick does with the bass, and we find ways to get them together or keep them separate. But really, the Zen art to me is choosing the notes that I don't play.
Are there any parts from the album that you've changed drastically?
There are parts in Garbage's music where the bass is very jazzy sounding, which is not my thing—I'm not interested in creating more of that in my playing.
So I had to figure out how to change it and make it my own. I decided to approach the jazzier songs in a dub way that has a round sound with no treble.
What is a Garbage show like from your perspective?
I occupy an unusual space, both figuratively and literally; the bass player is the one person who isn't an original member. So I've found myself performing to not get in their way.
But at the same time, I want to step it up and bring my best game to the performance. And that's true musically, as well.
Describe your writing technique.
I don't really have much technique with a capital T, because I'm entirely self-taught. I just modeled myself from the English bassists from the '80s— primarily Peter Hook from Joy Division.
Ironically, I've found out that guitar players wrote a lot of those bass lines. I think that really sculpted my melodic approach as a bass player.
How did your time with Jane's Addiction shape you as a bassist?
Playing with Steven [Perkins, drums] and Dave [Navarro, guitar] all those years was very formidable. If I hadn't played with guys who play like that, my bass playing would probably be a lot busier nowadays.
Both of them play so tastefully, it forced me to find a few notes and repeat them just to lock it all down. And that kept us all in line and kept us away from fusion land. They always pulled Perry and me in a rock direction, which made me more of an athletic bass player.
What's your take on the importance of music theory in a rock setting?
I have learned a lot in terms of formal music theory, and I feel I've done a good job of not letting it take away from my natural way of writing.
Luck- ily, my bass strap isn't fastened high up near my neck yet. You have to have an understanding of theory as a bass player because if you do something weird like throw in some strange inversion, it's going to make the whole sound misshapen. I always just come back to focusing on the principal of bass.
What makes your playing so influential to others?
I believe people cite me as an influence because of the band I was in, and the role that the bass player in that band. I learned early on that less is more, and I knew to stick with it.
I always used to say that I write bass lines that I could teach my mom how to play. And some rock songs are unidentifiable if you play the bass parts on their own. I want mine to be distinctive even when they're isolated.
How did GTO first assemble?
We all converged out in Austin, and we jammed together and then left and never really followed up. About eight months later, Brent did an interview and mentioned it.
That got a lot of attention, and the idea was exciting people. So we decided that we should probably pursue it.
We have a pretty sub- stantial amount of material now. It's challenging for me, because it's a lot of weird time signatures, and I have to keep up with those guys and their mathcore tendencies.
Eric Avery Twitter
---
We endeavor to keep our content True, Accurate, Correct, Original and Up to Date.
If you believe that any information in this article is Incorrect, Incomplete, Plagiarised, violates your Copyright right or you want to propose an update, please send us an email to informationcradle@gmail.com indicating the proposed changes and the content URL. Provide as much information as you can and we promise to take corrective measures to the best of our abilities.
---