Eric Douglas Biography- Wiki
Eric Douglas was an American actor and comedian, best known for playing supporting roles in movies such as' Tomboy' and' The Golden Child.'
After starting his career as an actor, Douglas focused on being a stand-up comedian in the latter part of his life. Unfortunately, his personal life overshadowed his career. Throughout the 1990s, he was arrested on several occasions for offenses such as driving under influence (DUI) and possession of illegal substances.
Eric Douglas Age
Eric Douglas was an American actor and stand-up comedian who was born on June 21, 1958, Los Angeles, CA as Eric Anthony Douglas, and died on July 6, 2004, Manhattan, New York, NY. When he died he was 46 years old
Eric Douglas Family and Early Life
Eric Douglas was born to Kirk Douglas and Anne Buydens on June 21, 1958, in Los Angeles, California, USA. After studying at' Pitzer College' in Claremont, California, Douglas moved to London to study at the Royal Academy of Dramatic Art (RADA).
However, he was not a full-time student at' RADA' as he did only a summer course at the prestigious academy. He joined the London Academy of Dramatic Art (LAMDA) where he studied from 1980 to 1981. One of his teachers at' LAMDA' was the famous director Helena Kaut-Howson who directed him in two plays. According to her, Douglas was splendid in both plays, especially the one in which he played a father's role.
Kirk Douglas Health issues And Death – Eric Douglas Father Death
Kirk Douglas was an American actor, producer, director, and author. After an impoverished childhood with immigrant parents and six sisters, he made his film debut in The Strange Love of Martha Ivers (1946) with Barbara Stanwyck.
On January 28, 1996, he suffered a severe stroke, which impaired his ability to speak. Doctors told his wife that unless there was a rapid improvement, the loss of the ability to speak was likely permanent. After a regime of daily speech-language therapy that lasted several months, his ability to speak returned, although it was still limited.
He was able to accept an honorary Academy Award two months later in March and thanked the audience. He wrote about this experience in his 2002 book, My Stroke of Luck, which he hoped would be an "operating manual" for others on how to handle a stroke victim in their own family.
On December 9, 2016, Douglas became a centenarian. He celebrated his 100th birthday at the Beverly Hills Hotel, joined by several of his friends and family, including Don Rickles, Jeffrey Katzenberg, Steven Spielberg, his wife Anne, his son Michael and his daughter-in-law Catherine Zeta-Jones. Douglas was described by his guests as being still in good shape, able to walk with confidence into the Sunset Room for the celebration.
Douglas died at his home in Beverly Hills, California, on February 5, 2020, at age 103 from natural causes.
Eric Douglas Net Worth
Eric Douglas's 2018 estimated net worth is Under Review` up from Under Review in 2017 with estimated 2017-2018 earnings` salary` and income of Under Review.
Peter Douglas Personal Life
The father of Eric Douglas, Kirk Douglas, is a famous actor, filmmaker, and author. He has won many awards including an' Honorary Award' at the 1996 ' Academy Awards.' Anne Buydens, the mother of Douglas, is a Belgian-American philanthropist and producer. Douglas had two half-brothers, Michael Douglas and Joel Douglas, who were born from his father's first marriage to American actress Diana Douglas. He also had an older brother called Peter Douglas who went on to become a producer. Read also about Cameron Douglas
Douglas was arrested in 1991 for kicking a police officer. He was again arrested on 30 October 1994 for possessing cocaine. In November of that year, when he crashed into a parked car while leaving' The Comedy Store' in West Hollywood, he was charged with driving under influence.
He was arrested in May 1996 for possessing a controlled substance. While raiding his Manhattan apartment in Hell's Kitchen, police found 1,085 Xanax pills and 11 crack cocaine vials. He pleaded guilty and was ordered to complete a rehab center program. Douglas was arrested again for driving under the influence of alcohol and drugs in August 1996.
He choked on a piece of sausage in 1999 while having breakfast with his father. Peter was unable to dislodge the sausage from his throat because he had ingested Xanax pills. He was then taken to the' Cedars-Sinai Medical Center' where he slipped eight days into a coma. Douglas also suffered an anoxic brain injury that slurred his speech and changed his gait.
He sued Dr. William Leader in May 2001, claiming the doctor had prescribed him a combination of drugs including' Vicodin," Klonopin' and' Xanax' which could prove lethal when combined with alcohol. He said his doctor had failed to consider his drinking problem while prescribing the drugs. He was admitted to a rehab center in 2004 where he was frequently visited by his parents.
On July 6, 2004, Eric Douglas was found dead in his apartment in Manhattan. It was later found that his death was caused by acute intoxication and his death was ruled accidental. His mortal remains were buried at the Westwood Village Memorial Park Cemetery in Los Angeles, California.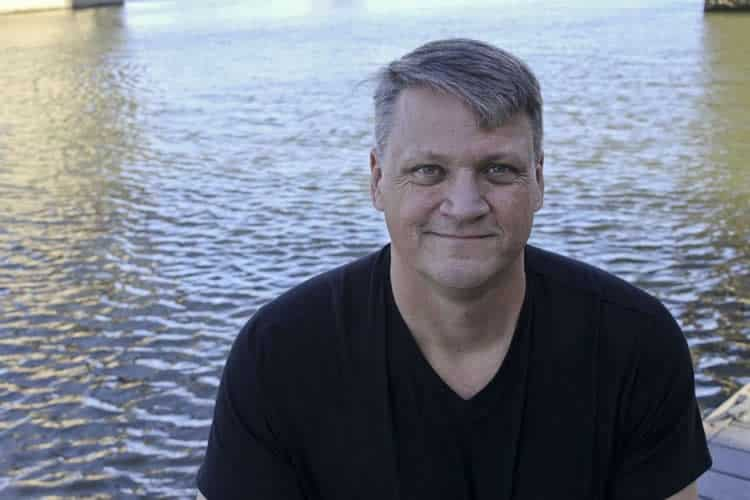 Eric Douglas Cause Of Death
In 1999, after an overdose on' Alprazolam' (Xanax), he slipped into a coma for eight days. He passed away on July 6, 2004, because of acute intoxication caused by the combined effects of painkillers, alcohol, and tranquilizers. His mortal remains were buried at the Westwood Village Memorial Park Cemetery in Los Angeles, California. Read also about Lua Izzy Douglas
Eric Douglas Career
Eric Douglas made his film debut at the age of 13 when he played Bud Tenneray with his father in the American western film 'A Gunfight' directed by Lamont Johnson in 1971. After studying at 'LAMDA,' he returned to the United States and played Young Joe Rabin in a television film entitled 'Remembrance of Love.' His father Kirk Douglas played Joe Rabin in the film.
In 1984, in Garry Marshall, he played Donny's American comedy film ' The Flamingo Kid. ' Starring Matt Dillon and Janet Jones, the film became a critical and commercial success. He was cast to play Ernie Leeds, Jr. in Herb Freed's comedy film ' Tomboy ' the following year.
He then played the role of Yellow Dragon in the fantasy comedy film ' The Golden Child ' directed by Michael Ritchie. Despite receiving negative reviews from critics, the film became a successful box office, earning more than $ 79 million in the United States alone.
In 1987, he was cast to play the important role of Johnny Warshetsky in the drama film ' Student Confidential ' directed by Richard Horian. The same year, Douglas played Rhett Clark in one of the episodes of the television drama series ' Highway to Heaven ' of ' NBC ' network. In 1988, Peter played Lamarr in the thriller film ' Honor Bound ' directed by Jeannot Szwarc.
After appearing in a few projects like' Delta Force 3: The Killing Game' and' Tales from the Crypt' in the early 1990s, Douglas gave up acting to become a stand-up comedian. He turned drunk to his first show and the audience booed off the stage. He appeared at the' Edinburgh Festival Fringe' in 1994 and claimed he had been promised a slot. His claim turned out to be false, however.
Most of his performances were staged at New York City's comedy clubs. His self-deprecating jokes were about his family's black sheep status. He also performed in London's ' The Comedy Store ' where he once lost his temper after being provoked by the audience.
In addition to acting and performing stand-up comedy, Eric Douglas also made guest appearances in TV movies and series such as ' The American Academy of Dramatic Arts Annual Tribute: A Salute to Kirk Douglas, ' ' Barry Gibb Love and Hope Festival IV, ' ' Bas Les masques, ' and ' Vicki! '
Eric Douglas Movies
Year                 Title
1971     A Gunfight
1979     The White Shadow
1982    Remembrance of Love
1984    The Flamingo Kid
1985    Tomboy
1986   The Golden Child
1987    Student Confidential

1987    Highway to Heaven
1988   Honor Bound
1988   La Belle Anglaise
1991   Delta Force 3: The Killing Game
1991   Tales from the Crypt
1993   The Alaska Kid
2007  The Words Left Unsaid
Eric Douglas Twitter
Eric Douglas Interview