Ian McKellen Biography
Ian McKellen, born sir Ian Murray McKellen, is an award-winning English actor. Over the years, he has garnered many awards and nominations for his various works in the entertainment industry. His main works are in genres ranging from Shakespearean and modern theatre to popular fantasy and science fiction. He was raised through the Second World War which really affected him, he later said that "only after peace resumed did he realize that war wasn't normal.
The BBC states that his "performances have guaranteed him a place in the canon of English stage and film actors". He has received every major theatrical award in the UK and is regarded as a British cultural icon.
Ian McKellen Age / How Old Is Ian McKellen
He was born on the 25th of May 1939 in Burnley, Lancashire, England. As of 2018, he is 79 years old.
Ian McKellen Height / How Tall Is Ian McKellen
He stands at a height of 5 feet 11 inches (1.8m).
Ian McKellen Family
He is the youngest of two children born to Margery Lois and Denis Murray McKellen, a civil engineer. He had a sister, Jean, five years older than himself. He and his family moved to Wigan in Greater Manchester shortly before the Second World War and again to Bolton in 1951, following his father, Denis', promotion at work. His family was strongly Christian but non-orthodox. His mother died when he was 12 due to Breast Cancer and his father married another woman Gladys McKellen.
Ian McKellen Spouse
In 1964, he began a relationship with Brian Taylor, a history teacher from Bolton. They were in a relationship in London for 8 years until 1972 when the relationship ended. He then met Sean Mathias at the Edinburgh Festival in 1978. They began dating. Their relationship lasted until 1988. They ended their relationship and when asked, Sean stated that the relationship was tempestuous, with conflicts over McKellen's success in acting versus Mathias's somewhat less-successful career.
Ian McKellen Career
He began his career in 1961 at the Belgrade Theatre as a member of their highly regarded repertory company. His first appearance was in the play A Man For All Seasons as  Roper. After four years in Repertory appearances, he made his first  West End appearance, in "A Scent of Flowers".  In 1965 he was a member of Laurence Olivier's National Theatre Company at the Old Vic, which led to roles at the Chichester Festival. In the 1980s and 70s, he became a popular figure in the British Theatre performing at the  Royal Shakespeare Company and the Royal National Theatre.
He is Patron of English Touring Theatre and also President and Patron of the Little Theatre Guild of Great Britain. In late August 2012, he took part in the opening ceremony of the London Paralympics, portraying Prospero from The Tempest. His first leading role was in 1980 in Priest of Love as D. H. Lawrence, but it was not until the 1990s that he became more widely recognized in film after several roles in Hollywood films.
He won a CableACE Award for Supporting Actor in a Movie or Miniseries and was nominated for the Emmy Award for Outstanding Supporting Actor in a Miniseries or a Movie for his works the 1993 film in the television film And the Band Played On. He then co-produced and co-wrote the film Richard III. His performance in the title role garnered BAFTA and Golden Globe nominations for Best Actor and won the European Film Award for Best Actor. His screenplay was nominated for the BAFTA Award for Best Adapted Screenplay.
In 1999, McKellen was cast to play the comic book supervillain Magneto in the 2000 film X-Men. This eventually led him to being cast in various of its sequels like  X2: X-Men United (2003) and X-Men: The Last Stand (2006) and short appearances as an older Magneto in X-Men: Days of Future. He received a Screen Actors Guild award for Best Supporting Actor in a Motion Picture for his work in "The Fellowship of the Ring", One of the three-film adaptation of 'The Lord of the Rings' and was nominated for the Academy Award for Best Supporting Actor for the same role. He then reprised his role in the three parts of "The Hobbit" from 2012 to 2014.
He received a Primetime Emmy Award for Outstanding Guest Actor – Comedy Series nomination for his performance in the comedy series Extras in 2007. In 2017, he appeared in the documentary McKellen: Playing the Part, which explores his life and career as and actor.
Ian McKellen Filmography / Movies / Films
Year

Title

Role

2019

The Good Liar

Roy Courtnay

Cats

Gus the Theatre Cat

2018

All Is True

Earl of Southampton

2017

Beauty and the Beast

Cogsworth

Animal Crackers

Horatio P. Huntington

2015

Mr. Holmes

Sherlock Holmes

2014

Miss in Her Teens

The Prologue

X-Men: Days of Future Past

Erik Lehnsherr / Magneto

The Hobbit: The Battle of the Five Armies

Gandalf the Grey

2013

The Wolverine

Erik Lehnsherr / Magneto

The Hobbit: The Desolation of Smaug

Gandalf the Grey

2012

The Hobbit: An Unexpected Journey

Gandalf the Grey

2007

Stardust

Narrator

The Golden Compass

Iorek Byrnison

2006

Flushed Away

The Toad

The Da Vinci Code

Sir Leigh Teabing

X-Men: The Last Stand

Erik Lehnsherr / Magneto

2005

Neverwas

Gabriel Finch

Asylum

Dr. Peter Cleave

The Magic Roundabout

Zebedee

2004

Eighteen

Older Jason Anders

2003

The Lord of the Rings: The Return of the King

Gandalf the White

Emile

Emile

X2

Erik Lehnsherr / Magneto

2002

The Lord of the Rings: The Two Towers

Gandalf the White

2001

The Lord of the Rings: The Fellowship of the Ring

Gandalf the Grey

2000

X-Men

Erik Lehnsherr / Magneto

1998

Gods and Monsters

James Whale

Apt Pupil

Kurt Dussander

1997

Swept from the Sea

Dr. James Kennedy

Bent

Uncle Freddie

1995

Restoration

Will Gates

Richard III

Richard III

Jack and Sarah

William

1994

To Die For

Quilt Documentary Narrator

The Shadow

Dr. Reinhardt Lane

I'll Do Anything

John Earl McAlpine

1993

Six Degrees of Separation

Geoffrey Miller

The Ballad of Little Jo

Percy Corcoran

Last Action Hero

Death

1990

Othello

Iago

1989

Scandal

John Profumo

1985

Plenty

Sir Andrew Charleson

Zina

Arthur Kronfeld

1983

The Keep

Dr. Theodore Cuza

1981

Priest of Love

D. H. Lawrence

1969

The Promise

Leonidik

Alfred the Great

Roger

A Touch of Love

George Matthews
Ian McKellen Television
Year

Title

Role

2018

Family Guy

Dr. Cecil Pritchfield

2015

The Dresser

Norman

2013–2016

Vicious

Freddie Thornhill

2012

Doctor Who

The Great Intelligence

2009

The Prisoner

Number Two

2008

King Lear

King Lear

2006

Extras

Himself

2005

Coronation Street

Mel Hutchwright/Lionel Hipkiss

2003

The Simpsons

Himself

1999

David Copperfield

Mr. Creakle

1996

Rasputin: Dark Servant of Destiny

Nicholas II

1995

Cold Comfort Farm

Amos Starkadder

1993

And the Band Played On

Bill Kraus

1989

Countdown to War

Adolf Hitler

1988

Windmills of the Gods

Chairman

1983

Walter and June

Walter

1982

The Scarlet Pimpernel

Paul Chauvelin

Walter

Walter

1981

Pillar of Fire

Narrator

1980

Armchair Thriller

Anthony Skipling

1978

Jackanory

Reader

1972

Country Matters

David Masterman

1970

Solo

John Keats

1966

David Copperfield

David Copperfield

1965

Sunday Out of Season

Victor Leech

The Wednesday Play

Wolf

1964

The Indian Tales of Rudyard Kipling

Plowden
Ian McKellen Theatre
Year

Title

Role

2004, 2005

Aladdin

Widow Twankie

1997, 1998

An Enemy of the People

Dr. Tomas Stockmann

2017

Shakespeare, Tolkien, Others and You

Himself

2017–2018

King Lear

Lear

2016

No Man's Land

Spooner

2013–2014

Waiting for Godot / No Man's Land

Estragon / Spooner

2011

The Syndicate

Don Antonio

2009–2010

Waiting for Godot

Estragon

2007–2008

King Lear

Lear

The Seagull

Sorin

2006

The Cut

Max

2001–2004

Dance of Death

Edgar

1998

Present Laughter

Garry Essendine

1997

Peter Pan

Mr. Darling/Captain Hook

1993–1997

A Knight Out

Himself

1992

Uncle Vanya

Uncle Vanya

1990–1992

Richard III

Richard III

1989

Othello

Iago

1988–1989

Henceforward…

Jerome

1986–1987

Wild Honey

Michael Platonov

1985

The Duchess of Malfi

Bosola

The Real Inspector Hound / The Critic

Inspector Hound / Mr. Puff

The Cherry Orchard

Lopakhin

1984

Venice Preserv'd

Pierre

Wild Honey

Michael Platonov

Coriolanus

Gaius Marcius Coriolanus

1983

Short List

Terry

Cowardice

Boy

1982

Every Good Boy Deserves Favour

Alexander

1980–1990

Acting Shakespeare

Himself

1980–1981

Amadeus

Salieri

1979

Bent

Max

1978

A Miserable and Lonely Death

Kentridge

1978–1979

Twelfth Night / Three Sisters

Sir Toby Belch / Andrei

1977–1978

The Alchemist

Face

1977

Every Good Boy Deserves Favour

Alexander

Pillars of the Community

Karsten Bernick

The Days of the Commune

Langevin

1976–1977

Romeo and Juliet

Romeo

1976

The Winter's Tale

King Leontes

1976–1978

Macbeth

Macbeth

1975

King John

King John

The Clandestine Marriage

N/A

Ashes

Colin

Too True to Be Good

Aubrey "Popsy" Bagot

1974

Tis Pity She's a Whore

Giovanni

Dr Faustus

Dr. Faustus

The Marquis of Keith

The Marquis of Keith

1973

A Private Matter

N/A

1973–1974

The Way of the World / The Wood Demon / King Lear

Lady Wishfort's Footman / Kruschov / Edgar

1972

The Real Inspector Hound

N/A

The Erpingham Camp

N/A

Ruling the Roost / Tis Pity She's a Whore / The Three Arrows

Page-boy / Giovanni / Prince Yoremitsu

1971

Hamlet

Prince Hamlet

The Swan Song

Svetlovidov

1970

Billy's Last Stand

Darkly

The Recruiting Officer

Captain Plume

Chips with Everything

Corporal Hill

1969

The Bacchae

Pentheus

The Prime of Miss Jean Brodie

Director

Three Months Gone

N/A

1969–1970

Edward II

Edward II

1968

The White Liars / Black Comedy

Tom / Harold Gorringe

1968–1970

Richard II

Richard II

1967

The Promise

Leonidik

1966

The Man of Destiny / O'Flaherty V.C.

Corporal Napoleon / Private O'Flaherty

A Lily in Little India

Alvin Hanker

Their Very Own and Golden City

Andrew Cobham

1965

Much Ado About Nothing

Claudio

Armstrong's Last Goodnight

Protestant Evangelist

1965

Trelawny of the 'Wells'

Capt. de Foenix

1964

A Scent of Flowers

Godrey
Ian McKellen Tattoo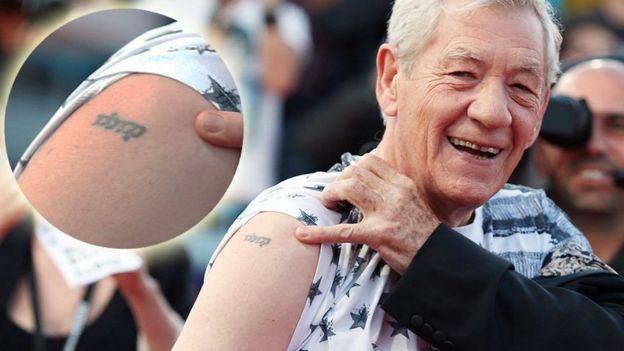 Ian McKellen Quotes
When you grumble about a taxi being dirty, people your own age will absolutely agree with you, whereas younger people say, 'You should be so lucky to have a taxi – I walk to work!' So I have lots of young friends, who fortunately don't treat me as a guru, a person that knows all the answers.
People who are truly horrible are often the most interesting people in the room. You look at them and just say, 'Why?'
Personally, coming out was one of the most important things I've ever done, lifting from my shoulders the millstone of lies that I hadn't even realized I was carrying.
The thing you notice here after America is how refreshingly ordinary people look because they haven't had their chin wrapped around the back of their ears.
There are not many things in my life I can be absolutely proud of or certain I got right, but one of them is that I've got better as an actor. I've learned how to do it. And I still have enough energy to do it.
I got better as an actor, and still, I'm getting better. That's only been possible because there's always been work.
Capitalism offers you freedom, but far from giving people freedom, it enslaves them.
Read more at https://www.brainyquote.com/authors/ian_mckellen
Ian McKellen Twitter
Ian McKellen Instagram
Ian McKellen News
Ian McKellen announces the second performance of the one-man show in Coventry
Acting legend Ian McKellen will be giving an additional performance of his hotly anticipated one-man show at the Belgrade Theatre in Coventry following popular demand. The stage and screen star will now appear twice on Saturday, April 20, with a 2.30pm matinee preceding the previously announced evening show at 7.30pm. Tickets will go on general sale at 10.30am on Thursday, February 14, offering fans another chance to see him return to where his career started, or to treat a loved one to a ticket in time for Valentine's Day.
Forming part of a special tour to celebrate his 80th birthday, Ian McKellen's visit to the Belgrade will offer the perfect opportunity to reminisce about his days as part of the Belgrade repertory company, which kick-started his professional career as a young man back in the early 1960s, not long after the theatre first opened in 1958. During this time, he lived alongside other actors on-site at the theatre, in flats since converted into offices.
Read more at https://www.leamingtoncourier.co.uk/whats-on/theatre-and-comedy/ian-mckellen-announces-second-performance-of-one-man-show-in-coventry-1-8809403
Ian McKellen owns a pub and might join your pub quiz team
There's a three-headed nugget of pure delight to be found within this roundup, from The Drinks Business, of famous people who own pubs. It is this: Sir Ian McKellen owns a pub called The Grapes; it used to be Charles Dickens' local; and the Sir will sometimes show up to play—or run—the bar's pub quiz. It seemed too good to be true, but a very wimpy Google search revealed that no, this is real, and we should probably all try it immediately. This can be seen from his post on Twitter on June 12, 2017.
Adopted from The Takeout