Jessica Ransom Biography
Jessica Ransom was born on 20th January 1982 in Sheffield, United Kingdom. She is a writer and an actress known for her role as medical receptionist Morwenna Newcross in Doc Martin.
After graduating from the University of Birmingham, Ransom did sketch writing and comedy. She appeared at the Edinburgh Festival Fringe with two pieces: "Million" and "Unsung Heroes."
From 2009 to 2010, she appeared in various side characters in the sketch show The Armstrong and Miller Show. Since 2011 she has appeared as Morwenna Newcross, Doc Martin's medical receptionist in the ITV drama Doc Martin.Her character is known for her mismatched colorful outfits.  In 2015 she won the Children's BAFTA Award for her role as Mary, Queen of Scots in Horrible Histories.
She appeared with Bruce Willis in the 'Sky Tv' advert where she was "totally unlimited"; the advertisement was banned for being misleading, but has been re-released with more prominent information on the pricing.
Jessica plays Doc Martin's kooky medical receptionist Morwenna Newcross and has starred in several series of Horrible Histories, winning a Children's BAFTA for her portrayal of Mary, Queen of Scots.
The actress is a keen marathon runner. She has run the London Marathon four times, in 2012 for Mencap, in 2014 for Age Uk and in 2015 and 2017 for Bloodwise.
Jessica Ransom Age
She was born on 20th January 1982 in Sheffield, United Kingdom.
Jessica Ransom Husband
She is married to Ben Wilson, a producer and director, and they have one son, Frank, and lives in London.
Jessica Ransom Movies and TV Shows
2004 – 2018: Doc Martin
2013: The Escape Artist
2007 – 2010: The Armstrong & Miller Show
2015 – 2016: Horrible Histories
2009 – 2010: The Armstrong and Miller Show
2013: Love Matters
2014: Our Zoo
2016: Zapped
Jessica Ransom Obituary
On Wednesday, Oct. 21st, 2015, our cherished Jessica Ransom passed away at the age of 20. Affectionately known as "Jessie," Jessica Lynn Ransom was the second of four children. Jessica was born on Nov. 1st, 1994, at Beckley. She is the beloved daughter of Amy Jo Massey Ransom and the late Scotty Ray Ransom. In addition to her father, she was preceded in death by her paternal grandmother, Beverly Ransom, and her maternal grandparents, George and Betty Massey. Jessica had attended Liberty High School. She loved the Internet, Facebook, riding four-wheelers, and hanging out with her friends. But most of all, Jessica loved being with her daughter, Piper; they made their home with her paternal grandfather, "Papaw," Marion Ransom of Glen Daniel. In addition to Amy, Piper and Marion, Jessica leaves to cherish her memory her sister and brothers, Jayden Ransom, Brandon Ransom and his fiancée, Nikki Kennedy, and Dalton Ransom; her aunts and uncles, Amanda Payne and her husband, Robert, and their children, Jonathon, Kristian, and Kendall; Wayne Shrewsbury and his wife, Crystal, and their daughter, Jasmine; James Ransom and Pauline Shrewsberry, James' children, Caleb, Jacob and Caden, and their mother, Maria. Jessica also had a boy-friend, Jake Holstein. On Tuesday, Oct. 27th, at 12 noon there will be a "Service of Remembrance" for Jessica Lynn Ransom at the Melton Mortuary Chapel. The Rev. Dewey Lowe will be officiating. The family will receive friends at 10 a.m. Jessica will be laid to rest beside her father in the Manning Cemetery on Breckenridge Road. Arrangements are by the Melton Mortuary and Cremation Center.
Jessica Ransom Photos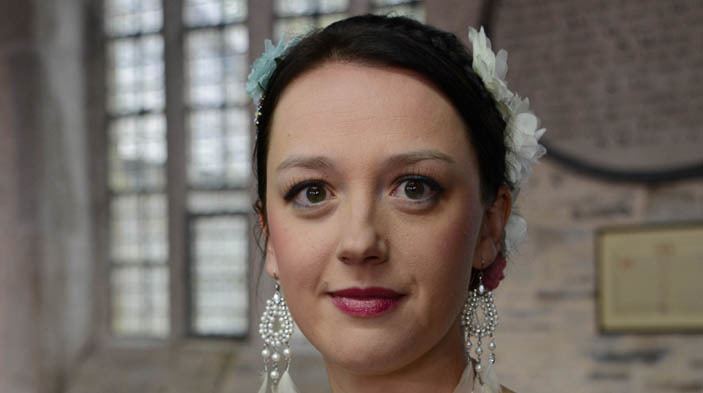 Jessica Ransom Twitter
Jessica Ransom Interview on fashion secrets and wardrobe crisis
Source: www.express.co.uk
How would you describe your style?
Jessica Ransom: Day to day, as practical as possible. With an 18 month old it's all about clothes that are comfortable and can withstand constant washing. I make an effort when I go out, in something flattering, preferably vintage.
Which colours and shapes suit you best?
Jessica Ransom: I used to wear skinny jeans but since discovering boyfriend chinos and jeans I've switched allegiance because they are so comfortable. I'm also a fan of tailored styles and high waists. Black is a fallback but I do like colour, especially green, denim blue and stripes.
What do you think of Morwenna's style?
Jessica Ransom: It's bonkers. Even so, I love it.
When else would you get the opportunity to dress up and look ridiculous?
Jessica Ransom: When I go to the make-up and costume departments I know I'm in for the long haul – although this series we've ditched her false eyelashes, otherwise I'd never get on set.
What is the most ridiculous costume you've ever worn?
Jessica Ransom: I've worn some pretty crazy costumes for Horrible Histories. I played Mexican painter Frida Kahlo with a monobrow, but I've played pretty much every century. Dressing as a cave woman when you can't discern what's an armhole within the bits of fur and your shoes are made from torn-up rags probably tops the list. Again, loads of fun.
Which is your favourite fashion era?
Jessica Ransom: The 30s and 40s – tailored suits, red lips, heels – it was so elegant. I love the 20s as well. When I was little I was obsessed with the film Bugsy Malone. I've gone to many a fancy dress party as Tallulah.
What are your favourite high-street brands?
Jessica Ransom: & Other Stories. It's conveniently placed near where auditions are held, so I'll often go in and select something gorgeous, promising to treat myself if I get the part. Sometimes, if I don't get the job, I'll buy it as commiseration. I also shop online at Asos but sadly I've outgrown Topshop. The sizing depresses me.
Do you have a style icon?
Jessica Ransom: I have clothing crushes on various people, even though I wouldn't suit what they wear. I always think Emma Willis looks good.
How do you keep in shape?
Jessica Ransom: I run marathons and half marathons and I love it. If you run three or five times a week you can pretty much eat what you like. I run in aid of the charity Bloodwise.
Are you a hoarder or do you clear out your wardrobe each season?
Jessica Ransom: I hang on to shoes more than clothes. After we filmed this series in Cornwall, I came back to London and did a massive cull.
How many shoes and handbags do you own?
Jessica Ransom: Handbags? I've got lots of cheapies but only one posh one – a Marc Jacobs style Ben bought me after my first midwife appointment. The midwife said he needed to buy me a big designer bag to carry my medical notes – and he listened. I've got between 30 and 40 pairs of shoes.
What is the best fashion advice you have ever been given?
Jessica Ransom: Keep it simple and don't coordinate too much.
Is there an old favourite you turn to in a wardrobe crisis?
Jessica Ransom: A pair of cheapo Primark flat, black ankle boots. I wear them a lot.
How much do you spend on clothes each month?
Jessica Ransom: I don't spend for ages then I'll have a splurge. It averages out around £100.
What is the most expensive item in your wardrobe? And best bargain?
Jessica Ransom: My gold snakeskin shoes at £300 are the most expensive. I bought them when I appeared in Posh, for the press night, and wore them with a long dress but they were so uncomfortable I stood next to them for the photographs. I love them but I'll never wear them again – too painful. My J Crew clothes are all bargains.
What is the oldest item in your wardrobe?
Jessica Ransom: Two dresses that belonged to my husband's granny. Fab 50s dresses – very rock'n'roll.
What was your wedding dress like?
Jessica Ransom: A lace, empire-line style with a puddle train by Sassi Holford. I bought it secondhand on a website – there's something nice about wearing something you know someone else has had an amazing day wearing. Afterwards I sold it, so it ended up only costing me £100.
What is your favourite piece of jewellery?
Jessica Ransom: Apart from my wedding ring, I wear several bracelets which have sentimental value.
What item of clothing would you save from a burning house?
Jessica Ransom: I'd hate it if my first inclination was to head for my wardrobe. I'd want trainers on so I could run away fast.
Jessica Ransom Video