Julia Ormond Biography
Julia Ormond is an English actress born Julia Karin Ormond in Epsom, Surrey, England. Her fame came about from her performance in films like Baby of, Smilla's Sense Of Snow and The Barber Of Siberia. Along with these, in 2010 she has garnered an Emmy Award for her role in Grandin.
After completing high school, she ventured into her acting career. She got lead roles in Guys and Dolls and My Fair Lady which started bringing her fame.
Julia Ormond Age | Early Life
She was born on the 4th of January, 1965. She attended the Guildford high school. After, she moved on to the Cranleigh School. Here, she got early lead performances in Guys and Dolls and My Fair Lady. With time, she had already started acquiring a following. As of 2019, she is  54 years old.
Julia Ormond Measurements
She has an hourglass-shaped body figure with 38-26-36 inches (97-66-91 cm) Breasts-Waist-Hip size. She wears a 9.5 shoe size, 10 dress size, and a 34 D bra size with a D cup size. All of this is maintained along with her 149 lb (68 kg) weight, and 5-foot 7-inch height.
Julia Ormond Family
Her family is not highly publicized. The little information known is that she was born to Josephine, a laboratory technician, and John Ormond, a computer software designer, and that she was born alongside four of her siblings who are unknown.
Julia Ormond Husband | Dating
In 1988, she got married to the actor, Rory Edwards. They met while performing in the Wuthering Heights production. Six years later, they ended their marriage. No known reason is provided. Five years after her divorce, she married Political activist John Rubin. In 2008, they got divorced. Also without a known reason.
Julia Ormond Daughter
She bore her first, and only, daughter in 2004 with John Rubin.
Julia Ormond Career
She first appeared on British television in Traffik in 1989. From here she appeared regularly in television films like Young Catherine and Stalin. She then played a lead role in the movie The Baby Of Macon in 1993. The year after that, she co-starred in Legends Of The Fall.
In 1995, she played in First Knight and Sabrina. Then she continued, in 1997, to Smilla's Sense Of Snow where she played a lead role and later in 1998 she played in the Russian film The Barber Of Siberia. Since then she has played in several other notable films like The Curious Case Of Benjamin Button, Che: Part One and My Week With Marilyn.
She opened an Independent production company based in New York and has since then executive-produced the Reel Life award-winning Documentary Calling Of Ghosts. On Stage, she appeared in My Zinc Bed for which she earned an Oliver Award nomination for best actress.
She appeared as a guest star in CSI: NY in 2005. 5 years later she won an Emmy for her work in Temple Grandin. A year later, she starred in the last season of Law and Order: Criminal Intent. she then went on and played in the series Mad Men and got a Primetime Emmy Award nomination in 2012. Later, in 2013 she acted as one of the main characters in Witches Of East End.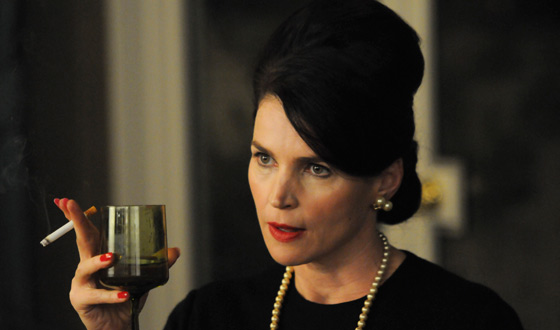 Julia Ormond Net Worth
Throughout her career, she has garnered several awards. She has also acquired great fame as well as expertise. With all that came huge amounts of income through her work. As of 2019, she has accumulated a net worth totaling to about US$ 5 million.
 Julia Ormond Awards
Nominated For a Primetime Emmy Award for best actress in a drama series for her role in Mad Men. (2012)
Won the Capri Ensemble Award for her role in My Week with Marilyn in 2011.
Won the Western Heritage Award for her work in Temple Grandin in 2011.
Still, in 2011, she was nominated for a screen actor's guild award for her work in Temple Grandin.
She won a Primetime Emmy award for Outstanding supporting actress for her role in Temple Grandin. (2010)
Was nominated for another screen actors guild award in 2009 following her role in The Curious Case Of Benjamin Button.
Was nominated for the Gold Derby Awards still following The Curious Case Of Benjamin Button in 2009.
Was nominated for an award for best acting Ensemble in 2009 for The Curious Case Of Benjamin Button by The Broadcast Film Critics Association.
Won the Krzysztof Kieslowski Award from Camerimage in 2006.
Nominated for the Gold Derby Awards for best-supporting actress in Miniseries for her role in Iron Jawed Angels in 2004.
Awarded in the ShoWest convention as Female Star of tomorrow in 1995.
Nominated for the Gemini awards for best performance by an actress in a leading role in 1992.
Julia Ormond Legends Of The Fall
The film is based from a 1979 novella of the same name. She is starred as Susannah. The film revolves around three brothers and their father, living in the plains of Montana in the early 20th century.
Julia Ormond Sabrina
She Stars as Sabrina, the daughter of a Chauffeur. With time, she falls in love with the son of her Father's employer.
Julia Ormond First Knight
Here she is the Lady Guinevere married to the great King Arthur of Camelot. She, however, comes to have feelings for Sir Lancelot. A time comes when Camelot is in danger and Lancelot is the only one who could save them.
Julia Ormond Diet
From what is known of her, her diet consists of pretty much anything. All she does is regulate how much she eats. By just looking at her body, this seemed to work out pretty well for her.
Twitter
Instagram