Eva Shockey Biography
Eva Shockey (born January 5, 1988) is an author, a top TV personality, a rising social media star (2M followers & counting), a lifestyle blogger, an acclaimed bow hunter, a conservationist, and a brand ambassador. Forbes called her a " brand-building force to be reckoned with."
Shockey entered the scene about 15 years ago as the co-host of her father Jim Shockey's television show on Outdoor Channel — Jim Shockey's Hunting Adventures. On the extreme adventure series, she can be seen scaling rugged mountains 8,000+ feet above sea level, camping out under a blanket of stars in subzero temperatures, and trekking through the wildlands of the Yukon territory and beyond.
Shockey has since knocked down the barriers of the male-dominated outdoor arena and ushered in a new wave of women and young girls passionate about such pursuits. Along her journey of empowerment and self-discovery, which she details in her book, Taking Aim (Convergent Books/Penguin Random House), Eva has inspired many to follow their passions and to get outdoors.
Eva Shockey Age
Shockey was born on January 5, 1988, in British Columbia, Canada. She is 31 years old as of 2019.
Eva Shockey life
She was about twenty years old when she started hunting. Prior to that, Shockey was a competitive Latin ballroom dancer and taught dance. She went to Bond University in Australia and graduated with a degree in business marketing in two and a half years on a fast-tracked program. Shockey married former professional hockey player Tim Brent on June 20, 2015. On January 12, 2017, she had a baby girl by the name of Leni Bow Brent.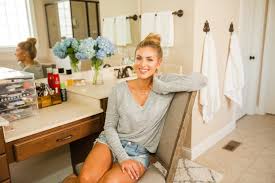 Eva Shockey's Image
Shockey is the co-host of Jim Shockey's Hunting Adventures on Outdoor Channel alongside her father, Jim Shockey. She occasionally serves as host for various TV specials and red carpet events for the network. Eva Shockey appeared on the cover of Field & Stream magazine on the May 2014 issue – making her the second woman ever to be photographed for the magazine cover, the first being Queen Elizabeth II.
In November 2014, in response to photos Shockey posted of a black bear she had harvested during a North Carolina hunt, she faced scrutiny and social media backlash. In response, Shockey appeared on several media outlets to defend hunting and created T-shirts that state: "I'll never apologize for being a hunter!"
Shockey also appeared in a commercial for RAM Trucks "Courage is Already Inside." The commercial featured an all-female cast mountain climbing, bow hunting, performing on stages, and surfing.
USA Today Hunt & Fish interviewed Jim and Eva Shockey for the cover story of their Summer/Fall 2015 issue. The father-daughter duo cover story highlights Eva's journey to becoming the new face of the hunting industry; how hunting has always been central to Jim's life; and the dynamic relationship between the two.
Shockey signed on as a Cabela's Brand Ambassador in May 2015.
She partnered with Under Armour as a UA Hunt athlete in July 2015; the partnership continued through December 2017. Shockey has two Signature Series bows with Bowtech Archery – the BowTech Eva Shockey Signature Series Compound Bow launched in 2015 and the Mossy Oak Break-Up Country finish launched in 2016.
The Hollywood Reporter revealed its Top TV Personalities listing and Shockey made her first appearance on the 10-position chart, debuting at No. 10 in July 2017. On August 29, 2017, she released a book titled Taking Aim: Daring to Be Different, Happier, and Healthier in the Great Outdoors.
She added a lifestyle blogger to her repertoire in March 2018. The blog spans topics such as Family, Food, Fashion & Décor, Fitness, Home, and Travel & Outdoor Adventure. In November 2018, Shockey served as the Thanksgiving marathon host of Last Man Standing on WGN America, offering tips for cooking a field-to-table dinner, thoughts on decorating for the holiday season, and views all things outdoors.
She unveiled her new Facebook Watch digital series in December 2018, called Eva Shockey's Outdoor 101. The outdoor lifestyle digital series chronicles the adventures of Eva and her family as they traverse their adopted home state of North Carolina, sharing her favorite locations and outdoor hacks to better the open-air experience.
Eva Shockey Instagram
Eva Shockey Twitter
Eva Shockey Facebook
Related Biographies.
You may also like to read the Bio, Career, Family, Relationship, Body measurements, Net worth, Achievements, and more about:
Reference:
We acknowledge the following websites that we have referenced as we were writing this article.:
KMOV-TV. com
FaceBook

Twitter
Instagram and
Youtube