Faye Brookes Biography
Manchester native Faye Brookes is an English actress. She is popularly known for her role as Kate Connor in the British soap opera, Coronation Street. After her graduation, Brookes has appeared in theatre productions of Grease, Shrek and Legally Blonde. In 2014, Brookes caught the attention of soap bosses when she played Frankie in the BBC One drama Our Zoo. A year later in 2015, she landed a role in Corrie after it was announced that the Connor family, which first appeared on the soap in 2006, was being extended.
Making her first appearance in October that year, Kate Connor is the sister of Aidan, played by X Factor winner Shayne Ward, and has shared a kiss with Sally Webster's daughter Sophie. Former holiday rep Kate, who currently works at the Weatherfield bistro.
She is a lesbian and Faye has been very strident about the fact the character would not be paired up with a man because she "knows who she is". Kate's relationship with fiancee Caz Hammond broke down as a result of her smooch with Sophie before she moved on to Imogen – and now she has kissed her best pal Rana Nazir.
The actress earned a lead role in a production of Legally Blonde. She portrayed the role of Princess Fiona in Shrek The Musical on tour. Prior to having major TV roles she also had a small part in BBC adventure series Atlantis.
In December 2017, it was reported that an explicit sex tape of Faye had been leaked online. The video has been viewed moreover 100,000 times. Brookes reported to the police after hackers stole it from a phone and put it on one of the world's largest adult sites.
Faye Brookes Education
In 2009, she graduated from the Guildford School of Acting after completing a Bachelor Arts degree in Musical Theatre. As well as, Faye was awarded the Principal's Choice Award.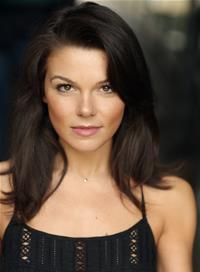 Faye Brookes Age
Brookes was born on 3rd September 1987 in Manchester, United Kingdom. She is 32 years old as of 2019. Brookes's zodiac sign is Virgo. Her full name is Faye Alicia Brookes.
Faye Brookes Family
Brookes was born to the family of Inger Barber and Carl Barber in Manchester, the United Kingdom where they also lived. She has a younger brother by the name Jack. When Jack was aged nine, he was diagnosed with leukemia and the actress admitted she was scared he would die. He, however, got a successful bone marrow transplant and the two are close as never before.
Faye Brookes Sister
Brookes (playing Kate Connor) is the on-screen sister of X Factor winner Shayne Ward who played the role Aidan on the soap opera, Corrie. There is no record of Brooke's biological sister.
Faye Brookes Gareth Gates
Brookes was in a relationship with Gareth Gates a former Pop Idol's star who is a singer and songwriter. The two met in 2012 while starring as on-stage lovers in the UK tour of Legally Blonde: The Musical together. They began their relationship despite Gareth being a married man with a kid which led to his divorce with his wife.
The couple had a brief split that was confirmed by Gareth via a post on his Twitter account on behalf of the couple which read, "@Faye_Brookes and I are choosing to take some time apart. We remain the very best of friends. We'd like to thank you for all your support over the years."
They have since reunited as Gareth posted a loved-up picture on his Instagram page and wrote: "Date night with my beautiful princess". Faye is not married. The pair had dated on and off for around seven years, but Faye ultimately called off their relationship in August. Corrie star has been adding a series of motivational quotes to her Instagram page as news of the split broke. They included sayings such as "Remember that you've made it through even your worst days" and Gut feelings are guardian angels."
The breakup
In a deep Twitter post, Faye wrote about splitting up from singer Gareth. She wrote how she had been distracting herself by going to the gym. Faye posted to her 82.4k followers: "It's been a really weird week…" "I've been throwing myself into the gym pretty much every day, anyone who knows me knows how much I love training and keeping fit!
She asked for conclusions not to be brought from her walking into a gym with her trainer. Brookes also begged for her fans to give her some time to herself while she recovered after her break up. Faye added: "Just let a girl be, please."
Of her split, a source told The Sun: "In the end, she called things off but he knew it was coming. "Gareth was desperate to manage her and take charge of her career but she really wasn't keen on the idea. "His want to manage her started to really raise questions and red flags for her." She stated.
Faye Brookes Body Measurements
Height: ft in'(Meters or cm): 5ft 4 (162.6 cm).
Weight: Pounds(lbs): 62 kgs.
Shoe Size: Not available
Body Shape: Slim
Hair Colour: Dark Brown,
Eye color: brown
Faye Brookes Salary
The English actress earns an average salary from her career. Although she has not shared with the media the actual. This information will be updated as soon as it is available.
Faye Brookes Net Worth
She previously portrayed the role of Frankie on the television miniseries Our Zoo. Her estimated net worth is $100 MILLION.
Faye Brookes and Sam Robertson
Faye had a secret fling with her Corrie co-star Sam Robertson. He plays Adam Barlow in the ITV soap. The fling took place during a two-week break from Gareth. A Cobbles source said: 'Sam was a good friend and a shoulder to cry on. Before they realized it, one thing had led to another' Gareth and Faye have been making the most of single life separately.
Faye Brookes Filmography
2013: Atlantis as Helena
2014: Our Zoo as Frankie
Since 2015: Coronation Street as Kate Connor
2016: The Chase Celebrity Special as Herself
Faye Brookes NTA Dress
As she swept up to collect her NTA Faye glittered in a spectacular black and gold gown.
Faye Brookes Coronation Street – Brookes Corrie
Brookes plays Kate Connor in the long-run soap opera, Coronation Street. She is Connor's sister, who arrives with their father Johnny (Richard Hawley). Kate is "a vibrant young woman full of fun and mischief". She was engaged to marry a soldier called Caz Hammond. In 2017 At The National Television Awards, Brookes won "Best Newcomer" for her role as Kate.
Faye Brookes Awards and Nomination/NTA
Brookes won the National Television Award for Most Popular Newcomer in 2017 during the 22nd National Television Awards held in January.
Faye Brookes Legally Blonde
She starred in a musical version of the film Legally Blonde. Brookes stepped into Elle Woods' Jimmy Choos in the touring version of the hit musical Legally Blonde which took the West End by storm. Following success at the Whatsonstage.com Awards.
Faye Brookes Frequently Asked Questions
Who is Faye Brookes?
Brookes is an English actress.
How old is Brookes?
Brookes was born on 3rd September 1987. She is 32 years old as of 2019.
How tall is Brookes?
The famous actress stands at a height of 5ft 4 (162.6 cm).
Is Brookes married?
Brookes was in a relationship with Gareth Gates a former Pop Idol's star who is a singer and songwriter. She is possibly single.
How much is Brookes worth?
He has an accomplished actress with an estimated net worth of $ 100.
How much does Brookes make?
Although she has not shared with the media the actual. This information will be updated as soon as it is available.
Where does Brookes live?
Faye will be spending time in Birmingham as she prepares for her starring role in Snow White and the Seven Dwarfs at the Birmingham Hippodrome. But she admits that she is still keeping her roots in Manchester as she prepares to leave her city center apartment and move into a new home in the area.
Is Brookes dead or alive?
Faye is still alive and in good health.
Where is Brookes now?
Brookes is an actress. She is popularly known for her role as Kate Connor in the British soap opera, Coronation Street.
What happened to Brookes?
Brookes is seen holding hands with personal trainer Joe Davies.
Faye Brookes Twitter
Faye Brookes Instagram