Fran Dunphy Biography | Fran Dunphy | Who is Fran Dunphy?
Fran Dunphy(full name: Francis Joseph Dunphy) is a former American college basketball coach.
He is the former men's basketball coach at Temple University and the University of Pennsylvania. He succeeded John Chaney in 2006 and was succeeded by Aaron McKie in 2019.
Fran Dunphy Age | How Old is Fran Dunphy?
Francis Joseph Dunphy is a former American college basketball coach. He is the former men's basketball coach at Temple University and the University of Pennsylvania. He succeeded John Chaney in 2006 and was succeeded by Aaron McKie in 2019.
Fran is 71 years old as of 2019. He was born on 5 October 1948, in Drexel Hill, Pennsylvania, United States
Fran Dunphy Education
He attended St. Dorothy's grade school in Drexel Hill, Pennsylvania, and then went on to attend Malvern Preparatory School in Malvern, Pennsylvania. He is a 1970 La Salle graduate with a degree in marketing. While at La Salle, he played under head coach Tom Gola.
As a junior, he helped the Explorers to a 23–1 record. He served as a co-captain his senior year when he averaged 18.6 ppg and led the team in assists, while also being named the MVP of the annual Quaker City Basketball Tournament.
In 1979, he earned a master's degree in counseling and human relations from Villanova University. In addition, he completed his coursework toward his doctorate in counseling and student development at American University.
Coaching career
Dunphy's coaching career began at the United States Military Academy (1971–72), where he served as an assistant under head coach Dan Dougherty.
In 1977 he became the head basketball coach and accounting teacher of his high school alma mater, Malvern Prep. He remained there until becoming Lefty Ervin's assistant at La Salle University (1979–80).
The following year, Dunphy joined Gary Williams' staff at American University. He returned to La Salle in 1985, serving one more season under Ervin and assisting Speedy Morris for two seasons.
He left La Salle to become head coach Tom Schneider's top assistant at Penn in 1988. Dunphy succeeded Schneider as Penn head coach a year later. In 2006 he succeeded John Chaney as head coach of the Temple Owls.
Penn
In 1989, Dunphy was named the 16th head coach at Penn. He compiled a 310–163 overall record and won 10 Ivy League titles in his 17-year career. Dunphy's 310 wins are the most by any Penn coach and are second all-time in the Ivy League to Princeton's Pete Carril. His Quaker teams won 48 straight Ivy League games and four league titles from 1992 through 1996.
His 1993–94 team had a 25–3 record and was ranked 25th in the CNN/USA Today Coaches' Poll, the program's first such ranking since 1978–79. In 1994, Penn upset sixth-seeded Nebraska 90–80 in the NCAA Tournament.
Dunphy vs. the Ivy League
Brown 28–6
Columbia 28–6
Cornell 30–4
Dartmouth 30–4
Harvard 29–5
Princeton 20–15
Yale 26–9
Temple
Dunphy was introduced as the head coach at Temple on April 10, 2006, after legendary Owls coach John Chaney retired the previous month. By taking the job, Dunphy became the first man ever to lead two Big 5 basketball programs.
In 2008, Dunphy coached Temple to the Atlantic 10 tournament championship. He also won the Herb Good Eastern Coach of the Year Award for the 2007–08 season. They lost a close game to Michigan State (who advanced to the Sweet Sixteen) in the first round of the 2008 NCAA tournament.
The 2009 team placed 2nd in the A10 conference for the second straight season. The Owls repeated as Atlantic 10 tournament champions 2009; Temple University is the first A10 team to repeat as A10 tournament champions since TU accomplished this task under the reign of John Chaney 2000–01.
Dunphy's 2009–10 Temple team won 11 of its first 13 games, including a victory over cross-town rival and then-third ranked Villanova, before falling to top-ranked Kansas. The 2009–10 team also ranked in the top twenty-five for more than eleven straight weeks in both major polls and won its third consecutive Atlantic 10 tournament title.
However, for the third straight season, Dunphy's Owls lost in the first round of NCAA tournament, this time to Ivy League champion Cornell.
Dunphy would finally claim his first NCAA tournament victory at Temple in the 2010–11 season when Temple knocked off inner-state rival Penn St. 66–64 in the second round on a last-second buzzer-beater by sophomore Juan Fernandez. Temple would lose in the following round to 2-seed San Diego State 71–64 in a gut-wrenching double-overtime thriller.
Dunphy would lead the Owls back to the tournament in the 2011–12 season, only to be upset in the second round by South Florida 58–44.
In the following season after losing senior guards Juan Fernandez and Ramone Moore, Dunphy led the Owls to an early-season upset of then 3-seed Syracuse -a team that eventually made the Final Four – at Madison Square Garden and #21 VCU on the final day of the regular season to secure a 6th straight NCAA tournament appearance.
The Owls would knock off 8-seed North Carolina State 76–72 in the second round before losing to 1-seed Indiana 58–52 in a game that Temple led the majority of the way.
After placing 9th and a tie for 3rd in their first two years in the American Athletic Conference, the Temple Owls won the 2015–16 regular season AAC title with a 14–4 conference record.
For the second straight year, Dunphy won AAC Coach of the Year honors for exceeding pre-season expectations (before both the 2014–15 and 2–15–16 seasons, Temple was projected to come in 6th in the AAC. They came in a tie for 3rd and 1st respectively).
On April 12, 2018, it was announced that Dunphy will step down as Temple head coach at the end of the 2018–19 season, with assistant coach and former Owl player Aaron McKie succeeding him.
Mr. Big Five
Temple head coach Fran Dunphy, who passed John Chaney (516 Big 5 wins) as the all-time winningest coach in Philadelphia Big 5 history, is synonymous with the city's league that is made up of La Salle University, the University of Pennsylvania, Saint Joseph's University, Temple University, and Villanova University.
Dunphy, who lived his first 10 years in Southwest Philadelphia before moving to nearby Drexel Hill, Pa., starred at La Salle from 1967 through 1970.
He would later serve as an assistant at his alma mater (1979–80; 1985–88) before taking the assistant coaching job at Penn for the 1988–89 season. After one season he would take over as the Quakers head coach, compiling a 310–163 record in 17 seasons.
He is now in his 12th season at Temple. He received a master's degree in counseling from Villanova and currently resides in Villanova, Pa.
Fran Dunphy Wife | Who is Fran Dunphy Married to?
Dunphy and his wife, Ree, reside in Villanova, Pennsylvania with their son, J.P. Dunphy.
Son | Children
He has a 0ne son who is known as a  J.P. Dunphy.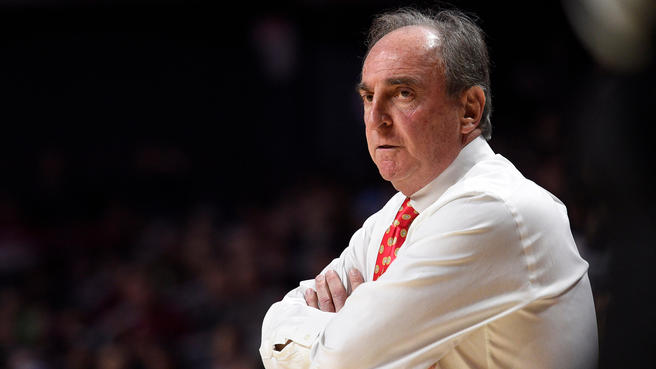 Fran Dunphy Net Worth And Salary
Dunphy's net worth is estimated to be in the range of approximately $32047867 in 2019, according to the users of vipfaq. The estimated net worth includes stocks, properties, and luxury goods such as yachts and private airplanes.
The American college basketball coach, Fran Dunphy, currently serves as the head coach for Temple Owls men's basketball team at Temple University and earns an annual income of $547,403.
From 1989 to 2006, he also served as the head coach for Penn Quakers men's basketball team. Dunphy served as an assistant coach at various universities, like La Salle University, American University and the University of Pennsylvania. He was born on October 5, 1948, in Pennsylvania.
For Fran Dunphy, a different summertime of basketball 'peace'
CAMDEN, N.J. — Just as he always had in July, Fran Dunphy took a courtside seat in a cool gym the other day, watched some basketball and took mental notes on young players.
It's what college coaches do in the summer, often in Las Vegas or Orlando or whatever another attractive destination is holding an AAU recruiting spectacle. It's what he had done since 2006 for Temple, and long before that for Penn, and before that La Salle, and for just about all of his professional life.
This time, though, he wasn't crammed into seating with hundreds of other college recruiters, all looking to see or, better still, to be seen by high school prospects. Instead, Dunphy was watching contently as mostly young, prospective 76ers went through a summer league minicamp.
"I needed a fix," he admitted. "I enjoy this peace."
So a fix it would be. Dunphy, 70, is a basketball coach and always will be a basketball coach. Some summers, though, are more peaceful than others. For him, this is the least hectic in decades.
At the end of last season, Dunphy accepted retirement after having guided Temple to a spot in the NCAA Tournament. At that point, his assistant, Aaron McKie, would take over as the Owls' head coach.
Dunphy deserved to stay longer, much longer, but the succession plan was agreed upon by everyone involved. So, in character, he departed with grace, saying only that he looked forward to what would come next.
Long having taught management at Temple, in addition to teaching how to beat 20 teams a year, Dunphy will expand his schedule from one class to two in the fall.
In addition, he will work closely with Temple president Richard Englert, spreading goodwill, benefitting the university. And always, always, he will remain a passionate force behind Coaches vs. Cancer.
"Any special projects going on, I'll be doing those kinds of things," Dunphy said. "But the teaching peace is really what I am looking forward to."
Just the same, basketball-coaching angst will not be so easy to dismiss. For that, Dunphy was often seen in the Sixers' training complex during the last NBA postseason and recently has been watching the young players develop.
As guests of Brett Brown, it's not unusual for area college coaches to observe Sixers' practices. Often they will sit with Sixers basketball personnel and bounce ideas around, with Brown ever open to the knowledge and respect that the Philadelphia basketball-coaching community carries.
Though the Sixers' coaching staff is set, the organization is thick with scouts and advisors. Dunphy is not actively campaigning for a job. But if there were a deeper opportunity, there is a good chance he would listen.
"It's not my plan, but you never know what's out there," he said. "Right now, I just like watching the ball."
As he watched a recent practice, Dunphy could nearly feel his internal alarm clock jolt, reminding him that this was just about the time he was due to hit the summertime recruiting treadmill.
But instead of pursuing high school athletes to offer college educations, he will spend the next few weeks meeting with Temple professors to be better prepared to provide education in another way.
Yet because he will remain on campus, he knows he will feel the gravitational pull back to the Liacouras Center and the adjacent Owls' expansive basketball practice complex.
"You know, it's interesting," Dunphy said. "Aaron just texted me. He said, 'Come over, I want you to watch a couple things.' So I'll probably do that. I have been staying away, but I probably won't be able to for too long a period of time."
That, too, is something of a Temple tradition, as Dunphy never hesitated to keep his predecessor, John Chaney, inside the ropes. It's what basketball coaches do, semi-retired or otherwise. They stay close to the game.
"I'm sure I will miss it," Dunphy said. "You can't do something for that long and not miss it. But I think I am in a good place. I am grateful for what I have, and I think Aaron is going to do a great job."
McKie will have to coach eight NCAA Tournament teams and advance to a major postseason tournament 10 times in his first 13 years to match Dunphy's run on Broad Street. But it could happen, and if so, Dunphy will be nearby.
Unlike his dear friend Phil Martelli, who took a $450,000 a year assistant coaching job at Michigan at the end of his long and successful career at Saint Joseph's, Dunphy is not immediately interested in roaming too far in his continuing quest to remain close to the sport.
"That was excellent for Phil," Dunphy said. "I think he is very thrilled about it. We talked yesterday and I am happy for him. But for me, it's time for family too. I have a 13-month-old grandson, Odin, in Havertown, who I am hanging out with a lot more than I would have, obviously. I am looking forward to that."
Dunphy plans to spend a lot of time at the shore this summer, enjoying his family, free of the recruiting pressure. After that?
"I haven't given a lot of thought to a lot of things, just waiting to see what will turn up," Dunphy said. "But it's all good."
It was summer. He was in a gym. He felt at home. He was at peace.