Glenn Robinson III Biography
Glenn Alan Robinson III is an American professional basketball player currently playing as a shooting guard as well as a small forward for the Detroit Pistons. He is playing for the Indiana Pacers of the National Basketball Association. The 2017 NBA Slam Dunk Contest Champion is playing professionally since 2014.
Glenn Robinson III Age
He was born on 1994 January 8, Gary, Indiana, USA. The United States of America. His birth sign is Capricorn, he is currently 25 years old.
Glenn Robinson III Nationality
He is from the United States of America.
Glenn Robinson III Marriage
He is not reported to be married and seems to be focused on his career for now. He has never been the part of any controversy. Sources say that Glenn has a small daughter by the name Ariana, no provided information concerning his daughters' mom.
Glenn Robinson III Education
Robinson attended Grimmer Middle School in Schererville, Indiana prior to attending Lake Central High School in St. John, Indiana. He played for several games during his time in high school. He has played junior varsity for Lake Central. He starred at Lake Central High School in St. John, Indiana, and earned a basketball scholarship to the University of Michigan. While in Ann Arbor, Glenn opted to study business over science. Still, he stayed engaged with that latter part of his brain through wide-ranging conversations about scientific theories with his friend Nick Burlage, who studied nuclear engineering at UM.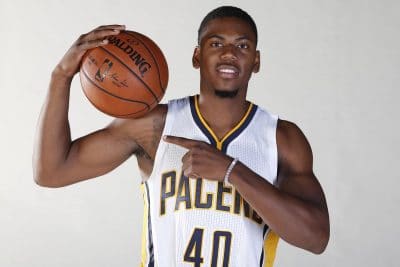 Glenn Robinson III Family
He belongs to the African ethnicity and holds an American nationality. His mother is Shantelle Clay while his father is Glenn Robinson. He also has a younger brother called Gelen Robinson, Gelen is also a junior basketball player. His grandmother, Carolyn Caldwell, tended to a garden there, where she taught little Glenn how to grow everything from lettuce and cabbage to cantaloupe, cucumbers, bell peppers and tomatoes. Watermelon, though, made for a particularly tasty family treat.
Glenn Robinson III Professional Career
Robinson started his career with Michigan Wolverines in the starting lineup on November 9. He posted a double-double with ten points and eight rebounds in a 100-62 victory against Slippery Rock in the first game of his career.
Robinson was the first Michigan freshman to post at least 20 points and ten rebounds in a game since LaVell Blanchard did so three times for the 1999–2000 Michigan Wolverines men's basketball team.
Robinson made his professional debut with Minnesota Timberwolves in 2014. He played several championship games for the team for about one year. He then started playing with the Philadelphia 76ers.
Robinson is currently playing with the Indiana Pacers. He signed a three-year contract with the Pacers. His first game with the Pacers was against the Boston Celtics in their 5th game of the season posting 10 points and two rebounds in 19 minutes.
The 25-year-old Slam Dunk champ could be chilling at the posh Montage Hotel in Beverly Hills, where the Detroit Pistons are staying between games against the Los Angeles Lakers and Clippers. He could be perusing boutique clothing stores on Fairfax and Melrose Avenue in the heart of the city, looking for items to add to a closet already filled with Aime Leon Dore and Represent.
Glenn is taking time to stop and smell the roses, literally and otherwise, at the Mildred E. Mathias Botanical Garden at UCLA, indulging his love of nature and fascination with humanity's ability to live in harmony with and benefit from other forms of plant and animal life.
While NBA players are more health-conscious than ever with their diets, few are willing—and perhaps none are as eager—to bring their food from garden to table quite like Glenn.
Along with Trey Burke, the 2012-13 national player of the year and No. 9 overall pick in the 2013 draft. As a freshman, Glenn helped the Wolverines reach the 2013Final Four and scored 12 points in an 82-76 loss to Louisville in the NCAA championship game.
Basketball, though, brought Glenn's time as a Wolverine to an end early. Following his sophomore season, he declared for the 2014 NBA draft and wound up as the No. 40 overall pick of the Minnesota Timberwolves.
When Glenn signed his first multi-year contract with the Indiana Pacers, his home state team, in the summer of 2015, he upgraded to a house with a backyard, where he could really flex his green thumb. Soon, his tomatoes and bell peppers were joined by a variety of herbs—sage, basil, and cilantro included—along with broccoli and a selection of leafy greens.
When Glenn's horticultural hobby comes up in conversation within the confines of his NBA locker room, the talk typically turns to aloe vera. The succulent—which can be found in everything from gels and creams to juices and drinks—is widely known for its healing properties.
So before Glenn moved to Detroit, after signing with the Pistons as a free agent last summer, he surprised Austin with a visit to the community garden. As much as Austin, a Pacers fan, enjoyed meeting one of his heroes, Glenn came away with much more than karmic satisfaction. Austin sent his new friend off to the Motor City with a half dozen eggs, a pineapple plant, an avocado tree sapling, and tips to help with his broccoli and strawberries. On July 2, 2019, Robinson signed a two-year deal with the Golden State Warriors.
Glenn Robinson III Contract
Free agent Glenn Robinson III and the Golden State Warriors have agreed to a two-year deal, as reported by The Athletic and Stadium's Shams Charania Tuesday afternoon.   The second year includes a player option. Robinson became an unrestricted free agent when the Detroit Pistons declined his team option. Last season was Robinson's only one in Detroit. He appeared in 50 games and made 18 starts, including the playoffs.
The Michigan product began his career with a short 25-game tenure with the Minnesota Timberwolves, who selected him in the second round of the 2014 NBA draft. He has also had stints with the Philadelphia 76ers (2014-15) and Indiana Pacers (2015-18).
The 25-year-old's most productive season came in 2016-17 with the Pacers. He averaged 6.1 points and 3.6 rebounds across 69 games (27 starts). Charania's report about Robinson comes just after The Athletic's Marcus Thompson reported that free-agent center Willie Cauley-Stein is "coming to the Warriors." Golden State has been active since free agency officially began Sunday.
To start, Kevin Durant will leave the Bay as he has reportedly agreed to sign with the Brooklyn Nets on a four-year, $164 million pact, per ESPN's Adrian Wojnarowski. That was followed by Golden State finalizing a sign-and-trade with the Nets to acquire All-Star point guard D'Angelo Russell, which meant Andre Iguodala and Jordan Bell each had to find new homes.
Iguodala was traded to the Memphis Grizzlies, while Bell agreed to a deal with the Minnesota Timberwolves. On top of that, Klay Thompson has reportedly agreed to return to the Warriors on a five-year, $190 million deal, per Wojnarowski.  In short: The Warriors will look much different in 2019-20. Robinson fits as a wing, and he will have his work cut out for him to help the team make up for the void Durant is leaving at the position.
Glenn Robinson III Warriors
The Golden State Warriors lost key foundational players this offseason, but also suffered some significant casualties to their bench depth. And a player such as Glenn Robinson III could be the solution to their bench depth problem.
Robinson, the son of former NBA All-Star Glenn Robinson, has had an interesting career arc so far. The Indiana native excelled while in college at Michigan but turned pro after only two seasons, something that likely hurt his draft stock.
Robinson signed a contract with the Detroit Pistons last offseason after an injury-riddled 2017-18 season. Unfortunately, his time in the Motor City would be spent dealing with more injuries and posting inconsistent numbers. The 25-year-old struggled to the worst season of his career averaging just 4.2 points in 13.0 minutes per game. Perhaps most discouraging was his dreadful 29% shooting percentage from long-range — the worst mark since his rookie season. Robinson never looked comfortable in his role and really struggled to remain a part of Detroit's rotation. Still, there's reason to think that things will be different with the Warriors.
The athletic wing will hopefully benefit from a change of scenery and could be a great fit in Steve Kerr's movement-based offense. If he could tap into his prior shooting success, Robinson could be a huge benefit to a Warriors team lacking experienced bench contributors. And he should be given every opportunity to earn early playing time.
The Warriors are incredibly thin at small forward with Alfonzo McKinnie currently listed as the team's projected starter. McKinnie is a much better rebounder than his adversary and has shown flashes on both offense and defense. But his inconsistencies — particularly in the postseason — have limited his ceiling.
Other than that, the oft-injured Alec Burks was signed in the offseason to provide added depth on the wing. Burks is the most accomplished shooter of the three but has struggled to stay healthy throughout his eight-year NBA career.
Glenn Robinson III Pro Gardener
Nobody has shared more gardening wisdom with Glenn than his grandmother and she's still sharing it to this day. That's even truer today, and not just because of the gardener that her grandson has become. When Glenn was a kid, she would join him out on the court, helping him with his hoops. But as he shot up to 6'6′ and she grew older, that part of their bond naturally fell off.
As for Glenn's parents, they're pleasantly surprised to see what began as busy work for their "Little Gardener" has since blossomed into a passion beyond basketball. And though his mom, Shantelle Clay, may not care for all of his crops, there's at least one that she enjoys from her son's garden, cilantro.
All the thousands of plant varieties he peruses in the Botanical Garden, Glenn is most taken by towering thickets of bamboo. He marvels at their size and strength and poses in front of them for photos on his phone.
The site of such impressive and sturdy grass reminds Glenn of a story he once heard. As he tells it, there was a man who spent a significant sum on a plot of land, where he then planted bamboo. A year after the planting, it hadn't grown. Another year, still nothing.
Glenn Robinson III Highlights
Glenn Robinson III Twitter
Glenn Robinson III Facebook
---
We endeavor to keep our content True, Accurate, Correct, Original and Up to Date.
If you believe that any information in this article is Incorrect, Incomplete, Plagiarised, violates your Copyright right or you want to propose an update, please send us an email to informationcradle@gmail.com indicating the proposed changes and the content URL. Provide as much information as you can and we promise to take corrective measures to the best of our abilities.
---