Grant Imahara Biography
Grant Imahara(born as Masaru Imahara) is an American electrical engineer, roboticist, and television host. He is best known for his work on the television series MythBusters, in which he designed and built numerous robots that were needed for the show and specialized in operating the various computers and electronics that were utilized to test myths. Imahara starred in the Netflix series White Rabbit Project released on December 9, 2016.

Before his career in front of the camera, Grant spent nine years working behind the scenes in special effects as an animatronics engineer and modelmaker for George Lucas' Industrial Light and Magic. He worked on numerous blockbusters including The Matrix sequels, A.I., Galaxy Quest, Terminator 3, Van Helsing, and Star Wars: Episodes 1-3. He's worked on some of the most famous movie and TV robots of all time, putting the lights in R2-D2's dome for the Star Wars prequels and giving the Energizer Bunny his beat. He created the irreverent robot skeleton sidekick Geoff Peterson for The Late Late Show with Craig Ferguson.
Grant Imahara Age
Grant was born on 23rd October 1970 in Los Angeles, California, United States.
Grant Imahara Parents
Grant Masaru Imahara was born on October 23, 1970, in Los Angeles, California to supportive parents. He received his Bachelor of Science degree in electrical engineering from the University of Southern California. He had his teeth fixed some years back. He belongs to Asian-American ethnicity.
Grant Imahara Jennifer Newman /Fiance'
Grant Imahara got engaged to his long-time girlfriend, Jennifer Newman, a customer designer in December 2016. Unlike other engagements, Grant and his beloved's engagement was unanticipated and unique which made everyone fueled with surprise. The couple was celebrating the birthday of his beautiful girlfriend along with close friends at Clifton's Cafeteria in downtown Los Angeles on December 8.
To enhance the celebration and happiness, Grant proposed her for marriage with a 1.56 vintage piece. Jennifer accepted his proposal, and later the handsome hunk took to Twitter to reveal about their new move. Well, now that they have finally worn the ring of each other's name, the fans can't wait to see them getting married and enjoying adorable family life.
Moreover, the couple was dating each other for five years and has always been very open about the relationship. The lovebirds have never missed flaunting their love and stunning chemistry wherever they go. Grant and his to be wife recently attended a wedding ceremony of his friends, Andrew Fogel and Katherine Walsh.
Grant Imahara MythBusters
Imahara joined MythBusters on the invitation of friend and occasional employer Jamie Hyneman and former ILM colleague Linda Wolkovitch, who was an associate producer of MythBusters. He joined as the third member of the Build Team, replacing former MythBusters welder Scottie Chapman. His colleagues often jokingly refer to him as the "geek" of the Build Team. He often makes the robots that are needed for the show and otherwise specializes in operating the computers and electronics for the myths. On August 21, 2014, Hyneman and MythBusters co-host Adam Savage announced that Imahara, along with cast members Kari Byron and Tory Belleci, would be leaving the show.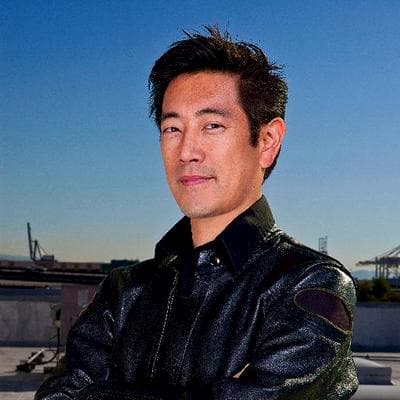 Grant Imahara Battlebots
Deadblow is a combat robot built and driven by Grant Imahara. It competed in BattleBots in the middleweight division using a fast pneumatic hammer as its weapon. Deadblow won 2 rumbles and was ranked number 2 among middleweights, right after Hazard. Afterward, it went on with Imahara to help in some experiments in the television series MythBusters and is now regarded as a permanent member of the Build Team.
Grant Imahara Mcdonalds
McDonald's has enlisted professional skeptic and former MythBusters co-host Grant Imahara for its latest attempt to counter what it says are some of the persistent myths about the quality of its food.
Grant Imahara Star Trek
Star Trek Continues is an American fan-created web series set in the Star Trek universe. Produced by the non-profit charity Trek Continues, Inc. and Dracogen, and initially co-produced by Far from Home LLC and Farragut Films, the series consists of eleven episodes released between 2013 and 2017. The series is an unofficial direct continuation of Star Trek: The Original Series, and emulates its visual and storytelling features to achieve the same look and feel. Those who made the show have said in interviews that the intent was to finish the original five-year mission of the show, and this is borne out in the plot lines of the final two episodes.
As with all such Star Trek fan productions, the use of copyrighted and trademarked properties from the original series was allowed so long as the production was non-commercial. A portion of the funds necessary to produce the episodes was raised through successful Kickstarter and Indiegogo campaigns, to which thousands of backers contributed.
Star Trek Continues won a Webby Award for "People's Choice – Long Form Drama" in 2016, a Geekie Award for "Best Web Series" in 2014, and numerous Telly and Accolade awards. The series was very positively received by critics, who praised the quality of the production and stated that the show set a new standard for Star Trek fan films.
After the 11th episode was released in late 2017, the Star Trek Continues series ended.
Grant Imahara as Hikaru Sulu, lieutenant, helmsman and third officer. Imahara is best known for his work on Discovery's MythBusters as well as the creator of robot sidekick, "Geoff Peterson," for Late Late Show with Craig Ferguson.
Grant Imahara Star Wars
In fact, in a recent appearance at Sage College in Albany, NY, Imahara elicited gasps from the audience when he talked about the ten years he spent filling in as C-3PO at live Star Wars events and for TV appearances. As reported by the Albany Times-Union, Imahara suited up as the gold-skinned droid for commercials, theater openings, and on Oprah Winfrey's TV show. He even got to meet Carrie Fisher of Princess Leia's fame at a red carpet event — where the suit's muffling effect saved the flustered Imahara from having to come up with something to say.
According to the site StarWarsHelmets.com, the suit designed to fit Imahara made a brief appearance in Episode One — apparently without the future MythBuster inside. However, Imahara has another Star Wars connection: he also "robotized" the R2-D2 used for the prequel trilogy. In the earlier movies, 3 ft 8 in (112 cm) tall actor Kenny Baker manipulated R2-D2 from the inside.
Grant Imahara Net Worth
Grant Imahara net worth: Grant Imahara is an American TV host and engineer who has a net worth of $2 million.
Grant Imahara Twitter
Grant Imahara Instagram
---
We endeavor to keep our content True, Accurate, Correct, Original and Up to Date.
If you believe that any information in this article is Incorrect, Incomplete, Plagiarised, violates your Copyright right or you want to propose an update, please send us an email to informationcradle@gmail.com indicating the proposed changes and the content URL. Provide as much information as you can and we promise to take corrective measures to the best of our abilities.
---