Gunna Biography
Gunna (Sergio Giavanni Kitchens) is an American rapper from College Park, Georgia. He's currently signed to Young Thug's YSL Records and to 300 Entertainment. Gunna made a name for himself with the 'Drip Season' mixtape series. His discography also includes Drip or Drown 2 (2019) and Drip Harder (2018) with Lil Baby. He's collaborated with Lil Uzi Vert, Lil Yachty, Kap G and Metro Boomin among others. 
Gunna Age | Gunna Birthday
He was born on June 14, 1993, he is currently 25 years old as of 2018. His birth sign is Gemini. He celebrates his birthday on the 14th of June every year.
Gunna Height
Gunna stands 5 feet and 10 inches tall. He weighs a total of 70 Kgs.
Gunna Family and Education
He was born in College Park, Georgia. Sergio was raised by his mother along with his four other siblings, One of his brothers passed away in 2006. Gunna is a high school graduate. He grew up listening to acts such as Future, Outkast, Young Thug, Cameron, and Jim Jones.
Gunna's Music Career
Sergio started out rapping at age 13 as a hobby. His first project, Hard Body, was released in June 2013 by SPC Entertainment. It featured tracks like "We Live This", "Faded" and "I'm Not a Criminal." In 2016, Gunna was introduced to Atlanta rapper Young Thug by a mutual friend.
The two connected, and before long they were making music together. Gunna was featured on Young Thug's single "Floyd Mayweather" alongside Travis Scott and Gucci Mane. The song peaked at #41 on the Hot R&B/Hip-Hop/Rap Songs chart. It was also featured on Young Thug's mixtape Jeffery (2016).
He signed to Young Thug's YSL imprint in 2016. His first project on the label 'Drip Season' was released in October 2016. It featured guest appearances from Nechie and Duke. The second installment of the 'Drip Season' series followed in May 2017. The tape includes songs like "Phase", "Belly of The Beast" and "YSL" featuring Playboi Carti. Rappers Hoodrich Pablo Juan, Offset and Shad Da God also appeared on the project.
His debut EP, Drip or Drown, with Wheezy was released in November 2017. The track-list includes "Paid", "Dodge the Hate" and "Don't Play With It" featuring Young Thug. His breakout mixtape, Drip Season 3, arrived in February 2018. It charted at #55 on the Billboard 200 and #20 on the Top Rap Albums chart.
The tape featured production from Metro Boomin, London On Da Track, Nav and Wheezy. It was supported by the single "Almighty" featuring Hoodrich Pablo Juan and "Oh Okay" featuring Young Thug and Lil Baby. Several other artists made guest appearances, including Lil Yachty, Lil Uzi Vert and Lil Durk.
The joint project, Drip Harder, with Lil Baby arrived in October 2018. It was released by labels YSL, Quality Control, Capitol and Motown Records. The tape's first single "Sold Out Dates" was released back in April 2018. It currently has more than 38 million plays on YouTube. Drip Harder peaked at #4 on the Billboard 200. It was supported by tracks "Drip Too Hard" and "Close Friends." In February 2019, Gunna's debut album, Drip or Drown 2, premiered at #3 on the Billboard 200. It was led by tracks "One Call" and "Speed It Up."
Quick Facts About Gunna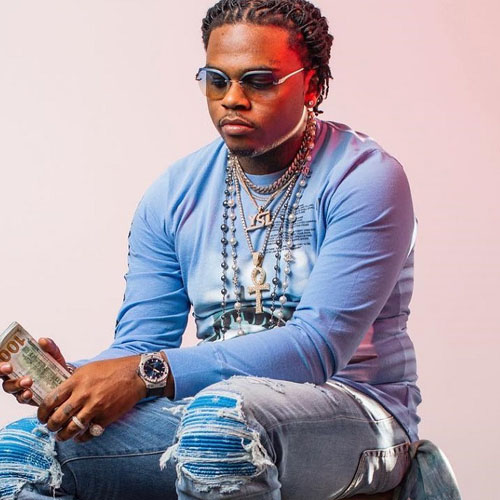 Full Name: Sergio Giavanni Kitchens
Date of Birth: June 14, 1993
Place of Birth: College Park, Georgia
Nationality: American
Marital Status: Not Married
Height: 5 feet and 10 inches
Weight: 70Kg
Ethnicity: African-American
Gunna Girlfriend
In as much as Gunna may be relatively considered a public figure due to the nature of his work, not much of his personal life is known to the public. This may be attributed to the fact that he covers the newsmakers and not his own story. Or, He is a very private person who keeps his personal life under wraps away from the ever prying eyes of the media.
Gunna Net Worth
Gunna got worldwide recognition thanks to his collaboration with Lil Baby. They together released the song called "Drip Too Hard" in 2018. The song peaked at the 4th position on the Billboard Hot 100 music chart. The video "Drip Too Hard" being dropped on Youtube in October 2018 accumulated 28.5 million views. Gunna has already made a net worth of over $4.5 million thanks to his success in music.
Gunna Drip Or Drown 2 Album
He released his debut studio album titled Drip or Drown 2 on February 22, 2019, under YSL and 300 recording labels. It peaked at the 3rd spot on the US Billboard 200 list, and at the 5th spot on Billboard Canadian Albums chart, both in March 2019.
Gunna Drip Or Drown Season 3 Album
Drip Season 3 is the third mixtape from Gunna, released on February 2, 2018, through YSL Records. The album features guest appearances from Lil Uzi Vert, Young Thug, Lil Yachty, Lil Baby, Nav, Hoodrich Pablo Juan, Young Jordan, and Lil Durk.
Gunna Hot – Gunna and Young Thug
With the "Hot" remix released on Nov. 1, 2019, Young Thug turned around mere hours later to unleash a fiery "Hot" video, featuring appearances from Gunna and Travis Scott.
Thugger gets a call to go right into action when he hears that Gunna's in trouble. Thug throws on his fireman gear and drives the Slime F.D. truck to the scene, where Gunna is on fire inside while calmly writing a note like nothing is happening around him. Once the So Much Fun rapper gets face-to-face with his ATL pupil, the house explodes from the blaze.
The scene switches to Travis Scott on the gridiron, as he delivers his smooth assist surrounded by the marching band, but the fire somehow finds its way onto the football field. The blaze eventually hits each of the marching band members, who are lined up to spell out "Hot" like the track's cover art.
Gunna Concerts and Tour Dates
14 May Tampa, FL, United States
15 May Orlando, FL, United States
16 May Atlanta, GA, United States
2 Jun Paris, France
5 Jun Hamburg, Germany
10 Jun Dublin 1, Ireland
5 July London, United Kingdom
6 July Liège, Belgium
Gunna Songs
outstanding
helluva price
drip too hard
oh okay
drip or drown
baby Birkin
3 headed snake
sold out dates
who you fooling
Richard millie plain
speed it up
ysl
one call
off white vlone
same Yung nigga
never recover
cash war
big shot
IDK why

top off
business is business

wit it
Yao ming
Gunna Albums
Drip or Drown 2
Drip Season 2
Drip Harder
Gunna's Instagram
https://www.instagram.com/p/BwurJHnBBkv/
Gunna's Twitter