Halston Sage Biography
Halston Sage (Halston Jean Schrage) is an American actress best known for her roles as Grace on the Nickelodeon television series How to Rock, Lacey in the film Paper Towns, Amber on the NBC television series Crisis, and Lt. Alara Kitan on the FOX television series The Orville.
Sage has a younger brother and a younger sister. She rode horses competitively, and was the editor of her high school's newspaper. Sage is Jewish.
Her career was launched in 2011, when she was cast in the role of Grace on the Nickelodeon series How to Rock, which first aired on February 4, 2012, and ran for a single 25-episode season.
Sage has also guest starred on Nickelodeon's Victorious and Bucket & Skinner's Epic Adventures. In February 2013, she was cast in the short-lived NBC television thriller series Crisis, from Rand Ravich, playing Amber the daughter of Gillian Anderson's character.
In 2016, Sage was cast in the starring role of Alara Kitan on the science-fiction dramedy series The Orville, which premiered on Fox on September 10, 2017.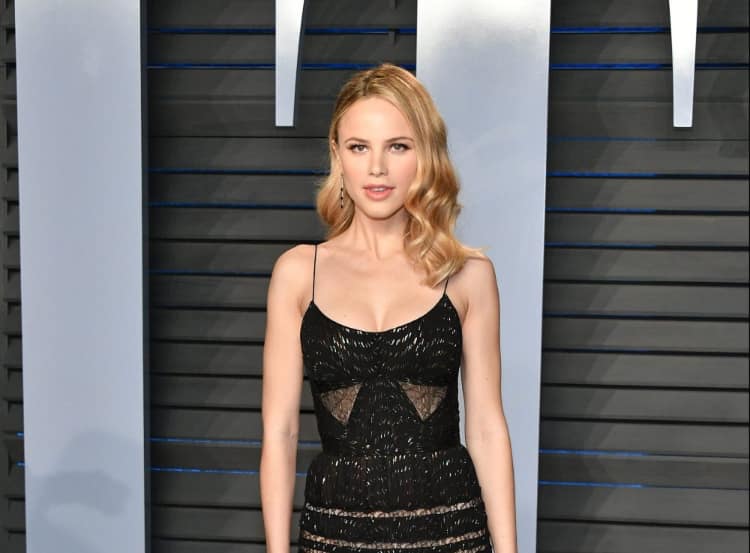 She appeared as Brianna in the 2012 teen drama The First Time. In 2013, Sage appeared in the films The Bling Ring, alongside Emma Watson, Grown Ups 2, alongside Chris Rock and Adam Sandler, and Poker Night, with Beau Mirchoff and Ron Perlman.
In 2015, she played Lacey Pemberton in the film Paper Towns, alongside Cara Delevingne and Nat Wolff, and based on the 2008 novel of the same name by John Green. In the same year, Sage co-starred in Sony Pictures' Goosebumps opposite Jack Black, and was cast in the role of Kendall in Paramount's Scouts Guide to the Zombie Apocalypse which centers on a group of Boy Scouts who rise to the occasion as their small town is faced with a zombie outbreak.
In 2016, she finished filming the dramatic comedy People You May Know, and was cast in the thriller film You Get Me opposite Bella Thorne.
In 2017, Sage played another popular high school girl, Lindsay Edgecomb, in Before I Fall, opposite Zoey Deutch.
Sage will next appear in The Last Summer, directed by William Bindley.
Halston Sage Neighbors
In 2014, Sage had a role in Neighbors, with Seth Rogen and Zac Efron; she played the part of Efron's girlfriend Brooke Shy. She was a nominee for the MTV Movie Award "Best Kiss" for her onscreen kiss with Rose Byrne in Neighbors.
Halston Sage Age
She was born on May 10, 1993 in Los Angeles, California, United States. She is 25 years old as of 2018.
Halston Sage Height
She stands at a height of 5 feet 5 inches or 166 cm
Halston Sage Family
She is the daughter of Tema Sage and Lenny Sage. Sage has two younger siblings, a brother Max Sage and a sister Kate Sage.
Halston Sage Dating – Halston Sage Boyfriend
Halston is in a relationship with Charlie Puth whom she started dating in September 2018. Previously, Sage was in a relationship with Seth MacFarlane an actor, animator, cartoonist, writer, producer, director, comedian, singer, and songwriter. The two dated from 2017-2018.
Halston Sage Measurements
Height: 5 feet 5 inches or 166 cm
Weight: 52 kg or 115 pounds
Measurements: 35-24-34 in or 89-61-87 cm
Dress Size: 4 (US) or 34 (EU)
Bra Size: 32C
Shoe Size: 6 (US) or 36.5 (EU)
Halston Sage Hot – Halston Sage Bikini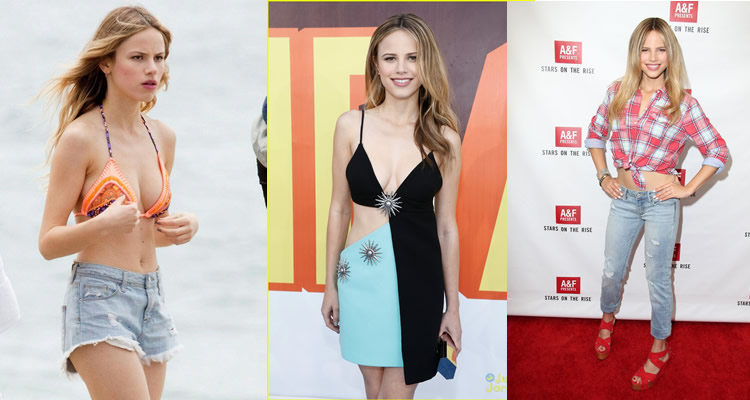 Halston Sage Movies
Year

Title

Role

2019

The Last Summer

2017

Before I Fall

Lindsay Edgecombe

People You May Know

Tasha

You Get Me

Alison Hewitt

2015

Paper Towns

Lacey Pemberton

Goosebumps

Taylor

Scouts Guide to the Zombie Apocalypse

Kendall Grant

2014

Neighbors

Brooke Shy

Poker Night

Amy

2013

The Bling Ring

Amanda

Grown Ups 2

Nancy Arbuckle

2012

Joan's Day Out

Jenna

The First Time

Brianna
Halston Sage Tv Shows
| | | | |
| --- | --- | --- | --- |
| Year | Title | Role | Notes |
| 2017–2019 | The Orville | Alara Kitan | Main role |
| 2014 | Crisis | Amber Fitch | Main role; 13 episodes |
| 2014–15 | Brotherhood 2.0 | Herself | Herself; 4 episodes |
| 2012 | How to Rock | Grace King | Main role; 25 episodes |
| 2012 | Bucket & Skinner's Epic Adventures | Catherine Toms | Episode: "Epic Crashers" |
| 2012 | Figure It Out | Herself | Panelist; 4 episodes |
| 2011 | Victorious | Sadie | Episode: "Beggin' on Your Knees" |
Halston Sage Facebook
Halston Sage Twitter
Halston Sage Instagram
Halston Sage News
'The Orville' May Have Just Said Goodbye to a Core Cast Member
The most recent episode of the show, "Home," may have been bittersweet for fans of The Orville. On one hand, the episode gave the chance to see two classic Star Trek actors working together. On the other hand, this could be the last fans see of Halston Sage as Lt. Alara Kitan.
Alara is the chief security officer aboard the Orville. Despite her petite frame, she's actually incredibly strong in Earth-normal gravity. That's because she's Xelayan and Xelaya has a gravitational pull exponentially stronger than the average Planetary Union planet, giving its natives extra strength in other environments.
But not necessarily forever. As "Home" revealed, Xelayans who spend a lot of time away from their homeworld will eventually adjust to Earth-normal gravity. For some Xelayans, this happens more quickly and suddenly. Alara discovered she was one of those Xelayans when she broke her arm in an arm-wrestling match with Isaac.
Luckily, there's a cure. Spending some time on Xelaya will readjust the Xelayan's body to the weight of Xelayan gravity, restoring their super-strength in Earth-normal gravity. However, this process can take days, weeks, months, or years.
Alara spends that time at home trying to reconnect with her family. Her parents and sister are all scholars, and so they've never really understood or appreciated her calling to join the Planetary Union fleet. When Alara saves the family's lives from vengeful home invaders, she finally gains the respect of her father.
Dr. Finn devises a treatment that, while painful, would allow Alara to return to the Orville and still regain her strength. Alara passes on the treatment and decides to return to Xelaya to reconnect with her family. She leaves a gift on Capt. Mercer's desk. Mercer opens it to discover a large jar of pickles.
So is this goodbye to Alara forever? That remains unclear. Nobody involved with the show in any official capacity, including Sage, has commented on Sage's future with the show, but there have been rumors about her departure for months as she was noted to be working on other projects while The Orville's second season was still in production.
The Orville has also added Jessica Szohr as a series regular playing the character Talla. She still hasn't made her debut, but photos from The Orville's set suggest that Talla is a Xelayan security officer, just like Alara. This has led to speculation the Szhor's character is meant to replace Alara.
And then there's the pickle jar. Some might speculate that Alara's departure is temporary, and that may be the case, but the pickle jar suggests otherwise, referencing jokes between Alara and Capt. Mercer throughout the show's first season. Alara choosing to leave a jar of pickles behind as a gift to Mercer seems to suggest a finality to her decision.
Source: comicbook.com