Howard Stern Biography
Howard Stern full name Howard Allan Stern, is an American radio and television personality, producer, author, actor, and photographer. He was born on January 12, 1954 to Ben and Ray Stern as the second child.
As a youngster Stern took five years of piano lessons and took an interest in marionettes, using them to entertain his friends with explicit shows. He formed a band with two school friends, the Electric Comicbook, on vocals and keyboards. From the age of nine to his second year at university, Stern spent his summers at Camp Wel-Met, a youth camp in Narrowsburg, New York where he worked camper, kitchen, and counselor duties.
Stern attended Washington-Rose Elementary School followed by Roosevelt Junior-Senior High School. Stern also attended Hebrew school where he was given the name Tzvi. In 1972, Stern declined a place at Elmira College to instead pursue a Communications degree at Boston University, but his average high school grades caused him to spend the first two years in its College of Basic Studies. In his second year he started work at the campus radio station WTBU, where he played records, read the news, and hosted interview programs.
He later co-hosted a weekly comedy show with three fellow students named The King Schmaltz Bagel Hour which was initially cancelled during its first broadcast for a racial sketch named "Godzilla Goes to Harlem". Stern took cannabis, Quaaludes, and LSD during his studies, but quit after he experienced a difficult trip on too much LSD. In 1974, he gained admission to the university's School of Public Communications. He then studied for a diploma at the Radio Engineering Institute of Electronics in Fredericksburg, Virginia in July 1975 which earned him a first class radio-telephone operator license, a required certificate for all radio broadcasters at the time which was issued by the Federal Communications Commission. With the license, Stern landed his first professional radio job at WNTN in Newton, Massachusetts from August to December 1975 doing air shifts, news casting, and production work. For the next five months, he taught students basic electronics in preparation for their own FCC exams. In May 1976, Stern graduated magna cum laude with a 3.8 grade point average. His major was broadcasting and film and his minor English and speech.
He landed his first radio jobs while at Boston University. From 1976 to 1982, Stern developed his on-air personality through morning positions at WRNW in Briarcliff Manor, New York, WCCC in Hartford, Connecticut, WWWW in Detroit, Michigan, and WWDC in Washington, D.C. Stern worked afternoons at WNBC in New York City from 1982 until his firing in 1985. In 1985, Stern began a 20-year run at WXRK in New York City; his morning show entered syndication in 1986 and aired in 60 markets and attracted 20 million listeners at its peak.
Stern won numerous industry awards, including Billboard's Nationally Syndicated Air Personality of the Year eight consecutive times, and is the first to have the number one morning show in New York City and Los Angeles simultaneously. He became the most fined radio host when the Federal Communications Commission issued fines totaling $2.5 million to station owners for content it deemed indecent. Stern became one of the highest paid radio figures after signing a five-year deal with Sirius in 2004 worth $500 million.
Stern has described himself as "King of All Media" since 1992 for his successes outside radio. In 2006, Stern filed a trademark for the name "King of All Media". He hosted and produced numerous late night television shows, pay-per-view events and home videos.
His two books, Private Parts (1993) and Miss America (1995), entered The New York Times Best Seller list at number one and sold over one million copies. The former was made into a biographical comedy film in 1997 that had Stern and his radio show staff star as themselves. It topped the US box office in its opening week and grossed $41.2 million domestically. Stern performs on its soundtrack which charted the Billboard 200 at number one and was certified platinum for one million copies sold. In 2012, Stern was inducted into the National Radio Hall of Fame.
Howard Stern Age
He was born on January 12, 1954.
Howard Stern Height
Howard is 6ft 5 (1.96 m) tall.
Howard Stern Parents
His parents are Jewish, and their families are from Poland and Austria-Hungary. Ray was an office clerk in New York City before she became a homemaker and later took up work as an inhalation therapist. Ben served in the U.S. army in Long Island and California during the war, and later worked as a radio engineer at WHOM in Manhattan and as a co-owner and operator at Aura Recording Inc., a Manhattan recording studio where cartoons and commercials were cut.
Howard Stern Wife
Stern met his first wife, Alison Berns, while at Boston University through a mutual friend. They married at Temple Ohabei Shalom in Brookline, Massachusetts, on June 4, 1978; both were 24 years old. They have three daughters: Emily Beth, Debra Jennifer, and Ashley Jade. In October 1999, they decided to separate. The marriage ended in 2001 with an amicable divorce and settlement.
In 2000, he started to date model and television host Beth Ostrosky. He announced their engagement on his radio show on February 14, 2007. They married at Le Cirque restaurant in New York City on October 3, 2008. The ceremony was officiated by Mark Consuelos.
Howard Stern Children – Howard Sterns Daughters – Howard Stern Kids
Together with his first wife, Alison Berns, they have three daughters: Emily Beth, Debra Jennifer, and Ashley Jade.
Howard Stern Photos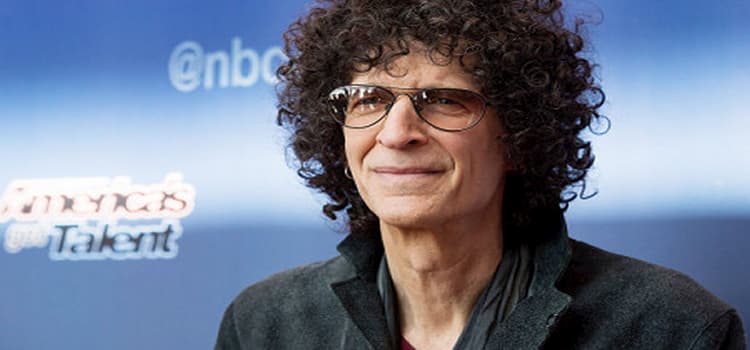 Howard Stern Salary
He receives an annual salary of $95 million.
Howard Stern Net Worth
He has an estimated net worth of $600 million.
Howard Stern Movie
Howard acted Ryder, P.I. in 1986 and Private Parts in 1997 which was nominated for Golden Raspberry Award for "Worst New Star" (1998) and Golden Satellite Award for "Best Male Actor Performance in a Comedy or Musical" (1998).
Howard Stern Twitter
`Howard Stern Video