Josh Rosen Biography
Josh Rosen is an American football quarterback for the Miami Dolphins of the National Football League He is commonly known by his nickname, the "Chosen One".
Rosen was a top-rated recruit coming out of high school, where he was named a 2014 USA Today High School All-American.
The first true freshman to ever start at quarterback for the UCLA Bruins in a season opener, he was named a Freshman All-American and was honoured as the Pac-12 Conference Freshman Offensive Player of the Year in 2015.
As a junior, Josh Rosen was named second-team all-conference in the Pac-12 and broke the UCLA record for single-season yards passing. He was then drafted by the Arizona Cardinals in the first round of the 2018 NFL Draft.
Josh Rosen Age
Josh was born with the name Joshua Ballinger Lippincott Rosen, on February 10, 1997,  in Manhattan Beach, California, United States.
Josh Rosen Parents | Josh Rosen Family
Josh is the son of Charles Rosen. Dr. Charles Rosen is an internationally renowned spine surgeon and educator who is at the cutting edge of his discipline.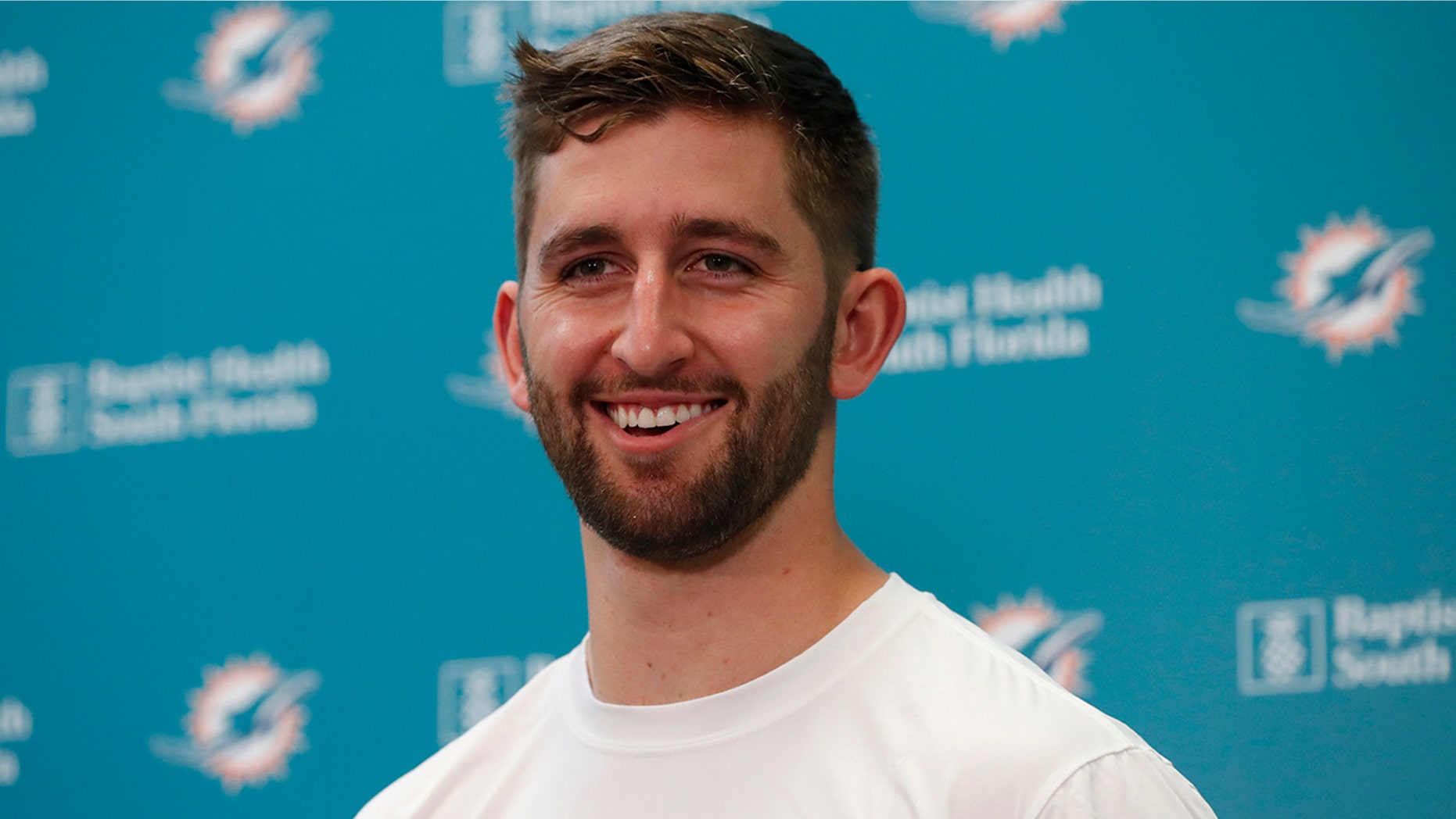 He is the founding director of the University of California-Irvine Spine Center and a clinical professor of orthopaedic surgery. And he was a candidate to be the U.S. surgeon general during the Barack Obama Administration.
His mother is called Elizabeth Lippincott. She has been a book and magazine editor. Her father was the president and CEO of the J. B. Lippincott publishing company, which was founded by his great-grandfather Joshua B. Lippincott.
Her mother was the curator of American decorative arts at the Philadelphia Museum of Art, home of the "Rocky Balboa" statue. And Elizabeth Lippincott is a great-great-granddaughter of Joseph Wharton, the industrialist who founded the prestigious Wharton School of Business and Economics at the University of Pennsylvania.
His father is Jewish and was a nationally ranked ice skater who almost qualified for the Winter Olympics in the 1970s, and his mother is a Quaker who was the captain of the Princeton lacrosse team.
Josh Rosen Girlfriend
Josh has a girlfriend and her name is Zara Muno. She is from California and a student at UCLA. The couple started dating reportedly in 2013.
Just like her boyfriend, Josh, Zara is also an athlete. She plays college volleyball and was part of her college's team. Her team won the 2018 women beach volleyball national championship.
Josh is named after another ancestor, Joseph Ballinger Lippincott, who founded publishing house J. B. Lippincott & Co. Josh grew up playing tennis; at age 12 he was the No. 1-ranked player for his age group in Southern California and top-50 in the country, and he became a top-10 player in junior rankings.
He was introduced to football in elementary school by a friend's father who was a youth coach. Right before high school, Rosen switched from tennis to football.
Josh Rosen High school
Rosen attended St. John Bosco High School, a Catholic high school in Bellflower, California, where he had a 4.3 GPA. As a senior, he was named the Los Angeles Times Player of the Year and the Long Beach Press-Telegram Dream Team Player of the Year after passing for 3,186 yards, 29 touchdowns, and four interceptions.
He was named a 2014 USA Today High School All-American. He was also named the Southern California Jewish Sports Hall of Fame's Male High School Athlete of the Year. During his playing career, he passed for 11,175 yards and 90 touchdowns.
Rosen was rated by both Rivals.com and Scout.com as a five-star recruit and ranked as the best quarterback in his class Rivals also ranked him as the best overall recruit. He verbally committed to the University of California, Los Angeles (UCLA) in March 2014, and officially signed in September.
Josh Rosen Body, Height and Weight
Pre-draft measurables
Ht
Wt
Arm length
Hand size
40-yard dash
10-yd split
20-yd split
20-ss
3-cone
Vert jump
Broad
6 ft 4 in
(1.93 m)
226 lb
(103 kg)
31

 

3⁄4 in
(0.81 m)
9

 

7⁄8 in
(0.25 m)

4.92 s

1.71 s

2.84 s

4.28 s

7.09 s

31 in
(0.79 m)
9 ft 3 in
(2.82 m)
Josh Rosen College
An economics major, Rosen began taking classes at UCLA in January 2015; he enrolled early so he could take part in spring practice. With three-year starting quarterback Brett Hundley leaving UCLA early for the National Football League (NFL), a large hole was created on the team.
Rosen was UCLA's best quarterback during the spring, and he continued to compete during summer camp to be the team's starting quarterback as a true freshman.
On August 26, a week after being publicly criticized by head coach Jim Mora, Rosen was named the Bruins' starting quarterback
He beat out Jerry Neuheisel, who had three years of experience in offensive coordinator Noel Mazzone's up-tempo spread offence, which was similar to the offence Rosen ran in high school. The freshman knew as Neuheisel "selfless" for serving to him throughout the competition.
UCLA entered the 2015 season ranked No. 13 by the Associated Press and No. 14 in the Coaches Poll. In the season opener, Rosen completed 28 of 35 passes for 351 yards and three touchdowns as UCLA defeated Virginia 34–16, and he became the first true freshman to start a season opener at quarterback for UCLA.
He was honoured as the Walter Camp Offensive Player of the Week. In a 17–9 win over No. 18 Utah, he broke Drew Olson's decade-old school record (199) for consecutive passes without an interception.
The victory kept UCLA in contention for the Pac-12 championship entering their regular-season finale against their crosstown rivals, the USC Trojans. However, they lost 40–21 to the Trojans as Rosen turned the ball over three times on a fumble and two interceptions, ending his streak of passes without an interception at 245.
He was named the Pac-12 Freshman Offensive Player of the Year and earned Freshman All-American honours from USA Today, Sporting News, and Football Writers Association of America (FWAA). He was also named The Sporting News' Freshman of the Year, Pac-12 Conference Offensive Freshman of the Year (coaches), and Pac-12 Newcomer of the Year (AP).
In 2016, Rosen was injured in an October 8 loss to Arizona State Sun Devils, when he threw for a then-career-high 400 yards. He missed the rest of the season with a shoulder injury.
He had surgery on his throwing shoulder to repair soft-tissue damage. UCLA was 3–3 in Rosen's six starts, and he suffered 13 sacks in the shortened season compared to 14 in all of 2015. The Bruins were 1–5 in the final six games and missed bowl eligibility without him.
Josh Rosen
College stats
Season
Team
GP
Comp
Att
Comp%
Yds
Avg
TD
Int

Rat

2015
UCLA
13

292

487
60.0
3,670
7.5
23
11
134.3
2016
UCLA
6
137
231
59.3
1,915
8.3
10
5
138.9
2017
UCLA
11
283
452
62.5
3,756
8.3
26
10
147.0
Career
30
712
1,170
60.9
9,341
8.0
59
26

140.1
Josh Rosen
Contract
Josh Rosen signed a 4 year, $17,597,756 contract with the Arizona Cardinals, including a $10,878,368 signing bonus, $17,597,756 guaranteed, and an average annual salary of $4,399,439.
In 2019, Rosen will earn a base salary of $570,000 and a roster bonus of $709,898, while carrying a cap hit of $1,279,898 and a dead cap value of $6,239,388.
Josh Rosen Jersey
Josh Rosen
Miami Dolphins
On April 26, 2019, after the Cardinals drafted quarterback Kyler Murray first overall the day prior in the 2019 NFL Draft, Rosen was traded to the Miami Dolphins in exchange for the Dolphins' 2019 second-round pick (previously acquired from the New Orleans Saints) and their fifth-round pick in the 2020 NFL Draft.
Josh Rosen Net Worth
Josh Rosen earned $11.36 million with Arizona Cardinals in one season. Moreover, his salary at the moment is an impressive $480k with a signing bonus of $10,878,376. Josh earned a huge amount of fortune is a very short amount of time. As a result, his current net worth is still under review.
Josh Rosen Twitter
— Josh Rosen (@josh3rosen) May 23, 2019