Kaitlyn Maher Biography
Kaitlyn Maher is an American singer and actress, She is famous for her singing abilities and dedication to her profession. She has participated in the third season of the famous TV series, 'America's Got Talent'. She has also participated in a number of other TV shows. Kaitlyn has lent her voice to many music videos and released her own album as well. She has been featured in various newspapers and magazines around the world, including 'People Magazine.' She has also been interviewed by various TV channels.
She was born and raised in Michigan by her father Reuben Maher and mother Alison Victoria. She has a younger brother named Ethan Joshua Maher. Kaitlyn has been passionate about singing from a young age. She also has an interest in dancing and has attended Ballet classes too.
Kaitlyn started singing at the age of four and soon participated in 'America's Got Talent'. Her mesmerizing performance helped her clear the first round at Vegas. She soon made it into the top 60 and then went on to become one of the top 40 singers in the competition.
She eventually became the youngest participant ever to compete at the semi-finals. Her performances at various stages of the competition won the hearts of many. She sang many songs during the course of the competition including hit numbers, such as 'When you wish upon a Star', 'What a wonderful world' and 'Beauty and the Beast'.
After appearing in the TV show, she was flooded with several acting opportunities. She then became part of many movie projects which furthered her popularity. In 2011, she lent her voice to 'Treasure Buddies', which was produced by Disney.  In the movie, she voiced a character named 'Tiny,' a cute puppy. It went on to become one of the most loved characters in the movie. Kaitlyn was next seen in a leading role when she played Sarah Reynolds in the movie, 'Santa Paws 2: The Santa Pups' which released in 2012.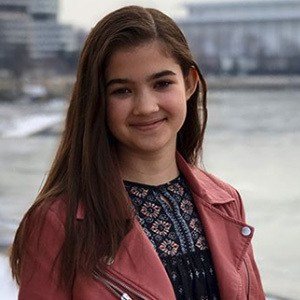 Apart from these, Kaitlyn has also acted in supporting roles in movies, such as 'Love, Gloria' and 'Mia & the Migoo'. She has also appeared on various TV shows, such as 'Entertainment Tonight,' 'Today,' 'The Hollywood Christmas Parade,' 'Fox & Friends Christmas Special,' 'Access Hollywood,' 'The Bonnie Hunt Show,' 'Breakfast Television,' and 'Leo Little's Big Show.'
In 2015, she voiced a character named Grace in the movie, 'Russell Madness', directed by Robert Vince. In 2016, she lent her voice to a character named Trooper in the TV series 'Mack & Moxy.' She then voiced the character Tiny in the movie 'Pup Star.' In 2017, she lent her voice for the characters 'Tiny and Scrappy' in the movie, 'Pup Star: Better 2Gether.' She also voiced the character Nina in the movie 'Ferdinand'.
Her future releases include 'How the Grinch Stole Christmas' in which she will be lending her voice to a character named Cindy Lou Who. She has also starred in the Fox network's comedy series 'The Goodwin Games'. In the sitcom, she was seen along with stars like Scott Foley,
T.J. Miller
, and Becki Newton.
Kaitlyn Maher Age | How Old Is Kaitlyn Maher?
Kaitlyn was born on January 10, 2004. She is currently 15 years old as of 2019. Her birth sign is capricorn.
Kaitlyn Maher Siblings
Ethan Joshua Maher (Brother)
Kaitlyn Maher Parents
Reuben Edward Maher
Alison Victoria Maher
Kaitlyn Maher America's Got Talent
Maher began her career in the third season of the American television reality show America's Got Talent when she reached the top ten. Producers from the show first became aware of Maher from a video that was uploaded to the popular video-sharing website YouTube. The video had been made after she had been asked to sing at a birthday party for one of her relations in Canada. The video was posted because Alison Maher was pregnant with her second child and they could not travel to Canada. Five months after the video had been made, around Maher's fourth birthday; Maher's parents received an e-mail from NBC's America's Got Talent asking if Maher would be able to audition for the show's third season.
Kaitlyn Maher Net Worth
She has an estimated net worth of 1.7 million dollars as of 2019.
Kaitlyn Maher Instagram
Kaitlyn Maher Songs
ave maria
somewhere out there
my blue Christmas
daddy, I love you
dreams come true
God bless the USA
Amazing grace

I can see clearly now
lullaby
you were meant to be
away in a manger
God rest ye merry gentlemen
Kaitlyn Maher Movies
Mia and the Migoo
Santa Buddies
The Search for Santa Paws
Treasure Buddies
A Turtle's Tale 2: Sammy's Escape from Paradise

Santa Paws 2: The Santa Pups
Free Birds 2013
Kaitlyn Maher Twitter