Kamene Goro Biography
Kamene Goro is a popular Kenyan radio presenter, news anchor, and, media personality. She is best known for hosting the morning breakfast show on KISS FM alongside Oga Obinna. Goro is also well-known for her foamy personality, soft voice, sense of humor, tell-it attitude, and curvaceous body.
---
10 Quick Facts About Kamene Goro
Name: Michelle Kamene Goro
Age: 30 years old as of 2022
Birthday: March 24
Zodiac Sign: Aries
Height: Average
Nationality: American
Occupation: Radio Presenter, News anchor, Media Personality
Marital Status: Single
Salary: Ksh.150,000
Net worth: Ksh 7.5 million
---
Kamene Goro Age
Kamene is 30 years old as of 2022, she was born on 24 March 1992, in Nairobi's South C, Kenya. She celebrates her birthday on 24 March every year and her birth sign is Aries
Kamene Goro Height
Kamene stands at an average height. She appears to be quite tall in stature if her photos, relative to her surroundings, are anything to go by. However, details regarding her actual height and other body measurements are currently not publicly available. We will update this section when the information is available.
Kamene Goro Education
Goro studied at Rusinga International School. She then attended the University of Nairobi, where upon completion, she earned her undergraduate degree in Law.
Tertiary / University
Date: Not Known
Education Institution: University of Nairobi
Qualification: Undergraduate degree in Law
Secondary Education
Date: Not Known
Education Institution: Rusinga International School
Qualification: KCSE
Primary Education
Date: Not Known
Education Institution: Not Known
Qualification: Not Known
Kamene Goro Family
Goro was born in Nairobi's South C as the middle child in a family of three kids. Her father works as an engineer whereas her mother is a media specialist. Her mum is the biggest fan and critic. Her younger sister's name is Natasha Goro.
Kamene Goro Tribe
Kamene's tribe remains to be a mystery, for she has never disclosed her clan. However, fans have connected her to the Kikuyu and Kamba clans in light of her name.
Kamene Goro Husband
Kamene is not yet married. However, there were some rumors that she married Dj Bonez. The two were alleged to have gotten married this past weekend. However, talking on her breakfast show on Monday, October 3, Kamene disregarded the wedding claims as untrue.
In her daily show at Kiss 100, On September 29th, 2020, Kamene disclosed that she does not have a child and might never want to have one.
Kamene Goro Boyfriend
Kamene's couple of guys, she has dated have shown up, including a South African Tycoon, whom she was engaged to back in 2016 and later broke up days before their planned wedding.
"I didn't comprehend and I inquired as to why. However, he continued saying he'll come to Nairobi to talk through it, and he never came. That day I recollect that I called DJ trancelike on the grounds that he was there when I was proposed to. He was among the folks who set up the unexpected together with my ex.
I called him and I disclosed to him he'd said a final farewell to me. After a short while, I called him and inquired as to whether he was certain about what he was stating in light of the fact that once you close this entryway I can't promise you it will ever open again, and he stated, yes" said Kamene
That same year, 2016, Kamene got engaged to her Tanzanian boyfriend, who proposed to her with a diamond-engraved ring during pre-wedding. She even quit her job and relocated from Kenya.
However, the duo separated the following year, 2017 before their wedding day which was to take place on September 17th, 2016, in Genoa, Italy, after her fiancé called her via WhatsApp to break off the relationship. Kamene discloses in her biography that the two had not spoken since the call.
Kamene Goro And Prezzo
Goro and rapper Prezzo made it official that they are developing their chemistry, despite them putting a low profile of their love affair. On Friday, 1st of Feb, 2019, the two decided to start the celebrations early, before valentine's, when Prezzo surprised Kamene with flowers at the studios. Not stopping there, the two publicly kissed in comfort, clearly surprising everyone with their relationship.
Kamene Goro Salary
Kamene earns an average estimated salary of Ksh.150,000 per month.
Kamene Goro Net Worth
Kamene has an estimated net worth of Ksh 7.5 million as of 2022. This includes her assets, money, and income. Her primary source of income is her career as a Radio Presenter, News Anchor, and, Media Personality. Through her various sources of income, Kamene has been able to accumulate good fortune but prefers to lead a modest lifestyle
Kamene Goro Measurements and Facts
Kamene Goro Wiki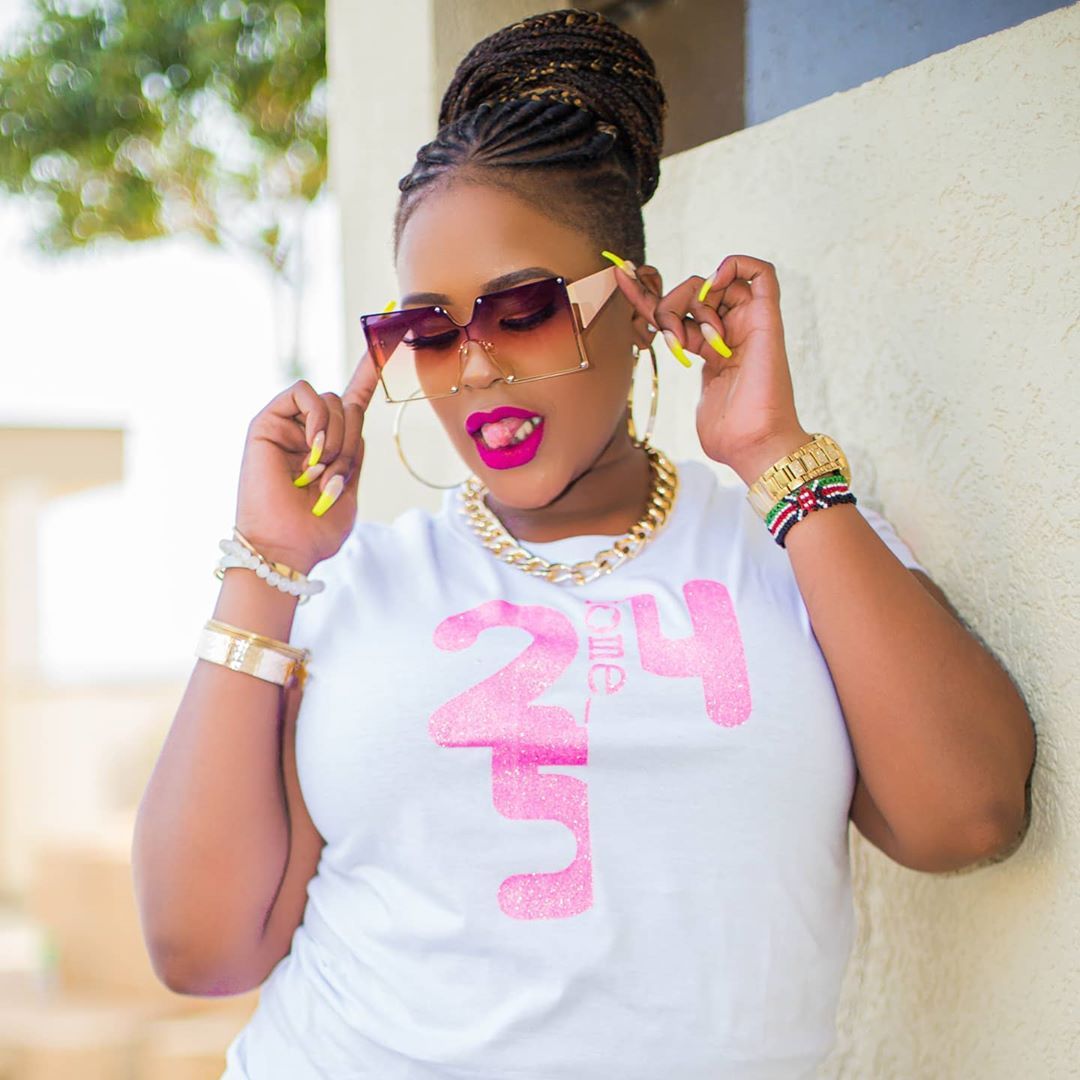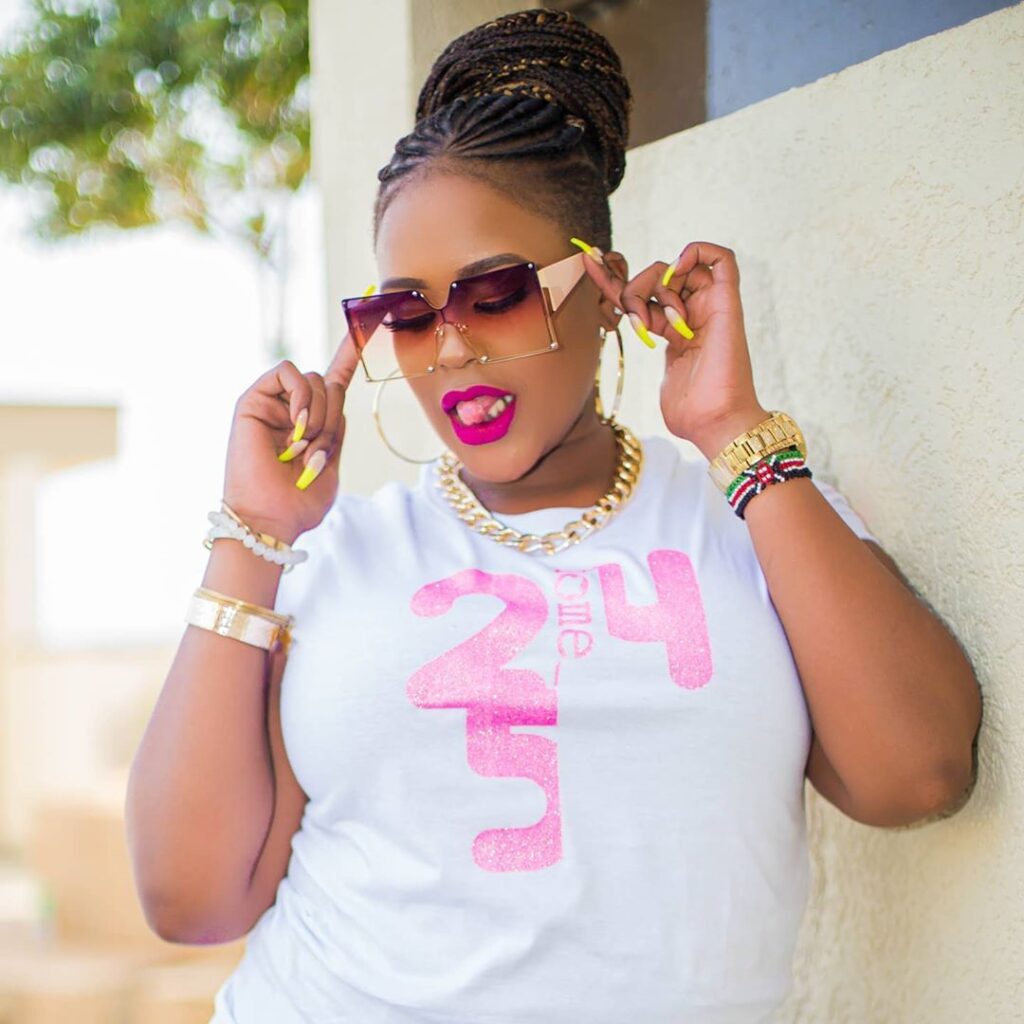 Full Names: Michelle Kamene Goro

Popular As: Kamene
Gender: Female
Occupation / Profession: Radio Presenter, News anchor, Media Personality
Nationality:  Kenyan
Race / Ethnicity: African
Religion: Not Known
Sexual Orientation:  Straight
Kamene Goro Birthday
Age / How Old?: 30 Years (2022)
Zodiac Sign: Aries
Date of Birth: March 24, 1992

Place of Birth: Nairobi's South C, Kenya
Birthday: March 24
Kamene Goro Body Measurements
Body Measurements: To be updated
Height / How Tall?: Average
Weight: Moderate
Kamene Goro Family and Relationship
Father (Dad): Not Known
Mother: Not Known
Siblings (Brothers and Sisters): Two
Marital Status: Single
Boyfriend: Dj Bonez

Children: Not Known
Kamene Goro Net Worth and Salary
Net Worth: Ksh 7.5 million
Salary: Ksh.150,000
Source of Income: Radio Presenter, News Anchor, Media Personality
Kamene Goro Career
Speaking of her career, Kamene first became the eye of the screen at 21 when she began filling in as a Prime Time News reporter and journalist at Ebru Tv. Her shows included The Weekly Report and Africa in a word.
She left the station in September 2015 but later rejoined the company in 2017, then moved to be a radio presenter at NRG Radio, which has carried her to the spotlight as her prevalence has developed her. In fact, The prestige NRG Breakfast which appeared with Andrew Kibe and Dj Kace would have no taste without Kamene.
In August 2018, she turned into the discussion of the nation after she uncovered the rundown of numerous she had slept with. This created controversies and various responses from her fans. That same year, she created controversies with her NRG employer, and so she was forced to resign from the station.
Kamene Goro KISS 100 Fm
From June 14, 2019, Kamene together with her co-host, Andrew Kibe moved to KISS 100 Fm, where they still fill in, for the breakfast with the star's morning show. She is currently working alongside Obinna every weekday morning from 6 am to 10 am.
Kamene Goro Tattoo
Kamene has revealed a photo of her recently acquired extra to her body art array in honor of her mother. Ms. Kamene inked her mom's name 'Victoria' on her wrist and devoted it to her mom whom she says has been consistent in her life and owes everything she earned to her.
"A week ago I got a tattoo of the woman's name who made me who I am. My darling mother was the person who believed in all of my dreams and prayed for my vision. To the OGW. My always and forever! I am nothing without you! All I am I owe to you," she wrote on Instagram.
Goro has a collection of several other amazing tattoos including a flower on her wrist, a peacock, and birds on her back.
Kamene Goro Car
Kamene presently drives a Mercedes Benz, which cost her millions. She stated that she bought that type of car because it's what she admired.
Kamene Goro Sponsor
Radio presenter Goro has claimed that a secret admirer offered her $ 1 million (Sh100 million) to sleep with him. While hiding the identity of the man, she shared a screenshot of the proposal sent to her inbox." I am not a relationship kind of person, neither do I do commitments. If you can consider my deal, I am in this purely for fun and some wonderful time," part of the message read.
According to the message, her mystery man planned on taking her around the world and bedding her, in exchange for Sh100 million. However, she turned down the offer, saying that she will earn the money by the work of her hands.
"I assume this is how some people are operating and surviving… This was my luck this morning."100 million shillings is a lot of money, my God, it's an s*** load of money. But my God is working so hard, blessing me so much that my $ 1 million is going to come from the work of my hands and heart," she wrote.
The former TV anchor further urged women to turn down any similar offers."Ladies, let me tell you, anything any man is offering you in exchange for your body, father God will give you ten times more from your work!"I promise you! Refuse! Refuse! Refuse!"Mungu is working so hard to make your dreams come true, you don't need to spread your legs for you to get the pot of gold at the end of the rainbow."
Kamene Goro Willy Paul
Media personality Kamene Goro detests artist, Willy Paul. This she uncovered on Xtian Dela's vlog. According to Kamene who left NRG Radio in June, her first gathering with the Shado Mado crooner didn't go as planned. During a "Wed, Kill, F***" game, Xtian set three choices before the previous radio host who without recoiling said she would slaughter Willy Paul. The different alternatives were Joe Muchiri and Jaymo Ule Msee.
Explaining her decision, Kamene said, "Do you know I have a major problem with him and I know people really wonder why I disrespect him? My first encounter with him was terrible, he was very disrespectful and that's why I'm like you guys I have no respect for that guy anymore."
A few weeks ago, she had a run-in with socialite cum businesswoman Huddah Monroe after she accused her of prostituting."A girl with standard three English has an apartment in Kileleshwa… what are you selling apart from k*****? What do you think she is, a lawyer?" she posed.
Not taking the jibe lying down, the Huddah Cosmetics chief executive hit back via Instagram."Only a b**** unsure of her position tries to prove herself. What is understood, doesn't need to be explained. I am never oblivious to the reality of anything in life. Playing cool doesn't mean playing a fool. It just means I am in control of the situation. Remember a queen never comes off her throne to address a peasant," she wrote.
Kamene Goro In Court
On June 28, 2019, it was announced that NRG allegedly dragged its ex-employees Kamene Goro and her co-host Andrew Kibe, to court. The two who left the Kevin Mulei-owned radio station on June 14, were set to take over the airwaves at Kiss 100 FM.
According to those privies to the goings-on, Kamene and Kibe were set to appear before the Employment and Labour Relations Court on Friday, June 28.
Sources stated that the two were in breach of their non-compete. Apparently, Kamene and Kibe only gave their then-employer a three-day notice hence violating the terms of employment.
"They woke up one day and told the management that they were leaving. They informed the company of their leaving on a Tuesday and left three days later. Their notice was supposed to be one month."
The source further divulged that the situation could be ugly as the two were supposed to give their former employer some time to reorganize their house. Kibe who is fairly controversial, especially on Facebook, stated that he is grateful for the opportunity to host the Kiss FM breakfast show. "I am taken aback, and I'm about to bring more f*cking business into the show.
"I am also thankful to God for the opportunity — whoever god is because I don't know whether it is the god of Muslims, Christians or Indians — because he has made this happen," he said.
Kamene has moreover asked her fans to make sure to tune in to the show for "an amplification of everything they have known us for." The show started on Monday, July 1 from 6 – 10 am.
Kamene Goro Body-Shamed
Goro once had a classy response to one of her fans after she tried body-shaming the sassy radio host. Kamene's response followed a not-so-pleasant comment by the fan identified as Rose, saying that the gym was calling on her. She continued saying that the presenter's arms were sagging and weight lifting would really help her get her skin tight.
"I have seen the sagging arms… Gym is calling… weight lifting make that skin tight etc," said Rose Mukasa.
She went on to say that she is very happy with her sagging body, which is none of Rose Mukasa's business and she (Kamene) looks great in it.
Kamene who did not take the words lightly then responded to Rose asking if it was her body that had the sagging arms. She also told off the fan for hating, asking her to go and lift the weights she was talking about.
"@rosemukasa it it your body? Inakuhusu? I am very happy with my flabby body. You go and lift weights, I'm great with my body," Kamene Goro wrote back.
Frequently Asked Questions About Kamene Goro
Who is Kamene Goro?
Kamene Goro is a popular Kenyan radio presenter, news anchor, and, media personality. She is best known for hosting the morning breakfast show on KISS FM alongside Oga Obinna.
How old is Kamene Goro?
Goro is a Kenyan national born on March 24, 1992, in Nairobi's South C, Kenya
How tall is Kamene Goro?
Goro stands at an average height, he has not shared his height with the public. His height will be listed once we have it from a credible source.
Is Kamene Goro married?
Details about Goro's love life are still under review. We will let you know when we discover useful information about her love life.
How much is Kamene Goro worth?
Kamene has an estimated net worth of Kenyan Shillings 7.5 million as of 2022. This includes her assets, money, and income.
How much does Kamene Goro make?
Kamene earns an average estimated salary of Ksh.150,000 per month.
Where does Kamene Goro live?
Kamene has not shared his precise location of residence. We will directly update this information if we get the location and images of her house.
Is Kamene dead or alive?
Kamene is alive and in good health. There have been no reports of her being sick or having any health-related issues.
Where is

Kamene

Now?
Kamene is pursuing her career in journalism. She presently hosts the Morning Kiss alongside Oga Obinna on Kiss FM.
Kamene Goro

Contacts
Related Biographies.
You may also like to read the Bio, Age, Career, Family, Relationship, Net worth, Achievements, and more about:
More about Kenya
Kenya is a land of contrast – highlands and plains; wet and dry; rural and urban and people of all races. This offers many opportunities to citizens, foreigners, and visitors alike.
Here is more information about Kenya …
Welcome to Kenya. Welcome to Opportunity.
Other Famous People in Kenya