Kevin Corrigan  Biography
Kevin Fitzgerald Corrigan is an American actor. He has appeared mostly in independent films and television since the 1990s, including the role of Uncle Eddie on the sitcom Grounded for Life (2001–2005).
Most of his film appearances have included a supporting role in The Departed (2006) and co-starring roles in Big Fan (2009) and Results (2015).
Kevin Corrigan  Age
He was born on March 27, 1969, in The Bronx, New York, the U.S. Currently he is 50 years old.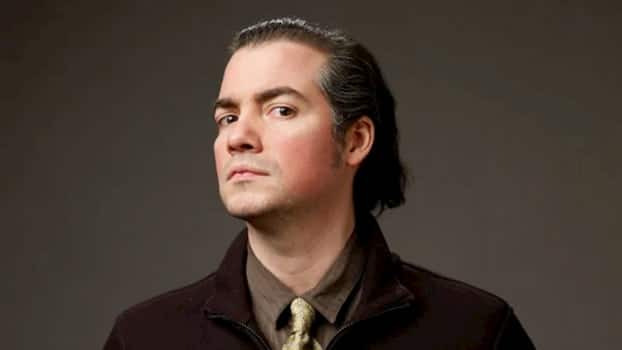 Kevin Corrigan  Family
He was born to an Irish father and a Puerto Rican mother.
Kevin Corrigan  Education
He attended the Lee Strasberg Theatre and Film Institute.
Kevin Corrigan  Relationship | Spouse
Corrigan married Elizabeth Berridge in 2001.
Kevin Corrigan  Children
He has one child.
Kevin Corrigan  Career
He started his film career in 1989 in Lost Angels, starring Donald Sutherland and Adam Horovitz. He was cast in Goodfellas as the younger brother of Henry Hill (Ray Liotta). During the independent film boom of the 1990s, Corrigan built a career playing quirky, unconventional characters in films such as True Romance, Living in Oblivion, Walking and Talking and Rhythm Thief.
He made his television series debut as a cast member of the short-lived Rhea Perlman sitcom Pearl. He also appeared in the video for "Get Me" by the indie band Dinosaur Jr. in 1993. Corrigan became well known for his role as the slacker Eddie Finnerty on the sitcom Grounded for Life, which ran for five seasons.
After the show's cancellation, he returned to appearing in smaller film projects, with the exception of a role in Martin Scorsese's The Departed as the drug-dealing cousin of Leonardo DiCaprio's character. Since that film's success, he has appeared more regularly in high-profile films.
He had roles in two Judd Apatow-produced films: Superbad, as the violent owner of the house where Jonah Hill's and Michael Cera's characters attempt to steal alcohol, and Pineapple Express, as one of the main villain's henchmen. He also appeared in Ridley Scott's American Gangster as an informant for Russell Crowe's character.
Corrigan was also in the movie The Last Winter, as Motor, a mechanic. In 2009 he was in the Oscar-winning short film The New Tenants. In 2009, Corrigan guested on the science fiction drama Fringe as the mysterious character Sam Weiss. He played the role of Sal against Patton Oswalt in the critically praised independent film Big Fan, written and directed by Robert D. Siegel.
He also starred in the 2010 John Landis-produced thriller Some Guy Who Kills People, which was directed by Jack Perez. In 2015, he co-starred with Guy Pearce in Results, the fifth feature film by writer-director Andrew Bujalski.
The film had its world premiere at the 2015 Sundance Film Festival and was released theatrically on May 29, 2015, and has an 82% rating on Rotten Tomatoes. Corrigan plays bass in the band Crystal Robots.
Kevin Corrigan  Nationality
His nationality is American.
Kevin Corrigan  Net Worth
The American actor has a net worth of $500 thousand dollars.
Kevin Corrigan  Measurement
Kevin has a height of 5 feet 8 inches (1.73 meters) and weighs 60 Kgs.
Kevin Corrigan  Filmography
-1989 Lost Angels
-1990 The Exorcist III
-Men Don't Leave
-Goodfellas
-1991 One Good Cop
-Billy Bathgate
-1992 Zebrahead
-Jumpin' at the Boneyard
-1993 True Romance
-The Saint of Fort Washington
-1994 Family Remains
-American Standoff
-The Last Good Time
-Rhythm Thief
-1995 An Eviction Notice
-Living in Oblivion
-Bad Boys
-Kiss of Death
-Drunks
-1996 Bandwagon
-Walking and Talking
-The Pallbearer
-Trees Lounge
-Illtown
-1997 Kicked in the Head
-Revelation
-Henry Fool
-1998 Buffalo '66
-Slums of Beverly Hills
-Lulu on the Bridge
-Brown's Requiem
-1999 Roberta
-Coming Soon
-Love Bites
-Detroit Rock City
-2000 Steal This Movie!
-Broke Even
-Chain of Fools
-2001 Scotland, PA
-2003 See Jane Run
-Chelsea Walls
-American Saint
-When Zachary Beaver Came to Town
-2004 Wake Up, Ron Burgundy: The Lost Movie
-2005 Lonesome Jim
-Sexual Life
-Break a Leg
-The Honeymooners
-2006 Out There
-The Dog Problem
-The Last Winter
-The Departed
-Delirious
-Feel
-2007 On the Road with Judas
-Goodbye Baby
-Superbad
-American Gangster
-2008 Definitely, Maybe
-RSO [Registered Sex Offender]
-The Toe Tactic
-Pineapple Express
-Nick and Norah's Infinite Playlist
-2009 Hit and Run
-Big Fan
-2B
-The Mother of Invention
-Harmony and Me
-Don't Look Up
-Today's Special
-2010 The New Tenants
-Please Give
-Circus Maximus
-Unstoppable
-The Next Three Days
-2011 Some Guy Who Kills People
-Moves: The Rise and Rise of the New Pornographers
-The Chaperone
-Brutal
-2012 The Dictator
-Seven Psychopaths
-2013 Life of Crime
-2014 Winter's Tale
-Wild Canaries
-2015 Cymbeline
–Results
-Knight of Cups
-Meadowland
-The Missing Girl
-2016 Ordinary World
-2017 Take the 10
-Infinity Baby
-2019 Cliffs of Freedom
-Lost Girls
-2020 Untitled Judd Apatow/Pete Davidson film
-1989 ABC Afterschool Special
-CBS Schoolbreak Special
-1989–90 Superboy
-1991 Dead and Alive: The Race for Gus Farace
-1996–97 Pearl
-1997 Subway Stories: Tales from the Underground
-1998 Homicide: Life on the Street
-2000 Freaks and Geeks
-2001–05 Grounded for Life
-2003 Hack
-Sick in the Head
-2007 The Black Donnellys
-2009 Medium
-Law & Order
-Damages
-Californication
-Mercy
-2009–11 Fringe
-2010 Law & Order: Special Victims Unit
-2010–14 Community
-2011 CSI: Miami
-2012 Made in Jersey
-2012–13 The Mentalist
-The Mob Doctor
-2013 Men at Work
-Necessary Roughness
-2015 Public Morals
-2016 Portlandia
-2016–17 Dice
-The Get Down
-2017 Blue Bloods
-2018 Deception
Kevin Corrigan  Facebook
Kevin Corrigan  Twitter
Kevin Corrigan  Instagram
---
We endeavor to keep our content True, Accurate, Correct, Original and Up to Date.
If you believe that any information in this article is Incorrect, Incomplete, Plagiarised, violates your Copyright right or you want to propose an update, please send us an email to informationcradle@gmail.com indicating the proposed changes and the content URL. Provide as much information as you can and we promise to take corrective measures to the best of our abilities.
---