Kim Clijsters Biography| Wiki
Kim Clijsters is a Belgian former professional tennis player, the first Belgian player to attain the No. 1 ranking. She plans to make her return to professional tennis in 2020. Clijsters has won 41 singles titles and 11 doubles titles on the Women's Tennis Association (WTA) Tour.
Kim Clijsters Age and Birthday
Kim Antonie Lode Clijsters is 36 years old as of 2019, she was born on 8th June 1983 in a small town in northeastern Belgium. She celebrates her birthday on 8th June every year. Besides, Clijsters will be 37 years old on June 8th, 2020.
Kim Clijsters Height and Weight
Clijsters stands at a height of 5 feet 9 inches. In terms of meters, she is about 1.74 meters high. She has a bodyweight of 68 kgs. In terms of pounds, Kim weighs about 150 Ibs. Moreover, the former world No.1 tennis player has hazel brown eyes and straight blonde hair.
Kim Clijsters Parents
Clijsters is the daughter of Lei Clijsters and Els Vandecaetsbeek, both of whom were accomplished athletes. Kim's mother Els is a former  Belgian national artistic gymnastics champion.
Kim's father Lei was a professional football defender who played for a variety of clubs in the top-flight Belgian First Division, including KV Mechelen with whom he won the UEFA Cup Winners' Cup in 1988. Her father was also a member of the Belgium national football team, tallying 40 caps and competing in two World Cups.
Kim Clijsters Siblings| Sister
Antonie Lode Clijsters is not the only child to Lei and Els, she has a younger sister who goes by the name Elke Clijsters, born on 18, January 1985. Likewise, Elke was once a professional female tennis player who turned pro in 2000 and retired in 2004.
She credits her parents for giving her a footballer's legs and a gymnast's flexibility. Kim also attributes her success to the freedom they gave her when she was a young player, saying, "Without the support I've had from my family, I wouldn't be where I am. They've let me make my own decisions."
When she was five years old, her father built a clay tennis court at their home as a gift to his daughter to celebrate him winning the 1988 Gouden Schoen, an award given to the player of the year in the Belgian First Division. Her father had previously announced the idea of the gift as a celebration of the award during a television interview. Unfortunately, Kim's father died of lung cancer on 4 January 2009.
Kim Clijsters Husband
In December 2003, Kim Clijsters announced her engagement to Australian Lleyton Hewitt, but their relationship ended in October 2004.
In October 2006, Clijsters announced her engagement to American basketball player Brian Lynch, who was then playing for Euphony Bree in Clijsters' hometown of Bree. Clijsters and Lynch married privately on 13 July 2007,  at the Bree city hall. They were married by the mayor, with sister Elke, Lynch's brother Pat Lynch, and both sets of parents present.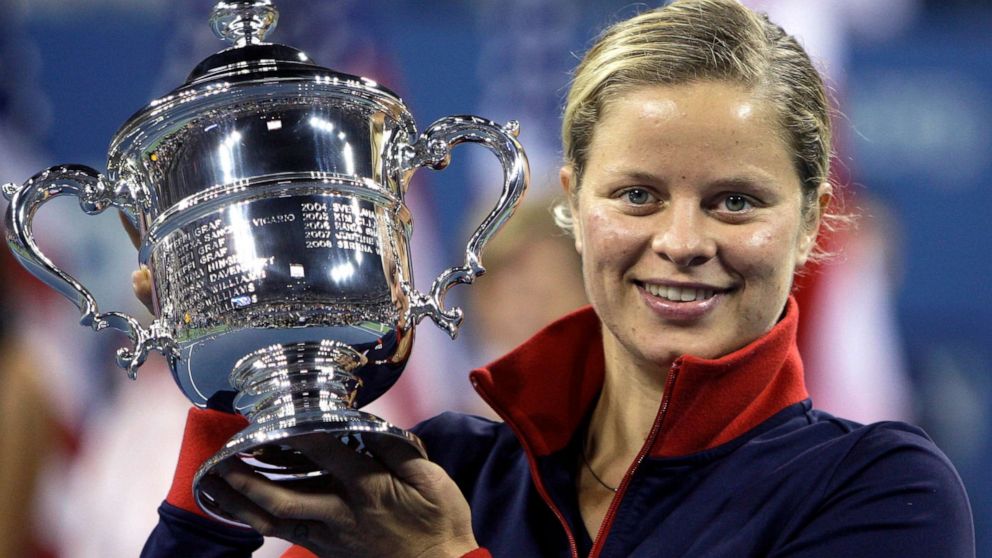 Kim Clijsters and Brian Lynch Children
Clijsters and her husband have three children: a daughter, Jada Elle, born on 27 February 2008, a son, Jack Leon Lynch born on 18 September 2013 and a son, Blake Richard Lynch born in October 2016.
Kim Clijsters Kids
Jada Elle
Jack Leon Lynch
Blake Richard Lynch
Kim Clijsters Facts and Body Measurements
♦ Here are some interesting facts you don't want to miss about Kim Clijsters
» Full Name: Kim Antonie Lode Clijsters
» Age/ How Old?: 36 years old as of 2019.
≥ Date of Birth: 8th, June 1983
≥ Place of Birth: Bilzen, Belgium
» Birthday: 8th June
» Nationality: Belgian
≥ Father's Name: Lei Clijsters
≥ Mother's Name: Els Vandecaetsbeek
» Siblings: one sister
» Married?: Yes
≥ Children/ Kids: 3
≥ Height/ How tall?: 1.74 meters high
» Weight: 68 kgs
≥ Profession: Tennis player
≥ Net worth: $20 million
Tennis Player Kim Clijsters
Kim Clijsters started playing tennis at age five with her cousins, and her parents took her to watch matches around Europe. Her favorite tennis player growing up was Steffi Graf.
She was an accomplished junior player. In singles, she finished as runner-up in the 1998 Wimbledon junior event, finishing 11th in the year-end singles ranking. In the same year in doubles, Clijsters won the French Open title with Jelena Dokić, defeating Elena Dementieva.
Reaching the finals with Nadia Petrova, as well as the US Open with Eva Dyrberg. Clijsters ended the season as no. 4 in the International Tennis Federation junior doubles world ranking.
Clijsters WTA
In 1999, Kim Clijsters made her breakthrough professionally. She qualified for her first WTA tournament in Antwerp but lost in the quarterfinal.
She also reached the doubles quarterfinals of the same event with India's Nirupama Vaidyanathan. At the end of the year, she was granted the WTA Most Impressive Newcomer award, the only Belgian player to have received this trophy.
Clijsters and Serena Williams
In 2001, she reached her first Tier I final at the tournament in Indian Wells, California, losing to Serena Williams in a match overshadowed by controversy. Clijsters also reached her first Grand Slam final at the French Open, where she lost to Jennifer Capriati.
At the end of 2002, when she won the year-end Home Depot Championships in Los Angeles, defeating top-ranked Serena Williams in the final. On her way to the final, Clijsters defeated fourth-ranked Justine Henin and second-ranked Venus Williams, becoming just the fourth player to beat both of the Williams sisters in the same event.
Clijsters at Adidas Internationa
In 2003 Clijsters started her season at the Adidas International, where she won her first tournament of the year. She reached the final after defeating Patty Schnyder, Chanda Rubin, and Justine Henin.
Clijsters' third title of the year came at the Telecom Italia Masters in Rome, where she defeated Amélie Mauresmo in the final. At the French Open, Clijsters reached the final for the second time in three years, after defeating Nadia Petrova.
Kim Clijsters Grand Slam US Open in 2005
Clijsters won her first Grand Slam singles title at the US Open in 2005, after having reached four Grand Slam finals previously. By winning the US Open Series Kims doubled her US$1.1 million in prize money she received for winning the US Open, to US$2.2 million.
Clijsters in 2007
2007 was to be Clijsters' final year on tour, as she had planned in 2005 to retire at the end of the 2007 season. She started the year by winning an exhibition tournament, the Watson Water Challenge, in Hong Kong.
She then won the Medibank International in Sydney, defeating Nicole Pratt, Shahar Pe'er, Li Na, and Jelena Janković to claim the title, after being match point down in the final.
Proximus Diamond Games
Kim Clijsters next played in Belgium at the Proximus Diamond Games, after pulling out of the Open Gaz de France with a hip injury. She reached the final unbeaten, though she lost. In her first clay tournament of the year in Warsaw, Clijsters failed to defend her title, when she lost to Julia Vakulenko.
On 6 May 2007, citing injuries, Clijsters announced on her official website that she was cutting short her season and bringing forward her plans to retire from professional tennis.
Almost two years after her retirement and one year after the birth of her daughter in February 2008, it was announced that Clijsters, along with Tim Henman, Steffi Graf, and Andre Agassi, would play an exhibition event on Wimbledon's Centre Court in May, in order to test the new roof.
Kim Clijsters  Second WTA
In 2009, she came back and won her 2nd slam title. In March 2010, Clijsters won the Laureus World Sports Award for Comeback of the Year. She also won the WTA Comeback Player of the Year and the Karen Krantzcke Sportsmanship Award for the seventh time.
Clijsters started her 2010 campaign at the Brisbane International in Australia as the top seed. In the same year, she collected another grand slam title to make them three grand slam titles.
Clijsters 2012 Retirement
On New Year's Day(2010), Clijsters defeated world No. 1, Caroline Wozniacki, in an exhibition match at the World Tennis Invitation in Thailand.
She began her 2012 season at the Brisbane International.
She was leading in the first round and comfortably won her quarterfinal match. Clijsters comfortably won her quarterfinal match, however, Clijsters received a medical timeout for a hip spasm. She played only one game afterward, retiring to hand the match to Hantuchová. She officially retired on 2 September 2012.
Post-retirement
Kim competed at the Diamond Games in December 2012, dubbed the 'Kim's Thank You Games', as a ceremonial farewell in her native Belgium. In December 2013 at the Kim Clijsters Invitational (Diamond Games).
At the Antwerp Sports Palace in Belgium, former and current tennis stars took part in some singles and mixed doubles exhibition matches. Kim and Xavier Malisse were victorious over Kirsten Flipkens and Henri Leconte in mixed doubles.
Clijsters competed in the Women's Legends Doubles event at the 2014 French Open in June 2014 alongside Martina Navratilova as her partner. They won the doubles event defeating Nathalie Dechy and Sandrine Testud.
2017 Wimbledon Championships
Kim Clijsters served in 2014 as Tournament Director for the Proximus Diamond Games in Antwerp, which had been previously played as a tournament and then as an exhibition.
In July 2017 Clijsters participated in the Ladies' Invitation Doubles match at the 2017 Wimbledon Championships with Rennae Stubbs, playing against Andrea Jaeger and Conchita Martinez.
Clijsters and Stubbs later won the match 6–2 7–5. On 22 July 2017, Clijsters was inducted into the International Tennis Hall of Fame in Newport, R.I.
Kim Clijsters returns to Tennis
Clijsters announced she was back in training with a view to returning to the WTA circuit in 2020, after taking a second prolonged break from the game to raise three children.
It will be the second time Clijsters will return to the professional tour after an extended break from the game; she shocked the tennis world in 2007 by announcing her first retirement at the age of 23 due to severe injuries and a desire to start a family.
She had her first child and then returned to the sport in 2009, enjoying success before retiring again in 2012, subsequently having two more children.
Kim Clijsters Net worth
Clijsters has an estimated net worth of $20 million dollars. She had success at both the national and international levels at a very young age. In 1993, she won the 12-and-under division of the Belgian Junior Championships (the Coupe de Borman) in doubles with her future longtime rival Justine Henin. She has amassed her wealth from the many matches she has played.
Kim Clijsters Serena Williams
In September 2009 during the US Open 2009, Serena Wiliams lost to Kim Clijsters after she received a point penalty for intimidating a line judge by allegedly telling her: "I swear to God, I'm f—— going to take this f—— ball and shove it down your f—— throat, you hear that? I swear to God." This helped Clijsters to go through to the finals where she played Caroline Wozniacki, a teenager from Denmark.
Kim Clijsters Academy
The Kim Clijsters Academy (KCA) is located in the city of Bree, Belgium. The academy is the perfect place for every young aspiring tennis player to reach his or her goals in professional tennis. Each player is important for the academy and the objective is to get the maximum out of every player.
The facility offers 8 indoor courts and 10 outdoor red clay courts. Under the guidance of her former fitness coach and osteopath Sam Verslegers, there is a whole team of therapists available including acupuncturist, dentist, physiotherapy, massage, etc… This holistic approach makes sure that every athlete can perform at his/her optimal level!
Frequently Asked Questions About Kim Clijsters
Who is Kim Clijsters?
Clijsters is s a Belgian professional tennis player. She has been a world No. 1 in both singles and doubles, having held both rankings simultaneously in 2003.
How old is Kim Clijsters?
Clijsters is a Belgian national born on 8th June 1983, in Bilzen, in Belgium. She is 36 years old as of 2019, she will turn 37 on 8th, June 2020.
How tall is Clijsters?
Clijsters stands at a height of 1.74 meters tall
Is Kim Clijsters married?
Yes, she is married to Brian Lynch. They got married on 13 July 2007 and together they have three children. The couple resides in Bree in Belgium together with their children.
How much is Kim Clijsters worth?
Clijsters has an estimated net worth of $20 million. This amount has been accrued from her career as a professional tennis player
Where does Clijsters live?
She is a resident of Bree in Belgium, we shall upload pictures of her house as soon as we have them.
Is Clijsters dead or alive?
Kim is alive and in good health. There have been no reports of him/her being sick or having any health-related issues.
Where is Clijsters Now?
She is planning her return to professional tennis in 2020
Kim Clijsters Twitter
Kim Clijsters Instagram
---

We endeavor to keep our content True, Accurate, Correct, Original and Up to Date.
If you believe that any information in this article is Incorrect, Incomplete, Plagiarised, violates your Copyright right or you want to propose an update, please send us an email to informationcradle@gmail.com indicating the proposed changes and the content URL. Provide as much information as you can and we promise to take corrective measures to the best of our abilities.
---