Kim Kardashian Biography
Kim Kardashian is an American Reality Television Personality, Socialite, Actress, Businesswoman, and Model. She was born on October 21, 1980, in Los Angeles, California, to parents Robert and Kris (née Houghton). She has an older sister Kourtney, a younger sister Khloé, and a younger brother Rob. Their mother is of Dutch, English, Irish and Scottish ancestry, while their father was a third-generation Armenian American. After their parents divorced in 1991, her mother married again that year, to Caitlyn Jenner (then Bruce), the 1976 Summer Olympics decathlon winner.
She attended Marymount High School, a Roman Catholic all-girls school in Los Angeles. In 1994, her father represented football player O. J. Simpson during his murder trial. Simpson is Kim Kardashian's godfather. Kim's father died in 2003 of cancer. In her 20s, Kardashian was the close friend and stylist of socialite Paris Hilton, through whom she first garnered media attention.
Kim Kardashian Movie Career
She and her family began to appear in the E! reality television series Keeping Up with the Kardashians. Its success soon led to the creation of spin-offs including Kourtney and Kim Take New York and Kourtney and Khloé Take Miami. Kardashian's personal life soon became subject to widespread media attention. In October 2007 Kardashian, in addition to her mother Kris Jenner, her step-parent Caitlyn Jenner (Bruce), her siblings Kourtney, Khloé, and Rob Kardashian, and half-sisters Kendall and Kylie Jenner, began to appear in the reality television series Keeping Up with the Kardashians. The series proved successful for E!, and has led to the creations of spin-offs including Kourtney and Kim Take New York and Kourtney and Kim Take Miami. In one of the episodes, Kim discussed an offer from Playboy to appear nude in the magazine. That December, Kardashian posed for a nude pictorial for Playboy2010 saw Kardashian venture into several new endorsement deals, including endorsing various food products for Carl's Jr. In January 2010, she starred as Summa Eve in the film Deep in the Valley. In April, Kardashian sparked controversy over the way she held a kitten for a photograph, holding it by the scruff of its neck. With sisters Kourtney and Khloé, Kardashian is involved in the retail and fashion industries. They have launched several clothing collections and fragrances.
In recent years, Kardashian has grown an influential online and social media presence, including tens of millions of followers on Twitter and Instagram. She has released a variety of products tied to her name, including the successful 2014 mobile game Kim Kardashian: Hollywood, a variety of clothing and products, and the 2015 photo book Selfish. Her relationship with rapper Kanye West has also received significant media coverage; the couple married in 2014 and they have two children together. Time magazine included Kardashian on their list of 2015's 100 most influential people, while Vogue described her in 2016 as a "pop culture phenomenon." Critics and admirers have described her as exemplifying the notion of being famous for being famous. She was reported to be the highest-paid reality television personality of 2015, with her total earnings exceeding US$53 million.
Kim Kardashian Age
She was born on 21 October 1980, Los Angeles, California, United States. She celebrates her birthdate every year on 21 October.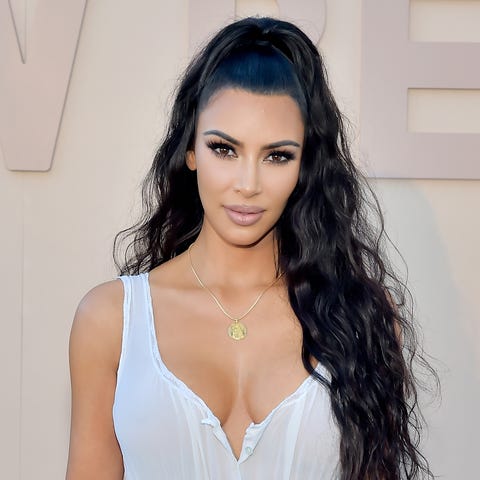 Kim Kardashian Parent
Her father's names are Robert Kardashian who was an American Attorney and Businessman and her mother goes by the name Kris Jenner who is an American Television Personality.
Siblings
Her sisters – Kylie Jenner, Khloé Kardashian, Kourtney Kardashian, Kendall Jenner,  and Cassandra Marino.
Her Brothers – Rob Kardashian, Brody Jenner, Brandon Jenner, and Burt Jenner.
Husband
She is married to Kanye West. The couple tied their knot on May 24, 2014, at Fort di Belvedere in Florence, Italy and together they are blessed with four children namely, Chicago West, Saint West, Psalm West, and North West. The couple resides in the United States together with there kids.
Kim Kardashian Facts and Body Measurements
Here are some of the facts you don't want to miss about Kardashian
Kim Kardashian Salary
There are no details showing her annual or monthly earnings, her salary figures will be updated as soon as they are available.
Kim Kardashian Net Worth
She may have commanded a massive $ 370 million in playing salary over her career, but her net worth is really owed to her flourishing endorsement portfolio and his entrepreneurial spirit.
Kim Kardashian Becoming A Lawyer
Kim Kardashian revealed in her interview last week that she is studying to become a lawyer. She's not in law school though—but in California, she can become a lawyer without a law school degree by doing a four-year apprenticeship at a law firm. Kardashian is currently working at one in San Francisco.
Her father, Robert Kardashian, was an attorney who gained notoriety serving on O.J. Simpson's defense team, but Kardashian West's own interest in the law grew from her work with CNN commentator and criminal justice reform advocate Van Jones on his efforts to "shrink the incarceration industry." Kardashian West made a much-publicized visit to the Oval Office to advocate for Alice Marie Johnson, a 63-year-old great-grandmother who was sentenced to life in prison for a nonviolent drug offense. After her meeting with President Donald Trump, Johnson was granted clemency.
Kim Kardashian: Hollywood Game
In Kim Kardashian: Hollywood, players aim to increase their reputation by gaining fans in order to become A-List celebrities. Players can gain more fans by booking modeling jobs, acting jobs, and club appearances, and going on dates. Actions taken during jobs and dates cost energy, which refills over time but gain the player money and experience. High ratings on jobs and dates earn you more fans and increase your celebrity ranking. Although the game is free-to-play, in-game money and "K-stars", which can be used to buy clothing, accessories, or refill your energy, it can be purchased for a fee although you can watch a short video or ad to receive free K coins or energy.
The CEO of Glu Mobile, Niccolo De Masi, first approached Kim Kardashian about creating a mobile game in early 2013 while he was in Hollywood to negotiate multiple unrelated deals. The company wanted to make a casual roleplaying game that would "reuse engines but could add popular appeal," and felt that Kardashian was "the best brand fit in the world." The game took about 18 months to develop. Kardashian was involved in the development of the game, and according to De Masi, "[Kardashian] approved every item of clothing [used in the game], we discuss features, we discuss events, updates, etcetera. She's reviewed all the [production] milestones, from alpha to beta, final gold master.
Hollywood was released on iOS and Android on June 27, 2014. In the first five days after its release, the game made $1.6 million. By mid-July, it was one of the top five games in the iOS App Store and was the only game in the top ten to have a five-star rating. By the end of its first quarter, it had 22.8 million players, had made $43.4 million, and had been played more than 5.7 billion minutes.
Instagram
Kim Kardashian Twitter
Kim Kardashian Facebook