Lana Biography
Lana is an American professional wrestler, wrestling manager, dancer, singer, model, and actress. She is best known by her ring name 'Lana' and is currently signed to the world-renowned professional wrestling promotion, 'WWE.'
Lana started her career at 'WWE' in 2013, when she became part of the promotion's developmental branch 'NXT.' She was eventually included in the main roster and started appearing in the promotion's leading shows, 'SmackDown Live' and 'WWE Raw.'
Though she has competed in various wrestling matches, Lana is best known for managing Bulgarian wrestler Alexander Rusev's career.
Apart from appearing in 'WWE,' she has also played prominent roles in films, such as 'Soul' and 'Interrogation.' In 2016, she became part of the main cast of the popular reality television series 'Total Divas.'
---
10 Quick Facts About Lana
Name: Lana
Age: To be updated
Birthday: March 24
Zodiac Sign: To be updated
Height: Average
Nationality: American
Occupation: Professional wrestler, wrestling manager, dancer, singer, model, and actress
Marital Status: Married
Salary: $200000
Net worth: To be updated
---
Lana Age
Lana was born Catherine Joy Perry on March 24, 1985, in Gainesville, Florida, United States of America. She grew up in the Latvian SSR along with her three younger siblings.
Lana Early Life
As a kid, Perry aspired to become a ballet dancer. She went to 'Riga Choreography School' where she practised ballet. At the age of 14, she started dancing with the 'Latvian National Ballet.'
She returned to the United States at the age of 17 and started living in New York City. She then started performing at places like 'Martha Graham Center of Contemporary Dance,' 'Alvin Ailey American Dance Theater,' 'Broadway Dance Center,' and 'Ballet Hispanico.' She then joined 'Florida State University' in Tallahassee, majoring in acting and dance.
While attending 'Florida State University,' She supported the 'Florida State Seminoles' football team by attending their games along with several other students.
During a game between 'Miami Hurricanes' and 'Florida State Seminoles,' Lana and her friends were acknowledged by commentator Musburger which increased their popularity.
Lana turned this popularity into a modelling career, working with brands, such as 'RIDGID Tool Calendar,' 'Red Bull,' and 'Matrix.' After graduating from 'Florida State University,' she moved to Los Angeles, California, in an attempt to establish a career in the entertainment industry.
Lana 
Music and Acting career
In 2009, Lana joined No Means Yes, a girl group signed to Ne-Yo's record label comprising Lana (billed as "C.J."), Kat, Shea, and Tanu.
The group released one single, "Would You Like That", and recorded two others ("7 Years Bad Luck" and "Burn Rubber") before disbanding in 2010. Perry later stated:
A girlfriend of mine in college referred me to the man that was putting the group together. Honestly I was so scared to sing and I didn't even know a song to sing at the audition so I sang "Jesus Loves Me". I remember them saying "we can work with her tone because she has the right look and she is a model that break dances". I'm so thankful to this day for that experience because I do not think I would have ever gotten the role in Pitch Perfect if I hadn't overcome my fear to open my mouth and sing."
Lana went on to work as a backup dancer for performers such as Keri Hilson, Nelly, Pink, Usher, Akon, and Rich Boy. In 2013, she starred alongside Kelley Jakle in the music video for Jakle's cover of the Paramore song "Ain't it Fun".
She trained as an actress at The Groundlings School and under the acting coaches Lesly Kahn and Larry Moss. She went on to appear in acting roles such as an episode of The Game in 2011, the lead role in I.C.I.R.U.S. in 2011, the musical comedy film Pitch Perfect in 2012 and the 2015 sequel Pitch Perfect 2, and an episode of Banshee in 2013.
In 2016, she starred in the WWE Studios production Interrogation alongside WWE Hall of Famer Adam "Edge" Copeland.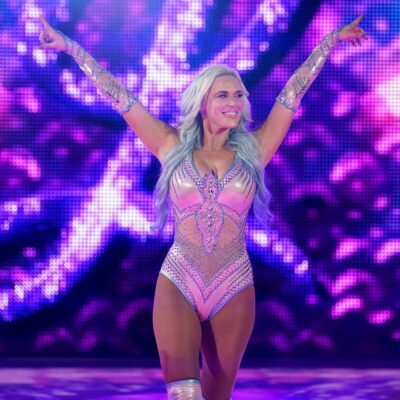 Lana 

WWE

In June 2013, She revealed that she had been signed to WWE and was sent to their developmental branch NXT. She debuted on the October 23, 2013, episode of NXT, under the ring name "Lana", scouting Alexander Rusev.

On the November 6 episode of NXT, She became Rusev's "social ambassador", using a Russian accent and developing a character who majored in Foreign Affairs and Business and Social Media Marketing in college.

Lana made her main roster debut on the January 31 episode of SmackDown, where she and Rusev in the following weeks appeared in a series of self-promotional videos and speeches.

In early May, Lana began dedicating Rusev's matches to her "hero", President of Russia Vladimir Putin, as well as adopting an anti-American, Russophilic gimmick.
Lana and Dolph Ziggler
Following the November 3 episode of Raw, Rusev defeated Sheamus on WWE Network to capture the United States Championship. At WrestleMania 31, Rusev lost the title to Cena after Rusev accidentally crashed into Lana, knocking her off the ring apron.
On May 17, at Payback, Cena defeated Rusev in an "I Quit" match after Lana quit on Rusev's behalf. The following night on Raw, Lana justified her actions by explaining that Rusev said he quit in Bulgarian, only for him to harshly dismiss her; later that night, Lana kissed Dolph Ziggler, turning her face and officially ending their association.
After Ziggler being injured by Rusev, he went to return on the August 17 episode of Raw, aiding Lana during a confrontation with Rusev and Summer Rae.
Rae went on to "seduce" Ziggler in order to end his relationship with Lana, but the storyline ended quietly after WWE announced that Lana had injured her wrist while training.
On October 11, TMZ reported that Lana had gotten engaged to Rusev, which Lana confirmed. Lana made her return, once again as a villainess, on the November 30 episode of Raw, where she and Rusev referenced their engagement.
In-ring competitor (2016–present)
On the February 29, 2016 episode of Raw, Lana confronted Brie Bella during a backstage segment, arguing that Bella's fans only supported her out of pity for having a "bad husband".
On the March 14 episode of Raw, she distracted Brie during a tag team match against Team B.A.D. (Naomi and Tamina), causing her to lose, and aligned herself with Team BAD.
On the March 22 episode of Main Event, she brought the returning Emma and Summer Rae to her guild. As a result, Lana faced off Bella in a tag team match at the WrestleMania 32 pre-show, in what would be Lana's in-ring debut, which her team (dubbed Team B.A.D. & Blonde) lost.
Lana made her return on the June 6 episode of SmackDown Live, unsuccessfully vying to compete in the impending women's Money in the Bank ladder match, while also igniting a feud with SmackDown Women's Champion Naomi.
On June 18, Lana was defeated by Naomi in her first televised singles match at Money in the Bank. She went on to compete against Naomi two more times on the June 27 and July 4 episodes of SmackDown Live, where she was defeated both times.
On July 23 at Battleground, Lana competed in a five-way elimination match to determine the number one contender for the SmackDown Women's Championship, where she was eliminated by Becky Lynch.
At the Royal Rumble on January 28, 2018, she participated in the first-ever women's Royal Rumble match as the 13th entrant but was eliminated by Michelle McCool. Lana would compete in the WWE Mixed Match Challenge, teaming with Rusev, where they defeated Elias and Bayley in the first round, marking Lana's first official win in WWE.
On the May 22 episode of SmackDown Live, she defeated Billie Kay to qualify for the women's Money in the Bank ladder match marking her first singles win in the company. At the event, she failed to win the ladder match.
Lana Marriage
According to reports, Lana dated former football player and actor, Isaiah Mustafa in the past. They met in an acting class and went out for quite, a number of times, however, they broke up in2013.
The reports of Lana and a Bulgarian wrestler, commonly known as Rusev dating first surfaced in late 2014. It was reported that they had grown very close as they were working together in the NXT division of WWE.
Both got married on June 2016, in Malibu beach.
Lana Net Worth
After arriving in the WWE, the company used her mostly in managing roles alongside Rusev. Initially, her salary used to be around $75000-$100000 in 2014. But she picked up the nag of wrestling and now became a regular competitor on Smackdown Live. No wonder why Lana's salary has reached a $200000 figure.
One of the main reasons for this is Lana's mainstream attention. She is one of the hottest women present in the WWE who grabbed the Total Divas show from 2016 onwards.
This made her one of the biggest reasons to watch the show. Her actions on Total Divas show have been able to stir the pot creating controversies. Currently, Lana has a net worth of $ 2million
Lana Bobby Lashley
WWE star Lana takes off her bra and strips down in bed with Bobby Lashley as affair storyline hots up on Monday Night RAW
WWE star Lana stripped down in bed with Bobby Lashley as their affair storyline develops. For more information Click this here.
Lana Instagram
Related Biographies
You may also like to read the Bio, Career, Family, Relationship,  Body measurements, Net worth, Achievements, and more about: