Larry Wilmore Biography | Comedian Larry Wilmore
Larry Wilmore ( Elister L. "Larry" Wilmore) is an American comedian, writer, producer, and actor. He hosted The Nightly Show with Larry Wilmore in 2015 and 2016 and also served as the "Senior Black Correspondent" on The Daily Show from 2006 to 2014. Wilmore is also the creator of the sitcom The Bernie Mac Show.

Larry Wilmore Age
Elister L. Wilmore was born on 30 October 1961 in Los Angeles County, California, U.S. He is 57 years old as of 2018.
Larry Wilmore Parents
Wilmore was born to parents Betty and Larry and raised in suburban Pomona and is from Evanston, Illinois. Wilmore was born catholic the third of six children. He has a brother Marc who is also a television writer, actor, and producer.
Larry Wilmore Wife
Wilmore married actress Leilani Jones in 1995 and married the couple was in the marriage for 20 years till their dibvorce in 2015. The couple has two children together. He resided in San Marino, California with his family until he moved to New York City to work on The Nightly Show with Larry Wilmore.
The Nightly Show With Larry Wilmore | Larry Wilmore The Nightly Show | The Larry Wilmore Show
Wilmore started hosting The Nightly Show with Larry Wilmore, a late-night panel talk show that aired on Comedy Central on January 19, 2015. The show was a spin-off of The Daily Show, and also served as a replacement for The Colbert Report.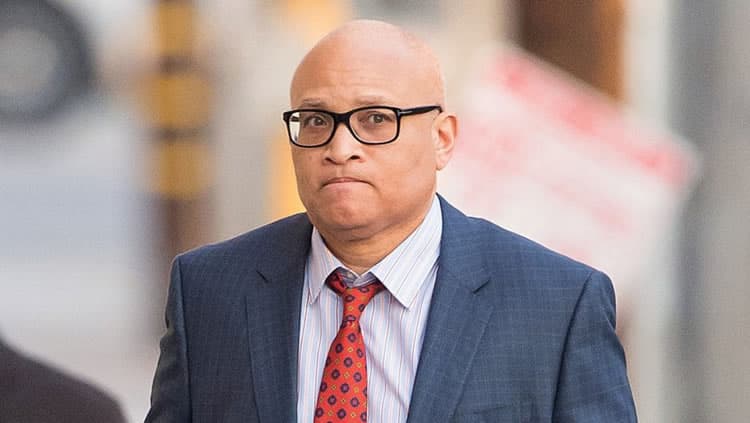 Larry Wilmore Bill Nye
The show was produced by Jon Stewart's production company Busboy Productions being criticized for a controversial segment featuring Bill Nye in September 2015. That segment may have negatively affected viewership, with ratings down more than half from the year before. Comedy Central announced on August 18, 2016 that Wilmore's show had been cancelled. It ended on August 18, 2016 having ran for 259 episodes.
Larry Wilmore Daily Show | Larry Wilmore Comedy Central
He began appearing regularly on Comedy Central's The Daily Show in 2006. There, he was billed as the "Senior Black Correspondent" or a derivative form of the title, such as the "Senior Executive Commander-in-Chief Who Happens To Be Black Correspondent" following the election of Barack Obama. Wilmore's work on the show mostly centered on humorous observations of the Black experience in American society.
Hyperion published Wilmore's I'd Rather We Got Casinos: And Other Black Thoughts, as "a faux collection of articles, essays, radio transcripts, and letters exploring the more ludicrous angles on race."He originated the titular phrase I'd Rather We Got Casinos in a January 2007 Daily Show appearance.
Larry Wilmore Bill Simmons
He started hostin a podcast in May 2017 as part of The Ringer podcast network which is headed by Bill Simmons.
Larry Wilmore The Office
In the American television sitcom The Office, Wilmore was a consulting producer from 2005 to 2007, and also made an appearance on the show as Mr. Brown, during the episode, "Diversity Day" as a diversity consultant.
Larry Wilmore Podcast
Black on the Air
Larry Wilmore Black On The Air
Larry hosts the podcast Black on the Air where he weighs in on the issues of the week and interviews guests in the worlds of politics, entertainment, culture, sports, and beyond.
Larry Wilmore Blackish
Wilmore served as an executive producer for the ABC television series Black-ish. He joined the plot episode in 2014 as a showrunner. Anthony Anderson announced that Larry would be stepping down as showrunner early in the show's run due to his forthcoming late night show, The Nightly Show with Larry Wilmore
Larry Wilmore Net Worth
Larry has an estimated net worth of $3 million.
Larry Wilmore Movies
| | | |
| --- | --- | --- |
| Year | Title | Role |
| 2014 | Date and Switch | Mr. Vernon |
| 2012 | Vamps | Professor Quincy |
| 2010 | Dinner for Schmucks | Williams |
| 2009 | I Love You, Man | Minister |
| 1990 | The Ghost Writer | The Paramedic |
| 1983 | Good-bye, Cruel World | Sergeant, Thug |
| TBA | The Laundromat | |
Larry Wilmore TV Shows
Year

Title

Role

2017

Difficult People

Larry Wilmore

The Mayor

Vern

2016

White House Correspondents' Dinner

Himself (host)

2015–2016

The Nightly Show with Larry Wilmore

Himself (host)

2014

Playing House

Dr. Ullman

2014–2017

Penn Zero: Part-Time Hero

Principal Larry (voice)

2013

Malibu Country

Mr. Clark

NTSF:SD:SUV::

Historian

Instant Mom

Franklin Turner

2012

Bullet in the Face

Racken's Mafiosi #1

Race, Religion and Sex

Himself

2011

Traffic Light

Harvey

Love Bites

The Boss

2011–2012

Happy Endings

Mr. Forristal

2009–2010

Accidentally on Purpose

Dr. Roland

2008

How I Met Your Mother

Dr. Greer

2006–2014

The Daily Show

Himself (correspondent)

2006–2007

Help Me Help You

Larry, Jimmy

2005–2007

The Office

Mr. Brown

1999

The PJs

Various voices

1994

Sister, Sister

Bus Driver

1992

In Living Color

Various

1986

Sledge Hammer!

Mail Man, Terrorist #3

1983

The Facts of Life

Officer Ziaukus
Larry Wilmore Twitter
Larry Wilmore Instagram
Larry Wilmore Speech
Larry Wilmore Interview
Published: August 14, 2018
Q: You attended college in the L.A. area, at Cal Poly Pomona….
Larry Wilmore: Yes, I was a theater major. I was studying to be what I called "a serious actor," but I had an interest in stand-up. I remember lying my way into the Comedy Store, saying I was older than I was so I could go up on open mic night. I did a couple of impressions and some other stuff, and I killed the first night.
They asked me to come back a few weeks later. I remember I was sick as a dog, and I completely bombed. And no one talked to me. It was like I didn't even exist. I felt both the high and the absolute low of what stand-up can do, and that's kind of a metaphor for show biz in general. It discouraged me for a little bit. I buried my interests more in theater for a while.
Q: How did you make the leap back to stand-up?
Larry Wilmore: Before I jumped back into stand-up, I got an audition for The Facts of Life. I did two episodes, and it was amazing. I couldn't believe I was acting on television. I remember changing lines while I was doing it and not knowing that you probably shouldn't do that.
But I kept getting laughs by my improvised additions. I realized I liked creating, making something funnier, improving a line. I thought I should do more with this, and that's when I decided to get back into stand-up and do this for myself.
Q: How did you start writing for television?
Larry Wilmore: One of my frustrations being a stand-up and a black comic was, I didn't fit the mold of what a black comic was supposed to be in Hollywood.
During this time — the late '80s, early '90s — Def Comedy Jam was starting to be a thing. In Living Color was just starting up, and hip-hop was just kind of getting into flavor. But what was considered the "black comic" was somebody who usually was from the ghetto, with the fast-talking, street-wise, "urban" point of view, the "wise Negro" type of thing. Or it was talking explicitly about sex in a very brash way.
I just wasn't like that. I was kind of an understated, absurdist, political comic who had a writer's stand-up act. But I did very well in the comedy clubs. I headlined clubs, but I couldn't get any attention in Hollywood for who I was. I came to a point where I thought, "I'm going to have to discover myself in this business. I can't wait for Hollywood to discover me." That's when I decided to write and produce television.
Q: One of the early shows you wrote for was In Living Color….
Larry Wilmore: In Living Color truly was my big break. That opened up everything to me, because it was the hot show. I learned so much about television writing on that show.
Q: How so?
Larry Wilmore: Well, there was so much talent on that show. And the writers were so good and so smart and so funny. And diverse.
Keenen [Ivory Wayans] had a very diverse staff, in front of and behind the camera. Really smart writers, devastatingly funny, cruel, satirical, all the stuff that I loved in one place. Very hard job, too. One of the hardest jobs I've ever had. Because you had to pitch so much. Keenen was very demanding. And people got fired all the time; it was that type of situation. You had to learn how to survive.
Q: Eventually you became a co-creator on The PJs ….
Larry Wilmore: The PJs was another one of my transitions. I thought, "I've written for other people enough. Now I need to be like Keenen — I need to be creating content." I got an overall deal with Touchstone, and while I was there I got a call from someone who said that Eddie Murphy was interested in doing an animated show.
Q: For primetime.
Larry Wilmore: Yeah, primetime. I said, "That sounds pretty cool." I called my friend Steve Tompkins and asked him if he wanted to do this with me. Kind of talked him into it. Eddie's initial idea was "Puppets in the Projects" — he wanted to do something different. He thought all sitcoms were kind of looking the same at the time, and I was very much interested in doing something different, too.
Q: Were you involved in the day-to-day writing?
Larry Wilmore: Oh, yes. I put that up there with In Living Color as two of the funniest writing rooms I've ever been in. And we had a writer who was a born-again Christian, an Orthodox Jew, a gay writer. We had black female writers, a black male. We had white writers. We had so many different types in that room, from different experiences and worldviews….
Q: Was that accidental?
Larry Wilmore: No, it's always on purpose for me. I like diverse writing rooms because I want to hear different voices and opinions. I think it's really important.
Q: Let's talk about The Bernie Mac Show ….
Larry Wilmore: I was looking at television at the time [2001], and The Bernie Mac Show came out of three things — I talk about this when I talk to writers about how to create shows.
One is, "What is something that you want to express?" That could be a show. Another way to create a show is, "What's going on in the culture? What are you observing right now?" And the last thing is, "What's happening on television itself? What's happening in the medium that maybe you have a take on, a different way to do something with the form?"
With The Bernie Mac Show, all three of those things came together in my mind. The first was the form itself. Reality television, like The Real World, had had a huge success. There was a show on PBS called 1900 House, and they got this contemporary family to live as if it was the year 1900. And they had a confessional camera. I thought, "That would make an interesting show, to plant cameras and observe a family, rather than have the action presented to you."
So I started thinking about what that might feel like, but I didn't know what the show was.
Then I saw Kings of Comedy and Bernie Mac's act [in which he talks] about taking care of his sister's kids. I thought, "That's interesting. If I did a show with Bernie where he's taking care of his sister's kids because their mother's on crack, that draws me emotionally into the show — I'll accept the premise because I want to observe this."
So that's where I started. I pitched the idea to Bernie and his people; he liked it a lot. From there I pitched it to Fox, and they bought it in the room.
My process then was figuring out how to write the show, because it's not a regular sitcom. I had to train myself to write. One of the exercises I did was watching The Real World, and I noticed that at the act break there was nothing that was keeping me there. In most sitcoms there's action, and then at the act break there's a question as to what's going to happen as a result of that action.
The Real World didn't have that. It just stopped. And I'm like, "Why do I want to come back?" Then it dawned on me, "Maybe I'm just interested in this character's life. Maybe it has nothing to do with the plot."
That was my big revelation of how to write differently. I just had to let the characters exist and interact. One of the conventions was Bernie talking to the camera — I used the confessional. I was going to have him talking to us, but then something would happen and he would leave.
Q: Right…
Larry Wilmore: But it had to feel like an accident. So I put in intentional mistakes. Bernie leaves, and I wrote in that the camera stays there, uncomfortably, and we hear him off-screen. We [the audience] didn't know he was going to leave, so we weren't ready for that. I upset the rhythm of the show to give the audience the sense that they were observing, rather than that something was being presented to them.
Q: You were let go from the show in the second season….
Larry Wilmore: The network never believed in what I was doing. They always wanted it to be something else. I found out that the night that I won the Emmy, the head of Fox said, "Well, I guess now we can't fire him." I couldn't believe that.
Q: So you turned toward performing again….
Larry Wilmore: I knew it was time for me to do what I'd initially wanted to do — to create something for myself to perform in. I hadn't done stand- up for a while; I needed to get back in touch with an audience before I could pitch my own talk show.
[Producer-manager] David Miner suggested The Daily Show. I had a great meeting with Jon [Stewart], but I was very nervous because in your head you're thinking about the iconic people, like Stephen Colbert. You have that rhythm in your head, but you have to get that out, because you're not Stephen. I had to figure out who I could be on The Daily Show.
Q: How did you do that?
Larry Wilmore: When I was an actor, I always had authority. For some reason, people just believed what I said. I would get parts like principals, doctors, that kind of thing. So it makes sense that I would be an expert on something. And since race is the thing that I've dealt with satirically over the years, it seemed like that would be a good thing.
I think it was David Javerbaum, the head writer, who thought I should be called the "senior black correspondent," which was just brilliant.
Q: Because there were no other black correspondents for you to be senior to.
Larry Wilmore: That's exactly right. The Daily Show was very white at the time. They got criticized for it. On my first episode Jon said, "We have our black correspondent, Larry Wilmore," and everybody clapped and I was silent. He went, "Um… Larry?" and I was like, "Mm-hmm."
He went, "Oh, I'm sorry, our senior black correspondent," I went, "Thank you, Jon, thank you very much," and then we started talking.
It was funny finding that. And right before we shot it, I was sitting there very nervous because I didn't know how this was going to go.
Jon said, "Larry, just look in the camera — just fucking give it to America." That was his advice. That was the nicest thing anybody could have said. I'll never forget those words. It was so generous — he was looking out for me. So I got the first laugh, and my comedian's ego took over. I was reeling them in. It was a magical moment and started a great relationship.
Q: Then you returned to sitcoms….
Larry Wilmore: I went back to creating sitcoms when I met Issa Rae and decided that I wanted to write this thing she had pitched to HBO, which later became Insecure. While we were waiting for notes from HBO, I was approached about supervising the pilot for black-ishat ABC. I read Kenya [Barris's] script and he had me on page one — it just jumped off the page. I thought, "Absolutely I want to do this."
I felt at the time, "Larry, your role may be a little different now. Maybe you're becoming more of a mentor-collaborator in the business while you're still wanting to do other things."
But of course, as we were finishing it up, I got the call from Jon Stewart: "Hey, man, I got this idea for a show where there's people who don't get to be on television all the time, who get to have their voices heard, talking about subjects that don't get talked about all the time, and I think you should host it. What do you think?" Like, you have to be kidding me.
Q: This is your dream job. This is what you've been working toward.
Larry Wilmore: Yes. Right.
Q: What did you want to accomplish in that half hour?
Larry Wilmore: Everything that I ever learned in show biz I had to do in The Nightly Show. There were several things going on. There was the show that Jon had imagined — my leading a panel through the whole show. But I felt that it was very important for the audience to hear from me. I needed to have that first part of the show where I was weighing in.
I knew what I wanted to accomplish — that it's current, topical — but what is the show exactly? I remember getting up at four o'clock in the morning and I thought, "Why don't I just do a show where I'm telling the truth?" I said to myself, "Your show, Larry, is about keeping it 100 percent real. You're keeping it 100. I'll put that in the DNA of every part of the show. We're going to tell the truth. Now I can live or die with this. If I fail it's okay, because at least I know what it is now."
Q: And it was canceled, what, 16 weeks before the election?
Larry Wilmore: That stung. I was frustrated that the people on the show were out of jobs, first and foremost. But the secondary thing was not covering this historic [2016 presidential] election, and we had so many good ideas moving into that. With Trump in the White House now, I can only imagine the stories! That he thinks Frederick Douglass is still alive — I would have had Frederick Douglass on my show. He would have become a regular character.
Q: While the show was still running, you headlined the 2016 White House Correspondents Association dinner….
Larry Wilmore: It was one of those things that I wanted to do years ago, and it was my dream to be able to do it for Obama's last [year]. I asked Robin Thede to be my head writer, and she said yes. I felt I should do a roast and keep it at 100.
About a month before [the dinner] I said, "I have this idea to do something at the end where I very genuinely talk to the president." The president and I are the same age. When we were children, a black man couldn't even be a quarterback on a football team. I knew he would understand what I was talking about.
I wanted to express what [his presidency] meant to me, and I was almost crying as I was expressing this. Talking about it was so overwhelming, because that journey was ridiculous. And as a way to turn it upside down in a different way, I thought, for some reason, I just want to say, "Yo, Bar, you did it, my nigga."
Q: And you were ready for the criticism.
Larry Wilmore: I was completely ready for it. Of course, there's going to be criticism. I don't disagree with the criticism. People would say, "How could you do this?" and I'm like, "You're correct. We're both correct. It's something that shouldn't be said. That's why I, as an artist, said it. You wouldn't say it. That's why we're separate."
Q: As a child of the civil rights movement, what changes do you see for African Americans on camera and behind the scenes?
Larry Wilmore: It definitely goes in cycles. I've talked about this over the years and made jokes about it, some tasteful, some not so tasteful. Like I remember when Fox canceled a lot of their black shows when they got [the rights to] football. I remember I called it "an ethnic cleansing.
"Why do black shows have to be together all the time? Why can't they be with other shows? Behind the camera, in some ways it's gotten better. Certainly on the drama side, it's gotten so much better. Comedy side, it's not always better. There's still a dearth of writers of color, and that's a problem.
Adopted from: www.emmys.com