Who Is Lizzo?-Lizzo Biography
Lizzo is a highly-acclaimed American recording artist known best for songs like "Juice", "Boys", and "Good As Hell". The talented singer and rapper often incorporate themes of confidence and self-love into her music. Lizzo is also a talented flutist, having studied the instrument from a young age. Lizzo will release her third studio album later in 2019 so here are some facts about the talented musician that you might not have known before.
Lizzo Age
She was born on April 27, 1988, and is currently 31 years old as of 2019. Her birth sign is Taurus.
Lizzo Height
Lizzo is 5 feet and 10 inches tall and weighs about 84 kg.
Lizzo Family and Education
She grew up in Houston, Texas and moved to Minneapolis, Minnesota in 2011. In Minneapolis, she performed with indie groups including the electro soul-pop duo, Lizzo & the Larva Ink. At the time, She created a three female rap/R&B group called The Chalice. The group released their first album We Are the Chalice in 2012 which was locally successful.
Her Instagram revealed that her father passed away in 2009. Lizzo often battled with body acceptance while growing up. Until she reached the age of 21, her insecurities continued to haunt her and when she realized that she can't change who she is and she should be okay with it. Lizzo holds American citizenship but her ethnicity is African-American. Talking about her education history, Lizzo has not revealed anything about her education history.
Lizzo Career
Her debut album "Lizzobangers" released on October 15, 2013, was a complete success. In October 2013, Lizzo won City Pages' "Picked to Click" award for the best new Twin Cities artist. In November of the same year, Time named her one of 14 music artists to watch in 2014.
In September of 2014, Lizzo was featured alongside The Chalice bandmates Sophia Eris and Claire de Lune on the song "Boy Trouble" on Prince and 3rdEyeGirl album Plectrumelectrum. Lizzo's first major-label EP, Coconut Oil, was released on October 7, 2016.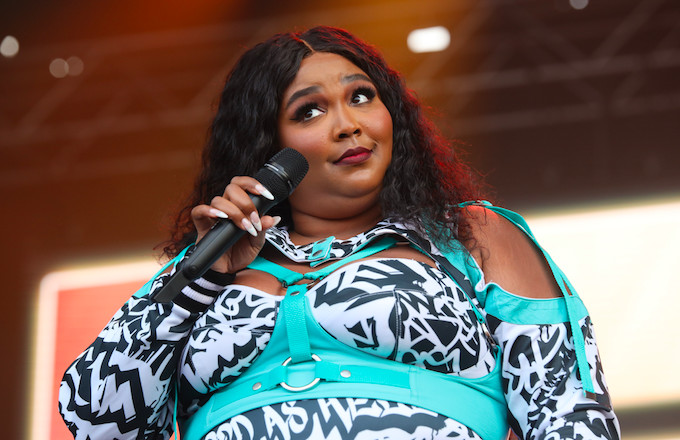 In the year 2019, She ventured into acting with her first role being in the animated film UglyDolls as the voice of Lydia, a purple-haired perfect doll and a supporting role on Hustlers, an American black crime comedy-drama film. In the same year, she had her third album, with the lead single "Juice", released by Atlantic Records.
The album's name "Cuz I Love You", was released the next month. She got to perform at the Coachella Music Festival soon afterward. She has since been earning nominations for awards and winning as well. On 21st December 2019, Lizzo debuted on Saturday Night Live hosted by Eddie Murphy.
Lizzo Boyfriend
Till now, there have been no rumors about Lizzo having a boyfriend in her life and if there had been she would have let her fans know about the matter. Well, what's interesting is that she is keeping her focus more on her work rather than being in a relationship. It's not like that Lizzo does not want a relationship but at this point in time, she is giving more priority to her work.
Lizzo Facts and Body Measurements
Height: 5 Feet 10 Inches
Weight: 84Kg
Shoe Size: Not Available
Body Shape: Not Available
Hair Colour: Dark Brown
Lizzo Net Worth
She has an estimated Net worth of 2 million dollars as of 2019.
Lizzo Tour 2020
Sun, 26 Jan Los Angeles, CA, United States STAPLES Center
Thu, 11 Jun Manchester, TN, United States Bonnaroo VIP Camping
Sat, 13 Jun Manchester, TN, United States Bonnaroo Arts And Music Festival
Lizzo Body Positivity
The "Juice" singer is an advocate of body positivity and self-love. She has often talked of her struggles with body issues when she was young. As a result, she aims at being diverse in her music while addressing matters sexuality, body image, race, and other diverse topics. She even has a group of back-up dancers known as the Big Grrrls and they are all plus-size.
Lizzo Grammy Awards 2020
Lizzo, who made her GRAMMY stage debut by opening the big show with a rousing, flute-heavy performance of her hits "Cuz I Love You" and the now-GRAMMY-winning "Truth Hurts," received the most nominations at the 2020 GRAMMYs with a total of eight nods. At the time of publishing, she has won three GRAMMY Awards, including Best Traditional R&B Performance and Best Urban Contemporary Album.
She was genuinely caught off guard by the win. "Thank you to The Academy, first of all," she said in her acceptance speech while fighting back tears. "This is really &$@*ing sick, unexpected, really cool. This whole week, I will be lost in my problems, stressed out. And then in an instant, all of that can go away, and your priorities really shift. And today, all of the little problems that I thought were big as the world was gone."
Lizzo and Kobe Bryant
The pop star kicked off the 2020 Grammys on Monday with a tribute to the late basketball legend Kobe Bryant, before launching into a rousing medley of her hits. "Tonight is for Kobe," shouted the 31-year-old, who has already won two awards in the pre-gala event that led into music's marquee night.
Lizzo Cuz I Luv You
This is lizzo's upcoming and major-label debut album said to be released on April 19, 2019, via Nice Life and Atlantic Records. The album features the single "Juice", which was released in January 2019, and the title track "Cuz I Love You", the video of which was released on February 14.
Lizzo Truth Hurts
Melissa Jefferson, recorded "Truth Hurts" with close collaborator and producer Ricky Reed, who signed her to his Nice Life Recording Company under Atlantic Records in 2016. The video, in which Lizzo appears as a bride who marries herself, felt like a gleaming jewel of the internet. But they were both disappointed when neither the single nor the video got the initial reception they were expecting; Lizzo has called the premiere one of her darkest days.
The fact that the song is now getting its due two years later thanks to a happy viral coincidence makes for a good story. But that version of events omits the groundwork Lizzo has been laying not only since the song's release but also since the beginning of her career, rapping and singing and twerking her way from early indie projects like 2013's Lizzobangers and 2015's Big Grrrl Small World to a major-label deal.
At a time when streaming sensations seem to appear in the mainstream practically overnight, Lizzo is a case study in harnessing every tool a magnetic and meme-able personality, innovative live performances, a deeply personal message, and a meticulously thought-out sound to cut through the noise and build a rock-solid career foundation, even if it's on a schedule no one anticipated
Lizzo Albums
Lizzobangers (2013)
Big Grrrl Small World (2015)
Cuz I Love You (2019)
Lizzo Songs
Juice
Good as Hell
Truth Hurts
Boys
Scuse Me
Water Me
Worship
Cuz I Love You
Phone
Batches & Cookies
Let 'em Say
Fitness
My Skin
Humanize
En Love
B.G.S.W.
Ain't I
Coconut Oil

Deep
W.E.R.K., Part II
Bus Passes and Happy Meals
Hot Dish
Ride
Stayin' Alive
Faded
Paris
T-Baby

Wat U Mean
1 Deep
Lizzie Borden
Betcha
Never Felt Like Christmas
Tempo
Frequently asked questions about Lizzo
How old is Lizzo now?
She is currently 31 years old as of 2019.
When was Lizzo born?
She was born on April 27, 1988.
What nationality is Lizzo?
She was born in the US hence being an American national.
How tall is Lizzo?
Lizzo is 5 feet and 10 inches tall and weighs about 84 kg.
Does Lizzo have children?
She has no children yet.
Does Lizzo have siblings?
She has not mentioned having any siblings.
What group was Lizzo with?
Linda was part of the following groups before she pursued her solo career.
What is Lizzo net worth?
She has accrued over $3 million in her singing career.
Is Lizzo still alive?
Yes, she is alive and stable.
How many Grammys does Lizzo have?
Lizzo has won 4 Grammies during her musical career.
Lizzo Instagram
Lizzo Twitter