Lori Lewis Biography
Lori Lewis is an American Opera Singer and Full Lyric Soprano, She is an official member of the swedish Symphonic metal band "Therion". She is also the former singer for Aesma Daeva, a band that toured as a supporting act with Therion in Canada and the USA in 2005 and 2007.
Lori Lewis Height|Weight
Lori stands 6 feet and 2 inches tall. We currently have no information on her weight. We will update this information.
Lori Lewis Age
She was born on December 27, 1972. She is currently 46 years old as of 2018. Her birth sign is Capricorn.
Lori Lewis Early Life|Education
Lewis currently resides in Salem, Oregon, and graduated from the University of Kansas. We currently have no information on her past life or her educational background. We will update this information as soon as we dig up some information.
Lori Lewis Photo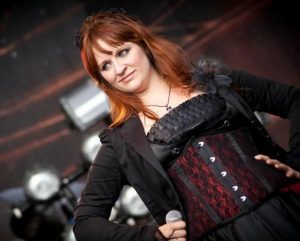 Lori Lewis Career
Lewis got her undergraduate degree in Vocal Performance at the Missouri State University, and the graduated degree at the University of Kansas. On September 11, 2011, Christofer Johnsson, Therion's head, announced that Lewis was named permanent member of the band, becoming then the first female member to have permanent status in the history of the band. As a permanent member of Therion, Lori participated in the recording of Les Fleurs du Mal, dedicated to the 25th anniversary of the band.
Leaving Tour With Therion
On May 10, 2014, the band announced that Lewis would withdraw from the 2014 tour, performing a last show in Mexico City on May 31. Lewis was replaced by Sandra Laureano as touring member, but remains as member of the band for studio recordings.
Lori Lewis  Net Worth
She is said to have a estimated net worth of 24 million dollars as of 2019.
Lori Lewis Husband|Married
We currently have no information on Lori's relationship status. This information will be updated soon.
Lori Lewis Albums
Aesma Daeva – Dawn of the New Athens (Scarecrow, Irond Records) (2007)
Aesma Daeva – The Thalassa Mixes (2008)
Therion – Live Gothic (live album) (2008)
Aesma Daeva – Here Lies One Whose Name Was Written in Water (2009)
Therion – The Miskolc Experience (live album) (2009)
Therion – Sitra Ahra (Nuclear Blast Records) (2010)
Imperial Vengeance – Black Heart of Empire (2011)
Therion – Les Fleurs du Mal (2012)
Therion – Adulruna Rediviva and Beyond (live album) (2014)
Therion – Beloved Antichrist (2018)
Lori Lewis Twitter
Lori Lewis Interview
Interview on Stormbringer-metal.de"
You've been busy over the past year, from your participation in the Metal Cruise "70,000 Tons of Metal" to THERION "Fleurs Du Mal" Tour to your performances as part of the "Queen Symphonic Rhapsody Tour" in Spain. What were yours? Highlights and what do you expect for 2013?
2012 was actually very labor intensive for me. My highlight was the show with THERION in Toulouse, Le Bikini. This day was the most enjoyable for a variety of reasons throughout the year. Le Bikini is one of those locations that have my full respect and admiration. The location is exceptional, the team is great and the meals are something I will always remember. The whole day was exceptionally good: I had enough free time to play a few games of table tennis with Thomas (Vikström, Editor) and jump into the freezing cold swimming pool. It was way too cold to actually go for a swim. But it was fun to jump into the freezing cold, hop out of it right away and wrap myself in all the towels I found within the next ten yards, haha!
As far as 2013 is concerned, I know that I will do at least one festival with THERION within the next few months. I also hope to be able to go to Sweden for a longer period of time to begin the very important work on our upcoming project (Christofer Johnsson is working on a metal opera Note Red.).
How did you get to the Queen Symphonic Rhapsody Tour with Thomas Vikström? 
That was really easy. Thomas sent me a request if I was available – and it was me. In fact, it was a happy timing. I was glad to have the opportunity to work with him for a few extra weeks. He is a great guy.
THERION have surprised their fans with the release of "Les Fleurs du mal" not only linguistically, stylistically and content wise, but also with the accompanying release of three video clips. How were the shootings?
The shoot was very intense, especially for the song "J'ai Mal De Toi". We arrived after an almost sleepless night (I slept only 30 minutes). Unfortunately, the departure had been postponed and we were worried that we had enough time for the shoot. Everything was fine. The fact that I was still tired turned out to be ideal for this special video shoot: The song is quite dark and sad. Fortunately, we used an apartment as a special location, one of the landlords became a good friend of mine. We still chat very often and I am grateful for the chance friendship that can come from music production.
The song "J'ai Mal De Toi" is very sad and is about a suicide. How did you feel when you played this character (commits suicide)? 
Well, I've never had to play someone who's about to commit suicide, even though I have sung many operas over the years. It was a challenge, and to be honest, pretty hair-raising. In one scene, I had to stand on a narrow railing and had few opportunities to protect myself from an accidental crash. Fortunately for all of us, I have an excellent balance.
In the Therion videos you play different characters. Are you one of those characters in real life as well?
No not true. The featured characters in these three videos are much darker and touch on some dangerous topics, though I have to say: It was funny to whip Snowy Shaw in one of those videos. That was so silly.
In my personal life, I tend to be quite relaxed and tolerable, although of course I am sometimes thoughtful. I've learned that for me the key to balance is remembering that everything starts with the personal point of view. I see that some things in this world can be bad, but instead of worrying about it, I'd rather do something good. I read the following saying somewhere, I think he was attributed to the Dalai Lama: Be the light you want to see in the world. I sincerely try to live those words as best I can every day.
THERION, AESMA DAEVA: you have been working in the opera-metal sector for some time. What is your opinion on this genre? Has opera-metal changed in recent years and what will be its future? 
For me it's great to be able to do music in which I can use a classically trained sound. As for the future, I think my crystal ball is still in business at the moment. However, I know that this genre is still gaining in appeal in different countries around the world. The fans in South America and Central America, as well as in Mexico, are among the most engaged I've ever met. It is always a pleasure to perform in these parts of the world, although I suspect that I like to perform everywhere and for all to honor the truth.
You sing very different literature, is there anything you would never do as an artist? Gangnam Style sing, for example? 
Haha, Gangnam! That would be a bit different, right? What would I never do … I would probably never rap, I would feel like an idiot. I would fear not finding the right rhythm or the appropriate profound lyrics.
What is the biggest challenge for you as an opera-metal singer? 
That I can not even approach as often as I would like. I would love to make music 24/7.
In a video published on Youtube you mention own projects: Would you like to tell us some of your secrets?
Not yet! In terms of music I always look for something funny. Since moving to Oregon, I've started my own projects and that's good for my creativity. I hope they will come to fruition, but it is too early to tell.
---
We endeavor to keep our content True, Accurate, Correct, Original and Up to Date.
If you believe that any information in this article is Incorrect, Incomplete, Plagiarised, violates your Copyright right or you want to propose an update, please send us an email to informationcradle@gmail.com indicating the proposed changes and the content URL. Provide as much information as you can and we promise to take corrective measures to the best of our abilities.
---