Lovely Mimi Biography
Lovely Mimi is a Vietnamese-American social media influencer, reality TV star, musical artist, and nail salon owner, who was born in Vietnam and brought up in the United States of America. She is widely known for her appearance on VH1's Love & Hip Hop: Atlanta and on MTV and VH1's Wild 'N Out. She appeared in season six of the show in a supporting role. She has earned more than 3.3 million followers on Instagram and 1.6 million subscribers on YouTube.
Mimi has a shop called 'Luong's Lovely Nails'. She is one of the leading nail artists in the country and is often fondly referred to as the 'nail architect' by her fans. She rose to fame for sharing videos of her imitating stereotypical accents of the Vietnamese nail artist, the African-American customer, the angry driver, and more.
In September 2016, Mimi released a hip-hop song titled 'We Don't Care' in collaboration with the English boy band 5ive. It was reported in early 2018 that she would appear on the third season of the BET HER series 'From the Bottom Up' alongside author Angela Stanton, with whom she was co-writing her memoir, 'My Lovely Life: The Good, the Bad and the Ugly'.
---
10 Quick Facts About Lovely Mimi
Name: Lovely Mimi
Age: 33 years old
Birthday: April 27
Zodiac Sign: Taurus
Height: 5 feet 1 inches (1.55 m)
Nationality: Vietnamese-American
Occupation: Social Media Influencer, Reality TV Star, Musical Artist, and Nail Salon Owner
Marital Status: Divorced
Salary: Under Review
Net worth: $2 Million
---
Lovely Mimi Age
Mimi is 33 years old. She was born on April 27, 1990, in Vietnam. She celebrates her birthday on April 27 every year and her zodiac sign is Taurus.
Lovely Mimi Height
Mimi stands at a height of 5 feet 1 inches (1.55 m). Her body measurements are 34-27-40 inches.
Lovely Mimi Weight
Mimi weighs 70 kg (154 lbs). She has brown eyes and black hair.
Lovely Mimi Family, Parents
Mimi her childhood spent in a refugee camp in the Philippines until her parents escaped to the United States and settled in Silver Spring, Maryland in 1993. Growing up with poor, old-school parents, she didn't know about the latest cool trends and was often made fun of by other kids for her appearance.
By the time Mimi was a teenager, she rebelled against her parents, began drinking, and often ran away and got into trouble. Throughout her teenage years, she spent more time in group homes and juvenile detention centers than in school.
Our efforts to find out more about her family came to no avail as no such information is publicly available. Thus, the identity of Mimi's parents is still unclear. It is also not known if she has any siblings. We will update this section once this information is available.
Lovely Mimi Husband 
Mimi was married to Remy Skinner. The couple married in 2010 in a blissful private wedding ceremony attended by close friends and family members. They divorced in 2019. Lovely and her husband are proud parents of two children, Jay Skinner and Juice Skinner.
Lovely Mimi Husband Age, Remy Skinner Age
Remy Skinner is 33 years old, he was born on 20 August 1990, in the United States. He celebrates his birthday on 20 August every year and his birth sign is Leo.
Lovely Mimi Husband Arrested, Remy Skinner Arrested
Despite his separation from his estranged wife Mimi, Skinner's woes are probably far from over. Remy Skinner was arrested in 2019 for a major drug trafficking operation.
As per our reliable reports, Remy has been denied bail and is looking to face up to 50 years in prison. Remy Skinner was also arrested on charges of two counts of felony possession of controlled substances, possession of drugs, and possession with an intent to distribute.
Lovely Mimi Kids
Mimi and Remy are the parents of two children son named Jay Skinner, and a daughter named Juice Skinner. The kids also have Instagram accounts, 'juicenjayy', run by their parents. The family has a dog named Jefe.
Lovely Mimi Boyfriend 2023
Mimi has not gone public with her relationship, it is not publicly known whether she is married or in a relationship. Her partner's information will be updated as soon as the information is available.
Lovely Mimi Net Worth
Mimi has an estimated net worth of $2 million dollars as of 2023. This includes her assets, money and income. Her primary source of income is her career as a social media influencer, reality TV star, musical artist, and nail salon owner. Through her various sources of income, Lovely has been able to accumulate a good fortune but prefers to lead a modest lifestyle.
Lovely Mimi Measurements and Facts
Here are some interesting facts and body measurements you should know about Mimi.
Lovely Mimi Wiki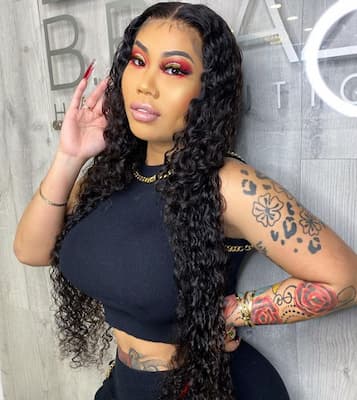 Full Names: Myha Thi Luong
Popular As: Lovely Mimi
Gender: Female
Occupation / Profession: Social Media Influencer, Reality TV Star, Musical Artist, and Nail Salon Owner
Nationality: Vietnamese-American
Race / Ethnicity: Asian
Religion: Not Known
Sexual Orientation: Straight
Lovely Mimi Birthday
Age / How Old?: 33 years old
Zodiac Sign: Taurus
Date of Birth: April 27, 1990
Place of Birth: Vietnam
Birthday: April 27
Lovely Mimi Body Measurements
Body Measurements: 34-27-40 inches
Height / How Tall?: 5 feet 1 inches (1.55 m)
Weight: 70 kg (154 lbs)
Eye Color: Brown
Hair Color: Black
Shoe Size: 6.5 (US)
Dress Size: Not Available
Breast Size: 34 inches
Waist Size: 27 inches
Hip Size: 40 inches
Lovely Mimi Family and Relationship
Father (Dad): Not Known
Mother: Not Known
Siblings (Brothers and Sisters): Not Known
Marital Status: Divorced
Dating / Boyfriend: Under review
Children: two beautiful children, son, Jay Skinner, and daughter, Juice Skinner.
Lovely Mimi Net worth and Salary
Net Worth: $2 Million
Salary: Under Review
Source of Income: Social Media Influencer, Reality TV Star, Musical Artist, and Nail Salon Owner
Lovely Mimi Nail Prices and Nails Salon
At Lovely Nails in Capitol Heights, Maryland, full nail sets start at $20. A basic manicure-pedicure? $30. But this nail salon is not the place to get a quick polish and go. No way. Lovely Nails are the domain of Lovely.
Lovely Mimi Surgery
In 2013, Lovely did a breast implant and butt enlargement surgery in fulfillment of her dream body physique.
Lovely Mimi Book
Lovely partners up with National Bestselling Author Angela Stanton to give a raw, riveting account of what it takes to survive. Reality Television Star "Lovely MiMi" from Love and Hip Hop Atlanta Season 6. She gives us a look into her personal life, the good, the bad, and the ugly on how she made her claim to fame.
Notable Travel, Events, and Experiences
Travel Adventures: Lovely Mimi often shared her travel adventures with her followers. She had posted pictures and videos from trips to various destinations, including vacations, business trips, and personal getaways.
Reality TV Show – "Love & Hip Hop: Atlanta": One of her most significant experiences was her appearance on the reality TV show "Love & Hip Hop: Atlanta." This show provided her with a platform to reach a wider audience and share her life and experiences on television.
Entrepreneurship: Lovely Mimi had embarked on an entrepreneurial journey by opening her nail salon business. Her business ventures and experiences as a salon owner were a part of her online presence.
Family Moments: She often shared moments with her family, including her husband, children, and extended family. These moments included holidays, celebrations, and day-to-day family life.
Fashion and Beauty Events: Given her interest in fashion and beauty, she may have attended fashion shows, beauty conventions, and related events, which she occasionally documented on social media.
Community Involvement: Lovely Mimi has also used her platform to advocate for various causes and engage with her community. She has participated in charitable events and initiatives.
Future Aspirations and Goals
Business Ventures: Given her experience as a nail artist and salon owner, Lovely Mimi may have continued to grow her nail salon business or explored opportunities in the beauty industry. Expanding her business, launching product lines, or exploring new ventures in the beauty space could be potential goals.
Entertainment Industry: Continuing to work in the entertainment industry, whether through reality TV, hosting, acting, or other forms of entertainment, could be a goal for Lovely Mimi. Many reality TV personalities aspire to diversify their careers within the entertainment sector.
Social Media Influence: Building and maintaining her social media presence and influence could remain a priority. This might involve creating engaging content, collaborating with brands, and growing her follower base.
Family and Personal Growth: Like many individuals, Lovely Mimi might have personal goals related to her family, personal development, and overall well-being.
Advocacy and Philanthropy: Some public figures aspire to use their platform for advocacy and philanthropic efforts. She may have had goals related to causes or initiatives she is passionate about.
Social Impact: Philanthropic, Charitable and Community Involvement
Community Engagement: Lovely Mimi has been known to engage with her local community and support various community initiatives. This might include participating in local events, supporting community fundraisers, and connecting with her followers on a personal level.
Charitable Donations: Like many influencers, Lovely Mimi may have made charitable donations to causes and organizations that she cares about. These donations can be for various purposes, including supporting charities, disaster relief efforts, and nonprofits.
Advocacy: She may have used her social media presence to raise awareness and advocate for specific causes, such as social justice issues, mental health, or other important topics.
Community Support: Lovely Mimi may have provided support to individuals or families in need within her community. This could involve financial assistance, resources, or other forms of help.
Philanthropic Partnerships: Some influencers collaborate with charitable organizations or causes to raise funds and awareness. She might have partnered with nonprofits or foundations to support their missions.
Educational Initiatives: Some influencers get involved in educational programs or initiatives that aim to uplift and empower communities, especially in areas related to career development and personal growth.
Legacy
Social Media and Entertainment Influence: Lovely Mimi had established herself as a notable figure in the world of social media and reality TV. Her vibrant personality, humor, and unique style had garnered her a dedicated following and made her a recognized name in the industry.
Representation: As a Vietnamese-American, Lovely Mimi contributed to the representation of Asian Americans in the media, particularly in reality television. Her presence on "Love & Hip Hop: Atlanta" and her online platforms allowed her to connect with a diverse audience and serve as a role model for those who could relate to her background.
Entrepreneurship: Her success as a nail artist and salon owner showcased her entrepreneurial spirit. She served as an inspiration to individuals looking to pursue careers in the beauty and fashion industry.
Community Engagement: Lovely Mimi's involvement in community activities and philanthropic efforts demonstrated her commitment to giving back and making a positive impact on her community.
Hobbies and Interests
Lovely Mimi has shared various aspects of her life and interests on social media and through her reality TV appearances. While her interests may have evolved over time, here are some hobbies and interests that she has showcased:
Nail Art and Beauty: Lovely Mimi is widely known for her intricate and creative nail art designs. She has a passion for nail artistry and often shares her latest creations on social media. This interest in beauty and self-expression through nail art has been a significant part of her brand.
Fashion and Style: She has a distinctive and vibrant style, often seen wearing colorful and unique outfits. Her fashion choices are an integral part of her online persona, and she enjoys experimenting with different styles and looks.
Comedy and Humor: Lovely Mimi's online presence is characterized by her humor and comedic videos. She creates funny and entertaining content, which has endeared her to her followers.
Family: Lovely Mimi has shared moments with her family on her social media platforms, including her husband and children. Her family is an essential part of her life, and she often documents their experiences and milestones.
Food and Cooking: She occasionally shares her cooking adventures and culinary creations on social media. Her interest in food is evident through her posts about various dishes and recipes.
Fitness: Lovely Mimi has also shown an interest in fitness and healthy living. She has posted about her workouts and fitness routines, encouraging a healthy lifestyle among her followers.
Entrepreneurship: In addition to her social media and reality TV career, Lovely Mimi has ventured into entrepreneurship. She has her nail salon business, which has become a successful venture for her.
Quotes
"Mimi Gang, where you at?" – Lovely Mimi often addresses her fan base, affectionately known as the "Mimi Gang," in her videos and posts.
"Nailed it!" – Given her expertise in nail artistry, this phrase is a play on words and is commonly used when she showcases her creative nail designs.
"Ain't nobody got time for that!" – This is a common phrase she uses to express impatience or disinterest in certain topics or behaviors.
"Issa whole lotta gang sh*t!" – This catchphrase is often used by Lovely Mimi to emphasize her group or squad's unity and strength.
"Getcha mind right!" – She encourages her followers to focus and get their thoughts in order to achieve their goals.
"Life is too short, honey!" – Lovely Mimi encourages her followers to enjoy life to the fullest and not take things too seriously.
Conclusion
Mimi is a living example of the power of the human spirit. She has overcome many challenges in her life, but she has never given up on her dreams. She is an inspiration to us all.
Lovely Mimi Contacts
Related Biographies
You may also like to read the Bio, Career, Family, Relationship, Body measurements, Net worth, Achievements, and more about: