Madilyn Bailey Biography
Madilyn Bailey is an american singer, songwriter and YouTube personality. Gifted with a beautiful voice and having a knack for singing, this proficient singer switched her career from a certified nursing assistant to a musician. She started making cover songs of famous artists and posted them on the video-sharing website, YouTube and with her stylistic renditions she soon rose to fame in the world of music garnering millions of viewers. Her music journey, starting from singing on tracks to music and thereafter composing her own music, has been an amazing one and appreciated well by her online fans whose count is growing with leaps and bounds with each passing day.
She worked for sometime as a certified nursing attendant before plunging into a full-time music career. During that time she used to play acoustic guitar and drums. She won a Guitar Center Singer/Songwriter Competition following which many opportunities came by. She joined a YouTube based record label 'Keep Your Soul Records' in 2012 that specialize in development as also distribution of independent artists. There she assisted in producing her own material.
In 2013 she relocated to Los Angeles and in the second half of the year she toured the United States and Canada with the American rock band 'Boyce Avenue' founded by three brothers Fabian Rafael Manzano, Alejandro Luis Manzano and Daniel Enrique Manzano. Later she described such touring experience as an amazing one.
In 2015 she posted her 'Titanium' cover which over couple of years amassed more than 50 million views and around 5 lakhs likes. It was originally sung and released by French DJ and record producer David Guetta in his 2011 album 'Nothing but the Beat'. Her amazing rendition of the song garnered her immense popularity. It was aired on France's 'Virgin Radio' which in turn fetched her recording contract in France with a 'Warner Music Group' label called 'PlayOn'.
Her popularity furthered with her next cover song 'Radioactive' in 2015 that was originally sung and released by American rock band 'Imagine Dragons'. Her debut album of covers was released in France on October 2 that year titled 'Muse Box'. It included cover songs like 'Titanium', 'Radioactive', 'She Wolf (Falling to Pieces)', 'Hotel California', 'Believe', 'Rude', 'Don't You Worry Child', 'Mad World', 'Chandelier', 'Use Somebody', 'Bad Blood' and 'Dreams'. She then released her third single cover 'Rude' (cover of Canadian band 'Magic' ) that year which featured German DJ, actor, musician, YouTube personality and engineer Flula Borg. Her fourth single, a cover of American singer-actress Cher's song, 'Believe', came out in early 2016.
On July 12, 2016, she released her first EP titled 'Wiser EP' that for a change comprises mostly original work than covers. The five tracks of the EP are 'Wiser', 'Hate You More', 'Scars', 'Survive' and 'Death of Me'. Her cover songs as also originals can be found in many websites like 'Spotify' and 'Napster'.
Madilyn Bailey Age
She was born on September 2, 1992, She is currently 26 years old as of 2018. Her birth sign is Virgo.
Madilyn Bailey Parents
Greg Wold (Father)
Heidi Wold (Mother)
Madilyn Bailey Siblings
Alex Wold
Caden Wold
Haley Wold
Isaac Wold
Jordan Wold
Madilyn Bailey Height|Weight
She Stands 5 feet and 3 inches tall. She weighs a total of 54 KGs.
Madilyn Bailey Early Life|Education
Bailey Was born in  the village of Boyceville in Dunn County, Wisconsin, United States, to a middle class family of Greg Wold and his wife Heidi Wold. Her father serves in an advertising firm. Her five siblings are Isaac, Haley, Caden, Alex and Jordan. The early years of Madilyn saw her studying at the 'Grahams Elementary School'. She had a knack for singing and music from an early age which was well appreciated and encouraged by her family. She started writing songs and playing music at seven and also played in the marching band of 'Boyceville High School'. *Though she wanted to take her musical interests further, being raised in a small village of 1000 odd people and having no option to shift to a place with better opportunities for music hardly left her with any choice. She then decided to start off with 'YouTube', like many other young talents.
Initially, she started recording covers in her bedroom with her simple camera and began uploading on YouTube. These included popular songs of artists like Madonna and Rihanna and within six months she started getting noticed. *As her viewership grew, Madilyn concentrated on ameliorating her YouTube channel and in that pursuit graduated six months earlier from her high school in 2011.
Madilyn Bailey Photo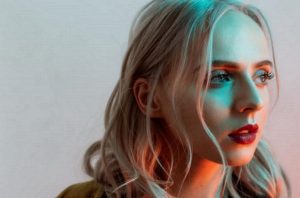 Madilyn Bailey Net Worth
She has an estimated net worth of around 2 million dollars as of 2019.
Madilyn Bailey Husband|Married|Wedding
On March 31, 2014 this beautiful damsel and her beau, musician "James Benrud" declared their engagement on YouTube through a sweet video. They got married on August 22 that year in Wisconsin among family and friends.
Madilyn Bailey Songs
Titanium
Radioactive
Rude
Believe
Wiser
Tetris
Drunk On a feelings
Madilyn Bailey Album
Madilyn Bailey Titanium
Madilyn Bailey Instagram
Madilyn Bailey Twitter
Madilyn Bailey Interview
'Interview on Color Rising"
When you recorded a cover version of Sia and David Guetta's track 'Titanium', did you have any idea that it would explode the way it did?
No, I had no idea it was going to be the video that really brought a lot of attention to my channel. I think when I listened to it back after we recorded it, I knew it was really special. I really tapped into a new part of my voice that at the time I didn't know I had and that delicate falsetto has sort of become a signature of mine.
Many of your fans have followed your journey from recording cover versions of various tracks on YouTube to your original tracks. However, you have literally been playing music since around the age of 7! Growing up, did you always know that this was your calling?
Yes. It all started when I was 2 running around the house in diapers singing 'I Want Much More Than This Provincial Life' from The Beauty and The Beast soundtrack. Music is that thing I find myself doing even when I don't realize I'm doing it. I've always been a storyteller and by writing original music I'm able to get my stories out to the world.
One thing that is evident is your diverse palette of music based on the wide range of artists that you have covered. Who were some of your influences growing up?
Well my first major influence was my Dad. He was always playing guitar around the house and he was my biggest influence for learning instruments. Also, when I was 7 my Dad sat me down and taught me how to write a song. He could clearly tell I had a lot of emotions in my little body that had to get out. I also grew up strictly on rock and worship music.
Back in 2012 you released your EP Bad Habit, which was really big in terms of production, engineering and even your vocal delivery. How was it working with Kevin Bowe on that EP? He's someone who has worked with the likes of Etta James, Lynyrd Skynyrd and more.
Kevin Bowe is a very special person to me. He is basically my songwriting Mr. Myagi. He taught me so much about songwriting, vocal improv and the list goes on.
Your EP Wiser dropped in 2016. Whilst Bad Habit was definitely a great record, with Wiser you took things to an even higher level. Between that four year period of working on those two EPs, what were some of the things that you learned about yourself as an artist?
I'm a very concept based songwriter. I like the story line, titles and colorful lyrics. But when I first started songwriting in LA I felt like melody was prioritized over lyrics to the point that there was sometimes no story in the song and it didn't matter as long as the melody was great. I tried to force myself in this box for a couple years, which did teach me a lot about how to write straight melody, but I felt like my songs were missing a little bit of soul. More recently what I've learned to embrace is my unique perspective as a songwriter. I'm carving out a place for myself where quirky lyrics meet interesting melody choices.
Your single 'Tetris' is another great and clever pop record. I love the metaphorical aspect of it. Can you talk a bit about the track?
When I was writing 'Tetris' the first thing that came to my mind was the title. I realized that being in a relationship can be similar to a really bad game of 'Tetris' where you put one piece in the wrong place and it spirals out of control turning into a giant mess. But it can also be like one of those magical games of 'Tetris' where every piece fits perfectly into place. I really wanted this song to portrait two imperfect people coming together to make something awesome.
Although you have used the power of social media, YouTube and more to showcase your talent, you have still gone through that long stretch of perfecting your craft. What advice would you give to young artists looking to break into the music business during this day and age?
Become a sponge and learn everything you can, but always remember and come back to your unique perspective as an artist. You don't need to make music like anybody but yourself.

It's amazing to think how many years of hard work you have put in with music considering that you're only in your mid-20s. Do you ever sit back and take stock of your accomplishments in that time frame or are you continuously looking forward into the future?
I'm super happy with my life right now. I have a husband that fortunately works full time alongside me. I have two super cute puppies and a house that we're currently working on decorating, but what I like to call the 'curse of the dreamer' is that even before I meet a goal I already have a dozen more that I want to reach.
---
We endeavor to keep our content True, Accurate, Correct, Original and Up to Date.
If you believe that any information in this article is Incorrect, Incomplete, Plagiarised, violates your Copyright right or you want to propose an update, please send us an email to informationcradle@gmail.com indicating the proposed changes and the content URL. Provide as much information as you can and we promise to take corrective measures to the best of our abilities.
---