Massimiliano Allegri Biography
Massimiliano Allegri is an Italian professional football manager and former player formerly in charge of Serie A club Juventus.
Allegri was a midfielder who spent his career playing for various Italian clubs. After beginning his managerial career in 2003 with several smaller Italian clubs, he later played a key role in Sassuolo's rise through the lower Italian divisions and subsequently led Cagliari to their best Serie A finish in nearly 15 years.
He won the Panchina d'Oro Award for best Serie A coach in 2009. His performances as head coach of Cagliari earned him a move to Milan in 2010. He stayed at Milan until January 2014; in the 2010–11 season, Allegri helped Milan to their first Serie A title since the 2003–04 season.
He won four consecutive domestic doubles between 2015 and 2018 after joining Juventus in 2014. He became the only coach to achieve this feat in the top 5 European leagues.
Massimiliano Allegri Career
Club Career
Allegri spent the earlier part of his career in the lower leagues, including his hometown club Livorno and later in 1991 joined Pescara. He established himself in midfield as Giovanni Galeone's club won promotion to Serie A in 1992.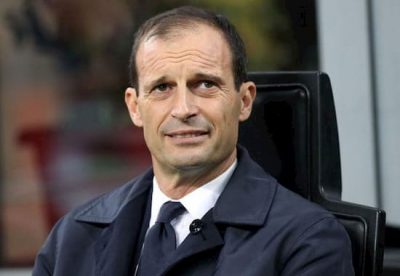 Allegri was an outstanding performer for Pescara in Serie A. Despite the club's relegation in the last place, there was no shortage of goals and Allegri scored 12 goals from midfield. He later moved to Cagliari and then Perugia and Napoli before returning to Pescara.
Before his retirement from active football in 2003, he also played for Pistoiese and Aglianese. In 2001 he was banned for one year with other six Italian footballers for match-fixing following a Coppa Italia tie in 2000.
Managerial Career 
Allegri started his managerial career in 2004 as the manager of Serie C2 team Aglianese; the club where he spent his two final years as a player. Allegri was then called to head Grosseto after having an impressive season at Aglianese. However, his experience with Grosseto proved not to be as successful as with Aglianese and he was sacked shortly after the beginning of the 2006–07 Serie C1 season.
After being sacked by Grosseto, Allegri agreed to rejoin his mentor Giovanni Galeone at Udinese, becoming part of his coaching staff. However, this practice proved to be forbidden by the Italian football laws because he was still contracted with the Tuscan club, which caused Allegri to be disqualified for three months in early 2008.
Sassuolo
Allegri became head coach of ambitious Serie C1 team Sassuolo on August 2007. He managed to quickly lead them into the top league spots. Sassuolo mathematically ensured the 2007–08 Serie C1/A league title on 27 April 2008, hence winning a historical first promotion to Serie B for the neroverdi.
Cagliari
On 29 May 2008, Allegri was announced as the head coach of Cagliari in the Serie A, replacing Davide Ballardini. Although they had a disappointing start, with five losses in the first five league matches, Allegri was confirmed by club chairman Massimo Cellino. He later went on to bring his team up to a mid-table placement in December.
On 9 December, after a 1–0 home win to Palermo, Cagliari announced to have agreed on a two-year contract extension with Allegri, which was set to expire on 1 June 2011. He completed the 2008–09 season in ninth place, their best result in Serie A in almost fifteen years.
This led him to be awarded the Panchina d'Oro, a prize awarded to the best Serie A football manager according to other managers' votes, ahead of Serie A winning coach José Mourinho. Cagliari surprisingly removed Allegri from his managerial duties on 13 April 2010, despite a solid 12th place with 40 points Youth coach Giorgio Melis was appointed as his replacement and Gianluca Festa as his assistant.
Milan
Massimiliano Allegri was released from his contract by Cagliari on 17 June 2010, after a request from Serie A giants Milan, who were interested in appointing him as their new manager. Allegri was officially appointed as the new manager of Milan on 25 June. In his first season in charge, Allegri led Milan to their first championship title since 2004, beating title incumbents and rivals Internazionale in both league fixtures.
Milan however, failed to make it past the semi-finals of the Coppa Italia, losing to Palermo 4–3 on aggregate. The team also was eliminated from the UEFA Champions League at the knockout stage by Tottenham Hotspur.
In his second season at the club, he led Milan to their sixth Supercoppa Italiana title, by coming from behind in a 2–1 win over city rivals Internazionale in a game played at the Beijing National Stadium on 6 August 2011.
On 13 January 2012, Allegri extended his contract with Milan to the end of 2013–14 season. Due to the departure and retirement of several of the club's key players, Milan struggled at the beginning of the 2012–13 season and had only collected 8 points from their first 7 games.  This put Allegri in danger of getting fired early on.
Despite all the criticism from the critics, Milan stuck with Allegri and he managed to get the best out of some younger players including Stephan El Shaarawy, Milan's home-grown player Mattia De Sciglio and later on Mario Balotelli. Allegri managed to steer them from 16th place to a 3rd-place finish at the end of the season.
On 31 December 2013, Allegri confirmed he would leave the club at the end of the season, although and his staff were relieved of their duties with immediate effect on 13 January 2014.
Juventus
Massimiliano Allegri was appointed as the new head coach of Juventus on 16 July 2014, replacing Antonio Conte who had resigned the day before. Although the decision to hire Allegri was initially met with irresolution, on 2 May 2015, he guided Juventus to their fourth consecutive Serie A title. This was after the club defeated Sampdoria 1–0 at the Stadio Marassi in Genoa; making this the second time Juventus had won four consecutive Scudetto titles.
Almost a year after signing with Juventus, Allegri signed a one-year extension to his current contract on 6 July 2015, keeping him at the club until the end of the 2016–17 season. Allegri led Juventus to a 2–0 victory over Lazio in the Supercoppa Italiana on 8 August 2015, with new signings Mario Mandžukić and Paulo Dybala scoring the goals.
On 14 December 2015, Allegri won the Serie A Coach of the Year award; and later on 7 March 2016, his second ever Panchina d'Oro for his success with Juventus during the 2014–15 season. On 25 April, Juventus were crowned 2015–16 Serie A champions.
Allegri led Juventus to their 12th Coppa Italia title on 17 May 2017, in a 2–0 win over Lazio hence becoming the first team to win three consecutive championships.
On 21 May, four days later, following a 3–0 win over Crotone, Juventus secured their sixth consecutive Serie A title, establishing an all-time record of successive triumphs in the competition.
On 3 June 2017, he entered his second Champions League Final in three years with Juventus. However, suffered a 4–1 defeat to defending champions Real Madrid. On 7 June, he renewed his contract with Juventus until 2020. On 9 February 2018, Allegri took charge of his 200th game with Juventus in a 2–0 away win over Fiorentina.
Later on 9 May 2018, he won his fourth consecutive Coppa Italia title, in a 4–0 win over Milan. On 13 May, four days later, following a 0–0 draw with Roma, Allegri secured his fourth consecutive Serie A title, becoming the first manager in Europe's top five leagues to win four consecutive doubles. Allegri left Juventus at the end of the 2018/2019 season.
Massimiliano Allegri Age
Allegri was born on August 11, 1967, in Livorno, Italy.
Massimiliano Allegri Wife |Moglie
In 1992, Massimiliano left his girlfriend, Erika, just two days before their wedding. He explained that he did not love and was not ready for the big step. Later in 1994, he married Gloria Allegri. A year later, the couple had their first child, a daughter, Valentina Allegri in 1995. Their marriage, however, barely lasted four years. They separated in 1998.
He later had a relationship with Claudia and together had a son, Giorgio Allegri.
Massimiliano Allegri Daughter | Figlia
Massimiliano Allegri's daughter is named Valentina Allegri. She is Allegri's daughter with ex-wife, Gloria. Valentina is an Instagram model and social media influencer who is best known for posting lifestyle, fashion, and selfie photos to her valentinallegrireal account.
Valentina attended the Catholic University of Milan.
Massimiliano Allegri Body Measurements
Height: 5 feet 10 inches (178 cm)
Weight: Not Available
Shoe Size: Not Available
Body Shape: Not Available
Hair Colour: Brown
Eye Colour: Black
Massimiliano Allegri Net Worth
Allegri has an estimated net worth of around $45 million.
Frequently Asked Questions About Massimiliano Allegri
Who is Massimiliano Allegri?
Allegri is an Italian professional football manager and former player
How old is Massimiliano Allegri?
Allegri is 52 years old as of 2019. He was born on 11 August 1967.
How tall is Massimiliano Allegri?
Allegri stands at a height of 5 feet 10 inches.
Is Massimiliano Allegri married?
Allegri is not married. He was previously married to Gloria Allegri in 1994 but they divorced in 1998.
How much is Massimiliano Allegri worth?
Allegri has an estimated net worth of around $45 million.
How much does Massimiliano Allegri make?
While coaching Juventus, Allegri earned a salary of €7.5m per year
Where does Massimiliano Allegri live?
Allegri resides in London.
Is Massimiliano Allegri dead or alive?
Allegri is still alive and in good health.
Massimiliano Allegri Twitter
---
We endeavor to keep our content True, Accurate, Correct, Original and Up to Date.
If you believe that any information in this article is Incorrect, Incomplete, Plagiarised, violates your Copyright right or you want to propose an update, please send us an email to informationcradle@gmail.com indicating the proposed changes and the content URL. Provide as much information as you can and we promise to take corrective measures to the best of our abilities.
---