Mat Franco Biography
Mat Franco is an American magician and the winner of the ninth season of America's Got Talent. Franco rose above hundreds of thousands of acts to become the first magician in history to win, including the $1 million prize.
Best known for his personality-driven, sleight-of-hand style of magic, Mat Franco's TV specials marked the first time NBC produced a spin-off show around their AGT winner. Franco is currently headlining in at The LINQ Hotel and Casino at the Mat Franco Theater in Las Vegas.
Mat Franco Age
Franco was born on May 10, 1988, in Johnston, Rhode Island, United States. He is 31 years old as of 2019.
Mat Franco Net worth
Franco has an estimated net worth of $3 Million.  He also won America's Got Talent and won $1 million as a winning prize. Currently, he is headlining at The Linq Hotel and Casino in Las Vegas
Mat Franco Magician
Franco began headlining in Las Vegas at LINQ Hotel & Casino on August 5, 2015. The show is titled "Mat Franco: Magic Reinvented Nightly". By 2016 the show was named "Best Magic Show in Las Vegas" by the Las Vegas Review-Journal.
Franco returned to Radio City Music Hall as the featured guest performer on America's Got Talent for the first live broadcast of the show's tenth season (August 12, 2015). He later returned for the season finale.
Franco starred in his own two-hour magic TV special titled Mat Franco's Got Magic that aired on NBC on September 17, and December 9, 2015.
Franco started to actively post his tricks on his YouTube channel on April 2015. He currently has over 200,000 subscribers to his channel.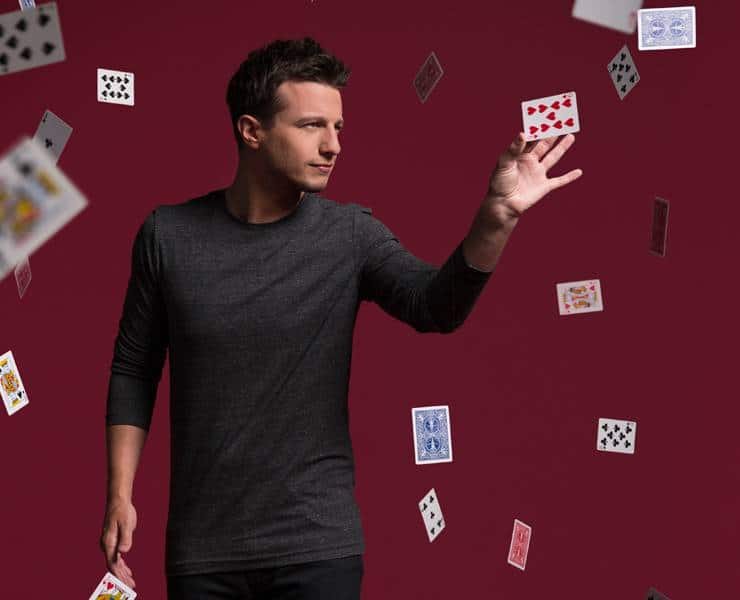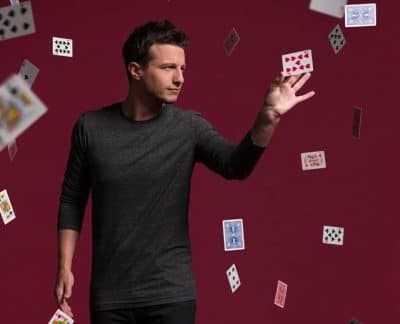 In 2016, his Vegas show was awarded "Best Show" on the Las Vegas Strip in the "Las Vegas Weekly Readers' Choice Awards".
In February 2017, Mat Franco returned to his alma mater the University of Rhode Island for a show celebrating the university's 125th anniversary.
On July 10th, 2017, the LINQ officially renamed the theater the "Mat Franco Theater" and the city of Las Vegas presented Franco with a key to the Las Vegas Strip and declared July 10th officially "Mat Franco Day."
Mat Franco Tickets |  Mat Franco Las Vegas
Mat Franco is the first and only magician to win NBC's America's Got Talent with a mix of eclectic tricks and illusions. At the age of 10, he started developing his own shows and performances and has been working to perfect his craft ever since. His journey has brought him to the LINQ Hotel & Casino, where he has been headlining Magic Reinvented Nightly for the past two years.
Like the name of his show suggests, no two performances are the same. From inventive magic tricks to pyrotechnic displays, to disappearing acts, Mat Franco finds a way to shock the audience every single time. Watch as he performs never-before-seen card tricks, illusions, and more.
If you're brave enough, you can even participate in the show. At every performance, Mat calls upon audience volunteers to assist him in aweing the crowd. Get up on stage and help him as he uncovers secret tattoos, turns a dollar bill into a butterfly, and starts a never-ending flame.
America's Got Talent Magician
Franco appeared in America's Got Talent severally and he finally won in the 2014/2015 competition.
June 17, 2014: Audition – In Los Angeles, during Episode 904, Franco used card manipulation to impress the judges, Howard Stern, Heidi Klum, Mel B, and Howie Mandel. With a shuffled deck of cards, he told a story that he wrote about America's Got Talent. (The audition was recorded in April in the Dolby Theater in Los Angeles.) And got a standing ovation.
July 22, 2014: Judgment Week – In Episode 907, Franco performed a visual interactive card trick where he painted a picture of Howie Mandel on the Judges' desk, using just a deck of cards. This performance earned four Yes votes again.
August 5, 2014: Quarterfinals – Franco appeared in Episode 911 and used Heidi Klum as his assistant. His tricks with fire and with disappearing and reappearing cards earned him four Yes votes and standing ovations.
August 6, 2014: Quarterfinals – In Episode 912 in New York, Franco was one among five acts to proceed to the Semifinals.
September 2, 2014: Semifinals – In Episode 919, Franco was one of twelve acts competing for six opportunities in the Top 12 Finals. After having Howie, Howard, and Heidi choose three random cards (6, 4, and 2), he borrowed Mel B's phone; dropped it into liquid; vanished the phone using a hairdryer; and then moved into the middle of the audience at Radio City Music Hall to cut open seat #642, revealing Mel's phone inside the seat cushion.
September 3, 2014: Semifinals – In episode 920, Franco was Voted through to the Top 12.
September 9, 2014: Top 12 – In episode 921, Franco performed an interactive trick with the live audience, including the judges, and even the home viewers. He had everyone at home select a card, and using cannon, was able to get the selected card stuck to the ceiling at Radio City Music Hall.
September 10, 2014: Top 12 Results – in episode 922, Franco was voted through to the Finals and was declared the last magician standing in the competition.
September 16, 2014: Finals – In the finale, each performer had to do a reprise of a previous performance. Franco chose to do a twist on his audition, by doing a version of Cups and Balls, accompanied by another story that he wrote about the judges. Later on in the episode, Franco performed a large scale trick which included a "human deck" of cards, which consisted of 52 random audience members that Nick Cannon chose, and brought on stage.
September 17, 2014: Finals Results – Franco appeared as one of six finalists at Radio City Music Hall in New York City. The show, in which Franco used Rosie O'Donnell and Howard Stern as assistants, aired on television on September 17.
Mat Franco Discount Tickets
Save at least $25 with this Mat Franco promotion codes. Mat Franco Las Vegas is constantly providing discount offers and promotion codes to save money on this wonderful Las Vegas Show. Visiting Vegas Discount Codes before you purchase your Mat Franco show tickets can save you money and leave you a little extra for your Las Vegas vacation.
We are continually updating the prices official box office and ticket brokers to provide you the best-discounted ticket prices for Mat Franco: Magic Reinvented. Check our website often to find the best Mat Franco promotion codes, discount tickets, and savings offers. Purchasing in advance and using these promotion codes or discount ticket offers is the smartest way to start your Vegas vacation and save you money.
Mat Franco Magic Reinvented Nightly
Mat Franco has a successful show on the Las Vegas Strip for the past year and a half in the newly remodeled Linq Casino and Hotel, which was the former Imperial Palace. His show is unlike any other on the Strip and pulls from many of the popular tricks he performed on AGT.
The name of his show "Magic Reinvented Nightly" is the perfect title because, without giving away any surprises, every show is different but…oh, darn it, I really can't say any more. But I do recommend the show. It is done with pure skill and personality. The focus is not on the props, dancers or music but focused on the performer himself. And he is riding high on the success of his TV appearances.
Mat Franco Instagram
Mat Franco Twitter