Michael Bidwill Biography
The Louis, Missouri born businessman, Michael J. Bidwill is also a football executive and prosecutor. He is the current owner and president of the Arizona Cardinals of the National Football League (NFL). After practicing law for six years as a federal prosecutor, Bidwill joined the Arizona Cardinals organization in 1996 as Vice President/General Counsel. Today he serves as team President, a position he had held since 2007. Michael is the grandson and son of former Cardinals' owners Charles Bidwill and Bill Bidwill, respectively.
Michael Bidwill Education
Michael Bidwill went to Georgetown Prep and later earned a Bachelor of Science degree in finance from Saint Louis University in 1987 where he was a member of Phi Delta Theta. Later, Bidwill graduated from the Columbus School of Law at Catholic University in 1990. From 1990 to 1996, he was a federal prosecutor in Phoenix.
Michael Bidwill Age
Michael J. Bidwill was born on December 6, 1964, in St. Louis, Missouri, United States.
Michael Bidwill Family
Bidwill grew up the second of five children in his family. He started to enjoy American football when he visited the Cardinals' training camp for the first time in 1969. Bidwill's father, Bill, made him one of the team's ball boys in 1974, including his brothers William Jr., Patrick and Tim. Said Bidwill in 2007: "I understood at a young age that when you don't win, there will be criticism."
Wife
Michael is a married man but details about his wife and children are not known. The now-current president of the Arizona Cardinals likes to keep her personal matters for himself making it difficult to know more about his marriage.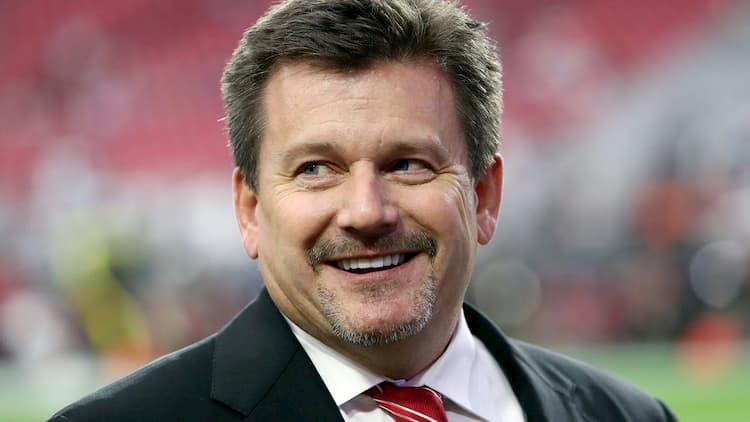 Father
William Vogel Bidwill Sr. is the father of Michael Bidwill, Nicole Bidwill, Patrick Bidwill, Tim Bidwill, William Jr Bidwill. Bill Bidwill was an American businessman, philanthropist and the owner of the Arizona Cardinals of the National Football League. Bill had co-owned the team from 1962 for ten seasons with his brother Charles Jr. and had been sole owner from 1972 until his death in 2019.
Michael Bidwill Father Dead – Bill Bidwill Dead
Bill Bidwill, whose family has owned the Arizona Cardinals for almost 80 years, has died, at 88 according to the football team, Arizona Cardinals. Bidwill had co-owned the team from 1962 for ten seasons with his brother Charles Jr. and had been sole owner from 1972 until his death in 2019.
Mother
Nancy Bidwill was the mother of Michael Bidwill and the wife of former Cardinals owner Bill Bidwill. Nancy Bidwill died on 17 August 2016 in Arizona, United States after fighting breast cancer for many years.
Michael Bidwill Body Measurements
Height: Not Available.
Weight: Not Available.
Shoe Size: Not Available.
Body Shape: Not Available.
Hair Colour: Not Available.
Michael Bidwill Net Worth
Michael has an estimated net worth of $100 million U.S dollars. He also enjoys his father's fortunes, Bill Bidwill who had a net worth of  $1.4 billion U.S dollars.
Michael Bidwill Arizona Cardinals
While the Cardinals struggled to fill Sun Devil Stadium, Bidwill publicly responded that fans would respond in greater numbers if given a better environment. He additionally emphasized that the team could not compete without the revenue streams a new stadium would bring. Since the stadium opened in 2006, the Cardinals have sold out all 100 games played.
They sold out 12 total games in 18 seasons at Sun Devil Stadium. In nine seasons at State Farm Stadium, the Cardinals have won their conference once, their division three times, earned three playoff berths and finished .500 or better in 6 of 9. They had two seasons of .500 or better in 18 seasons before moving into State Farm Stadium.
In a column published on October 23, 2014, entitled Arizona Cardinals rebranding themselves with wins and presence, Steve Keim, Cardinals general manager called Bidwill "the glue that holds the organization together." In the same piece, quarterback Carson Palmer had the following to say about Bidwill:
"It's easy to say it's the head coach or the GM. It's the owner," Palmer stated. "And you would never know it. He doesn't want to be here when the media's here. He's not doing interviews left and right, but he's picked the right people to hire and he wants to win. … He doesn't have a hand in every decision, cutting this guy, bringing in this guy. He's hired the right people, and he knows it."
Bidwill announced in July 2018, his support for longtime friend and fellow Georgetown Prep classmate Brett Kavanaugh as a Supreme Court Justice nominee. The move generated controversy, as Bidwill used the Arizona Cardinals website and social media outlets to voice his support. This came just two months after NFL owners voted to restrict NFL players' ability to protest during the national anthem.
Michael Bidwill State Farm Stadium
In 2009, the Washington Post wrote that "It's the new stadium, many people inside and outside the organization said, that began the Cardinals' transformation from laughingstock into Super Bowl participant. Once the stadium was built, the team could emerge from its days of having to play before small crowds on a torn-up field as the second occupant of Arizona State University's Sun Devil Stadium."
Denver Broncos owner Pat Bowlen told Forbes in 2007, That their biggest problem was that they needed a new stadium The stadium was the underpinning of a significantly new situation for the Cardinals. The league needed a successful franchise in that booming area of the country. They maybe had an opportunity to thrive.
Cardinals defensive end Bertrand Berry to the Boston Globe in 2009: "The biggest thing was to get the stadium; not being out there in Sun Devil Stadium in blistering temperatures with people not really wanting to go out there. I mean we didn't want to play out there it was so hot". The new stadium brought excitement also with the new players that have been drafted and free agency, everything has just come together.
Frequently Asked Questions About Michael Bidwill
Who is Michael Bidwill?
Michael J. Bidwill is a football executive , businessman, and prosecutor.
How old is Michael Bidwill?
Michael is 54 years old as of 2018, born on December 6, 1964.
How tall is Bidwill?
Not Known.
Is Bidwill married?
Not Known.
How much is Michael Bidwill worth?
Michael has an estimated net worth of $100 million dollars. His late father Bill Bidwill had a net worth of  $1.4 billion U.S dollars.
How much does Bidwill make?
Not Known.
Where does Bidwill live?
Not Known.
Is Bidwill dead or alive?
Bidwill is still alive and in good health.
---
We endeavor to keep our content True, Accurate, Correct, Original and Up to Date.
If you believe that any information in this article is Incorrect, Incomplete, Plagiarised, violates your Copyright right or you want to propose an update, please send us an email to informationcradle@gmail.com indicating the proposed changes and the content URL. Provide as much information as you can and we promise to take corrective measures to the best of our abilities.
---