NHIF Kenya Byproduct
NHIF Kenya Byproduct is a scheme that intends to capture the amounts deducted from every employee every month to ensure faster delivery of services to all the members and their dependents.
This scheme is done each month where every employer is expected to submit a document containing a list of his/her employees containing details like ID number/Passport number, Full names and the rate each employee should be deducted.
Previously people used to deliver these documents manually or through NHIF emails. Today, that's not the case; you can as well submit your NHIF employer Byproduct online.  Due to the different types of software applications that employers use to capture their payrolls, we suggest that you use a standardized software application to capture your monthly NHIF byproduct such as Microsoft Excel. For more visit  www.nhif.or.ke/
Here, we will show you how you can submit your document far more efficient, faster and also make online payments. Shall we get started?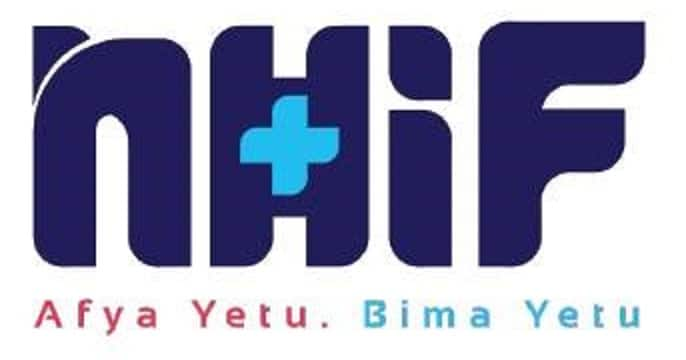 NHIF Kenya Byproduct Registration
For one to register for NHIF Byproduct, should have an active internet connection and a browser preferably a desktop/PC. Below is the guideline on how you can register for online:
♦ Open your browser. Ensure you have a good internet connection so that it will take you less than a minute to complete the process.
♦ Key in the following NHIF Byproduct postal address: 197.248.31.214 and click the enter button.
♦ Once the page fully loads, you will see an option for registering near the footer area. Click on it and wait for a few minutes as it loads a popup registration form.
♦ Once the registration form has fully loaded, fill in your details starting from the company name, Employer code and Email to the password.
♦ Click on the registering button, and you will be automatically registered to the online service.
NHIF Kenya Byproduct Submission
There are 3 ways to submit your byproduct:
Payroll Byproduct / Pay Online
Through Email. Select your nearest location below.
♦ Nairobi Province
♦ Central Province
♦ Coast Province
♦ Eastern Province
♦ North Eastern Province
♦ Rift Valley Province
♦ Nyanza Province
♦ Western Province
3.Submit at your nearest Nhif Branch in soft copy (i.e on a flash disk, cd, etc)
NB: NHIF will not accept:
♦ Byproducts with no I.D numbers
♦ Byproduct formats other than Excel (such as scanned images, pdf, etc)
♦ Byproducts without proof of payment.
NHIF Kenya Byproduct Login
To login to your NHIF account, use the address on step 2 above and click on the login option available near the footer. Fill in your employer code and password then click on the login button.
Sending Byproduct to NHIF
One must log in to his or her account so that he/she can be able to submit the NHIF Byproduct online. Use the steps in the previous subtopic to log in successfully. You can do an NHIF Byproduct upload assuming that you are now logged in.
♦ Click on the browse button and select the location of your Microsoft Excel document. Note that according to NHIF policies your document should be in MS Excel format; otherwise, it will be rejected. Also, be keen on following their form as they have illustrated in the picture below. NOTE: If you are using Microsoft Excel 2007 model,
♦ Then do not type directly instead of using the following procedure to come up with a valid NHIF Byproduct document.
♦ Download the updated NHIF Byproduct sample to your desktop. Do not use a mobile phone here.
♦ Open the sample Byproduct and then copy-paste the already typed document into it (Overwrite the document). The cells will be automatically replaced with the information you have pasted.
♦ Save your document to preferred disk location and follow steps one and two to upload it.
NHIF Kenya Byproduct Eslip
♦  After having submitted the Byproduct, you will be automatically redirected to a page where the page contains your NHIF Byproduct number, Employer code, company name, the month of contribution and total amount to be paid.
♦  Note down your Byproduct number because you will need it later when making bank payments.
♦  After noting down click on the "Print" button if you want to download or print the form for future reference.
NHIF Kenya Byproduct payments
One should walk to any Kenya Commercial Bank (KCB), National Bank or Co-operative Bank branch. You will be provided with a bank slip similar to the one shown below. Make sure you walk with your Byproduct number. Fill it in the details section of the form. If you cannot see where you are supposed to write it down, you can always consult any bank official for assistance. You will finally be given your receipt as a proof of payment just in case anything happens. Make sure the receipt it is stamped.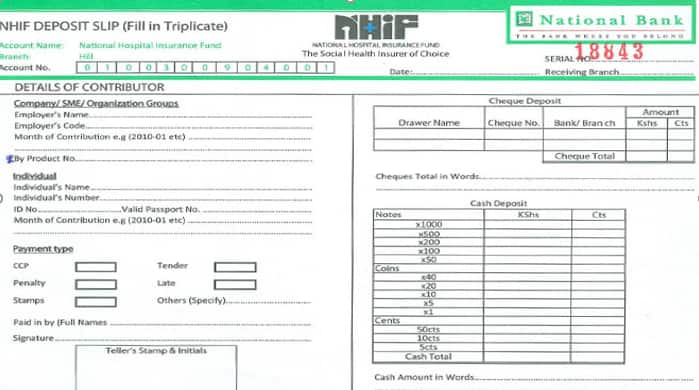 NHIF Payroll Byproduct – NHIF Pay Online – NHIF Online Remittance – NHIF Online Payment
---
We endeavor to keep our content True, Accurate, Correct, Original and Up to Date.
If you believe that any information in this article is Incorrect, Incomplete, Plagiarised, violates your Copyright right or you want to propose an update, please send us an email to informationcradle@gmail.com indicating the proposed changes and the content URL. Provide as much information as you can and we promise to take corrective measures to the best of our abilities.
---